Rock Music, Cakefest and a Whole Lot of Festive Fun | Sunday 10th December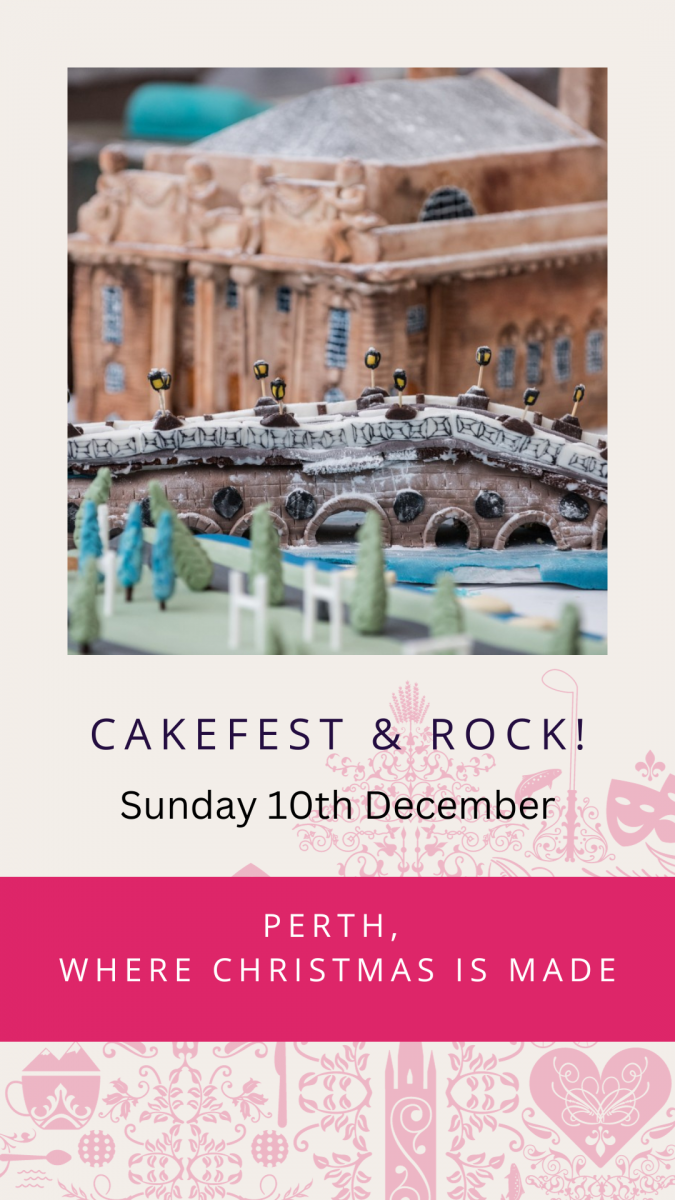 With a Rock-filled afternoon on the Main Stage, a jam-packed Community stage, Perth's most delicious Christmas event – Cakefest – and our streets filled with fun, games and festive spirit, Perth is bringing a party atmosphere unlike any other.
Expect an afternoon of live music, dancing, street entertainment, Santa's Grotto, and oh so much more. And because we want everyone to have a great time, all activities, music and Santa's Grotto are free of charge. (Excluding the small fun fair rides.)
Remember to tag us in your photos on social media - @PerthCityAndTowns and use the hashtag #PerthWhereChristmasIsMade
Head for the Highlights of Sunday 10th December
Horsecross Plaza Rock Stage - Rock out to music from throughout the decades.
Horsecross Plaza - Our family zone welcomes Santa's Grotto and the Ice Caves. And remember to pick up FREE CAKE at Cakefest!
St Paul's Square - Get your tickets quick for the Silent Disco sessions.
George Street - Photo opportunities and festive fun with birds of prey displays and the Cairngorm Reindeer.
King Edward Street - Our Community Stage will feature acts from the Perth community.
King Edward Street and St John's Place - Visit the Christmas Cabin Trail with creatives and producers from across the area.
The Yard Christmas Market - don't miss a specially themed Yard Market jam packed full of Christmas food, drink and gifts.
Throughout the City Centre - Walkabout characters, stilt walkers and street entertainment, and plenty of Christmas spirit!
Remember, our festive activities are FREE OF CHARGE* meaning those who are finding things tough right now can let their hair down for a few hours and enjoy a day of fun. (*Except the fun fair rides.)
Keep an eye on our Facebook page for full updates on all of the events listed below.
Why not make a weekend of it? Check out the details of the rest of our fun packed weekend with the Country Rock and Lantern Parade on 9th December >
---
Rock Stage at Horsecross Plaza | 12–5pm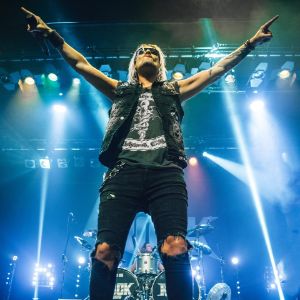 The Rock Stage is adding a whole other dimension to this year's Christmas festivities.
Kicking off at 12pm, and running all the way through to 5pm, this live music extravaganza for all the family includes:
• Perth Rock Band – The Crom
• Doctor and The Medics
• The UK Rock Show
• More acts to be announced soon!
We promise a whole afternoon filled with foot-stomping, singing out loud rock and music from throughout the decades!
---
Cakefest | Horsecross Plaza | 12–4pm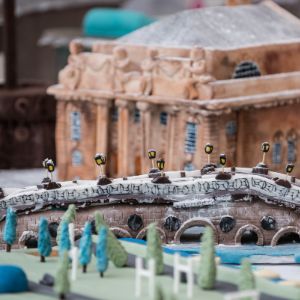 One of the highlights of the Christmas event calendar in Perth, Cakefest runs from noon until 4pm during which time head baker Simon builds an edible map of Perth and Kinross. Cheer on the Parade of the Bakers, and celebrate as local people add their showstoppers to the giant map.
Get Involved: Cake Fest is all about bringing friends, families, and colleagues together to bake and celebrate our home and community. Everyone is welcome to participate and join the fun. We're not looking for perfectly scaled masterpieces, but we are looking for bakers with up-for-it attitudes and a passion for Perth and Kinross's buildings and landscapes.
Grab a partner, choose a building, don your aprons, and get involved! For additional information and to register your interest, please contact us at [email protected]
Free to attend – with tasters for all – our advice is to grab a pic or two before Simon cuts it all up to be handed out to the crowd.
---
Perth Community Stage on King Edward Street | 12–5pm
Our Community Stage will be filled with live local music and family filled entertainment.
Wholesome family fun for the wee ones and young at heart, the Community Stage on King Edward Street will keep everyone entertained for hours with local talent.
Expect singing, dancing, and a whole load of festive fun!
Details of performances and times are coming soon.
---
Santa's Grotto and Ice Caves | Horsecross Plaza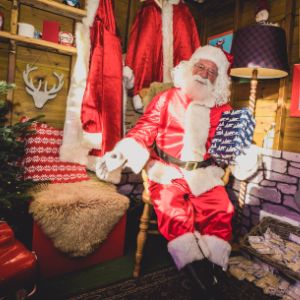 Santa and his reindeer fly back in to Horsecross Plaza and will be with us for a weekend of gift giving and Christmas magic!
Santa can't wait to meet all of the good boys and girls from Perth and to hear your Christmas wish list. Make sure to come with a big smile and happy heart.
There's one free gift per child under 12. You do not need to book to see Santa, however please do expect to queue.
Santa will visit Perth:
Saturday 2nd & Sunday 3rd December
Saturday 9th & Sunday 10th December
You'll also find the fantastic North Pole Ice Caves right next door to our Grotto. Grab your hat and head on in for some extra-chilly, festive exploring!
---
More Fun Throughout the City Centre | 12–5pm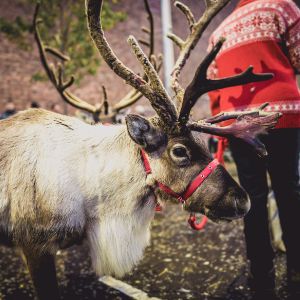 Running over two days, these city-wide events and activities will keep the kids amused, shoppers happy and ensure everyone remains in the festive mood.
Stop for a selfie with a stilt walker, have a browse through our cabins or why not stay for the night in Perth and enjoy a whole weekend of fun?
Walkabout Acts - Get up close for a selfie with the impossibly tall stilt walkers or our other street entertainers.
Musical Magic - It wouldn't be Christmas without some Christmas tunes! Look out for the Street Organ.
Small Funfair Rides - Every little person's favourite!
George Street Festivities - Head to George Street and get your camera ready to capture the Christmas magic! Stop a while and watch our birds of prey displays, and the fabulous and friendly Cairngorm Reindeer!
---
St Paul's Square | Silent Discos | 5–7pm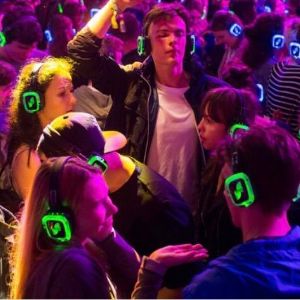 Get your festive groove on at St Paul's with our fabulous Silent Discos. You know you're at a great party when there's dancing in the streets and this year, you can do exactly that in Perth city centre.
Bringing hits from throughout the decades to Perth's newest and most fun entertainment space, all you need to do is grab a set of earphones, tune in to your favourite song and let your moves run wild.
To ensure everyone enjoys the same experience, there is a maximum of 50 people in each disco.
Sunday 10th December
---
Christmas Shopping and Markets | Various Times Throughout the City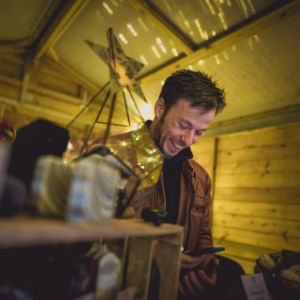 We all love a Christmas Market and over December you'll be spoilt for choice in Perth city centre.
Visit the Christmas Cabin Trail, drop into the Farmers' Market and make sure to walk round to Perth Creative Exchange for a very special makers event.
Christmas Cabin Trail | King Edward Street & St John's Place | 2nd to 24th December
Back for 2023, a procession of festive cabins will offer up gifts and goodies from a host of your favourite local traders.
This trail of gorgeous wooden cabins will showcase some of the best of Perth's independent retailers and local, quality artisans.
Running each day from 2nd until 24th December, you can expect to find plenty of inspiration for gifts, treats for yourself, and a warm, Perth city welcome.
The Yard Christmas Market | Radisson Blu | 11am–3pm
Drop into Radisson Blu for a very special Yard Christmas Market where you'll find lots of different food, craft, drink and gift stalls featuring local produce and beautiful present ideas. Find Out More
---
Come for the Day
Arrive nice and early and you can make the most of a day in Perth city. Pick up a Christmas Gift Guide from one of our fabulous independent retailers – or for the super organised, browse Perth's Independent Christmas Gift Guide online now and plan your shopping route in advance! You'll be spoiled for choice when it comes to cafes, restaurants and bistros too, with everything from a homemade scone to an award-winning curry within easy walking distance.
Make a Weekend of It
If you're travelling from further afield, why not make a weekend break of it? Book into one of the area's accommodation providers
Accommodation in Perthshire
Check out our Be Inspired Perthshire section for more ideas and things to do across the region.
---