Christmas Lights Party | Saturday 2nd December
Everyone's favourite Christmas Lights Party is here and it's full of fun, family events guaranteed to get you feeling festive!
From our annual Christmas Parade through the city, to funfairs, ice globes and caves, live music from local acts and famous names, outdoor dancing, street entertainment, Santa's Grotto, and oh so much more, Perth is where Christmas is made. And because we want everyone to have a great time, all activities, music and Santa's Grotto are free of charge. (Excluding the fun fair.)
Kicking the festive season off on Saturday 2nd December, our famous Christmas Lights Party event promises to be another fun-filled treat. This year's headline act is disco and funk legends Boney M, who'll be playing alongside British electronic group N-Trance, and the fabulous One Night with Elvis. There's also entertainment from local favourites within the Perth community, and lots of other exciting things to see and do.
One thing's for sure – Perth is bringing a party atmosphere unlike any other.
Remember to tag us in your photos on social media - @PerthCityAndTowns and use the hashtag #PerthWhereChristmasIsMade
Head for the Highlights of Perth's Christmas Lights Party
Tay Street - Join compere Claire Sweeney, disco and funk legends Boney M, N-Trance, Last Orders, Ska Britannia, and many more.
Horsecross Plaza Christmas Stage - Welcome Scotland's premier vintage vocal group, the McAndrews Sisters, along with a pop-up panto, The Princess Show, and Cobblers the Clown Gameshow.
Horsecross Plaza - Our family zone welcomes Santa's Grotto and the Ice Caves.
St Paul's - A showcase of our local communities with the special Christmas Mela Market.
George Street - Photo opportunities and festive fun with ice artists, birds of prey displays and the Cairngorm Reindeer.
King Edward Street - Our Community Stage will feature acts from the Perth community.
Horizon Car Park, Mill Street - Horne's Pleasure Fairs will deliver a bright, carnival atmosphere.
South Inch Car Park - Pick up some Christmas gifts and treats at Perth Farmers' Market.
Perth Creative Exchange - Meet Perthshire designers and makers, selling a selection of unique gifts made right here in Perthshire
Throughout the City Centre - Walkabout characters, stilt walkers and street entertainment, pipe bands, Rhythm Wave and plenty of Christmas spirit!
Remember, our festive activities are FREE OF CHARGE* meaning those who are finding things tough right now can let their hair down for a few hours and enjoy a day of fun. (*Except the fun fair rides.)
Keep an eye on our Facebook page for full updates on all of the events listed below.
Why not make a weekend of it? Check out the details of our St Andrew's Day celebrations taking place on 3rd December >
---
Main Stage on Tay Street | 2pm - 8.30pm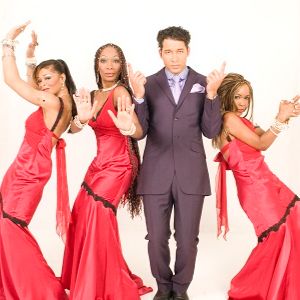 The highlight of our Christmas Lights Party is always our Main Stage entertainment hosted this year by the wonderful Claire Sweeney. Expect a big, bright party atmosphere with plenty of singing and dancing along! At 6.15pm Provost McDade starts the official countdown to Christmas with a fabulous pyrotechnics, fireworks and lighting display.
Kicking off at 2pm, and running all the way through to 8.30pm, this live music extravaganza for all the family includes:
14.00 to 14.45 - To be announced
14.45 to 15.15 - The McAndrew Sisters
15.30 to 16.30 - Last Orders
16.45 to 18.00 - Ska Brittannia
18.00 to 18.15 - Chico and Claire Sweeney take to the stage for the arrival of Perth's Christmas Parade
18.15 - Chico and Claire Sweeney ask The Provost of Perth, Xander McDade. to press the button for the Perth Countdown to Christmas, which kickstarts the Fireworks and evening music
18.20 to 18.30 - Beats of Brazil & Unison Anthems
18.30 to 19.00 - N Trance
19.00 to 19.45 - Boney M
19.45 to 20.45 - One Night of Elvis Lee Memphis King
There will also be three big screens on Tay Street to make sure that everyone has a good view of all the fun!
---
Perth Christmas Parade from Thimblerow | Starts 5.30pm
Cameras at the ready!
Get ready to jingle all the way, because Santa's sleigh is making a pit stop in Perth and he's bringing the North Pole to the city centre!
Join in with all of your favourite local dance schools, community groups, and festive characters to follow Santa and his sleigh, as it weaves its way through the city centre to the Main Stage on Tay Street for an evening of incredible music, dance, and a beautiful fireworks display.
Santa on his sleigh
Perth and District Pipe Band
Perth Panto characters
Julie Young School of Dance
JGN Dance Studio
Main Stage headliners, Boney M
And many, many more!
The annual Christmas Parade will leave Thimblerow Car Park at 5.30pm, so make sure you're there in plenty of time to join in the fun.
---
Two More Wonderful Stages | 12-5pm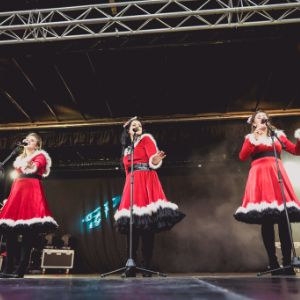 Not one, not two, but three sensational stages of live music and family filled entertainment.
We've covered the Main Stage above, but make sure you arrive nice and early to take in the Family Christmas Stage at Horsecross Plaza, and the Community Stage at King Edward Street.
Family Christmas Stage | Horsecross Plaza | 12-5pm
Don't miss out on a fabulous afternoon of entertainment on our Family Christmas Stage at Horsecross Plaza.
12.00 - Stage Opens with Andy Aird, your Mill Street Stage Host
12.05 – 12.50 - Clark Stewart does the Christmas Rat Pack
12.50 – 13.10 - Inspire Dance Studios
13.10 – 13.30 - Gameshow with Andy Aird
13.30 – 14.00 - Demi McMahon
14.00 – 14.20 - Julie Young Dance
14.20 – 14.40 - Gameshow with Andy Aird
14.40 – 15.00 - Julie Young Dance
15.00 – 15.20 - Fair City Baton Twirlers
15.20 – 16.00 - Mini Panto with Jock in the Beanstalk
16.00 – 16.30 - The McAndrew Sisters
16.30 – 17.00 - MPD Dance School
17.00 - Closedown by Andy Aird
Community Stage | King Edward Street | 12 noon to 5pm
Wholesome family fun for the wee ones and young at heart, the Community Stage on King Edward Street will keep everyone entertained for hours with local talent. Expect singing, dancing, and a whole load of festive fun! Details of performances and times are coming soon.
12.00 - Stage Opens Introduction by Mark Conroy
12.05 – 12.35 - Dylan Sclater
12.35 – 13.00 - Pirrie Performing Arts
13.00 – 13.25 - RG Dance Studio
13.25 – 13.55 - Jollity Express
13.55 – 14.25 - Jamie Age
14.25 – 14.50 - Perth Pipe Band
14.50 – 15.15 - Michael Law
15.15 – 15.40 - Letham Majorettes
15.40 – 16.00 - JGN Dance Attic
16.00 – 17.00 - Longstay
17.00 - Closedown by Mark Conroy
---
Santa's Grotto and Ice Caves | Horsecross Plaza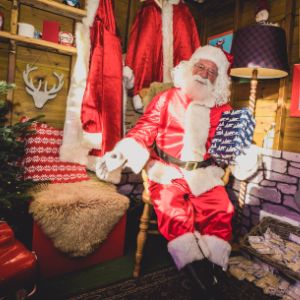 Santa and his reindeer fly in to Horsecross Plaza for our Christmas Lights Party, and will be with us for a weekend of gift giving and Christmas magic!
Santa can't wait to meet all of the good boys and girls from Perth and to hear your Christmas wish list. Make sure to come with a big smile and happy heart.
Santa will be in Perth for two weekends:
Saturday 2nd & Sunday 3rd December
Saturday 9th & Sunday 10th December
There's one free gift per child under 12. You do not need to book to see Santa, however please do expect to queue.
You'll also find the fantastic North Pole Ice Caves right next door to our Grotto. Grab your hat and head on in for some extra-chilly, festive exploring!
---
More Fun Throughout the City Centre | 12-5pm
Running over two days, these city-wide events and activities will keep the kids amused, shoppers happy and ensure everyone remains in the festive mood.
Stop for a selfie with a stilt walker, have a browse through our cabins or why not stay for the night in Perth and enjoy a whole weekend of fun?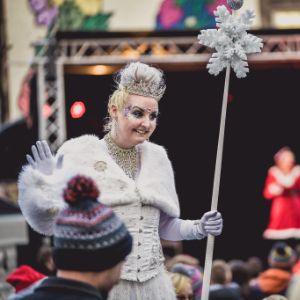 Walkabout Acts - Get up close for a selfie with Cobblers the Clown or the impossibly tall stilt walkers.
Musical Magic - It wouldn't be Christmas without the skirl of a pipe band - or go international and shake your Christmas booty to the Brazilian beats of Rhythm Wave.
Horne's Funfairs - All the bright lights, sounds and fun of the fair will take place at Horizon Car Park, Mill Street (this is a paid for event)
George Street Festivities - Head to George Street and get your camera ready to capture the Christmas magic! Stop a while and watch our Ice Sculptor transform huge blocks of ice into beautiful sculptures – you can even get involved and take part!
Once complete, the sculptures will be on show for photo opportunities for all. You'll also find birds of prey displays, and the fabulous and friendly Cairngorm Reindeer!
---
Christmas Markets and Shopping Events | Various Locations and Times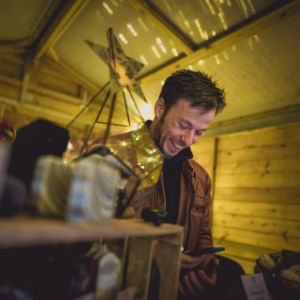 We all love a Christmas Market and over December you'll be spoilt for choice in Perth city centre. Visit the Christmas Cabin Trail, drop into the Farmers' Market and make sure to walk round to Perth Creative Exchange for a very special makers event.
Christmas Cabin Trail | King Edward Street & St John's Place | 2nd to 24th December
Back for 2023, a procession of festive cabins will offer up gifts and goodies from a host of your favourite local traders. This trail of gorgeous wooden cabins will showcase some of the best of Perth's independent retailers and local, quality artisans. Running each day from 2nd until 24th December, you can expect to find plenty of inspiration for gifts, treats for yourself, and a warm, Perth city welcome.
Christmas Mela Market | St Paul's Square | Saturday 2nd December | 1–5pm
Drop into St Paul's Square for our Christmas Mela Market and you'll find plenty of inspiration including food, jewellery and gift stalls featuring international flavours and beautiful present ideas. Details on stall holders to follow.
Perth Farmers' Market | South Inch Car Park | 2nd December | 9am–2pm
Drop into South Street Car Park for a very special Christmas Farmers' Market. You'll find lots of different food, drink and gift stalls featuring local produce and beautiful present ideas. Find Out More
Winter Market & Open Studios | Perth Creative Exchange | 2nd & 3rd December | 10am–4pm
Join Perth Creative Exchange for their Winter Market & Open Studios event to see a fantastic diversity of creative talent under one roof over the first weekend in December. You'll find paintings, ceramics, jewellery, sculpture, printmaking, photography, woodcraft, upcycling, textiles and more!
It's a great opportunity to meet and buy directly from the makers, to visit the open studios, to attend a free family art workshop, and to see the tenants' exhibition. Once you're done, you can rest up with a delicious cuppa and cake from their pop up cafe.
For more information visit Perth Creative Exchange's Facebook page
---
Come for the Day
Free Bus Travel Into the City
Christmas shoppers, residents and visitors will be able to enjoy free travel on all local bus services within Perth and Kinross Council area on the four Saturdays leading up to Christmas.
Instead of paying a fare, passengers will be able to hop on board buses for journeys wholly made within the Perth and Kinross Council area on December 2nd, 9th, 16th and 23rd, and travel free of charge.
The participating local bus companies taking part are Stagecoach East Scotland, Docherty's Midland Coaches, Elizabeth Yule Coaches, Sweeney's Garage and Glenfarg Community Transport Group.
---
Why not take advantage and bus into Perth city centre for one of our Dazzling December Events? Or spend an afternoon shopping, meeting friends for lunch, or enjoying a festive drink with friends?
Pick up a Christmas Gift Guide from one of our fabulous independent retailers – or for the super-organised, browse Perth's Independent Christmas Gift Guide online now and plan your shopping route in advance! You'll be spoiled for choice when it comes to cafes, restaurants and bistros too, with everything from a homemade scone to an award-winning curry within easy walking distance.
Make a Weekend of It
If you're travelling from further afield, why not make a weekend break of it? Book into one of the area's accommodation providers.
Accommodation in Perthshire
Check out our Be Inspired Perthshire section for more ideas and things to do across the region.
---