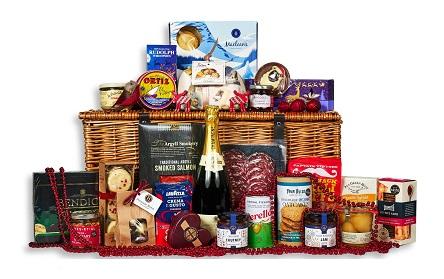 Win this fabulous Joy to the World Christmas Hamper worth £280!
Congratulations. You've landed on our extra-special Christmas Competition page where we're offering you the chance to win this taste-tastic Provender Brown hamper featuring a whole host of luxury food producers. Champagne, smoked salmon, dressing, Bean Shop coffee, panettone, the lot!
We'll draw our winner on December 18th to ensure delivery to your door before the big day itself.
Joy to the World Christmas Hamper
LapSnack Chilli Puffs 150g
Bean Shop Gourmet Blend Coffee 250g Ground
Extra Large Wicker Hamper 24 Inch
Your Piece Oatmeal Oatcakes 180g tube
Ortiz Bonito del Norte white tuna 250g tin
Wooden Spoon Baby Pears in Calvados 300g Kilner
Perello Gordal Olives Picante 150g tin
Godminster Vintage Organic Cheddar 200g Heart
Pea Green Boat Original Cheese Sables 80g
Loison Panettone Classico 500g Royal
Peter's Yard Pink Peppercorn Sourdough C 90g
Great Glen Venison & pork Salami 80g
Bendicks Mint Collection 200g
Teoni's White Choc & Raspberry Cookies 200g
OeA Siena Rosemary & Chilli Nuts 90g Mini Jar
La Belle Chaurienne Pork Rillettes 180g
Argyll Smokery Smoked Salmon 200g
Maclean's Large Luxury Mince Pies 330g (6)
Milk Chocolate Christmas Sheep Lollipop 55g
Rudolph Whoopsies 100g
Galloway Lodge Christmas Chutney 200g
Galloway Lodge Figgy Pudding Jam 230g
Tiptree Cranberry Jelly 340g
Deans Sticky Toffee Pudding Shortbread 150g
J&B 250th Anniversary Champagne 75cl Extra Dry Special Cuvee
Sarah Bunton Luxury Chocolates Box of 6
Provender Brown on Perth's George Street has been serving the people of Perth since 2004. Their fabulous Christmas Hampers are super popular and the ideal gift choice for the food lover in your life. From super tasty treats for one up to deliciously indulgent family sized hampers, you will find we've created the perfect mix of sweet and savoury artisan favourites.
With some of Scotland and the UK's most renowned producers featured, and the very best of the continent's exotic ingredients and most delicious wines. There is something for everyone this festive season.
Priced from £22.50 to £350. Find out more on their website here >