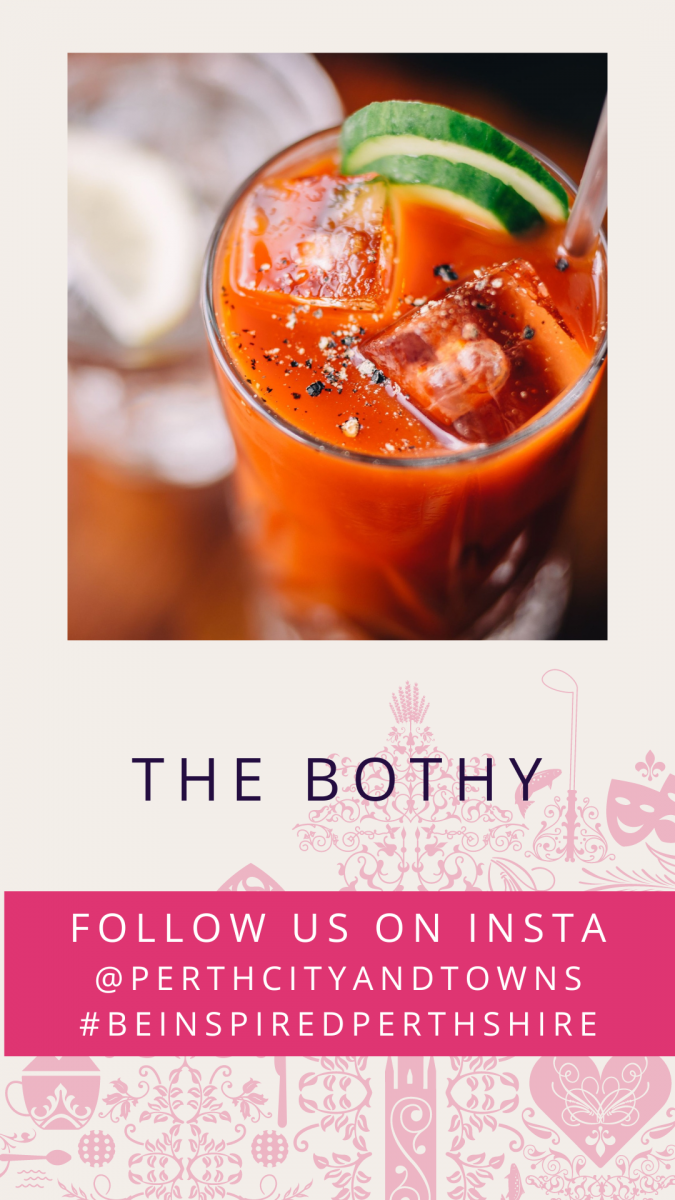 Call your old Uncle Tom Collins for a Dark and Stormy night with Bloody Mary... it's time to talk cocktails!
Enjoyed the world over, there is something about a well-shaken cocktail that makes every group of friends feel like film stars! From Bond's famous martini - shaken not stirred - to the bright pink cosmopolitans made famous by Carrie and Co, we do love to mix it up!
Of course, sometimes all you need is a simple, well-served artisan drink. One artisan spirit with a quality mixer and a well-chosen garnish often hits the spot perfectly!
We've rounded up some of the area's best bars and most talented mixologists to bring you the ultimate guide. You'll find all of the popular favourites as well as a fruity twist on some of the world's oldest, traditional recipes. And look out for some locally inspired combinations.
The Buckie Braes from Ruby at Craigie Hill Fest is a must do!
Cocktails with Local Spirit
Here in Perth city and towns we boast a huge array of excellent distilleries and a wide choice of gins, whiskies, vodkas and our own Highland Spirit. Check out the local farm shops and delis, most of whom will sell these Perthshire-produced drinks.
And if you need a little inspo, try one of these for size!
The Perfect Perth Pink Negroni with Perth Pink Gin - www.perthdistillery.co.uk/perth-gin-cocktails
The Highland Cosmo with Highland Boundary Original - www.highlandboundary.com/blogs/how-to-serve
Roots Negroni with Bright Spirits Root Gin - www.bright-spirits.com/cocktails/roots-negroni-0
The Perthshire High Ball with Old Perth Cask Strength - www.oldperthwhisky.co.uk/mixology#perthshirehiball
Cheers everyone!
---
Perth City Centre
---
The Bothy
Perth City Centre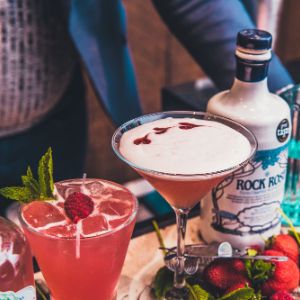 With its doors reopening in March 2022, it was a warm welcome back to The Bothy in Perth city centre! A quintessential Scottish bolthole, this much-loved institution serves modern bistro bites and heart-warming classics – all made with the finest local produce – in comfortable, relaxed surroundings.
Of course, no dinner is complete without a dram, so you can expect to find a carefully curated drinks menu packed full of malt whiskies, a variety of gins and tonic, locally distilled spirits and more.
The Bothy cocktail menu covers the full range from an Old Fashioned, Julep or Daiquiri to an French 75 or Amaretto Sour. Go with the girls and share a cocktail tree, serving six or nine. Or dip into the special seasonal drinks menu which includes flavours of raspberry, apricot, watermelon, elderflower, pear and grapefruit for an irresistible taste of summer.
For drinks only, the Bothy Bar adjacent to the restaurant is the perfect place to enjoy a cocktail with friends. The Bothy also offers cocktail masterclasses – learn to keep a steady hand mixing two classic cocktails to enjoy with or without canapes.
• Nearest town: Perth City Centre
• Open: Monday Closed / Tuesday 5pm-10pm, Wed & Thur 12-10pm / Fri 12-11pm / Sat 12pm-12am / Sun 12pm-10pm
• Drinks menu: www.bothyperth.co.uk/menus
• Cocktail masterclasses: www.bothyperth.co.uk/menus
• Some of their cocktails: Bramble, Amaretto Sour, Old Fashioned.
---
Deans Restaurant
Perth City Centre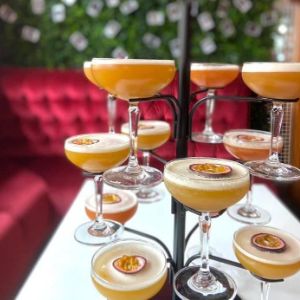 Perth's fine-dining hotspot for over a decade, Deans Restaurant in the city centre is a family-run business offering its customers exciting gastronomy, quirky cocktails and great Scottish whiskies. Head chef Jamie Deans presents modern dishes created with locally sourced ingredients, and grows his own vegetables, flowers and fruit as well as foraging according to the season.
Reserve a seat in the Rose Bar before or after your meal, or simply come for the drinks. With a wine list of over 100 bottles, a tantalising cocktail menu and mouthwatering mocktails, you are spoilt for choice.
The refreshing Pink Paparazzi with pomegranate and rose gin, lychee puree, St Germaine elderflower and yuzu is guaranteed to make you smile. Hit your sweet tooth with a Salted Caramel Espresso Martini, or try Just One Smore – an indulgent mix of Baileys, Tia Maria, Grand Marnier and toasted marshmallows!
Cocktail trees arrive with eight glasses on each; choose from Solero, Strawberry Margarita or Pornstar Martini. And get ready to celebrate that 'Friyay Feeling' – Deans will kickstart your weekend with its special bar food and drinks menu of £6 cocktails, £14 burger and beer, or £16 fish and fizz.
• Nearest town: Perth City Centre
• Open: Wed-Sat 12-2.30pm and 6-9pm / Sun 12-6pm / Mon & Tue Closed
• Drinks menu: www.letseatperth.co.uk/menus
• Friyay Feeling: www.letseatperth.co.uk/offers
• Some of their cocktails: Blood Orange Margarita, Aperol Spritz, Passionfruit and Chilli Mojito.
---
Kisa's Perth
Perth City Centre
Kisa's restaurant and wine bar is perfectly placed next to Perth Concert Hall for a light lunch, pre-theatre dining, a celebratory meal – or simply drop by for drinks in the lounge. Its lively city vibe, complemented by exceptional service and an extensive menu, makes it a go-to destination for residents and visitors to the city.
As well as freshly cooked meals, sharing plates and sweet treats, Kisa's offers a sizeable drinks list including cocktails based on vodka, gin, rum or tequila. Its original Summer Delight combines five-times-distilled Ciroc peach vodka, Malibu, pineapple, cranberry and lime served over crushed ice. Or how about a Long Island Iced Tea – a collision of five delicious spirits in one glass. A Maple Whisky Sour brings a sweet twist to the classic drink, and Kisa's tangy and fruity margaritas come straight up or frozen – choose from strawberry, raspberry, passion fruit and mango.
This popular venue, a stone's throw from all the High Street shops, is open seven days a week. Make the most of its comfortable outdoor seating (bring the dog!) and quench your thirst on a summer's day. Gift vouchers are available.
• Nearest town: Perth City Centre
• Open: Sun-Thurs 9am-10pm / Fri-Sat 9am-10.30pm
• Drinks menu: www.kisas.co.uk/Kisas-Evening-Food-Drink
• Some of their cocktails: French Martini, Sex on the Beach, Woo Woo.
---
The Giddy Goose
Perth City centre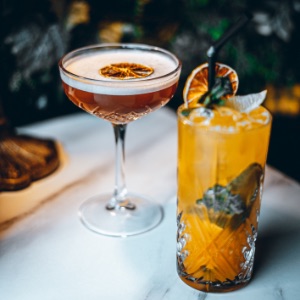 One of the city's newest and most exciting bars and restaurants, The Giddy Goose has a cool, bohemian vibe and a whole host of tasty cocktails including their famous Pot-tails.
Each week their skilled bartenders create new and fabulous Pot- Tails which combine new and exciting spirits with unique flavours - all served up in their famous Giddy Goose Pots. £5
You'll also find Giddy Classic Cocktails including Tipsy Tipple, Ophelia, Boujee Bellini, Cotton Candy Margarita and Edge of Orange.
Alongside a well stocked bar with all of your favourite spirits, wines, beers and fizz, Giddy Goose offers a fantastic menu that includes hand-rolled pizzas, humongous burgers, loaded fries and pasta.
Their location in the Cafe Quarter by city hall makes them an ideal spot for lounging and sipping drinks on a sunny day in their bohemian beer garden, and as an added bonus, it's dog friendly.
• Nearest town: Perth City Centre
• Open: Open 7 days a week 10am - late
• Some of their cocktails: Mojito, Martini, Frozen Daiquiri
---
Auchterarder and South Perthshire
---
Café Kisa
Auchterarder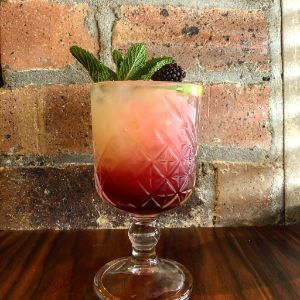 In a beautiful part of the world, Auchterarder's famous high street is home to the award-winning, family-run restaurant, Café Kisa. Since 2004, Café Kisa has delighted local residents and visitors to the area with its freshly cooked food, friendly welcome, and – of course – its mouthwatering cocktails.
The ever-popular Woo Woo blends cranberry juice, peach schnapps and vodka to create a cooling concoction, perfect for a warm day. If you're all about the strawbs, chill out with a Frozen Strawberry Daiquiri, or how about a Pink G&T, pairing the wee red fruit with premium gin and aromatic Fever Tree tonic. Keep it fruitful with a Bramble – gin, raspberry liqueur and fresh lime juice – or opt for a sour and salty classic Margarita.
There are lots of alternative beverages here – wines, spirits, beers and cider, as well teas, coffees and other softies – and light bites and sharing plates (halloumi fries, anyone?) if you get peckish. Gift vouchers are available.
• Nearest town: Auchterarder
• Open: Daily 9am-5pm
• Drinks menu: www.kisas.co.uk
• Some of their cocktails: Frozen Daiquiri, Classic Margarita, Brockmans.
---
The American Bar
Gleneagles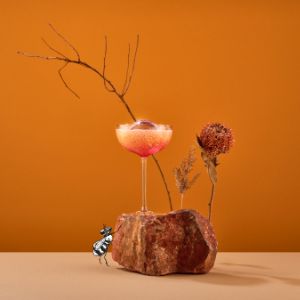 Gleneagles, the renowned five-star hotel, spa and golf resort, first opened its doors almost a century ago and has welcomed visitors to sleep, swim, wine and dine ever since. Amongst the beautiful Perthshire hills, you find this 850-acre estate housing some of the top restaurants in Scotland, with Michelin-starred gastronomy nestled side-by-side with family-friendly fare and your choice of enticing bars.
The American Bar is most definitely for grown-ups, an intimate, decadent space to step out in your finest glad-rags and savour the sound of corks popping and glasses tinkling. Step back in time amid the 1920s-inspired décor, and flick through the American Bar's Book of Berries – an original and imaginative drinks list celebrating the plentiful botanicals flourishing in the surrounding countryside.
Eighteen exciting beverages include Papaya, made with a sweet fruit cordial and rum infused with lightly toasted papaya seeds. Or Kiwi, blended with bergamot and Johnnie Walker Gold Label whisky. Melon, with the addition of homemade marzipan milk and vodka, creates a creamy, almondy and fresh cocktail. And for a burst of sharp piquancy, try Red Pepper, its savoury notes balanced by the sweetness of orange marmalade, and the kick of Casamigos Blanco tequila.
• Nearest town: Auchterarder
• Open: Wed-Sun 5.30pm-12am / Mon & Tue Closed
• Drinks menu: www.gleneagles.com/eat-drink
• Some of their cocktails: Blueberry, Papaya, Pomegranate.
---
Strathearn and West Perthshire
---
The Square Bar and Kitchen
Crieff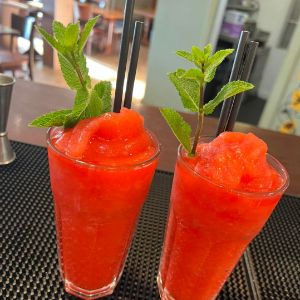 This thriving cocktail bar lies just off the main road in Crieff with a fresh seasonal menu, a generous drinks list (the gin selection grows by the day), and a large variety of cocktails. Sports fans will feel right at home – you can enjoy your drink and not miss a minute of the game, with the Square Bar showing all the big matches live on their large-screen tellies. Footie, horse-racing, golf and tennis; pick your poison and settle in for the evening.
The cocktail menu doesn't stint with its selection of old favourites: kick off with a Mojito or French Martini, a Margarita, Long Island Iced Tea, or a Caipirinha. The Gin Fizz and Gin Collins are made with your preferred brand, and the Strawberry Daiquiri provides a burst of colour to light up the whole bar.
The summer heralds drink specials – Pimm's or Sangria; you'll find a long list of rums, whiskies and liqueurs to choose from; or keep it simple with a pint and some top-quality scran (just try resisting those honey-glazed chicken wings, or squid rings with aioli).
For a group get-together at the pool table or jukebox, message or call to book a table in advance. For a chilled-out Sunday, just seek out a quiet corner, the newspapers and your tipple of choice.
• Nearest town: Crieff
• Open for drinks: Monday to Sunday, 12 pm - 8 pm.
• Drinks menu: www.facebook.com/crieffsquarebar
• Some of their cocktails: Strawberry Daiquiri, Mojito, Espresso Martini.
---
The Glenturret Distillery
Crieff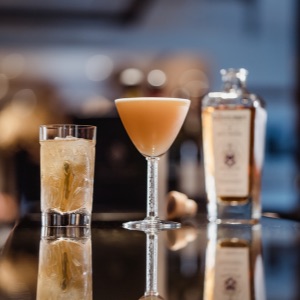 Scotland's oldest working distillery has been handcrafting single malt whisky deep in the Perthshire countryside since 1763. Now intertwined with luxury French brand Lalique, The Glenturret Distillery offers tours and tastings, a visitor centre, café and gift shop, and an exquisite one MICHELIN-starred fine-dining experience in The Glenturret Lalique Restaurant, alongside the long and elegant Lalique Bar.

The Lalique Bar presents a cocktail list incorporating revisited classics and new creations, all with a special Franco-Scottish twist. It also holds a carefully curated selection of 400 single malt whisky expressions, with an archive of over 100 Glenturret malts. Enjoy a drink of your choice, bar lunch, or a curated whisky flight.

And don't miss The Glenturret Vinotheque, available for private bookings where you can sample its spectacular wine collection of more than 4,000 bottles.

• Nearest town: Crieff
• Open: Wednesday – Saturday, 12pm – 10pm
---
Blairgowrie and East Perthshire
---
The Victoria Hotel
Blairgowrie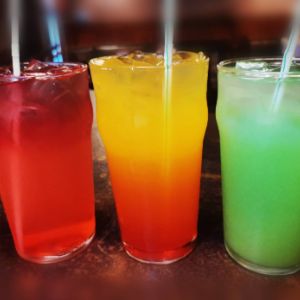 Dating from the late 19th century, the historic Victoria Hotel is handily located in the centre of Blairgowrie, with beautiful views over the River Ericht.
The bar, with billiards and darts in the evenings, is a popular meeting-house for locals, as well as attracting visitors, here to enjoy the excellent walking, fishing and golfing in the area, or even en route to the ski slopes.
Your hosts Vic and Asta will give you a warm welcome, and can offer a wide range of bottled beers, malt whiskies, and different drinks from all over the world. There are over 200 spirits in the bar, as well as great cocktails at a reasonable price – settle in and relax with a Strawberry Woo Woo, a Gin Rickey or a Passion Fruit Martini. Thier best know cocktail is their Scottish Cocktail Venom, which can be made in a variety of flavours.
• Nearest town: Blairgowrie
• Facebook: www.facebook.com
• Some of their cocktails: Strawberry Woo Woo, Gin Rickey, Passion Fruit Martini.
---
Little's Restaurant
Blairgowrie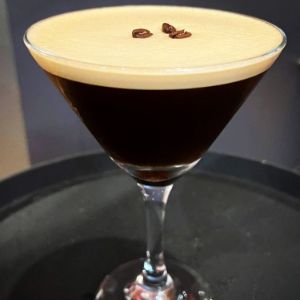 Established in 2011, Little's Restaurant makes its home in a historic former church. This pink sandstone building on Blairgowrie's Riverside Road is notable for its beautiful stained glass, and retains many original period features such as the pulpit and font. Willie Little brings his years of experience in catering to this atmospheric setting, to create an award-winning eatery with a loyal clientele.
Willie loves to spotlight fresh, perfectly prepared fish dishes, but his menu also covers meat, game and pizza, as well as vegetarian options, daily specials, yummy puddings and, of course, wine and cocktails!
No matter what the Scottish summer delivers, Little's Summertime Sunrise will bring you sunshine, made with peach liqueur, banana liqueur, fresh orange and grenadine. Try the heavenly Pulpit Fizz, a divine concoction of prosecco, raspberry gin and grenadine. Or go for Little's original martini – a contemporary classic cocktail with vodka, raspberry liqueur and pineapple.
Little's also carries an extensive wine list including Decanter Award winners. Simply drop in or call to make a booking.
• Nearest town: Blairgowrie
• Open: Tue-Sat 11am-11pm / Sun & Mon Closed
• Drinks menu: Check out Little's Facebook page
• Some of their cocktails: Borries Old Fashioned, Cosmopolitan, Espresso Martini.
---
Kinross and Loch Leven
---
The Kirklands
Kinross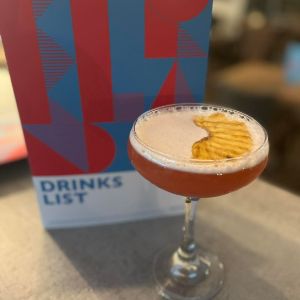 In the centre of Kinross, this original 17th century coaching inn has been restyled into a modern, stylish hotel with a comfortable bar and lounge. Proprietors Anthony and Shona Clifford offer a friendly welcome to guests stopping by for business or leisure, serving up the finest bistro cuisine, freshly ground coffees and tempting cocktails.
The Kirklands' drinks list doesn't stint, introducing a range of Scottish gins, local craft beers, exclusive malts and up-and-coming wine varieties. The cocktails are plentiful and hard to resist – the Hot Tub marries pineapple and prosecco ('Climb in … you know you want to') and the Flat White Martini will pick you up with vodka, espresso and Baileys ('I prefer my coffee in a Martini').
Get the party started with a delicious Bakewell Fizz - Disaronno, cherries and prosecco - (cake and prosecco sounds good to us too!) or perhaps a Strawberry and Basil Smash will fit the bill ('You had me at smash!'). Taking a lighthearted approach to some seriously good drinks, the cocktail menu continues (and then continues some more) with a huge variety of inventive options built around signature gins, bubbles, rums, vodka and whisky.
With so much choice, and open every day for an afternoon tipple or pre-dinner aperitif, Kirklands itself says it best: 'What's not to love!'
• Nearest town: Kinross
• Open: Daily 9am-10.30pm
• Drinks menu: www.thekirklandshotel.com
• Some of their cocktails: Dead Man's Fingers Mango, Loch Leven Citrus, Raspberry Moscow Mule.
---
The Muirs Inn
Kinross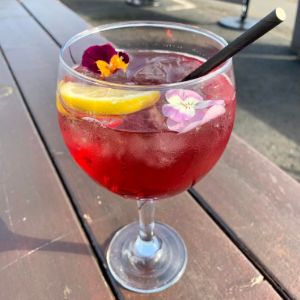 This picturesque little inn, situated in Kinross, dates back to the 1800s, and offers comfortable rooms, family-friendly dining, a cosy bar and lounge. Its current owners Lynn and William McCord have established a reputation for great food and friendly service – they cordially invite you to 'come in, say hello and stay a while' … and their cocktail and gin list certainly provides one good reason to linger!
Sit in the Muirs Inn courtyard on a sunny day and savour a Captain Spiced Mojito – a refreshing, summery blend of Captain Morgan Original Spiced Gold, mint, lime and soda. Or try a Smirnoff Passion Fruit Martini with vodka, juicy passion fruit, guava and lime balanced with smooth notes of vanilla and marshmallow. Slake your thirst with a legendary Long Island Iced Tea, or seek out the sophisticated Tanqueray Flor De Sevilla Negroni.
Creamy, fruity, sharp or sparkling, it's all good under blue skies, but if the weather turns autumnal, simply head back inside for a warm welcome. With a pool table, state of the art jukebox, darts board, and log fire, you'll want to coorie in, and order another round!
• Nearest town: Kinross
• Open: Daily 12-11pm
• Drinks menu: Not currently available online
• Some of their cocktails: The Cosmopolitan, Long Island Iced Tea, Gordon's Pink Martini.
---
Highland and North Perthshire
---
The Inn on the Tay
Pitlochry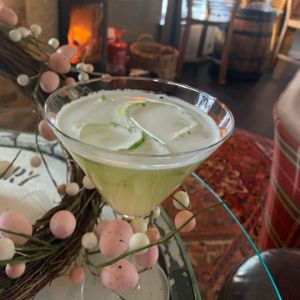 In an unspoilt corner of Highland Perthshire, this welcoming watering hole perches on the banks of the River Tay, offering respite to weary walkers, near-neighbours and visitors just passing through. With a host of attractions in the area – adventure sports, historical sites, culture and the arts – you might find yourself working up a thirst…
Tucked inside the Inn on the Tay is a cosy wee bar, but rest assured its drinks cabinet is anything but small, holding over 30 malts, 20 gins, 18 different wines by the glass and 24 by the bottle.
Evening candlelight and a log-burning stove provide a warm ambience indoors, or step outside with your drink and discover the new outdoor terrace overlooking the spectacular Grandtully rapids. It's the perfect backdrop for a Ginn on the Tay cocktail – Edinburgh Rhubarb and Ginger Gin, Edinburgh Original Gin, lime juice, lime wedges and tonic.
The bar staff here will make you a mean Martini, a perfect Bloody Mary, or might sweeten you up with their Rhubarb Drop – Hendricks Gin, rhubarb syrup and lemonade. Try the Chambord Fizz, combining Chambord Black Raspberry Liqueur with Rose Prosecco, or treat the designated driver to a cucumber, elderflower and ginger spritz.
• Nearest town: Pitlochry
• Open: Wed-Sun 12-10pm / Mon & Tue Closed
• Drinks menu: www.theinnonthetay.co.uk
• Some of their cocktails: Spring Sour - Hendricks Gin, Eldeflower Presse, lemon Juice and Egg White Flip
Negroni Blush - featuring Pink Gin and Aperol
Passion Fruit No-jito Mocktail
---
McKays Hotel
Pitlochry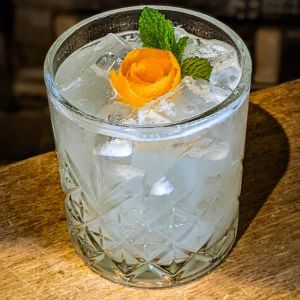 McKays Hotel in the centre of Pitlochry is more than just a place to stay – it's a bustling Scottish bar with fresh, hearty food, sports coverage, live music every Friday and Saturday, and don't forget the weekly quiz night!
Step inside to find the grape and the grain – wines and fizz, local craft gin, malt whiskies, lagers on tap, and an ever-changing cocktail menu. Your feet may stay firmly on home soil but your tastebuds will head for the tropics, with a Bahama Mama (a blend of tropical fruits with coconut essence), a cooling fruit Daiquiri (rum and fresh lime, with strawberry, raspberry or coconut, served as a slushie) or a Junglebird (dark rum in a hurricane glass).
Dive into a decadent Espresso Martini, sip a French Martini, or ask your server for their cocktail of the week. Open from 12 until late, the bar welcomes everyone plus their four-legged friends. The adjoining beer garden is a proper sun trap and the best spot in town to watch the world wander by.
They serve breakfast from 9am and their Lunch menu begins at 11.30am (12noon on Sundays). They also have a weekly specials menu and Roast Dinner on a Sunday with a choice of meats.
• Nearest town: Pitlochry
• Open 12-late
• Drinks menu: www.mckayshotel.co.uk
• Some of their cocktails: Bramble, Margarita, Pina Colada.
---
Fonab Castle
Pitlochry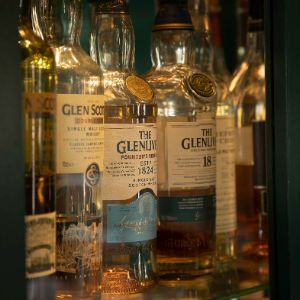 This luxury five-star hotel and spa on the shores of Loch Faskally commands stunning mountain views just a stone's throw from Pitlochry. Easily accessible by road and rail, visitors come here to enjoy the Scottish country house tradition of fine food and drink, and whether you start your evening with an aperitif or finish it with a nightcap, there's something to suit every mood at the lochside Lounge Bar.
Fonab's Gin Palace houses microbrewed and premium gins from all over the world, and these are showcased by superb gin-based cocktails. Fonab's Garden is a perfect balance of sweet and sour with Red Door Gin, cucumber, salt and pepper. The signature Martini blends award-winning Persie Gin, handcrafted in small batches in Glenshee, with dry vermouth and olive or lemon zest. Or try the bitter and sweet Negroni, with gin, Campari and sweet vermouth.
Classic cocktails also include a Bloody Mary, Pornstar Martini and an Old Fashioned; sweeten things up with a Baileys Silk; or treat yourself to a dry and refreshing Ruinart Brut Champagne cocktail with cognac and brown sugar. The Lounge Bar also boasts a great range of wines and whiskies so, whatever your tipple, you can sit beside those floor-to-ceiling windows and while away the hours in style.
• Nearest town: Pitlochry
• Drinks menu: www.fonabcastlehotel.com
• Some of their cocktails: El Presidente, Sandeman's Sour, Fonab's Coffee.