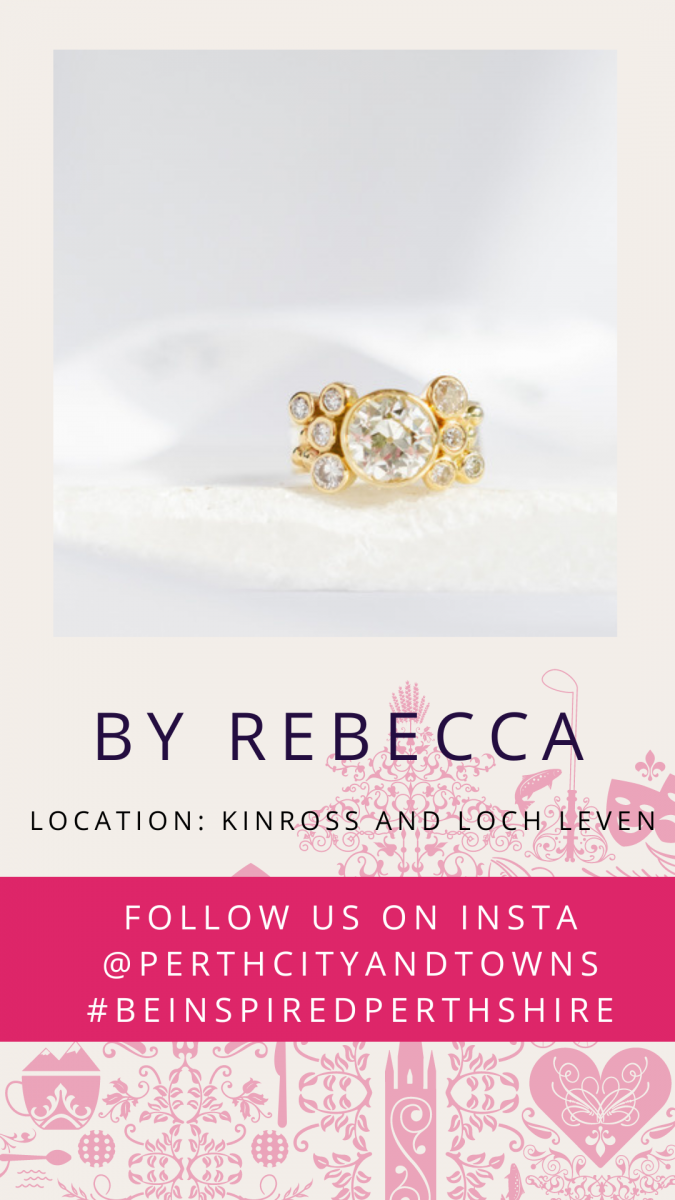 Throughout Perth city and towns lie a treasure trove of hidden gems waiting to be explored - a world of artisanal brilliance, where creativity and craftsmanship intertwine.
Immerse yourself in the charm of handcrafted jewellery that tells stories, evokes emotions and captures the essence of our enchanting region. Our independent jewellers are more than creators; they're storytellers who intricately weave tales of tradition, innovation and individuality into every piece they fashion.
From the delicate dance of precious gemstones, to the hypnotic gleam of metalwork, each creation is a testament to the passion and dedication of these skilled artisans. When you adorn yourself (or a loved one!) with a piece from Perthshire's independent jewellers, you're not just wearing jewellery - you're carrying a piece of the region's soul with you.
Feel the warmth of personalised service, where every piece is as unique as the person who wears it, and whether you're a dedicated collector, a gift-giver seeking something extraordinary, or simply a seeker of beauty, Perthshire welcomes you to experience its sparkle.
Whether you're popping that BIG question, treating yourself to a new watch, or looking to have a one-off piece made to order, you will find Perthshire is the place to come for a wide choice of specialist jewellers.
---
Perth City Centre
---
Byers & Co
Byers & Co is a independent, designer owned jewellery boutique in Perth's George Street, Linda Byers has established herself as one of Scotland's leading jewellery creatives. Every piece that she sells, both off-the-shelf and her bespoke commissions, is designed, hand-made and finished by her. Add to this her principled approach to buying precious stones, gems and metal and you will begin to understand just what makes a Byers & Co item so unique.
Linda has taken this time as an opportunity to create new collections for her online shop which is still relatively new but has proved to be extremely popular. You can also book an online consultation via the website either for a bespoke commission or to ask questions about the items online. Byers & Co is delivering jewels around Perth twice a week, and is also posting via Royal Mail special delivery for anyone further afield.
Emerald Solitaire - £800
---
T. Paterson Jeweller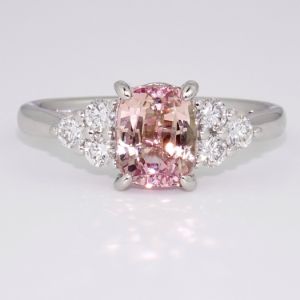 T. Paterson Jeweller has been in Perth since 1832, and it is still in the Paterson family to this day. As Scotland's gemstone specialists, they are experts in rare and unusual gemstones, that you won't typically find on the high street. They design and create all kinds of unique jewellery, both for stock and for customer commissions, and have an extensive range of rare gemstones and diamond jewellery in stock, both in the physical shop and on their website.
As well as their own wide range of stunning jewellery, they stock well-known brands, including Sheila Fleet, Ortak, Coeur de Lion, Fiorelli and Kit Heath. They also carry an extensive range of watch brands include Seiko, Certina, BOSS and Skagen, with each brand offering ladies' and gents' watches.
Unique Pink Tanzanite & Diamond Ring - £9600
---
WTG Henderson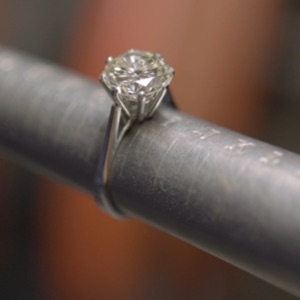 WTG Henderson the jewellers is an independent family-run business established in 1938. Scott Henderson, his wife Catriona and son Matthew. Matthew is the fourth generation of artisan jewellery maker in the family business.
Fine jewellery and silver with expert craftsmanship and exceptional customer service. WTG Henderson stock a large range of all types of jewellery, their shop boasts an on-site workshop offering a bespoke design service.
The present shop concentrates on jewellery and silver designs. They are a working jewellers shop with a fully equipped workshop where bespoke jewellery can be designed and made to customer specifications
18ct white gold diamond solitaire ring - price varies
---
TB Mitchell
TB Mitchell has always had a reputation for bringing some of the world's biggest names right to your doorstep. Established as a family-run jewellers and watchmakers in Perth in 1936, it has gone from strength to strength and now boasts a wide and varied selection of designer brands such as Shaun Leane, FOPE and Georg Jensen.
From timeless designs in silver to magnificent diamond-set pieces in 18 carat gold, TB Mitchell offers beautiful everyday jewellery alongside stunning showstoppers for those really special occasions. Choose from bracelets and earrings, charms and pendants, necklaces, watches, giftware and a range for men.
TB Mitchell continues to offer the excellent service which has become its hallmark, with experienced staff on hand to assist you at their premises on St John Street, or simply go online for free UK delivery. The in-house workshop facilitates jewellery and watch repairs, and TB Mitchell also offers an independent appraisal and valuation service.
Shaun Leane Vermeil & Diamond Signature Hook Heart Pendant Necklace - £410.00
---
Tayberry Gallery
Tayberry Gallery champions British artists, designers and makers with a curated selection of work from more than 50 different creatives. Tayberry presents a wide variety of unique gifts, high quality pieces, or wee treats and all in a welcoming space.
Established in 2009, after graduating from Duncan of Jordanstone in Dundee, owner Sarah Spalding continues to work as a jeweller from her home based workshop. Alongside her own creations, Tayberry hosts an ever-changing collection of applied and fine arts to suit any budget or occasion, including ceramics, textiles, wood, glass, paintings, prints and, of course, jewellery.
From affordable ceramic, glass and wood earrings, to high-end pieces made with precious metals and gemstones. Most items are one-off or bespoke, making your purchase even more special. More than 15 jewellers are celebrated by Tayberry Gallery so if you're looking for something a bit different you must give them a visit.
Silver and gold stacking rings MELD collection - by Sarah Spalding Jewellery
---
Number Five
Number Five on Perth's High Street specialises in having a broad and diverse range of individual jewellery makers constantly developing new designs. Each maker is chosen with care and has their stunning pieces exhibited in a gallery style for customers to browse in a friendly, informal and relaxed atmosphere.
Most of the jewellery designers and makers are from Scotland and the rest of the UK, but Number Five also sources specialist creators from across Europe. Any of their pieces can be tailored to individual requirements. In addition, Number Five's resident goldsmith and designer Claire Donald offers bespoke commission pieces.
Number Five takes you from clear and cool stainless steel and titanium to the rich warmth of 18 carat yellow gold, sparkling and glinting with diamonds. Unique jewellery designs, handcrafted with precious metals, intricate detail and precious or semi-precious stones, reflect the exquisite workmanship and superior quality you can expect to find at Number Five. An exciting selection of contemporary jewellery offers innovative and stylish items where no two pieces are alike.
With their leading reputation, and offering a warm welcome, Number Five is the perfect destination to shop for gifts or treat yourself.
Calla - 18ct yellow gold set with 0.20ct brilliant cut diamond. Satin finish with polished highlights - £2,986
---
Silver Linings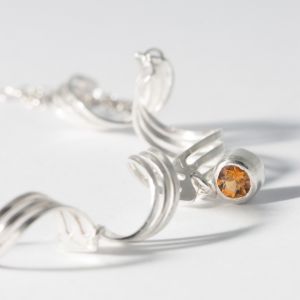 Kyley Campbell opened Silver Linings in 2016 to showcase her beautiful collection of signature jewellery along with a wide range of jewellery and gifts made in Scotland by other artisan designers. At the foot of the High Street in Perth, this boutique store is a colourful and creative haven of handmade contemporary jewellery, artwork and crafts.
A graduate of Duncan of Jordanstone College of Art & Design, Kyley has been creating her popular collections and bespoke orders since 2005. Now, with her workshop on the premises, Kyley fills her shelves with the sophisticated, organic creations she makes from silver, gold, and anodised aluminium, featuring precious or semi-precious gemstones.
Silver Linings is the place to go for a unique piece of jewellery or that extra special gift, with something to suit all tastes and budgets. Gift items include scented candles, greetings cards, clocks, handbags, purses, glassware and ceramics.
Jewellery commissions and repairs are welcome.
---
Blairgowrie and East Perthshire
---
Sarah Cave Silversmith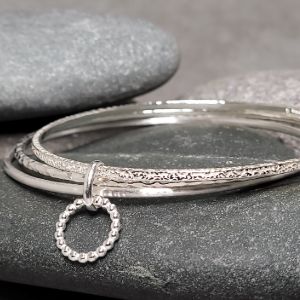 In her studio space on Blairgowrie High Street, independent silversmith and Edinburgh College of Art graduate Sarah Cave designs and creates a range of contemporary silverware and jewellery. Following successful commissions for The Millennium Collection and The Silver of the Stars Collection, along with participating in Perthshire Open Studios, Sarah opened her shop and studio doors in 2018.
Sarah's handmade range of elegant and wearable silver jewellery includes earrings, necklaces, brooches, bangles and rings as well as cufflinks and small gifts. Delicate pieces with leaf, heart and circle motifs are among the multitude of designs on offer.
Sarah also produces unique handcrafted silverware such as sterling silver bowls and condiment sets. Most of her silverware is 'hand raised' – a traditional technique of producing form using basic hand tools.
Individual commissions are welcome.
Trio Bangles - £95
---
Strathearn and West Perthshire
---
The Lalique Boutique
Founded more than a century ago, Lalique has endured as the ultimate symbol of French luxury and is world-renowned for its masterful creations in crystal and glass. First established in 1888 by the innovative glassmaker and jeweller René Lalique, this luxury business continues to thrive as a truly timeless lifestyle brand, incorporating homeware, jewellery, perfumes and art.
The Glenturret Distillery – Scotland's oldest working distillery two miles northwest of Crieff – is now home to the Lalique Boutique, the only one of its kind in Scotland. It features a stunning selection of signature and seasonal pieces from the prestigious Lalique name, including their iconic Cabochon and Arethuse jewellery collections.
Explore this exciting retail destination to discover an iconic, must-have piece of jewellery, the epitome of style and chic. The Lalique Boutique also offers an exquisite range of Lalique barware, sculpture, perfumes and homeware.
Cabochon Flexible Bangle - £219
---
Kinross and Loch Leven
---
By Rebecca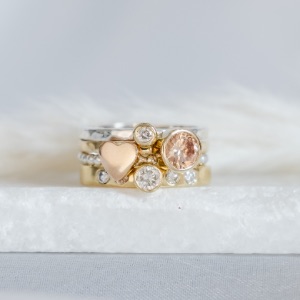 Every piece of stunning By Rebecca jewellery has a personal story behind it, much like the business itself and its founder, Rebecca Robertson. She left a successful corporate career to start a handmade jewellery business from her kitchen table, finding comfort and encouragement in creating empowering jewellery hand-stamped with meaningful words.
Today, a team of six skilled goldsmiths work from Rebecca's state-of-the-art studio and retail space in Kinross. Her collections of gold and silver jewellery, adorned with precious gems, can be personalised with a hand-stamped message, creating unique pieces designed to be both beautiful and inspirational. You can contact Rebecca for bespoke commissions, including working with you to design personally symbolic wedding rings. You could also take advantage of Rebecca's two other services - 'Reloved' where old family jewellery can be reworked in a contemporary style or the memorial service, 'Remembered', which is custom designed jewellery incorporating ashes, fingerprints or hand-writing elements from a loved one.
Visit the showroom to find a unique and heartfelt gift for a loved one, or look for the By Rebecca range stocked in more than 40 shops across the UK (locations listed on the By Rebecca website).
Remodelling Reloved Comission - "Reloved - Price upon quotation"