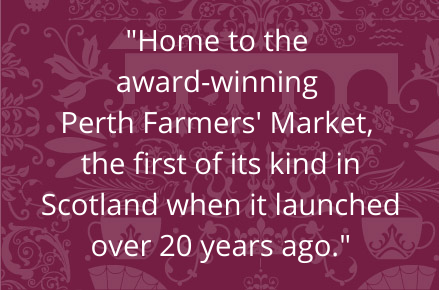 Home to the award-winning Perth Farmers' Market, which was the first of its kind in Scotland, Perthshire proudly boasts eight fantastic markets in various locations across the region.
And is any wonder? The area is renowned for its rich agricultural land, long history of distilling, and award-winning producers. From the mighty berry fields of Blair to honey from hillside hives, crystal clear gin from copper stills and beef fit for a king, here in the land of Scotland's larder it is all made possible.
As with all good, authentic Markets, behind the stalls you'll find the producers themselves - and they all love to chat about their wares! Ask about their processes, their attention to tiny details, where they farm and even the name of the cow your rib eye steak came from and they'll happily tell you.
---
Perth Farmers' Market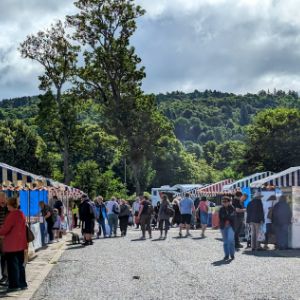 First Saturday of the month, 9am to 2pm
South Inch Park, Perth
The first farmers' market of its kind in Scotland, thanks to the tenacity of local farmer, Jim Fairlie, Perth is an award-winning market that regularly hosts around 50 stalls of fine Scottish produce. From freshly baked bread, homebaking, gin and organic vegetables, you will find top quality food and drink a-plenty.
The market is largely made up of local producers from across Perthshire and farther flung 'guests' such as cheese from St Andrews or Highland beef from Aberdeen. Their new location has also allowed them to open up to artisan crafts bringing a new dimension to this hugely popular market.
---
Pitlochry Market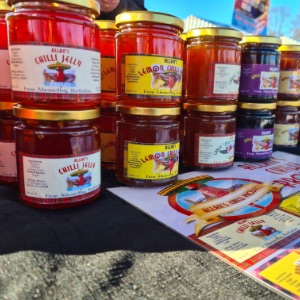 Third Saturday of the month, 10am-3pm
April to October
Pitlochry Business Centre, Armoury Road
This popular community market blends local producers from the Highland Perthshire area including homebaking, seasonal veg, gin and beer, with quality crafts and ready-to-eat food and drink.
A fabulous day out for everyone.
---
Perth Mela Market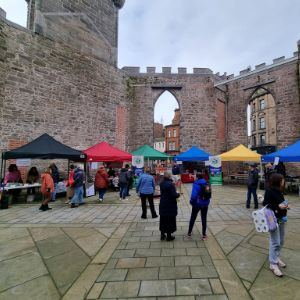 Market Dates | 18th November
St Paul's Square, Perth | 11:30-2:30pm
Stalls include wee smellies stall with candles, wax, and gifts. Must Eat, Rasoi hot food selections. 360-degree photo stall, mehndi henna stall, Information Stalls about the services the groups offer. There will also be face painting available for the kids.
A selection of ready to eat hot food will also be available.
Mela Market place is made up by the groups from the Ethnic Minorities Forum which consists of Jar of Jewels, Perth Welfare Society, Perth Minorities Association and Perth Chinese Association. All the groups were set up to support minority communities within Perth and Kinross.
---
Kinross Farmers' Market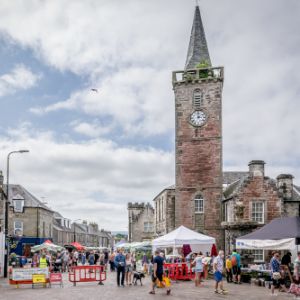 Fourth Saturday of every month, 10am to 2pm
April to October
Kinross High Street
Visitors can buy high quality, fresh food from local producers and artisan traders offering a wide variety of products. Local honey, smoked fish, butchers and homemade tablet sit alongside the more unusual Kombucha and Persian Kuku! You'll also find woodcrafts and jewellery making this a great day out for lovers of shopping.
---
Errol Sunday Market and Car Boot Sale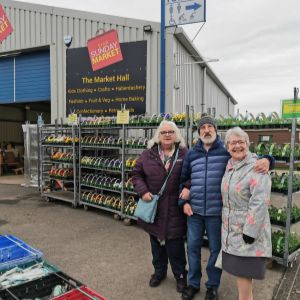 Sundays throughout the year, 8 am to 3 pm
Errol Airfield
Errol Sunday Market is recognised as Scotland's largest indoor and outdoor retail market.
Errol Sunday Market offers a fantastic shopping environment with a huge variety on offer. Where else can you get your grocery shopping for the week, order your new garden furniture, get fitted for a wedding dress, and browse quality antiques? Better yet, Family Fun Days are hosted throughout the year that feature events like inflatable wonderlands and crafting stalls. You can keep up with their events, traders, and exciting new developments on all their socials:
---
Blairgowrie Farmers and Producers
Last Saturday of the month, 9.30 am til 4 pm
Wellmeadows, Blairgowrie
New to the Blairgowrie regular events calendar is Blairgowrie Farmers' and Producers Market.
The market takes place on the last Saturday of each month and showcases a huge range of local produce from bee pollen, fresh and smoked fish, natural dog treats, charcuterie, Perthshire game, local vegetables and crafts.
The market also gives a space to a local charity or organisation each month.
---
Aberfeldy Community Market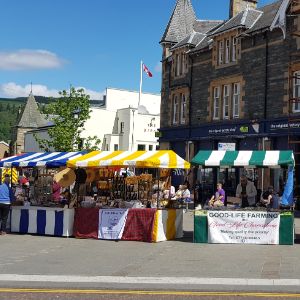 First Sunday of the month, 10am to 2pm
April to October
Aberfeldy Town Square
Aberfeldy Community Market sells predominantly food. The cream of the local crop can be found selling their wares throughout the day, from freshly baked bread, organic vegetables, fish, meat and spirits, you will find top quality food and drink a-plenty.
At the same time, in the Birks Cinema mezzanine level (lift alternative to stairs) runs an Arts and Crafts market for makers and creators from in and around Highland Perthshire to display and sell their Art and Craft. All items are handmade, high quality and often linked in with Perthshire Open Studios and Perthshire Artisans.
Rippling out this promotes Aberfeldy community and district as a great destination with something for everyone and in turn benefits business and traders alike, attracting both locals & tourists.
---
The Yard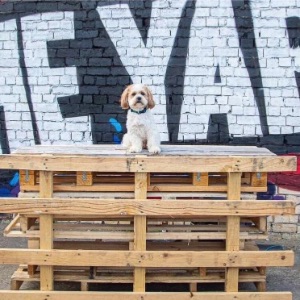 First Sunday of the month, 11am - 3pm
Radisson Blu Hotel
The Yard Market is Perth's only monthly craft market, and has recently relocated to the glorious Radisson Blu Perth.
The market is full of regulary changing stalls featuring art, luxury candles, bakery, jewellery, vintage and so much more.
The Yard Market also offers a free space every month for a charity or community group and also, for a new business or young entrepreneur.
There's also a regular guest hot food truck, a garden bar, outdoor seating and live music. As ever, it's all dog friendly! Entry is £2 for adults and kids under 16 go free.
---