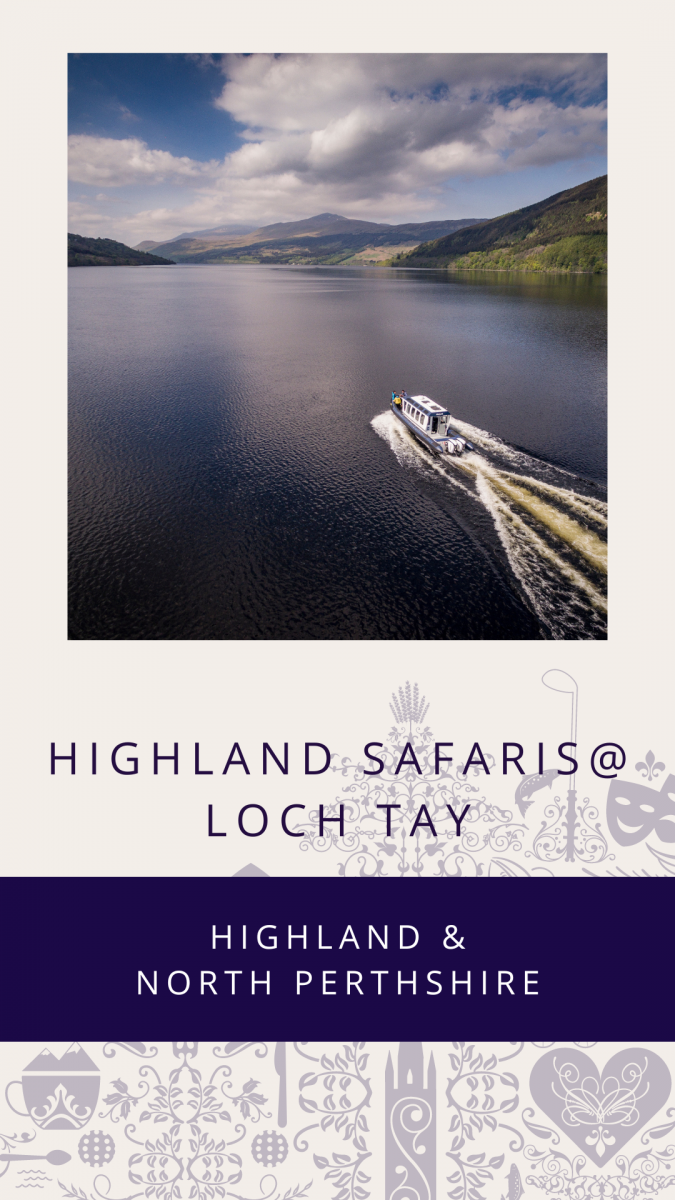 Highland Perthshire is a vast and beautiful area that has five principal towns: Pitlochry, Dunkeld, Aberfeldy, Blair Atholl and Kinloch Rannoch.
Boasting an outdoor playground unlike any other, Highland Perthshire has centuries of history and intricate stories, and a cultural landscape that is alive with theatre, music and art.
You'll see that we've linked you straight to the individual attractions websites - or social media pages - and we would advise you to check opening hours and rules before you travel.
---
Active Kids Adventure Park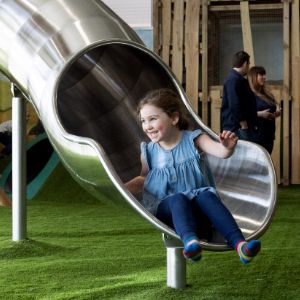 Situated just north of Perth near Stanley, Active Kids is a fun-filled adventure park perfect for kids who love to play and, with both an indoor play and outdoor park to explore, it means that there is plenty for kids to enjoy whatever the weather.
Indoors, there's a treehouse-themed playground along with a café offering a tasty range of fresh seasonal food, from the park's popular children's lunch boxes to delicious homemade hot meals. There's also a toy shop for both kids and adults to enjoy during their visit.
Outside, the adventure park sits in a sprawling 11 acres of countryside. There's giant bouncing jelly pillows, pedal-powered go-karts, a huge pirate ship, a speedy zip-line as well as lots of other activities to discover.
Kids can also meet some beautiful farm animals in the park including goats, pigs, chickens, fluffy alpacas and the park's resident donkey duo, Jack and Lulu.
---
Blair Castle & Gardens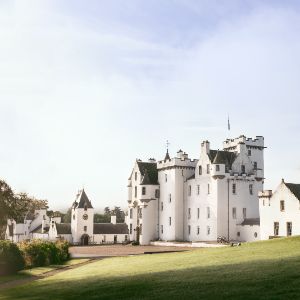 Located in Blair Atholl in Highland Perthshire, Atholl Estates offers a wide range of activities for visitors wishing to explore the beauty and history of rural Scotland. Blair Castle, the ancestral home to the Dukes of Atholl, lies at its heart.
As well as Blair Castle's self-guided tours, restaurant, gift shop and tranquil walks around the Gardens, walkers and cyclists have a wealth of waymarked trails to explore. Their Ranger Service hold events throughout the year, where you can learn about the estate's wildlife.
There is a range of accommodation on the estate including a popular caravan park, historic self-catering highland lodges and shepherds' huts, which all make the perfect base for your Scottish adventures.
---
The Birks Cinema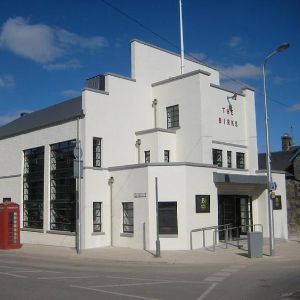 The Birks Cinema, a community hub in Aberfeldy, sits at the heart of Highland Perthshire.
This beautifully refurbished single-screen cinema features a 100-seat auditorium with spacious, comfortable seating and state-of-the-art digital projection and sound system.
Audiences can enjoy the latest movie releases as well as broadcast live events (theatre, opera, ballet) while enjoying a glass of craft beer or wine!
The bright, warm and lively Cafe Bar is open every day from morning til late, serving breakfast and lunch with daily specials.
Loved by locals and visitors alike, there's always something happening to keep you entertained. And of course, the Birks is more than a cinema! Every week there are regular community activities and groups, which are all free (donations welcome): relaxed Acoustic Music Nights, Chair-Based Exercises, Chess Club, Craic n' Craft, Board Games Night, Beer Club, Singing for fun... and the list goes on!
---
The Hermitage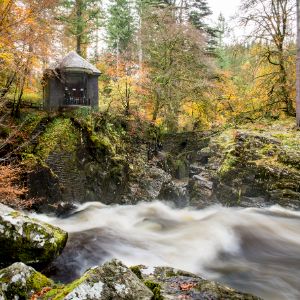 Cared for by the National Trust for Scotland, this stretch of magical Perthshire forest just outside Dunkeld was an 18th century pleasure ground for the Dukes of Atholl.
Giant Douglas firs tower over you as you take the path to the roaring Black Linn waterfall, where the River Braan crashes into the deep, foaming pools below. Deep in the woods, discover the picturesque 18th century folly known as Ossian's Hall, which overlooks the stunning waterfall.
Keep your eyes peeled for wildlife as you walk along the River Braan – you might even spot signs of beavers. Look out for the totem pole carved from a Douglas fir by three native Canadians from the Squamish Nation of Vancouver – and red squirrels darting about in the tree tops.
See salmon leaping up the falls in autumn as they head to spawning grounds further along the river.
---
Land Rover Experience & Highland Offroad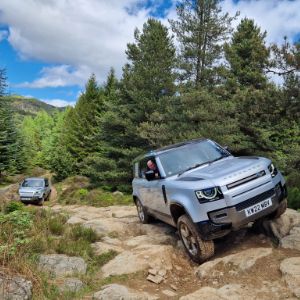 Enjoy a fun-filled off-road driving adventure with Land Rover Experience Scotland. With expert help at hand you will have the opportunity to drive a latest model Land Rover through some of Highland Perthshire's most spectacular rugged off-road terrain spotting local wildlife along the way! There is something for everyone, whether a family day out, a corporate event, or a bunch of friends looking for adventure!

The Experience begins at the Land Rover Experience centre, Butterstone Loch which has some of the most stunning scenery imaginable. You will head off with your expert instructor to our assault course and forest tracks where you will tackle slopes, negotiate obstacles and drive through deep water.

Extend to a full day and the afternoon will be spent putting newly found skills to test on one of the nearby highland estates. Land Rover Experience Scotland currently has access to over 150 miles of private off-road tracks. Each Experience is for up to three drivers depending on the vehicle allocated.

Not just for adults! Land Rover Experience Scotland offers a Young Off-Roader Experience for 11-17 year olds. Junior drivers will be able to drive a dual controlled Range Rover Evoque and have great fun tackling obstacles whilst building their confidence at the same time.
---
Highland Safaris and Red Deer Centre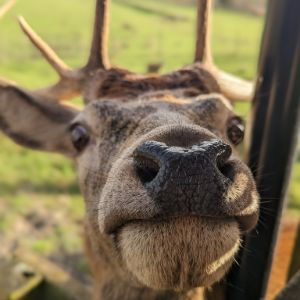 Highland Safaris and Red Deer Centre just outside Aberfeldy has SO much to offer everyone that it would almost be easier to tell you what they don't do!
Alongside the famous Landrover Safaris, you can get up close to red deer and birds of prey, have a go at axe throwing or archery, ride miles of exciting tracks and trails across all sorts of terrain on their hired bikes, find your inner prospector with their Gold and Gem panning courses, or choose a life of less adventure and spend some time in their award winning Cafe or Safari Shop. Specifically for little ones there are mini Landrovers and a kids play area to explore.
And if that wasn't enough to keep you entertained and out of trouble, you can treat yourself to a cruise on Loch Tay, skimming over the surface of the waters of Perthshire's largest - and one of Scotland's deepest - lochs!
---
Nae Limits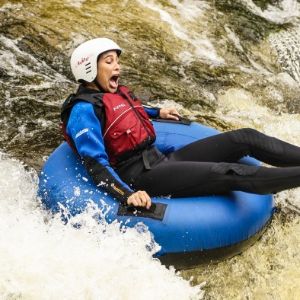 A short drive south of Pitlochry, this award-winning adventure centre is handily located just off the A9 in the village of Ballinluig. By the banks of the River Tummel, Nae Limits invites you to step out of your comfort zone and experience the buzz of its thrilling water and land adventure activities.
There are adventure experiences available here all year round, for all ages. White water rafting is popular with families; in the summer even children as young as six can float and paddle a scenic six-mile stretch of the River Tay. The more experienced might like to try the tumbling rapids, narrow shoots and two-tier waterfalls of the River Tummel.
As Scotland's only tubing provider, Nae Limits gives those with confidence in the water the opportunity to navigate a tight and technical section of the River Tummel, finishing with some optional cliff jumping. You will get wet – guaranteed!
Gorge walking will take you through a natural water playground – great fun for all ages and abilities with trips adapted to suit each group. Or try canyoning, with a range of exciting routes to choose from. You can skid through fields and forests on an all-terrain quad bike, or take a shot at clay pigeon shooting. With half or full-day options, activity and accommodation packages, and gift experience vouchers, there really are nae limits to what you can do.
---
Pitlochry Festival Theatre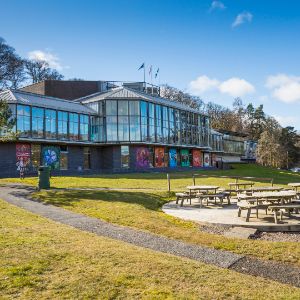 When is a theatre more than a theatre? When it's a way of life! For over 70 years, Pitlochry Festival Theatre has been Highland Perthshire's artistic heart and soul, sitting perched on the edge of the River Tummel and looking out to Ben-y-Vrackie, the spectacular 'Speckled Mountain'.
Now attracting over 100,000 visitors each year, it's not just a venue. The theatre is famous for producing large-scale plays and musicals that delight theatregoers of all ages. International-standard performances featuring award winning artists, writers and directors, and outstanding set and costume designs all combine to bring audiences to their feet.
The Festival Shop is full of gift ideas and unique reminders of your visit: maps of Pitlochry, accessories for the home, eclectic and affordable art works – many of them by Scottish artists – sweets that will take you back to your childhood, nostalgic memorabilia, music and books.
The Café Bar space sells fabulous snacks and the all important tubs of ice-cream supplied by local ice-cream maestros Stewart Tower Dairy! There are some fantastic gin pours, a curated wine list, cocktails, and soft drinks.
---
The Highland Chocolatier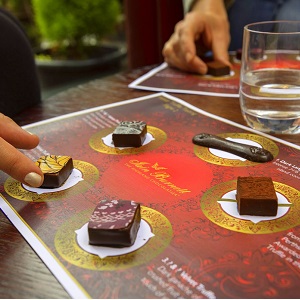 Known as The Highland Chocolatier, Iain Burnett is an award-winning chocolatier and truffle specialist who creates his specially designed chocolates in the picturesque village of Grandtully. Take a self-guided audio tour, explore the chocolate shop and relax in the lounge where you can sample the Best Truffle in The World.
They also offer Chocolate Tasting Flights & Pairings where you can enjoy a rich, sensory experience and learn about the art of a world-class chocolatier.  Chocolate Pairing boxes are also available for a wide range of malt whiskies, champagnes, gin, coffee and teas.  The result is a dance of carefully balanced flavours that complement the unique characteristics of the cocoa beans and the drinks they're paired with.
---
The Pitlochry Dam Visitor Centre & Fish Ladder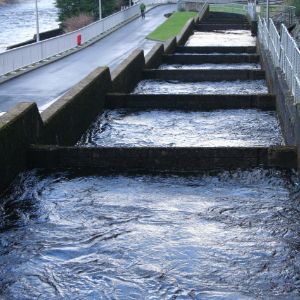 A truly unique experience makes this a must-see on any visit to Perthshire. Pitlochry Dam Visitor Centre showcases the rich history of hydro-electricity in the north of Scotland and how it transformed all our lives.
Visitors will meet the visionaries who saw the untapped potential of hydropower in Scotland and the Hydro Boys and Tunnel Tigers who built the schemes.
What makes this attraction even more fascinating is Pitlochry's famed 'fish ladder'. Integral to the design for the hydro-electricity scheme in the early 1950s, thousands of people since then have witnessed the salmon swim to their breeding grounds upriver, and learned the secrets of that incredible journey.
---
The Scottish Crannog Centre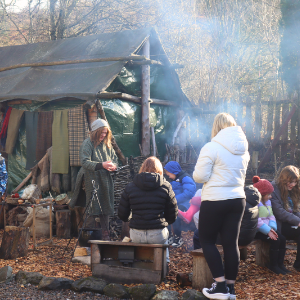 The Scottish Crannog Centre is a Museum situated on the banks of Loch Tay that interprets the lives of Crannog Dwellers who lived on the Loch 2,500 years ago through guided tours, a museum holding the artefacts left behind and showcasing the many skills and technologies of the past with hands on demonstrations.
The Scottish Crannog Centre has re-opened following the loss of its reconstructed Crannog.
Your visit to The Scottish Crannog Centre includes a guided tour of the museum and artefacts as well as interactive demonstrations of ancient crafts and technologies. A team of enthusiastic, knowledgeable and friendly Iron Age interpreters will guide you through the Crannog story, giving you a glimpse into pre-historic life.
Through reconstructing both Crannogs and Iron Age houses at the new development at Dalerb, the team have been able to test theories of how these structures were built, the skills and tools needed, and as a community, get one step closer to connecting to the Crannog communities of the past.
---
Wild Space Visitor Centre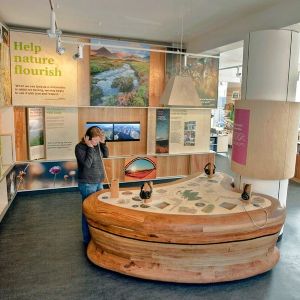 What's the future for wild places? Why not head along to the Wild Space visitor centre to find out! Located in the centre of Pitlochry, in the heart of Highland Perthshire, this visitor centre and gallery is an ideal stop-off if you're passing by on the A9.
The Wild Space has an interpretive exhibition packed with inspiring photography, film, and audio. Their current short film teaches you about carbon emissions land tax and how you can help, whilst a unique audio journey whisks you to some of the most rural places in the UK, including Knoydart and Sandwood Bay.
There's an art gallery with an annual programme of temporary exhibitions and a shop with a selection of JMT branded products, books, local artists art and much more.
Their current exhibition (available until the end of August) demonstrates the work of the John Muir Trust over the last 40 years and their hope for the future.
Activities for kids include using a lens, look at a peatland core up close and learn why peatlands are so important for capturing carbon emissions or why not take part in one of their quizzes.
And best of all - entry is FREE!
---
Of course, there is so much more to see and do in this fantastic area and we recommend you visit the local websites for more info.