Seek Adventure in the Great Outdoors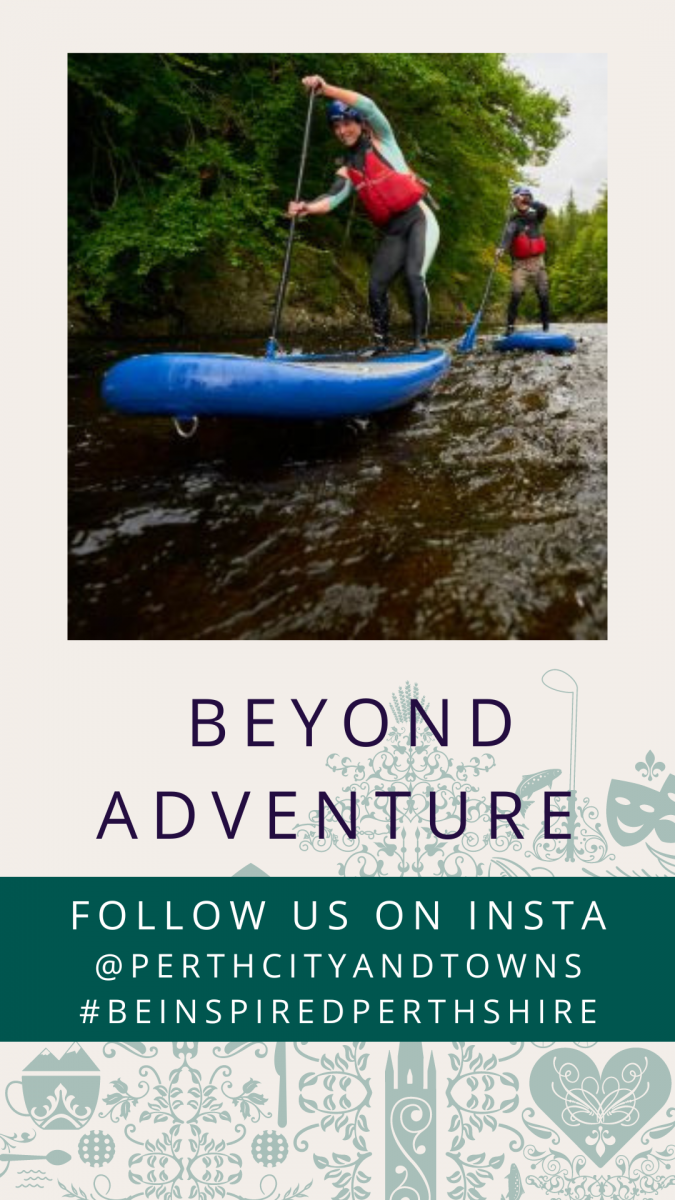 Perthshire Adventure is the Highland Perthshire Community Interest Company whose mission is to create innovative, exciting and handpicked experiences in spectacular landscapes for people of all ages – and fear-levels!
Sarah Turner of Wee Adventures, one of the founding partners explained, "A sense of connection is pretty much at the top of everyone's list and we're all seeking out shared experiences and a way to discover the great outdoors.
"When we opened our kids summer Activity Days we sold out in 24 hours – it was incredible. I felt like we were running a music festival rather than summer camps! I know some of our other members are the same; you could see it as early as Christmas. Vouchers for the Paddle Board and Whisky Tour were especially popular!"
The founding members Sarah talks about (see below) have over 100 years of shared experience in delivering outdoor adventures in Perthshire.
And as small, family run businesses, that sense of authenticity, passion and expertise shines through in the quality of the experience and the care with which they have approached this collective effort.
"We wanted to offer visitors to the area an amazing all-round experience and we knew that with our close community links we could provide wholeday packages that would help people find their perfect adventure and give them an opportunity to experience Perthshire's incredible food and drink,and our captivating culture and heritage."
The result is six preset adventures ranging from a slow SUP across Loch Freuchie to an exhilarating afternoon chasing waterfalls at Falls of Bruar.
This mix of gentle relaxed activity and adrenalinpumping thrills was created to ensure everyone found a way enjoy Perthshire at their own pace.
"So often we find that the word adventure is associated only with fast-paced, action-packed thrills but what we've found over the years is that we all have a yearning to get outdoors and soak up nature in a way that is different and meaningful. For some people that will mean peace, tranquillity and relaxation, for others it will be thrills, spills and adrenalin overload!
"This summer has offered a chance for people to reboot. When you're out paddling on the water or mountain biking through Big Tree Country, everything else just slips away. You engage with the people around you, focus on what you're doing, find yourself totally distracted by the beautiful scenery and utterly present in the moment. There's simply no headspace for worrying about a to-do list!"
Perthshire Adventure was founded by Paddle Surf Scotland, The Canyoning Company, Outdoor Explore, Beyond Adventure, Progression Bikes, Still Going Strong and Wee Adventures.
---
Canoes and Crannogs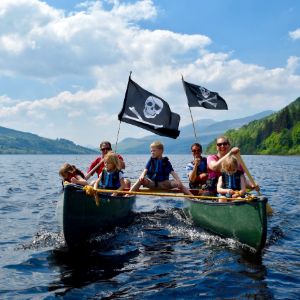 Escape the ordinary by combining your own Wee Adventure by canoe with a journey into the Iron Age at the Scottish Crannog Centre on Loch Tay and lunch at The Paper Boat Cafe in Kenmore.
Wee Adventures exceptional outdoor experiences in Highland Perthshire.
Book a private tailor-made adventure with friends and family or escape for some you time on our Confident Canoe Courses or Adult Adventure Tasters. Entertain the kids with Activity Days, Brilliant Birthday Parties and monthly Adventure and Bike Clubs.
---
Chasing Waterfalls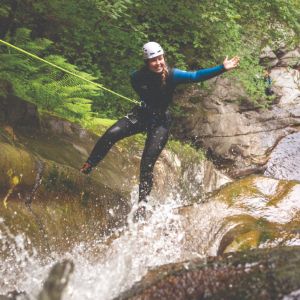 The Bruar canyoning experience is one you will remember forever and will leave you hooked on the sport! Combine it with lunch at The Blair Atholl Watermill and a walk up Glen Tilt.
The Canyoning Company lets you experience stunning waterfall abseils, adrenaline fuelled cliff jumps, natural flume slides and beautiful scenery.
Whether you're a family, corporate group, stag do or away with friends you will be guaranteed a thrilling experience. At the Canyoning Company we have unrivalled expertise, running canyoning experiences throughout Scotland.
---
E-Bikes and a Picnic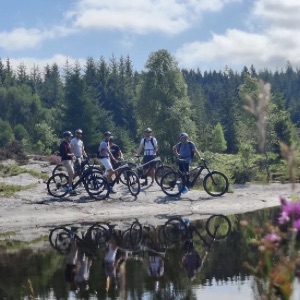 Take to the hills for a day on a top-spec electric bike from Progression Bikes, with a route chosen to suit the ability of your group. Combined with a locally sourced packed lunch from the deli and it makes for a fantastic trip.
Packed lunch includes sandwich, tasty snack, crisps and a drink. Booze is also available!
Perthshire has some fantastic trails and stunning scenery. From leisurely family-friendly riverside paths, to a full days e-bike guided trip on red and black trails, there's fun to be had whatever you're looking for from your experience.
They can do much more than provide our bikes for you, they can also give you your own guide for your trip, ready to lead you down the hidden trails. Or how about a tour of stunning, easily-accessible views and waterfalls, without the hassle of navigation? They can do that too!
After your exhilarating ride, relax with a hearty lunch or tapas dinner at the local deli, sampling locally-sourced fine food and drink.
Just speak to a member of the Progression Bikes Team.
---
Kayaking with Castles and Coffee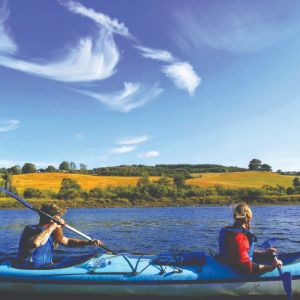 Take a fabulous guided kayak tour at Clunie Loch near Blairgowrie with Outdoor Explore. Sit, relax and learn about the amazing historical sites then refuel at The Cateran Cafe in Blairgowrie.
Go kayaking in Scotland with Outdoor Explore; Perth, Dundee, Pitlochry, Dunkeld, Blairgowrie and Kenmore.
These guided touring trips are wildlife, history or skills focused. Mountain biking, archery, indoor bouldering and hiking are offered as well.
Bespoke trips for small groups, families and individual explorers. When you are choosing Outdoor Explore's services you can expect a great time during fully tailored adventures.
---
Paddle Board and Whisky Tour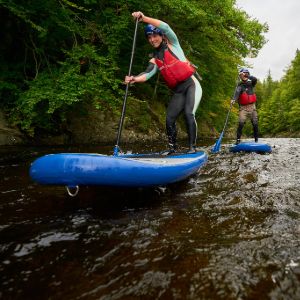 Create the memory of a lifetime and experience the best Aberfeldy has to offer with Beyond Adventure and Dewar's Aberfeldy Distillery
Beyond Adventure specialises in canoeing, kayaking, paddleboarding, hiking and mountain biking, Beyond Adventure can tailor any adventure to fit your needs.
Based on the banks of the majestic River Tay they can deliver day taster sessions, micro adventures and longer, more remote wilderness expeditions - Adventurous Activities for All!
---
The Sunday SUP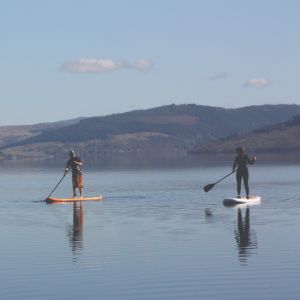 Explore beautiful Loch Freuchie by paddle board after a coffee and book in the Birnam Reader.
Paddle Surf Scotland is one of Scotland's oldest and most experienced Stand Up Paddleboard providers. We offer Loch lessons for all abilities from beginner to experienced. River Tay trips from gentle paddles to whitewater and River Surfing. Regular SUP Yoga classes.
---
Leave Only Your Footsteps,Take Only Your Memories
We can't wait to welcome you to Perthshire and, as with the rest of Scotland, you are free to explore most of Perthshire's outdoor land thanks to the Outdoor Access Code. This covers hills, moors, Munros, forests, lochsides, woods, rivers, and some farmland, and gives you rights to walk, cycle, climb, swim, watch wildlife and more.
All we ask is that you play your part when you visit. That way you can pass the landscape and your memories on for generations to come.

• Pick up your rubbish and other possessions.
• Aim for no-impact camping.
• Keep noise to a minimum.
• Don't feed the wildlife.
• Buy local and eat local.
• Choose public transport or active travel.