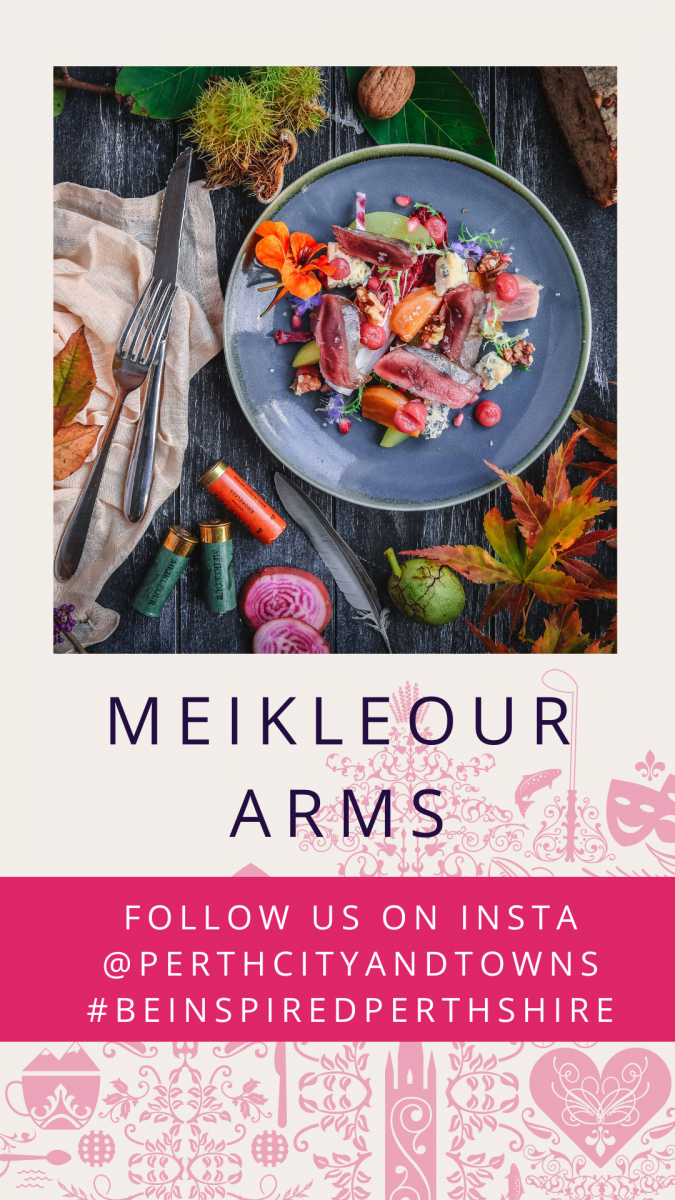 Are you ready to embark on a mouthwatering journey through the hidden gems of Perthshire and Kinross-shire's culinary scene?
We're about the spill the beans (and the sauces) on the most tantalizing, off-the-beaten-path independent restaurants you can find in our Perthshire towns.
Whether you're a local seeking a fresh bite, or a traveller with a taste for the extraordinary, join us as we explore the flavours, stories and personalities that make Perthshire a food lover's paradise.
We've got something for every palate with everything from 2 Michelin star restaurants, fine dining Indian establishments, French bistros and good old pub grub!
---
---
Auchterarder and South Perthshire
---
---
Andrew Fairlie's Restaurant | Gleneagles Hotel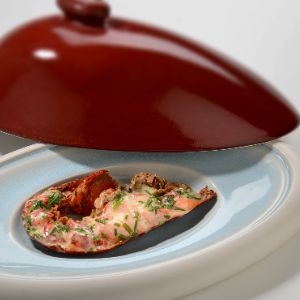 The only two-Michelin-starred restaurant in Scotland, Andrew Fairlie's restaurant is guaranteed to give you a culinary experience that you won't forget.
Its passionate, professional team will give you a warm welcome into an opulent, dramatic dining room hidden at the heart of Gleneagles.
Thoughtful and attentive service is ranked as highly as the exceptional cooking. Expect an indulgent evening in the relaxed and comfortable environment of the only two-Michelin-starred restaurant in Scotland.
Savour produce from the restaurant's own Victorian Walled 'Secret Garden' – Jo Campbell grows an array of vegetables, salads, edible flowers and herbs to inspire the Kitchen Brigade.
Choose between three-course à la carte and seven-course tasting menus, where the spotlight is firmly on the very best of Scotland's larder.
And no visit to Restaurant Andrew Fairlie would be complete without savouring the signature dish of home-smoked Scottish lobster (its intense smokiness comes from cold smoking over whisky barrel chips!) with a perfectly balanced lime and herb butter.
---
Kirkstyle Inn | Dunning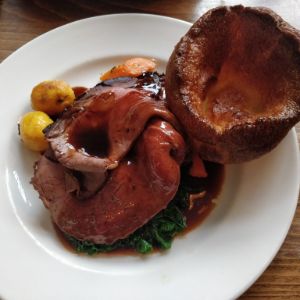 The Kirkstyle Inn is a friendly country pub nestled in the centre of the beautiful village of Dunning offering accommodation, fine wines, excellent ales, good food and banter!
Traditional in appearance with the best of Scottish hospitality, roaring fires, and proper old comfy furniture, it's also dog friendly earning itself even more brownie points from our team!
Being an integral part of the local community, the restaurant strives to use local producers, sourcing ingredients that have travelled as few food miles as possible and using local cheeses, meat and eggs to create its tempting menus for lunch, dinner and its infamous Sunday Roast.
Choose from simple but creative salads alongside traditional pub favourites with juicy stacked burgers or crispy battered fish and chips with tartare sauce, ending with crowd pleasers such as sticky toffee pudding or a warm chocolate brownie both with toffee sauce and delicious ice cream.
The Kirkstyle also has an outdoor oven for its vast menu of handmade stone-baked pizzas with every ingredient your heart desires, from pepperoni, goat cheese, and olives to the ever-controversial pineapple! You can eat in the restaurant or sit in the beer garden for an even more fun and relaxed experience.
A restaurant as fabulous as this is always busy, so make sure that you book in advance to avoid disappointment!
---
Delivino | Auchterarder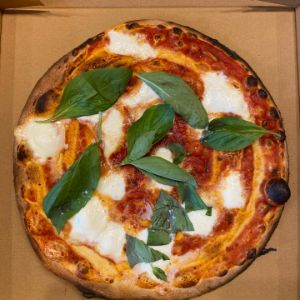 A collaboration between two food-loving wine experts, the original Delivino opened in Crieff in 2006, followed by their Auchterarder restaurant in 2014.
Delivino champions the sound food philosophy of Spain, Italy and southern France where good ingredients are cooked simply to show them at their best.
For lunch you can expect open ciabatta sandwiches or salads stuffed full with chicken, goat cheese or smoked salmon, alongside delicious small plates of meatballs, smoked salmon and rye bread, pancetta carbonara pasta, risotto primavera and all the best toppings for pizza.
The evening menu builds on the delicious lunch menu adding larger mains and grilled dishes of steak, burgers and lamb shoulder along with grazing platters piled with Italian charcuterie, cheeses, marinated vegetables and homemade rosemary focaccia bread.
The classic Delivino menus for lunch and dinner are complemented by a large daily blackboard of specials filled with seafood, local meat and vegetables, and delicious, sweet desserts to finish.
Delivino wines are handpicked from trusted importers and offer a carefully curated selection to suit all dishes and palates.
You can book a table online, and tables are also available for walk ins.
---
---
Blairgowrie and East Perthshire
---
---
The Meikleour Arms | Meikleour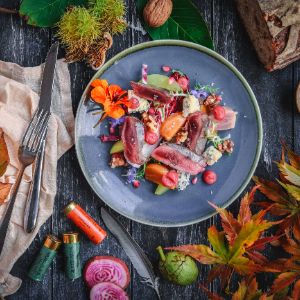 The award-winning Meikleour Arms restaurant is justifiably proud of its AA Rosette as well as its Franco-Scottish heritage, serving up superb country food incorporating produce from the estate and the neighbouring lands. The in-house butcher is an expert in venison and game, dry-curing their own charcuterie and maturing Aberdeenshire beef for 28 days in the dedicated butchery.
Local and sustainable venison, game, trout, vegetables and fruit, edible flowers, mushrooms and herbs all contribute to an ever-changing selection of dishes for lunch and dinner where provenance means everything, and food miles are kept minimal. With a robust field-to-fork philosophy shining through the Meikleour Arms menu, the seasonal offering is complemented by daily specials and, of course, a generous sprinkling of Gallic zest.
Eat in the bar, the dining room or, weather permitting, in the garden. Reservations are recommended and well-behaved dogs are welcome.
---
Little's Restaurant | Blairgowrie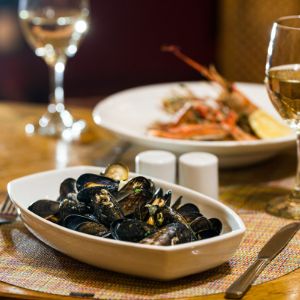 Willie Little is a well-known face in the Perthshire area with a wealth of experience in the catering industry. Little's is the latest in a line of popular eateries he has successfully owned and run in Angus and Perthshire over the years.
Being utterly passionate about fish, it's no surprise that all things fishy feature highly on Willie's menus. Such is his passion, that for several years he sourced the best fish and shellfish for some of the top hotels and restaurants in Scotland.
Through his fishmongers, Fish in Crieff, Willie can have the freshest fish that Scottish waters have to offer. Deliveries come daily from Scrabster Market in the North of Scotland – from market to plate within 12 hours!
Although fish and seafood are undoubtedly the stars of the show, Little's is committed to catering for every taste using local produce wherever possible, so delicious meat and game are treated with equal care, and Little's turns out a pretty decent pizza too!
Little's is open for breakfast, lunch and dinner and with daily specials, freshly baked homemade bread, tempting puddings, and homemade fudge with your coffee there really is something for everyone!
Booking in advance is advised.
---
Uisge Bar & Restaurant | Murthly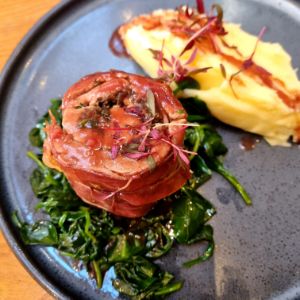 Award-winning Uisge Bar & Restaurant (pronounced Oosh-ghe!), nestled in the peaceful countryside village of Murthly, has a relaxed and informal feel, offering a tempting menu of the best of Scottish produce.
Focus is on quality ingredients, and Uisge loves to use fresh, local, seasonal produce. All their meat comes from farmers that they know and trust, with fish from sustainable sources. Everything Uisge does from starters to puddings is freshly prepared daily in its kitchen.
Uisge's all-day menu is a carnivore's dream, with local beef and lamb featuring strongly in dishes such as slow-cooked beef cheeks, loaded burgers propped up with chunky chips and homemade coleslaw, and steak of the day with all the trimmings! Seafood and plant-lovers are well catered for with delicious dishes such as seafood chowder, risotto and fresh superfood salads.
Tapas is a welcome addition to Uisge's already varied food offering, with a range of hot and cold small plates to choose from.
Liquid refreshments are also important to the team with a wide range of spirits, beers and soft drinks available in the bar.
---
---
Highland and North Perthshire
---
---
Killiecrankie House | Killiecrankie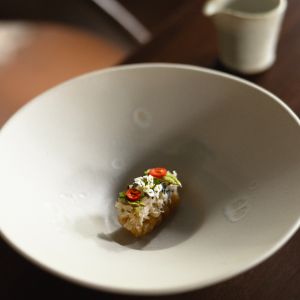 Hailed as The Scotsman's Scottish Restaurant of the Year in 2023, Killiecrankie House is a fine-dining restaurant with rooms located in the Cairngorms National Park. Serving a tasting menu of innovative Scottish cuisine, it celebrates the cultural and gastronomic bounty of the country.
A single, set menu is served at dinner from Wednesday to Saturday in the stunning dining room, with one enviable space available each night at the chef's counter right in the heart of the kitchen.
The sommelier, Matilda, has carefully curated a diverse drinks pairing, including beer, wine, sake and cocktails to match the menu as well as an interesting non-alcoholic pairing of juices, teas and infusions.
A short set menu is available for Saturday lunch.
Vegetarian or pescatarian menus are available, please request at time of booking.
---
The Taybank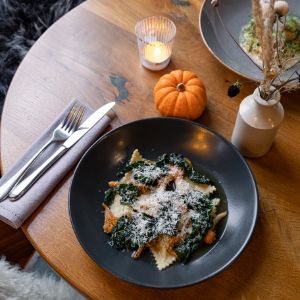 Situated on the banks of the beautiful River Tay with views of Thomas Telford's famous arched bridge, The Taybank has Perthshire's largest beer garden, a stylish restaurant, music bar and a collection of beautifully designed bedrooms and self-contained apartments.
The Taybank's busy restaurant and garden kitchen source quality, local produce to create inventive dishes that follow the Scottish seasons. Lunch might be a delightfully fresh courgette, herb and pea salad with ricotta and herb pesto, or a crispy handmade coley and crab cake served with pea and radish salad and a decadent langoustine mayo. Seasonal summer desserts make the most of the local berries including a mouth-tingling raspberry sorbet. The dinner menu showcases an impressive range of local meats, vegetables and fresh fish. You may find roast Tamworth pork with grilled peach, haricot beans, kale and turnips, or halibut, served with samphire, spinach and a delicious smoked butter and langoustine sauce. There's always a tempting selection of homemade desserts and Scottish cheese on offer, and to aid digestion, you MUST finish with a cup of coffee made with the Taybank's exclusive roasted bean blend.
The beer garden is open from April - late October and runs its own Garden Kitchen, bar, coffee & ice cream hut all on the banks of the glorious Tay. The Taybank also hosts a number of events in the gardens including long table dinners, outdoor cinema and live music performances.
---
Cidsin Indian Bistro and Gin Bar | Pitlochry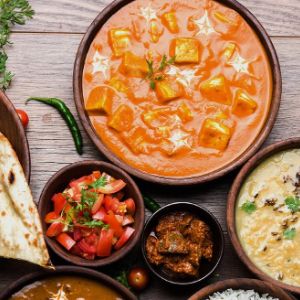 Inspired by the colourful palette of traditional Indian herbs and spices, modern Indian cuisine celebrates the country's regional diversity and aims to enhance the natural flavours of the dish to the point of perfection.
Winning the Scottish Asian Food Awards Best Curry Restaurant in 2022, Cidsin's menu has been carved with a spirit of imagination and an aim to delight its customers every single time. It features a range of unique street food dishes alongside mouthwatering daals, hearty biryanis and homestyle curries. There's a strong focus on the quality and seasonality of the ingredients used, so the menu naturally changes with many specials available daily.
Gluten-free and vegetarian curry lovers will be spoilt for choice with most dishes available to suit their dietary needs and preferences.
Cidsin features a Scottish Gin bar showcasing the best of the country's beautifully distilled spirits to complement its Indian dishes.
---
---
Kinross-shire
---
---
Grouse and Claret | Kinross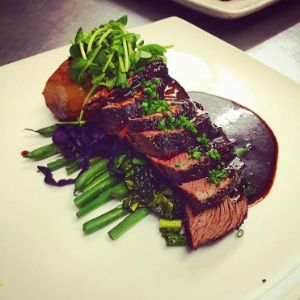 The Grouse and Claret pairs modern Scottish fare with oriental flavours in a quiet and friendly atmosphere, where you can enjoy anything from a light lunch to a five-course dinner.
The menu changes regularly to make the most of seasonal ingredients, with lunch, dinner and special Sunday lunch dishes on offer. With such a wide range of fish, vegetarian, meat and game across the menu, there is something to suit every palate whether you love oriental herbs and spices or simply-cooked Scottish steak served with perfectly seasoned vegetables.
The Grouse and Claret's famous cheese soufflé is available as a starter, or as a meal, and is well worth the trip for its oozing, unctuous, exceptionally cheesy filling!
The Grouse and Claret regularly hosts themed nights which sell out very quickly so keep an eye on its socials for details.
---
The Court House | Kinross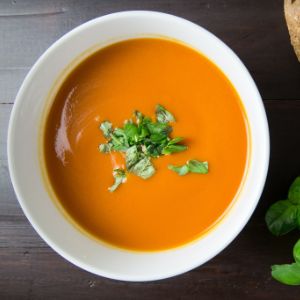 Established in 2015 and open every day for breakfast, lunch, dinner and delectable home-baked treats, The Court House on Kinross High Street is based in the town's former courthouse buildings. It's a unique venue that brings a historic site back to life – sit out with your coffee in the old prison yard, now a sunny garden and patio!
The Court House issues no prison fare, but traditional fish, mac and cheese, burgers and steaks alongside expertly hand-thrown, wood-fired pizzas with a traditional thin base and choice of toppings.
Its dessert menu features solid favourites such as eton mess, crème brûlée and homemade cheesecake of the day.
A weekend specials board changes regularly, vegan and gluten-free meals are available, and there are options for kids too.
Finish off with a luxury coffee that takes no prisoners – 100% Arabica beans and a shot of your favourite liqueur, all topped off with double cream. Who are we to judge?
---
Balgedie Toll Tavern | Scotlandwell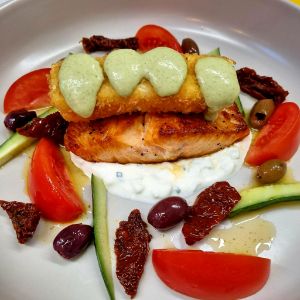 Balgedie Toll Tavern is a country pub in rural Kinross-shire, serving great food and real ales.
There are two restaurant seating areas plus a small snug bar serving lunch and dinner. The interior is cosy and traditional with low ceilings, oak beams, stone walls and open fireplaces, and for sunnier days there's ample outdoor space to sit and relax.
An impressive selection of real ales, malt whiskies, wines, and gins are available. Locally roasted coffee and great food are served six days a week.
Run by a gamekeeper's son and a farmer's daughter – the importance of using local seasonal ingredients is a core value at The Balgedie Toll.
Head Chef Edward uses beef, lamb and pork sourced by Quality Meat Scotland-assured farms. Seafood is supplied by local fish merchant Campbell's. Seasonal game such as pheasant and venison come from local game dealer . Desserts are all homemade, with Italian gelato ice cream coming from another family-run business – Porrelli, established in 1925 – with different flavours offered throughout the year.
All food is freshly cooked, influenced by Head Chef Edward's travels across the world during his career.
Alongside a daily specials board, the main menu has a combination of traditional favourites such as steak pie, smoked haddock, apple and cinnamon crumble and more creative, complex dishes such as brown lentil and sun-dried tomato guiso, steamed bao buns and coconut rice pudding with rum-roasted pineapple.
Many dishes can be tailored to suit vegans and gluten-free diets.
---
---
Strathearn & West Perthshire
---
---
The Glenturret Lalique Restaurant | Crieff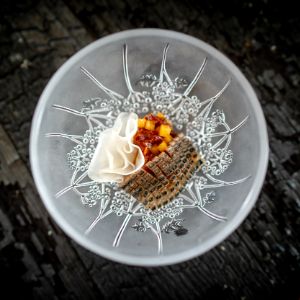 A MICHELIN starred gastronomic experience set in the heart of Scotland's oldest working whisky distillery, the first of its kind worldwide. Experience their multi-course Tasting Menu in the luxurious and intimate 6 table dinner-only restaurant, overlooking the old still houses and River Turret, open Wednesday to Saturday (6pm – 8pm) or enjoy bar lunch cooked and served by the Michelin starred team in their Lalique Bar, available Wednesday to Saturday (12pm – 2pm).
Reservations required.
---
Chatni | Methven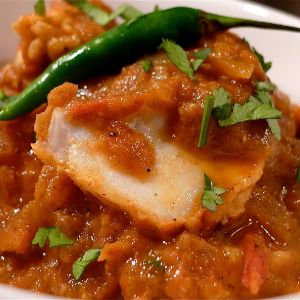 If you're on the hunt for a culinary adventure that will blow your taste buds away, then get ready to embark on a flavour-packed journey at Chatni, a fine-dining Indian restaurant that sits right in the heart of Methven, just outside Perth.
Spice up your life with a curated selection of dishes that are nothing short of a taste sensation. Crispy on the outside, and soft and spicy on the inside, Chatni's vegetable samosas and onion bhajis make the perfect start to your meal. Tikka dishes are full of beautifully marinated, succulent pieces of tender chicken, lamb or prawn grilled to perfection over charcoal in traditional clay ovens and served with perfectly cooked rice, fresh salad and homemade sauces.
There's a huge choice of mild dishes for those who love Indian flavours but aren't fans of the heat, with masala, korma, pasanda and Kashmiri styles available.
Spice lovers have lots of spicier dishes to choose from with everything from a bhuna or palak, to a Bengali rezala or super-spicy vindaloo on offer to tickle their taste buds!
And vegetarians needn't worry – there's a fantastic lineup of delectable veggie mains that'll leave you asking for seconds (or thirds, no judgement here!) – and more side dishes than you can shake a naan at to add even more variety or help mop up the delicious homemade sauces!
Chatni is a family-run restaurant and has been a huge and very popular part of the Methven community for many years, so booking in advance is well recommended.
---
G's Bistro | Crieff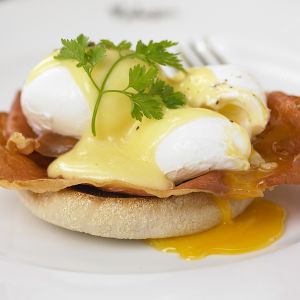 Yannick Grospellier was born and bred in the Haute-Savoie in the French Alps, and started cooking at the age of thirteen, making crêpes at his parents' restaurant in Chamonix.
At Yann's, cooking is a passion, with emphasis on good French food, kept simple and traditional, and the friendly team aim to make you feel at home for dinner in their relaxed and convivial restaurant.
The menu features many dishes from Yann's home region with specialities such as gratinated snails with garlic butter, moules frites marinières, fondue and tartiflette as well as bistro classics like French onion soup, coq au vin, steak frites and tarte tatin. And of course, you must sample the crêpes!
Yann runs a Supper club on the first Wednesday of the month, taking you on a journey of classic cooking throughout France with a different region each time, showcasing their famous recipes, and carefully pairing specially selected wines with each course.
Diners are mixed throughout the tables and it's a great way to meet new friends and brush up on your French cultural knowledge. The Supper club is great fun and hugely popular, so advanced booking is essential.
---
---