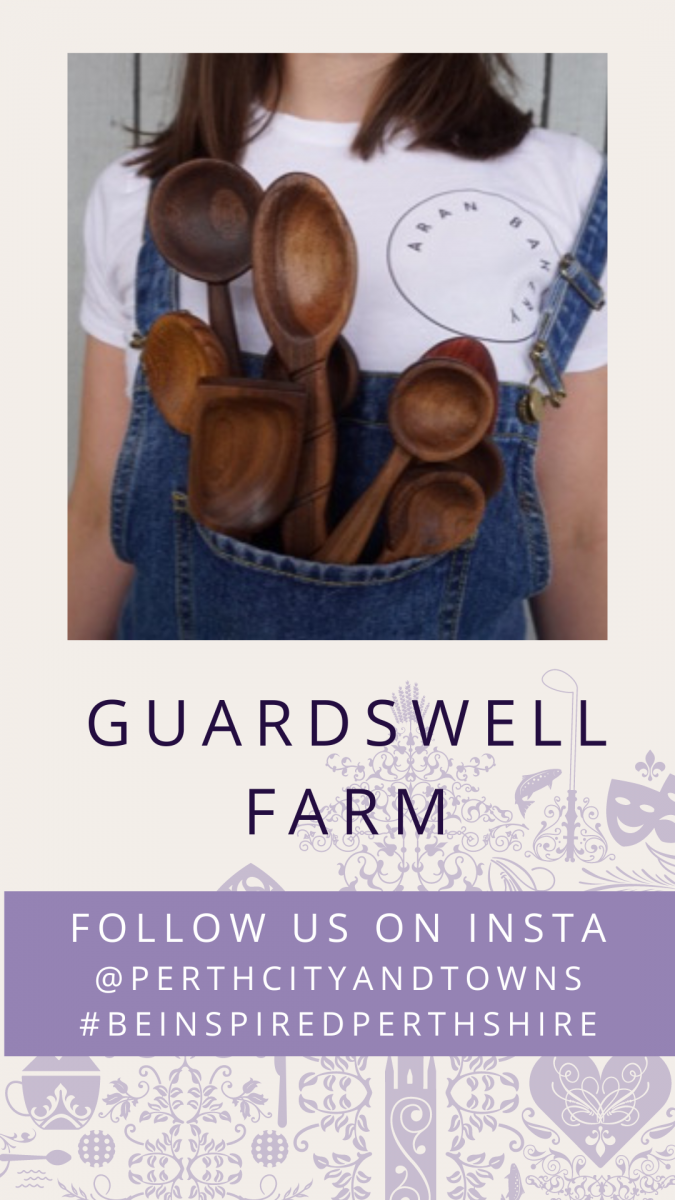 Long gone is the desire to accumulate lots of stuff - the age of experience is here and Perthshire has a long list of amazing artisans, makers, and talented business owners ready and waiting to bring you your next immersive, learn to event.
From flower arranging to art classes, Indian cook schools to brewing beer, you'll find ways to be amused for an hour or two, an afternoon or a whole day.
Why not book in for a few nights and make a weekend of it? Or find a regular class and commit to giving yourself a few hours a week to indulge in your new hobby.
Why Participating in Experiences is Good For You?
A 20-year study by a Cornell University professor showed the importance of investing in experiences over things. Here are the top Five Reasons why a Learn To Experience in Perthshire could leave you feeling happy!
"Our experiences are a bigger part of ourselves than our material goods. You can really like your material stuff. You can even think that part of your identity is connected to those things, but nonetheless they remain separate from you. In contrast, your experiences really are part of you. We are the sum total of our experiences." says Cornell Professor, Dr. Gilovich.
1. Experiences bring genuine and connected emotions

While objects will always become old or obsolete, experiences never fade. Enduring happiness comes from breaking out of our everyday routine and trying something new.
2. We're the sum of our experiences
Experiences become part of you; what you learn, who you meet, how you adapt to fit new information.
3. Go for purpose and passion rather than possessions
Find a new hobby, learn a new skill, invest in your passions. It could shape your life in ways you never knew was possible.
4. The anticipation of what's to come
We all enjoy the anticipation of an experience. What will it be like, who will I meet, will I be good at it? The thrill is real!
5. Memories and Stories to last a lifetime
Memories and stories only get better over time. You'll cherish experiences from the moment you start planning them to the second it's over.
Make A Weekend of It
Pet Friendly Accommodation >
Gourmet Accommodation >
Spa Breaks & Hot Tub Hideaways >
Quirky Accommodation >
---
Perth City Centre and South Perthshire
---
Perthshire Art Association
Perth City Centre
Established in 1912 as The Art Association for the City and County of Perth, Perthshire Art Association aims to promote an appreciation of art through its programme of classes, workshops, demonstrations, lectures, and exhibitions. The Association prides itself on being a mixing pot of artists; whether art school trained or simply pursuing art as a leisure activity, all are welcome.
Afternoon demonstrations
Afternoon demonstrations and lectures from well-known guest artists on a variety of subjects are held in Perth Museum and Art Gallery. This autumn, Karen van de Graaf will demonstrate drawing portraits at speed, along with practical advice about working fast with charcoal to capture a face. Allan Perera-Liyanage holds an acrylic art demonstration, teaching you to enjoy the process and throw away the fear of being careful! Check out these and lots more afternoon demonstrations and lectures on the Perthshire Art Association webpages.
Workshops
The Association also runs workshops held by guest artists, for those wishing to get their hands dirty, at The Scout Hall, Perth Academy (10 students maximum in each workshop). You could tackle the problems of light and shade to create a realistic picture with Cameron Coutts. Or learn how to use rich and vibrant pastels for night scenes that glow with Gina Wright. The full programme of workshops is available online.
Tutored and untutored classes
There are also tutored art classes held in ten-week blocks, for those who want expert guidance to improve certain aspects of their artwork. And untutored classes are provided if you wish to work in the company of others without the guidance of a tutor – for these classes you bring your own materials and benefit from sharing ideas and good practice with your fellow artists. All levels of ability are welcome.
Workshops and classes run throughout the year – take a look at the website for full details >
---
Quince and Cook
Perth City Centre
This independent homewares store on Princes Street in Perth specialises in premium range cookers and stylish interiors, as well as kitchen accessories, handpicked gifts and zero-waste refill products. In addition, Quince and Cook offer a popular range of workshops and events with new dates constantly being added to the programme – be quick so you don't miss out!
Cookery classes include a Chocolate Masterclass where you can make your own filled, hand-painted chocolate bars – learn how to paint chocolate moulds, temper chocolate and fill these delicious chunky bars. No experience needed, just bring your appetite and a passion for all things cacao.
Craft workshops include Paper Flower Sculptures with Natalia Manczak who will guide you through creating a beautiful seasonal bloom from sustainable paper. There will also be tea, coffee, cake and discounted shopping on the night.
Local candlemaker Cat, the founder of Findels & Boo Candles, runs a Candle Making class where she will teach you to hand pour your very own candles to take home; beginners welcome. Look out, too, for Quince and Cook's Festive Wreath Making Class with Scottish Cut Flowers, and Christmas Bauble Making with Natalia Manczak. Alongside these festive craft sessions, there will be mulled wine and spiced apple punch for a fun and relaxed evening.
With small, informal classes, expert tuition and lots more exciting events coming soon, the Quince and Cook workshops make an exceptional evening out or a special gift for a loved one.
Workshops and classes run throughout the year – take a look at the website for full details >
---
Adult and Kids Art Classes by Sara Barr - Oakbank Community Centre
Perth City Centre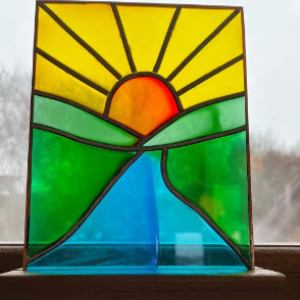 Adult and Kids Art Class is run by Sara Barr, a qualified Primary School Teacher for nearly 20 years, with an Art Degree from Duncan of Jordanstone College of Art, Dundee. During classes, artists gain experience with lots of different art skills, techniques and medium. We give everything a go! During class, artists are given the time and space to be creative and experiment with new materials and products. They produce art pieces to take home, that they feel proud of.
These classes are to promote positive mental health, make new friendships and to relax, while enjoying arts and crafts. Each week or two we enjoy a new art or craft and have a wee natter! Everyone works at their own pace and ability and nobody needs to be a professional artist to join! It is all about the enjoyment and experiences.
Wednesdays and Thursdays (weekly) | 7.30pm - 8.30pm
---
Clootie McToot
Abernethy
From agreeing to do some baking to raise school funds at a local fete, to serving her own Clootie Dumpling at 10 Downing Street and even sending a dumpling to Mount Everest, Abernethy's Michelle Maddox entrepreneurial skills have propelled her across the globe! Using her special family recipe, Michelle's Clootie Dumplings have travelled the world, spreading a little Scottish cheer and tradition wherever they go.
You can join the Clootie McToot team for a 'hands on' workshop, or live demonstration. You will be in the kitchens with one of their experts making your own Clootie Dumpling to take home while learning about the history, traditions, techniques, tips and tricks in this 2.5 – 3 hour workshop. These live demonstrations and tasting sessions are group bookings and need to be planned in by the Clootie Mctoot team.
---
For Art Sake
Scone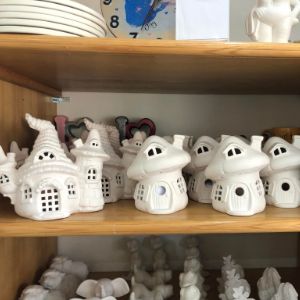 This popular ceramic and canvas painting studio in Scone has been welcoming aspiring artists of all ages and abilities through its doors since 2007. In a relaxed and friendly setting, For Art Sake encourages you to get creative, with assistance on hand if you need some inspiration or guidance.
The studio stocks an exciting range of products and materials – simply book your space, pick something to paint, and let the fun begin.
Pottery pieces ready for a good daub of colour include teapots, plates, mugs, plaques, figures, cute little animals – the list is endless. For Art Sake also has home painting kits available from £10 containing a ceramic item, paints and brushes.
For Art Sake hosts work events and parties and also runs kids' clubs and workshops for adults. Workshops give you the opportunity to produce a piece of art you can be proud of, with projects chosen to appeal to every painter, whether skilled or novice, on either canvas or ceramic. Not artistic? Don't worry, the team here will help you achieve the best possible results and can advise on colour, technique, design ideas and the finishing touches. Enjoy a cuppa and a blether while you work, and your finished objet d'art is yours to keep.
Workshops run throughout the year – take a look at the studio website for full details.
---
Indian Cook School by Praveen Kumar
Perth City Centre
In 2009, Praveen and Swarna Kumar founded the award-winning Tabla Indian Restaurant in Perth city centre. With fresh food prepared by hand using local ingredients and spices imported from their farm in Southern India, it is Perth's only rosette-standard Indian restaurant and a popular choice for locals and visitors alike.
Now Praveen Kumar shares his culinary skill at the Indian Cook School, where you too can learn to cook authentic Indian cuisine. Never tried it before? Don't worry. During this one-day course, Praveen will carefully guide you through the preparation of his delicious dishes with hands-on practice, inspirational teaching, and top-quality ingredients – you may also hear a few tales from the family spice farm, and from Praveen's years in the hospitality trade.
This wonderful opportunity includes plenty of time at your own individual cooking station creating dishes that you will then get to enjoy with a glass of wine or beer at the end of the session … there is always plenty to take home, too! Most importantly, Praveen will teach you to cook with imagination, passion and enjoyment, sharing his love for the simple act of preparing and eating the finest Indian food.
Gift vouchers are available for the Indian Cook School and are valid for three years. All levels of cooking ability are welcome in the kitchen, and every dietary requirement can be accommodated.
Dates and times: Indian Street Food and Comfort Indian cooking places available. Please check online for details.
Price: £110
---
Perth Food Tours
Perth Food Tours is Perth's only food walking tour. Join Wendy, your guide, as she takes you on a stroll around the city of Perth, sharing some local history and stories and some fun facts.
Along the way you will stop at 7 different venues for a taste of Scotland's most traditional food and drinks plus some local delicacies.
The tours take place on Saturdays and Sunday and last for 3 hours - from 1pm to 4pm. It's a really fun way to spend an afternoon. You'll learn some things about Perth that you didn't know, you'll enjoy some delicious food and drinks and who know, you might even make some new friends!
---
Highland and North Perthshire
---
The Cook School by Ballintaggart
Grandtully
Surrounded by the rolling hills of the Tay Valley at the heart of Scotland's natural larder, The Cook School by Ballintaggart takes you on a journey from field to fork. This exciting destination offers luxurious rooms and fabulous food, and it's Ballintaggart's passion for fresh local ingredients and big seasonal flavours which makes the perfect springboard for a packed programme of inspirational cookery masterclasses.
You are invited to watch owner and chef, Chris Rowley, and other culinary wizards at work before getting hands-on at the stove and worktop yourself. Suitable for beginners and keen home cooks, you can hone your skills under expert tuition, using some of Scotland's finest ingredients. Everything you need is provided, including recipes, class notes, an indulgent late lunch and a kitchen goody bag. You'll leave Ballintaggart with newfound expertise, confidence and a passion for cooking.
Ballintaggart's Cook School is perfect for individuals and groups up to eight. Individuals, friends and families are all welcome to attend; a cook school experience can also be tailored around the specific requirements of a larger corporate team, or for a special event. Choose from An Introduction to Bread, Fish and Shellfish, Knife Skills, Seasonal Suppers, and lots more.
Gift vouchers for a full day masterclass can be purchased from Ballintaggart's online shop. Limited accommodation is available onsite, and the Cook School is just ten miles from Pitlochry.
---
The Yellow House Art Classes
Aberfeldy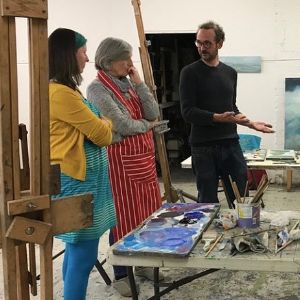 The Yellow House is a new art school based in Aberfeldy, set up by practising artist and experienced art teacher Matthew Storstein. The Yellow House aims to provide challenging art classes that encourage students to push their work further, acquire new skills and explore fresh ways of working.
Classes will also be fun! With small numbers and plenty of contact with your tutor, students are free to enjoy themselves in an informal, supportive environment.
The Yellow House's flagship Studio Practice course is designed for those who have already started work on their own, but would like further support and instruction. You might wish to explore colour, develop your ideas and projects, discover new materials or build an art school portfolio. Students will benefit from individual tutorials, new practical skills, critical feedback and advice; the course will also feature occasional lectures and group seminars.
The studio is equipped with a range of drawing and painting materials for students to use, including paper, charcoal, graphite, acrylic paint, oil paint and solvents. You may bring along additional materials if you wish.
Matt also offers mentoring sessions for students to receive feedback on the work they have been producing and to reflect on their next steps. These hour-long sessions provide an opportunity for those working on their own to get another perspective and talk through ideas and difficulties. These meetings are conducted as and when required, over a video call.
Classes run throughout the year – take a look at the website for full details.
---
Wasted Degrees
Blair Atholl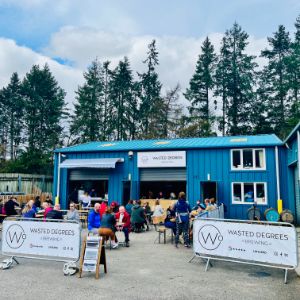 Experience a day in the life of a brewer!
Just a short walk from Blair Atholl's train station, join the team at the award-winning Wasted Degrees Brewing and get hands-on by brewing a fresh batch of beer. You and up to three pals can get stuck-in with the brewing process on the brewery's main production kit.
The day itself runs from 8:30am through to 4pm and starts with pastries, teas & coffees. A briefing session ensures you know the ins and outs of your new role, and a hot lunch and refreshments are provided. When your beer has completed fermenting, the team at Wasted Degrees will ship you 60x440ml cans of your very own beer!
There's also the opportunity to have a bespoke label made, just for your beer!
Dates and times: Please go online to book your preferred date
Price: £500
---
Strathearn and West Perthshire
---
The Scottish Tea Factory
Comrie
Calling all tea jennies! Whether you like it weak or strong, milky or straight up … put down your cuppa and come to The Scottish Tea Factory. You can learn all about your favourite tipple – from growing to blending, brewing to tasting – and discover the process of tea-making from seed to cup.
This remarkable artisan tea factory is situated between Crieff and Comrie, and offers a variety of tea courses, some geared towards professionals in the food and drink industry, some for those simply interested in learning a little bit about tea and where it comes from.
The Tasting Experience is a 2.5-hour introduction to tea, including a short presentation about its history, and the opportunity to taste six different teas from around the world. Your tutor Beverly Wainwright previously managed a tea estate and helped develop several small-scale tea factories, and she will show you the tea-making equipment used on site and share her expertise. Or try the 2.5-hour Tea Blending Experience, a lovely class for small groups of up to six (including hen parties) who wish to learn about the art of tea blending and create a bespoke blend to take home.
Beverly also runs a Black Tea Making Masterclass – a rare opportunity to learn about black tea making on a one-to-one basis; this is a UK Tea Academy certified masterclass. And finally, an in-depth online course is available from The Scottish Tea Factory covering how to grow tea and how to process both black and green tea on a small scale. It is a certified course for the UK Tea Academy and is open to all, regardless of previous experience.
Dates and times: Please check online for class availability
By booking/ appointment only
---
Tomnah'a Market Garden
Comrie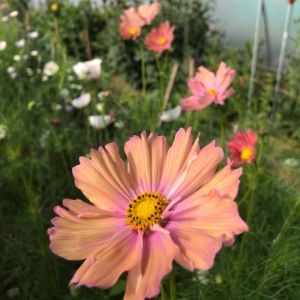 This bountiful market garden at Comrie Croft, near Crieff, was established in 2015, blossoming into a vital community resource and wildlife haven. With its mighty crew of dedicated volunteers, Tomnah'a Market Garden produces delicious vegetables, herbs and fruit, and beautiful cut flowers. With a keen desire to connect people to the land, Tomnah'a welcomes visitors during the growing season to its guided tours, pick-your-own flower experiences, workshops and special events.
Pick Your Own Flower sessions generally run on a Saturday morning, although group bookings may attend on other days. Starting with a tour of the farm, you learn how and what to pick before you are free to roam the fields. When you have filled your bucket with blooms, and discovered how to care for them, why not head up to Comrie Croft Tea Garden for lunch made from Tomnah'a's own fresh produce (Pick Your Own gift vouchers are available).
Look out, too, for the Tomnah'a Tour where you can explore the market garden and learn how to make the best use of space for productivity as well as biodiversity. Learn where your food comes from, look at different growing techniques and find out how to use these in your own garden.
Tomnah'a Market Garden events include all tools and materials – the headspace, inspiration and good vibes are a bonus.
Tours and sessions run throughout the year – take a look at the website for full details.
More info | www.tomnaha.com
---
Italba Pasta Making
Comrie
For an Italian-Scottish food affair, look no further than Italba Dining with Nelson Reposo in Comrie, near Crieff. Born and raised in Milan before relocating to Perthshire with his Scottish wife, Nelson has cooked all his life and now creates beautifully simple Italian dishes using the finest of Scotland's fresh ingredients – seafood straight from the ocean, wild game, meat, cheeses, and an abundance of locally grown fruit and vegetables.
Now you can learn how to make authentic fresh pasta dishes with Nelson as he shares his passion for his craft. The Italba Pasta Making Workshops promise a fun and informal session where you learn how to make two types of fresh pasta, such as tagliatelle or pappardelle, using traditional Italian recipes. You will also make a delicious filled pasta such as ravioli stuffed with ricotta and spinach with truffle oil. And, of course, there will be a pasta sauce to match the pasta.
Nelson will also share his secrets for a classic Italian dessert – tiramisu or panna cotta. With group numbers kept small, you have the opportunity to get really involved, picking up hints and tips from a highly experienced chef and leaving with the confidence to make your own pasta at home.
The morning will finish with a delicious two-course lunch and a generous glass of vino around the Italba table.
Classes run throughout the year – take a look at the website for full details.
Price: £85 per person
---
Blue Noun
Crieff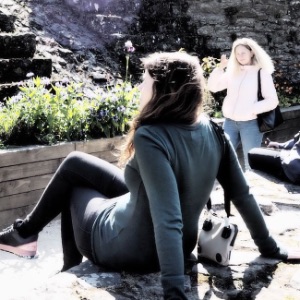 Get Talking English with Blue Noun Activity Days
For some, holidays are all about relaxing. For others, they are about seeing new places, discovering new cultures - and/or investing time into becoming the person you want to be.
What if you can do all this AND have a relaxing, fun time?
You can with our immersion English activity days!
Blue Noun Language Hub in Crieff will get your English flowing through our unique mix of culture-led tourism and immersion ESL English coaching.
Sample excursions include sketching at Drummond Castle Gardens or get wild with our 'Animal Day' family English activities at Auchingarrich Wildlife Park.
Or get cosy in their hub with a full day of private English coaching designed to send you home, confident in your spoken English skills.
See their website to learn how they can help you get the most out of your English in Scotland!
---
Blairgowrie and East Perthshire
---
Guardswell Farm
Inchture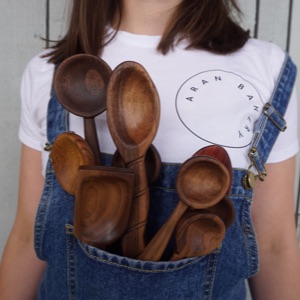 Guardswell is a 170-acre family-run grassland farm nestled between the villages of Abernyte and Kinnaird, on the beautiful hills between Perth and Dundee. With incredible panoramic views along the river Tay, down to the Carse of Gowrie, and across to Fife, this is a secluded getaway where you are free to take a deep breath of fresh countryside air and switch off from the pressures of modern life.
Guardswell Farm invites you to come and learn something new in this wonderfully relaxed setting, promising courses that are fun and engaging with no shortage of friendly faces, a big pot of tea and a sweet treat.
Exciting Workshops + Events:
Semi-Monthly Yoga with the wonderful Evy Koutzas offers the opportunity to wind down on the farm, practice is followed by a tasty herbal tisane, freshly picked from the garden.
Wonderful workshops, where you can learn various new skills including spoon carving (a firm favourite), crafting paper flowers, understanding grassland fungi and learning the art of fermentation. Post workshop there's always the opportunity to stay for a while to explore the farm - wander through the meadow, hike up to the swing on the hill and say hello to the donkeys - Hugo + Ollie.
Guardswell hosts an invigorating Wilderness Fit Day Retreat. The day includes a fun nature based fitness session and a revitalising cold water plunge but also a delicious farm lunch, followed by a hands-on kombucha workshop and finished off with a relaxing, restorative yoga session to round off the day.
As well as all these exciting opportunities the Guardswell Summer Markets are making a comeback - back after popular demand.
The opportunities are endless and new events and workshops are being released regularly. Events fill up fast so book quickly to make sure you don't miss out! Plus sign up for the Guardswell newsletter to be first in the know.