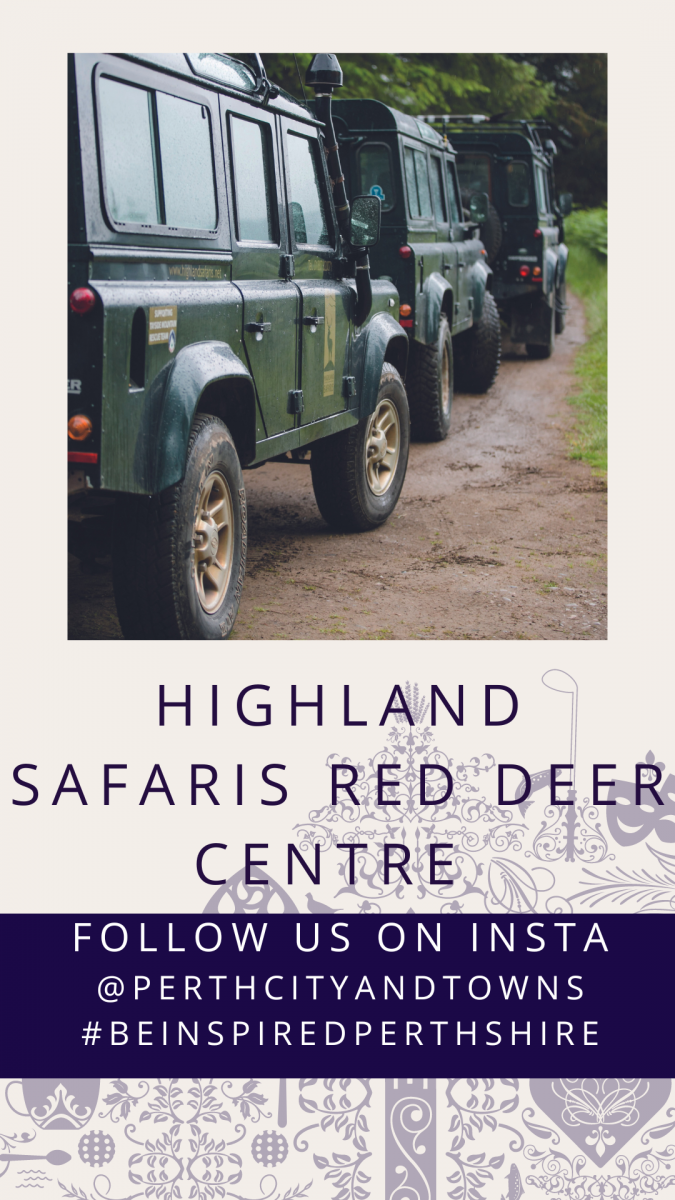 From treasure trails to sports centres, Highland safaris to playbarns on the farm, Perthshire is brimming over with family fun - and best of all, prices start at free.
Things to do with the Kids in Perthshire
Visit the park. We are spoiled in Perthshire with some amazing green spaces, many of which have their own parks. Free to enjoy, we say pack a picnic and get outdoors. Some of our favourites are listed below.
Connect with nature. It will come as no surprise to learn that in an area so rich with wildlife, many of our local outdoor providers offer amazing family days out. Children and animals? In Perthshire it's a winning combination.
Get Creative. Award-winning artist Julian Jardine offers claymaking and art classes from his city centre workshop. A real hit with the kids and an ideal opportunity for the adults to get in an hour's shopping in the city, or some free time to enjoy a coffee at one of our many fabulous cafes. Check out our directory to help you plan.
Why Choose Active Fun?
We all know that physical activity helps our kids stay healthy and happy; and that today's screen-led generation are amongst the most inactive there's ever been. Ensuring kids stay active is easy when you make it fun and we've come up with some great options for a day out - PE built right in!
Children and young people need to do both aerobic exercise and exercises to strengthen their muscles and bones, aiming for an average of at least 60 minutes of moderate activity each day. This will help them to develop movement skills, muscles and bones as well as reducing the time spent sitting or lying down. All activities should make them breathe faster and feel warmer.
---
Perth City Centre
---
Treasure trails
Perth City Centre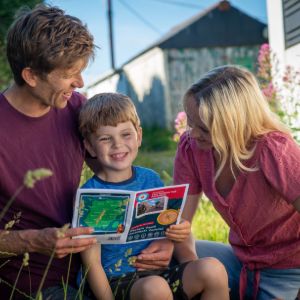 Following a treasure trail is a fun way to explore towns, cities and villages across the UK, and Perth has its very own Treasure Trail, suitable for all ages. This is a wonderful outing for the whole family, enabling visitors to discover the sights and sounds of this fantastic small city, and encouraging residents to take a closer look and see their home town from a new perspective.
The Perth trail is a self-guided walking tour, completed in your own time and at your own pace (ideal for wee ones who like to stop and investigate every little thing along the way!) The route is under two miles and begins in the city centre at Kinnoull Street car park, taking you along a riverside walk to the open green space of the North Inch, before looping back to your starting point. Of course, you may want to make extra stops along the way.
AThe Trail booklet, with all the information you need, can be bought from the Treasure Trails website and can be printed at home, sent in the post or used on the app. Many of the Treasure Trail routes are accessible for wheelchairs and buggies.
With a treasure hunt theme, the Perth trail is a great adventure for you and your little explorers. Working as a team, discover fascinating stories from the past, solve the fiendish clues, and find the buried treasure.
Whatever your age, and whatever the weather, you'll finish the day with a glow in your cheeks and a smile on your face. Once you've uncovered the secrets of Perth, how about venturing along another treasure trail? Routes are available in nearby Crieff, Aberfeldy, Pitlochry and Blair Atholl.
• Age group: All ages
• Nearest town: Perth
• Nearby toilets: The Sandeman (11am - 11pm) and PKC Pullar House (Monday to Friday: 8.45am - 5pm), both are on Kinnoull Street
• Times: Less than 2 hours to complete
• Price: Trail booklet £9.99
---
The Workshop
Perth City Centre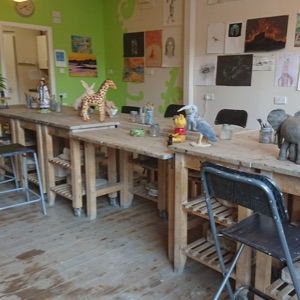 The Workshop in Perth runs art classes for all ages in clay sculpting, drawing and painting. Whether you are looking for a creative outlet to relax and escape from the daily routine, or you are intent on improving your artistic skills, the Workshop caters for everyone. With a busy timetable for both adults and children, beginners and those with more experience: "The only barriers to getting creative are the ones we put up ourselves."
In a friendly, relaxed space, professional artists lead small classes and workshops designed to let you develop your own personal style. Adult clay sculpting classes start with simple techniques, teaching you how to build and alter forms. The classes are informal and fun. Adult drawing and painting classes cover work in pencil, charcoal, pastel, pen and ink, and acrylic and gouache paints, aiming to improve both ability and confidence.
Children's drawing and painting classes focus primarily on basic skills, allowing children free reign to explore their imagination and work on their own ideas. All materials are provided.
Children's clay sculpting classes are for 5-13 year olds and support them to make models of their own choice. Selected work will be fired and glazed or painted to take home.
Weekend workshops are also available for adults with the cost including all materials and a buffet lunch on both days. Gift vouchers are available – let someone you know untap their potential and create something special.
• Age group: All ages (except children's clay sculpting for 5-13 year olds)
• Nearest town: Perth
• Nearby toilets: On site
• Times: Weekly morning or afternoon classes and weekend workshops
• Price: Adult clay sculpting 6-week course £72 / Children's drawing and painting £8 per class
---
North and South Inches
Perth City Centre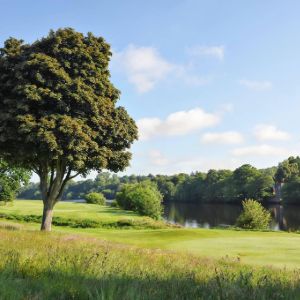 At the top and tail ends of Tay Street in Perth, the North and South Inches provide great green space within the city centre and are hugely popular with walkers, cyclists, and picnickers. Couples stroll hand-in-hand along the well-kept paths, runners hurtle by, and good-natured shouts emanate from games of football, rugby and golf.
The North Inch is the larger of the two inches and overlooks the River Tay – a picturesque cycle route by the river takes you north out of the city. On the opposite side of the inch, you will find Bell's Sports Centre, the Black Watch Museum and Perth Bowling Club. Here is a brilliant playpark too; lots of sand, slides and swings for the kids. And don't miss lovely little Place de la Pétanque, where you can go continental and indulge in a game of boules.
The South Inch and Lesser South Inch are often used for special events including fun fairs and shows – ideal entertainment for the kids.
There is a skate park, sports pitches, car parking and the wonderful Pavilion which sells lunches, snacks and hot and cold drinks. In the summer months, it also does a brisk trade in ice creams, as it is situated right next to another excellent playpark complete with flying fox, spider's web and climbing wall. Paths criss-cross the Inch, providing all-ability access, and ducks and swans nest and raise their young on the pond.
• Age group: All ages
• Nearest town: Perth
• Nearby toilets: Bell's Sports Centre (North Inch) and The Pavillion (South Inch)
• Times: Open all day
• Price: Free
---
Live Active Leisure
All over Perthshire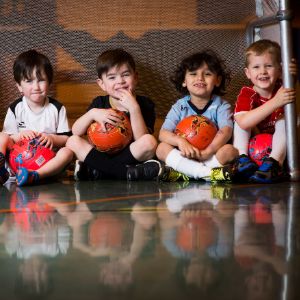 Live Active Leisure is the largest leisure provider in Perth and Kinross, with venues located across the region. It offers a wide variety of sports and fitness options for all ages giving everyone the opportunity to 'live active' lives and enjoy the benefits of a physically active lifestyle.
Furthermore, as a local leisure trust, Live Active Leisure reinvests every penny of profit back into its services, serving the wellbeing of the entire Perth and Kinross community.
Bell's Sports Centre has lots to offer young families including squash, table-tennis, short tennis and 5-a-side football, as well as gymnastics sessions and football sessions for all ages. If you're looking for fun in the water, Perth Leisure Pool has flumes, wild water, outdoor lagoon, monkey jungle, lane swimming, swim lessons, and family swim sessions. Under 5's even swim for free at all Live Active swimming pools!
To find full details of all the activities available at the many Live Active Leisure locations in and around Perth check out the Live Active webpages for further information and timetables.
If you'd like your children to have active fun with other kids, Live Active Leisure has something to suit all ages and abilities.
• Age group: All ages
• Nearest town: All areas
• Nearby toilets: Available at every venue
• Times: Variable according to activity
• Price: Variable (membership or pay-and-play available)
---
Perthshire Wildlife
All over Perthshire
Perthshire Wildlife is a small Scottish company which organises guided wildlife walks and events across the county. Staffed by local rangers and wildlife guides, you will be in expert hands as you explore this beautiful area. Choose from a variety of walks at different locations, enjoying a half or whole day in the open air as a ranger shares their detailed knowledge of the local flora and fauna.
The beaver safari is a popular choice for families, following trail of these amazing animals by visiting their dams and ponds, and identifying their tracks. You will learn about the history of beavers in Scotland, and young children will delight in collecting their own beaver chips and beaver-chewed sticks!
Other options vary with the seasons – perhaps you would like to see the gorgeous bluebell woods near Murthly, and try your hand with a bat detector. Or take a wildlife walk, with the chance to see red squirrels, cuckoos, red grouse or osprey. Tours can be developed to suit your group – let Perthshire Wildlife know what you really long to find, and your guide can choose the most likely location. Walks are available all year round.
• Age group: All ages
• Nearest town: Various
• Nearby toilets: None
• Times: Various dates and times available, see website for full details
• Price: Varies with activity (Riverbank beaver safari from £55 / Beaver canoe safari from £60)
---
Highland and North Perthshire
---
Highland Safaris and Red Deer Centre
Aberfeldy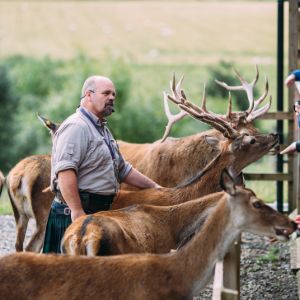 Near Aberfeldy, in the heart of Scotland, the multi award-winning Highland Safaris and Red Deer Centre offers even more than its name suggests.
As well as exhilarating Land Rover safari tours and the chance to get up close to magnificent red deer, there are boat trips around Loch Tay, a scenic walking trail and viewpoint, mountain biking tracks and a kids' play area. And as if that wasn't enough, how about panning for gold?
With so much to choose from, it's hard to know where to begin, but the opportunity to stand face to face with Britain's largest native land mammal is hard to resist.
A ranger will tell you all about the lives of red deer, allowing you to stroke and feed these incredible animals. Visitors, young and old, also love to meet the barn owl, and enjoy a hands-on demonstration.
Keep your cameras at the ready for your Mountain Safari trip, as you hitch a lift with your personal driver and guide who will take you through breathtaking scenery to a height of almost 3,000ft. Or take a cruise on Loch Tay, relaxing aboard as the skipper recounts the local history and folklore that surrounds you.
Highland Safaris has a purpose-built mountain bike trail filled with twists and turns, ramps and jumps, guaranteed to raise your heart rate. The gold and gem panning centre is unique in Scotland – you can scoop and swirl to your heart's content in pursuit of gold and gem stones – but be warned, the pursuit of treasure is highly addictive! Highland Safaris can also arrange white water rafting, quad biking and clay pigeon shooting for you.
• Age group: All ages
• Nearest town: Aberfeldy
• Nearby toilets: Available at the centre and chemical toilets on safari
• Times: Variable according to activity (Mountain Safari 2.5 hours / Loch Tay Cruise 1.5 hours)
• Price: Variable according to activity (Mountain Safari £49 / Loch Tay Cruise 50 mins, £32.50, 50 mins /1.5hr, £45 per adult)
---
Loch of the Lowes
Dunkeld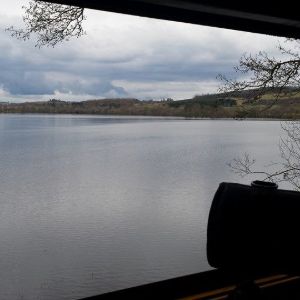 Two miles from Dunkeld, Loch of the Lowes and the surrounding countryside are designated as a 130-hectare wildlife reserve, run by the Scottish Wildlife Trust. The visitor centre packed with information and viewing hides overlooking the loch where you can spot the abundant wildlife in the area make this an attractive day out for the whole family.
In spring, you can see the arrival of migratory birds such as swallows and sand martins. Or visit during the summer for the star attraction – a pair of breeding ospreys, nesting only 150 metres away. The ospreys can easily be seen in live video footage from the reserve's high definition camera, or watch from the hides as they fish on the loch. In autumn, red squirrels gather food for the winter and, come the colder months, you can view geese and other wildfowl roosting on the loch using the reserve's telescopes and binoculars.
Children will love the kids' activity hide with interactive displays, quizzes, games, viewing windows and spotters' board. The reserve shop is stocked with wildlife-themed gifts and toys. Hot and cold refreshments are available, and there are picnic tables outside.
To visit Loch of the Lowes visitor centre and reserve, please book your admission tickets online in advance. The woodland trail which leaves from the carpark is accessible to all and does not require a ticket.
• Age group: All ages
• Nearest town: Dunkeld
• Nearby toilets: In the visitor centre
• Times: Visitor centre timeslot bookings 1 hour 15 minutes
• Price: Adults £4.50 / Concession £4 / Children free / Members free / Woodland trail free
---
Kinross and Loch Leven
---
Kirkgate Park in Kinross
Kinross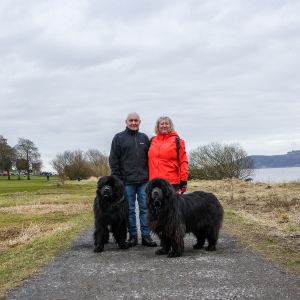 Kirkgate Park is situated on the shore of Loch Leven, within the Loch Leven National Nature Reserve and bordered by the Loch Leven Heritage Trail. Part of the estate of Kinross House, the park was offered 'for the benefit of the townspeople' in 1913, and remains a popular spot for both locals and visitors to the area.
The park has a well-equipped children's play area, with plenty to occupy active youngsters. The whole family can take a breather in the wide open green space complete with a small beach next to the water and fantastic views across the loch. There is an extensive path network throughout the park, which also features a grass amphitheatre and a wildflower labyrinth. In an area noted for its valuable habitats and variety of wildlife, the shoreline grassy areas have been transformed into wildflower meadows to improve biodiversity.
With ample parking beside the park, and picnic tables dotted throughout, Kirkgate Park makes a great day out for the kids, or a handy stopping point on a scenic lochside walk.
Age group: All ages
Nearest town: Kinross
Nearby toilets: An automated toilet on site, 9am - 7pm, 20p entrance fee
Times: Open all day
Price: Free
Photo credit: @RossMitchell
---
RSPB Loch Leven
Kinross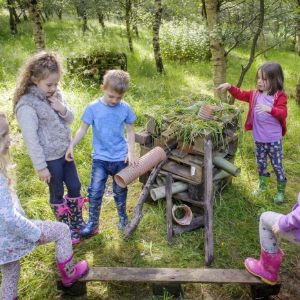 RSPB Scotland – part of the UK's largest nature conservation charity – has managed its Loch Leven reserve since 1967, protecting the important species and habitats located here. It offers family activities and events throughout the year, allowing visitors of all ages to explore this amazing natural environment.
Set on the southern shore of the loch, there is plenty of wildlife and conservation work to see at the RSPB reserve. Ospreys visit the loch during the summer, and thousands of pink-footed geese arrive in autumn. The wet grassland also welcomes breeding waders such as lapwings, redshanks and snipe. And don't miss the world's first bumblebee sanctuary! This meadow, strewn with wildflowers, is carefully maintained to provide ideal conditions for foraging bees.
When the visitor centre is open, you can hire binoculars and Wild Challenge rucksacks, and children will enjoy a game of seasonal nature bingo. Bug hunting kits are always hugely popular, and in the spring and summer kids can have fun with a pond dipping kit. Families can also enjoy walking the Leafy Loop trail, accessible to pushchairs, or stop by the picnic area to rest and refuel.
• Age group: All ages
• Nearest town: Kinross
• Nearby toilets: On site
• Times: The visitor centre is open from 10am - 5pm every day. The Café is open 10am - 4pm, with hot food served until 3pm. From the period 27 December - 27 February, the shop is open 10am - 4pm and the café is open 10am - 3.30pm. The hides, trails and car park are open 24/7.
• Price: The car park is £3 per day (free for 30mins in shopper spots) and free for RSPB members.
---
Strathearn and West Perthshire
---
Auchingarrich Wildlife Centre
Crieff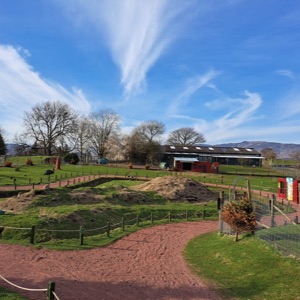 Just outside the village of Comrie, seven miles west of Crieff, you will find Auchingarrich Wildlife Park nestled among the beautiful Perthshire hills. With over 40 different animal species to meet and greet, an enormous play area, and the Dizzy Duck Café offering an exciting new menu and freshly baked treats daily, Auchingarrich makes for a jam-packed family day out.

Farm animals, birds, reptiles, and exotic wildlife compete for your attention here, from pygmy goats and chickens to flamingos and marmosets. Children can get hands on in the petting barn, with chicks, rabbits, and tortoises. There are also several walkthrough enclosures, where you can spend time watching the animals relax in your company.

A tractor park will entice wee ones behind the wheel, you can try your hand milking a (model) cow, or get everyone involved in a game of mini golf or crazy football. The café overlooks the play equipment – complete with wooden train, flying fox, rabbit warren tunnels and sandpit with buckets and spades – so parents can relax and enjoy the stunning mountain views, while still keeping one watchful eye on the kids!
• Age group: All ages
• Nearest town: Crieff
• Nearby toilets: On site
• Times: 10am-5pm
• Price: Adults £14/ Concessions £12/ Children £12.
---
MacRosty Park
Crieff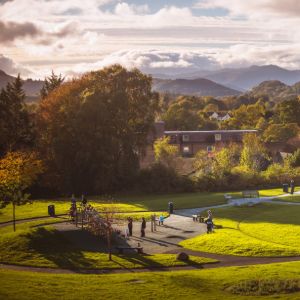 Named after its benefactor, James MacRosty, this attractive green space featuring mature woodland and the fast-flowing Turret Burn has been a popular destination for walkers, cyclists and day-trippers for more than a century. MacRosty Park is located on the west side of Crieff, with lovely views across Strathearn to Ben Chonzie, and features a number of attractions for a family outing.
An extensive path network through well-maintained grounds takes you to the Victorian bandstand, play area and pavilion. Enjoy the sunshine or take refuge in the shade beneath Douglas fir, cypress, spruce, pine and cedar trees.
The playpark boasts a 30ft double flying fox, climbing frames and climbing walls, mini trampolines, sand and mini diggers, a slide, swings, and much more. The Pavilion Café will help keep up your energy with coffee and ice cream, or bring your own refreshments to enjoy at one of the picnic tables.
• Age group: All ages
• Nearest town: Crieff
• Nearby toilets: Automated toilet on site, 9am-7pm, 20p entrance fee
• Times: Open all day
• Price: Free
---
Auchterarder and South Perthshire
---
Broadslap Play Barn
Auchterarder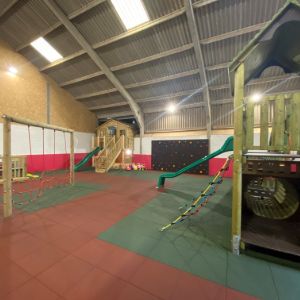 This family-run fruit farm, gift shop and café, loved by locals for its delicious produce and stunning location at the foot of the Ochil Hills, has now also opened the doors to its amazing kids' adventure playbarn. Easily accessible just off the A9 between Perth and Auchterarder, Broadslap is a great place to bring the family for some well-deserved fun.
Book your child's place online, kit them out in indoor shoes, and then let them go! The playbarn holds a two-storey house, train, mini climbing wall and rope balance – all constructed above safety flooring to ensure a soft landing and your peace of mind. A seating area for the grown-ups allows you to oversee the mayhem, whilst making the most of Broadslap's freshly brewed coffee and Strathearn loose leaf teas. On the 'Hungry Farmer' menu there are also delicious homebaked cakes and scones (shh … don't tell the kids!)
From June onwards, you can pick your own fruit at Broadslap – strawberries, raspberries, gooseberries, blackcurrants, redcurrants and brambles. Most of the fruit is undercover, so there is easy picking whatever the weather. In the autumn, come and pick your own pumpkins.
• Age group: Under 12 years old for the playbarn / Fruit picking for all ages
• Nearest town: Auchterarder
• Nearby toilets: On site
• Playbarn sessions: 10-11am, 11.30-12.30pm, 1-2pm and 2.30-3.30pm
• Price: £6 per child for a 1-hour session (accompanying under-2 child free)
---
Do It Outdoors
Auchterarder
This adventure sports centre based in Auchterarder is all about celebrating the great outdoors, giving you the chance to learn new skills in natural surroundings. Do It Outdoors is a small, friendly business which prioritises giving its customers the most amazing, memorable experiences whilst treading lightly on the beautiful Perthshire landscape.
Do It Outdoors offers all sorts of activities, from archery to axe and spear throwing, fly fishing and bushcraft. Learn how to prepare and cook game, including lighting the camp fire, or try your hand at foraging for food in the wild. Take a gentle guided walk to plant your very own oak tree, or practice the art of stick whittling. A survivalist course will teach you the essentials of firelighting, shelter building and backwoods cooking.
There are many adventures to be had here for couples, groups and families. A summer youth camp, camp cook outs and kids' parties are all available. There is even a teepee you can hire with a fire pit, pizza oven and barbecue.
• Age group: All ages
• Nearest town: Auchterarder
• Nearby toilets: Composting toilet at the teepee
• Times: Various dates and times available, see website for full details
• Price: Various (Axe and spear throwing £60 / Hike and plant a tree £85)
---
Blairgowrie and East Perthshire
---
Bowland Trails
Blairgowrie
Have you ever thought you could be stroking, grooming, hand feeding and feeling the horns of highland cattle? Well here is your chance!
Enjoy a personal tour, taken around Bowland Trails, in our All Terrain Vehicle to interact with our large fold of breeding Highlanders, plus their young calves, grazing the high ground above Blairgowrie as you learn about this hardy native breed and the role they play here.
Learn about their hierarchy & habits, and observe the family bonds & behaviour. Calving season begins here in April, running into the summer, so you may even be lucky enough to see one of our new arrivals take its first steps under its mother's watchful eye.
There will be an abundance photographic opportunities when you hand feed them, stroke and groom their fur, or as they majestically pose in the stunning panoramic scenery.
Please wear boots or outdoor shoes / trainers and outdoor clothes.
Children are very welcome and can groom and fuss over the cows to their heart's content. It's an experience they will never forget – treat your family and do something extraordinary, today.
• Age group: Children welcome
• Nearest town: Blairgowrie
• Times: open every day, May to September. Please book in advance. experiences run mid morning, early afternoon and evening (if daylight hours allow) .
• Price: Various options (for example, 1 adult, three children £70)
---
Bushcraft Bairns
Comrie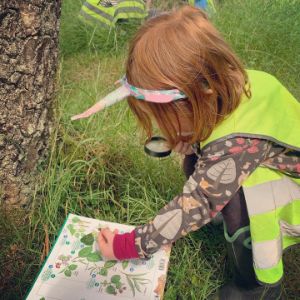 Bushcraft Bairns is a nature based activity and education space set in the magical woodland of Comrie Croft, just 4 miles from Crieff.
Being a Bairn is all about playing and learning outside with tools to support imagination and develop self-expression. What better place to do that, than a woodland! This Forest School celebrates the magic of childhood and understanding the importance of play, they offer nature-based activities that support children's development that fosters social, and emotional skills while forming connections to the world around them.
Working with children's natural curiosity and wonder, they gently motivate them to push their own comfort zones, exploring their ability level and providing appropriate challenges. Bushcraft Bairns cultivate a community that supports the Bairn's curiosity and imagination while also forming deep connections with nature.
Kids can immerse themselves in nature based learning in Forest School, stay and play sessions, enjoy a slower pace with Nature Yoga Stories, or even host a unique woodland birthday party!
• Age group: All children welcome
• Nearest town: Comrie 2.5 miles, Crieff 4.5 miles
• Times: Monday to Friday (term time) Holiday sessions available. Pre-booking is essential.
• Price: £35 per bairn (9am - 3 pm) forest session.
---