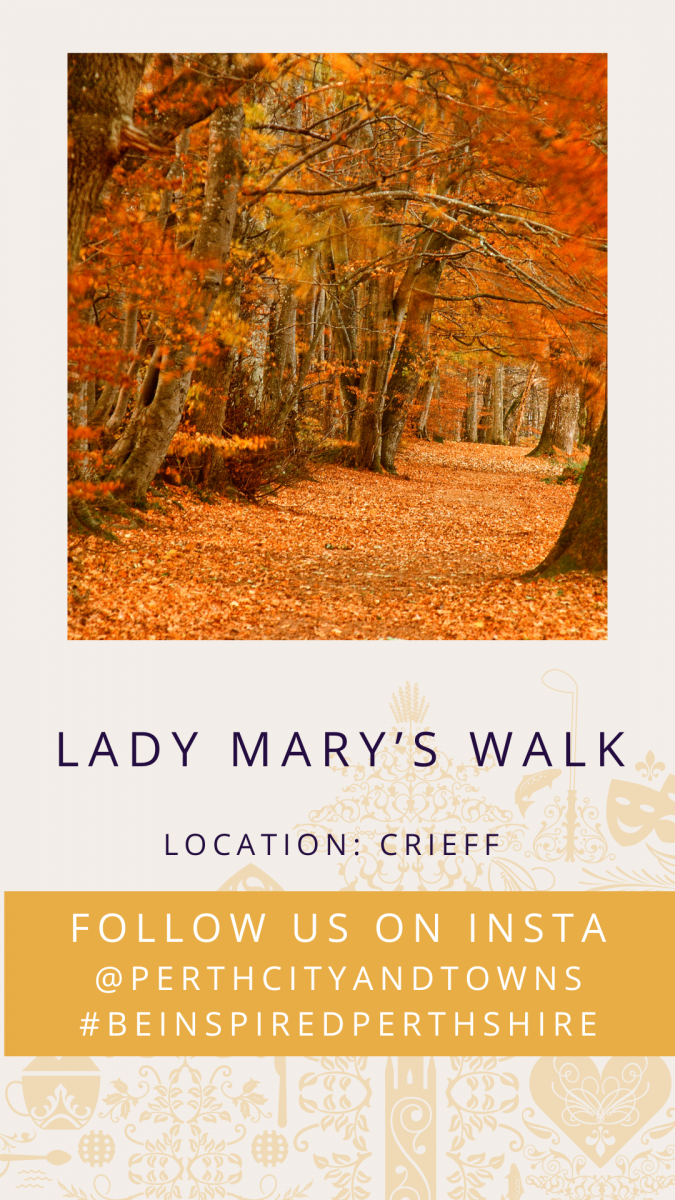 With more than 200,000 acres of woodlands, which include more champion trees than anywhere else in the UK, Perthshire is famously known as Big Tree Country.
Big Tree Country is a captivating destination that promises breathtaking natural beauty and an enchanting atmosphere.
Renowned for its majestic forests and towering trees, the region offers a truly immersive experience for nature lovers and outdoor enthusiasts. Discover ancient woodlands, hidden waterfalls and some of the tallest and most impressive trees in the country.
This illustrious title was bestowed upon us in 2006 and we thought you might like a little inspiration on where to go walking to experience the Big Tree Countryside at its best.
---
Dunkeld and Birnam
---
The Hermitage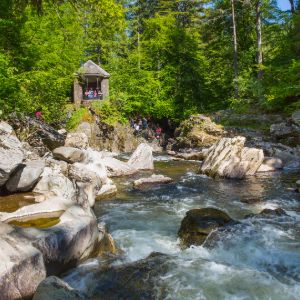 This family-friendly riverside woodland, located just a few minutes from Dunkeld, attracts visitors from near and far throughout the year. Heralded for its towering Douglas firs and stunning natural water features, this stretch of forest forms a unique beauty spot with wonders to behold in every season.
Created by the third Duke of Atholl around 250 years ago, The Hermitage was designed as an 18th century pleasure ground, the waterfalls, rapids and swirling pools of the River Braan leading to the picturesque folly known as Ossian's Hall of Mirrors.
Built in 1757, and since refurbished back to its original glory, this Georgian structure is filled with mirrors, sliding panels and paintings designed to surprise and delight its visitors.
Situated on a rocky outcrop overlooking the thundering waters of Black Linn Falls, it provides you with a prime position to soak up the glory of your surroundings.
A 1.5-mile woodland trail leads you past snowdrops in spring, leaping salmon in autumn, and joins an extensive network of trails in the area. Discover the native Canadian-carved totem pole hidden in the woods, and look up to see red squirrels darting through the tree tops.
---
Birnam Oak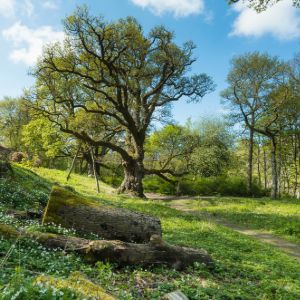 This magnificent, sessile oak, seven metres in girth and believed to be 500 years old, is famous as one of the last remnants of historic Birnam Wood, featured in Shakespeare's 'Macbeth':
"Macbeth shall never vanquish'd be until Great Birnam Wood to high Dunsinane Hill shall come against him." (William Shakespeare).
Birnam Oak is easily accessible on the outskirts of Birnam village, where you will also find the lovely Beatrix Potter garden, and Birnam Arts Centre.
The iconic oak stands on the south bank of the River Tay, among other remarkable trees including its ancient neighbour, the Birnam Sycamore. A waymarked route leads you through this majestic woodland, along an attractive stretch of the river.
The tree's large spreading branches rest on wooden supports, in order to support their significant weight. The trunk of the oak is hollow, revealing traces of fire, and yet this stalwart survivor still thrives.
---
Dunkeld House Tree Trail
The extensive grounds of Dunkeld House Hotel, by the River Tay, are home to the Dunkeld House Tree Trail featuring 18 tree species along an attractive, meandering path. Launched in 2016, this straightforward circular walk is open to the public and covers the two scenic miles between Dunkeld Cathedral and the hotel.
With all-ability access and information panels revealing the fascinating history of tree planting in the region, this is a rewarding ramble for all seasons. Bluebells carpet the ground in spring, whilst autumnal colours abound later in the year.
Visitors are welcome at the hotel bar or lounge for a warming drink, or afternoon tea.
---
Craigvinean and Pine Cone Point
First planted by the Dukes of Atholl, Craigvinean – Gaelic for 'crag of the goats' – is one of the oldest Big Tree Country forests and has been a popular destination since Victorian times. Today, you can follow in the footsteps of its early visitors and explore those same paths through a rich variety of beech, larch and Scots pine.
Beginning just one mile west of Dunkeld at the Craigvinean car park, you have a choice of trails through the forest. Take the Torryvald Trail to its folly, hidden deep in the woods, or explore Pine Cone Point Trail which climbs to a modern timber shelter offering spectacular views over the River Tay to Dunkeld and the mountains in the north.
The waymarked Craigvinean routes are accessible for walkers and cyclists, and there is even a fixed orienteering course. Keep your eyes peeled on your travels for goshawks, capercaillie, red squirrels and the elusive pine marten.
---
Aberfeldy
---
Birks of Aberfeldy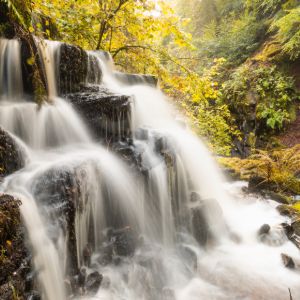 In 1787, Robert Burns was inspired by the beauty of the Falls of Moness, and the birch trees of Aberfeldy, to pen "The Birks o'Aberfeldie". His poem now names a 1.5-mile circular walk through the Moness gorge, featuring hanging waterfalls and mature woodland of birch, oak, ash and elm.
From the centre of Aberfeldy, a well-defined path takes you alongside the Moness Burn, home to otters, lamprey and salmon. Rising through the gorge, wooden steps lead you to the upper ravine where an abundance of plant and animal life earn its designation as a Site of Special Scientific Interest.
You will find handrails, seats and viewpoints en route, allowing respite from this fairly steep climb, before you peak at a bridge directly above the thundering Falls.
This is a pleasant loop, suitable for the whole family, through an area of great natural beauty:
"Now Simmer blinks on flowery braes,
And o'er the chrystal streamlets plays;
Come let us spend the lightsome days
In the birks of Aberfeldy."
(Robert Burns)
---
Cluny House Gardens
Cluny House Gardens in Aberfeldy were created in the 1950s as a secluded woodland garden in the grounds of listed building Cluny House. Here, the acidic soil, aspect and weather conditions proved ideal for growing a varied mix of trees, shrubs and flowers with particular emphasis on Himalayan and North American species.
Across 2.4 hectares, you can find exotic and native plants including rhodedendrons, acers, rowans and birches, as well as giant Himalayan lilies, meconopsis, candelabra primulas and arisaemas. Look for two ancient Wellingtonias, pre-dating the rest of the woodland – one is the widest girthed conifer in the UK!
The garden is worked on organic principles with leaf mould spread on the flowerbeds, all beds hand-weeded, and no chemicals in sight. Many woodland birds can be identified – look for blackbirds, jays and jackdaws, the great spotted woodpecker, the bullfinch, chaffinch and greenfinch, as well as song and mistle thrushes. Red squirrels abound, and are especially active at the feeders in the morning.
Organised tours around Cluny House Gardens can be pre-arranged, and a range of seeds are available to order.
Nearest town: Aberfeldy
Opening times: 9am-6pm
Entry fee: Adults £5, children £1, annual season ticket £10
---
Blair Atholl
---
Diana's Grove at Blair Castle
Six miles from Pitlochry, Blair Atholl is home to Blair Castle, the ancestral seat of the Dukes of Atholl. In the castle grounds, you will find Diana's Grove, two acres of tranquil woodland named after the Roman goddess of hunting.
Walking in the cool shade of tall trees brought from all over the world, this is the perfect spot to appreciate some of the finest specimens of Big Tree Country. Here, you find the UK's second-tallest tree, a grand fir measuring 62.7 metres high, the tallest Japanese larch in the UK with a height of 44 metres, and the tallest red fir in the UK at 39 metres.
Don't forget to visit the adjacent nine-acre walled Hercules Garden, the ruin of St Bride's Kirk, and the sculpture trail. Some paths are suitable for wheelchair users.
Nearest town: Pitlochry
Opening times: Wednesday to Sunday, 10am-5.30pm
Entry fee: Adults £7.70 gardens only, children £4, family ticket £20
---
Falls of Bruar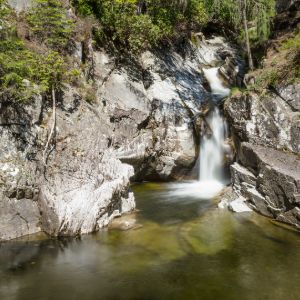 This series of impressive waterfalls, located just next to The House of Bruar around ten miles north of Pitlochry, has been a popular tourist attraction since the 18th century. After visiting the Falls in 1787, Robert Burns beseeched the 4th Duke of Atholl to shade the barren banks of the water "wi' tow'ring trees, and bonnie spreading bushes". The Duke complied, and the result is a sight to behold, the falls dropping a total of 60 metres through a narrow gorge, creating deep pools beneath steep banks now adorned with conifers, mountain ash, willow, aspen and birch.
The Duke's original path remains, leading you to the viewing bridge across the lower falls, before climbing steadily to a spectacular outlook from the stone upper bridge. The path passes a picnic area and circles back to your starting point.
The entire route is only 1.5 miles but the ascent is fairly strenuous, so do come prepared to test your legs. A coffee and cake afterwards at the House of Bruar food hall are well deserved!
---
Crieff and Strathearn
---
Lady Mary's Walk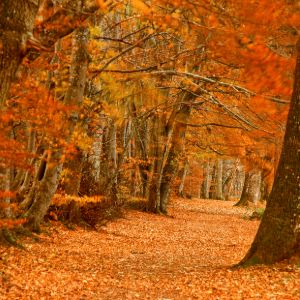 Named after Lady Mary Murray, whose family were landowners in Crieff in the early 19th century, Lady Mary's Walk is a popular pathway along the banks of the River Earn. Park the car at Crieff's MacRosty Park, then take the four-mile track which starts by crossing the bridge arching over Turret Burn. The path has been upgraded to suit wheelchairs, bikes and buggies.
This is a picturesque walk alongside the river, mainly flat and suitable for all abilities. Pass under ancient oak, beech, lime and sweet chestnut trees providing shade in the summer and beautiful autumnal colours later in the year.
Tread lightly and you may find yourself in the company of herons and kingfishers, grey wagtails, oystercatchers and dippers. Otters have been spotted here at dusk.
There are several benches and viewpoints dotted along Lady Mary's Walk, giving ample opportunity for you to stop and enjoy the tranquil surroundings.
If you wish to extend your walk, take the signposted path onto Laggan Hill where mixed woodland opens up to present lovely countryside views, or continue even further to Baird Monument.
---
The Knock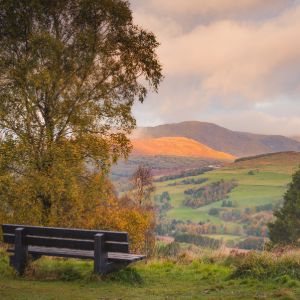 The Knock is a wooded hill which stands above Crieff, its path to the summit a popular climb for locals and visitors alike. Starting from Knock car park, a short, steep ascent is followed by waymarked paths completing a pleasant 3.75-mile loop, suitable for walkers or cyclists.
The viewpoint at the summit provides a fantastic outlook north to the Highlands, south over Strathearn to the Ochil Hills, and west to the mountains and foothills of Ben Vorlich and Stùc a'Chròin.
There are benches here to take a breather before continuing your hike. Further sweeping views await, particularly striking on a clear day, before a lovely track passing through woods of beech, oak and birch takes you back to your starting point.
---
Glen Lednock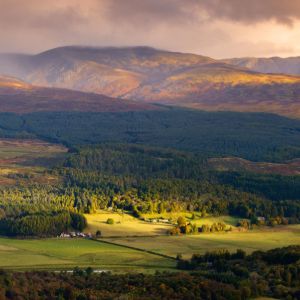 This picturesque glen, located just north-west of Crieff, is popular with walkers for its open vistas, tumbling waterfalls and peaceful woodland paths. The lower reaches can be explored by way of a four-mile waymarked circular route beginning opposite Comrie primary school or alternatively at Laggan Park car park.
The walk's undoubted highlight is the Deil's Cauldron (Devil's Kettle) – a hollow in the gorge where the River Lednock pools and swirls, overhung by a canopy of elm, ash, rowan and alder trees.
Pause for a moment on the wooden viewpoint in preparation for a steep climb through the conifers of Dunmore Hill to the Melville Monument, where your efforts are justified by breathtaking views featuring Ben Chonzie to the north, the enormous Loch Lednock dam to your left, and the waters of Loch Earn in the west.
Your path then leads downhill, to the shaky bridge buttressed by a huge sycamore, and lovely oak woodland. With clear tracks and signposting, ample seats en route and dramatic scenery all around, Glen Lednock is a great hike for most abilities.
---
Perth and Scone
---
Kinnoull Hill Woodland Park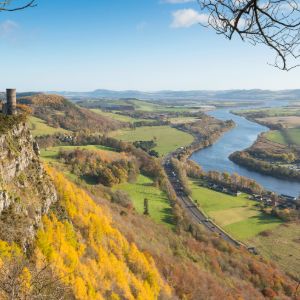 A short walk from Perth city centre, Kinnoull Hill Woodland Park encompasses five hills: Corsiehill, Deuchny Hill, Barn Hill, Binn Hill and the tallest of them, Kinnoull Hill, which is also a Site of Special Scientific Interest. Scotland's first official woodland park, this is a popular destination for walkers and cyclists with a network of established paths, panoramic views over the city and surrounding countryside, and an abundance of flora and fauna.
Starting from the car park at Corsiehill, the top of Kinnoull Hill is a straightforward walk on a marked path; expect a gentle test of your leg muscles over short stretches of steep ground. Your route leads you under the shade of oak, ash, beech, and rowan trees, as well as Norway spruce and Scots pine. As you climb, you may spot red and grey squirrels, woodland birds and even deer.
At the summit, you are rewarded with magnificent views in all directions – east along the Tay Estuary towards Dundee and Fife, south-west to the Ochil Hills, west over Perth to Ben Vorlich and Ben More, and north to the foothills of the Grampians. The 18th century castle folly, Kinnoull Tower, is visible on a rocky outcrop high above the river.
---
Scone Palace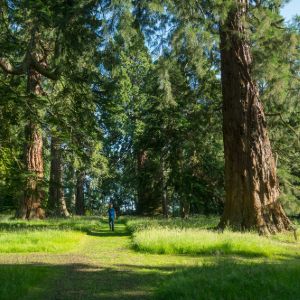 Two miles north of Perth lies historic Scone Palace – crowning place of Scottish kings and the original home of the Stone of Destiny, all set amidst 100 acres of glorious parkland.
The landscaped grounds feature a Victorian pinetum, the copper and beech Murray star maze, a walled garden and a kitchen garden. The grounds are open to the public with or without a visit to the palace.
Local lad and renowned botanist, David Douglas, worked onsite as a gardener before his overseas discoveries gave his name to the evergreen conifer, the Douglas fir. Today, Scone Palace grounds are home to a magnificent Douglas fir grown from the original seed introduced by Douglas in 1827.
In the original pinetum, you can walk among giant redwoods and noble firs dating from the 1850s. Take a rest at the David Douglas pavilion, where information boards tell his story and that of other Scottish botanists of the era.
And remember to tread lightly – red squirrels, roe deer, butterflies and rare birds frequent the estate – not to mention the much less timid resident peacocks!
---
Pitlochry
Queen's View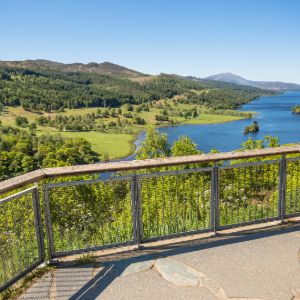 The best view in Scotland is quite a plaudit to live up to, but the Queen's View does a good job of fulfilling expectations. Just fifteen minutes' drive from Pitlochry, this is one of the most famous viewpoints in the country, and regularly attracts more than 150,000 visitors every year.
There is a visitor centre, tearoom and gift shop, alongside a designated car park, from where you can access the short path up to an incomparable view across Loch Tummel to Schiehallion, the Fairy Hill of the Caledonians. Queen Victoria believed the view was named for her, but it actually commemorates Queen Isabella, wife of Robert the Bruce, who lived some 550 years earlier!
Close to the Queen's View you will find a network of waymarked paths and cycle routes through beautiful mixed forestry.
---
Allean Forest
Only half a mile from the Queen's View, by the shores of Loch Tummel, you will find the pine, fir and larch trees of Allean Forest. Part of Tay Forest Park and favoured by walkers and off-road cyclists, there are many well-marked paths through the woods, but two are most popular:
The Clachan Trail involves a steady climb through mixed forest to a well-preserved 300-year-old black house or farming settlement. This three-kilometre walk also incorporates stunning views across the Tummel valley.
The four-kilometre Ring Fort Trail leads to a large, circular stone wall. This fascinating piece of ancient history is believed to be the remnant of an 8th-century dwelling. Enjoy spectacular panoramic views of the surrounding landscape before your return to the present day.
---
Faskally Woods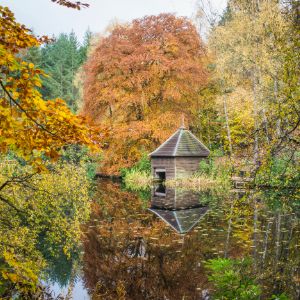 A few minutes' drive from Pitlochry lies a mixed woodland with a diverse range of tree species once used as a 'forestry school' – a Forestry Commission enterprise for training young foresters. Part of the Tay Forest Park on the banks of Loch Dunmore, Faskally Woods are rich with Douglas fir, silver fir, wild cherry and oak trees, including some specimens more than 200 years old.
You can explore Faskally Woods by way of the Foresters' Trail, which follows the shores of Loch Faskally over 1.5 miles with some uneven ground, steep slopes and wooden steps to navigate.
Alternatively, Dunmore Trail is a scenic woodland path around Loch Dunmore, covering less than a mile and fully accessible. Look for the picturesque boathouse and wooden footbridge, water lilies blooming in summer, and autumnal reflections later in the year.
Every October, Faskally Woods are illuminated at dusk with the award-winning Enchanted Forest sound and light experience – returning in 2022.
---
Pass of Killiecrankie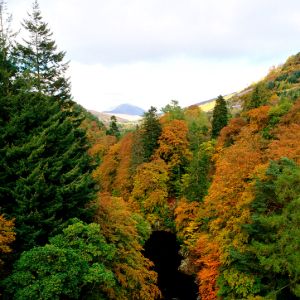 This steep wooded gorge three miles north of Pitlochry is popular with both walkers and history buffs, today's tranquil riverside paths passing the site of a bloody Jacobite battle.
'Killiecrankie' is derived from the Gaelic for 'Wood of the Aspen' but here you are largely surrounded by oak, beech and birch trees in what is deemed a National Scenic Area – a protected area of outstanding beauty.
Start at the visitors' centre where you will find details about the history, fauna and geology of the Pass, then explore some of the nearby paths.
The green footbridge offers stunning views, particularly impressive amid the colours of autumn. Wildlife abounds, including red squirrels, woodpeckers and pine martens. And the likely highlight of your trip, Soldier's Leap, inevitably raises the question – did fleeing Redcoat soldier, Donald MacBean, really jump 18ft across the torrential River Garry? It's a debate for the journey home!
---
Rannoch
Carie and Rannoch Forests
Less than four miles from Kinloch Rannoch, on the southern shores of Loch Rannoch, the hamlet of Carie is your starting point for a scenic adventure through Big Tree Country. Glades of ancient Scots pine; excellent views of the loch, the Black Wood of Rannoch, and the distant mountains; and clear walking paths, all make for a satisfying day trip.
Take your pick of walking routes: Carie Trail is a short and straightforward path among Douglas firs, Norway spruce and oak trees, and Kilvrecht Trail is also under a mile long and follows on from Carie Trail across Allt na Bogair (Bogair Burn). A longer option, Allt na Bogair Trail, is a five-mile walk through oak, birch and pine woods, climbing 153m/500ft up the gorge to reveal stunning views across Loch Rannoch towards Ben Alder.
Start and finish at Carie car park where you can make use of the picnic area to replenish your energy.
Nearest village: Kinloch Rannoch