Meet Mags Ash
Petit Pas, a stunning children's multi-branded shoe retailer and lifestyle store is one of the newest additions to Perth's thriving indie scene. Owned by Lori McGaffney, owner of the independent clothing boutique Evalucia, and run by store manager Mags Ash, Petit Pas has an expert team with over 30 years combined retail experience, and it shows. The service is excellent, and the team are all super friendly and knowledgeable about their product range.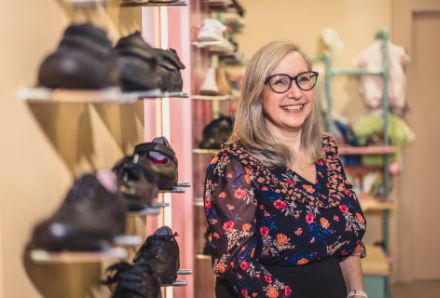 Community, customers and care are the core values of the business and that's very clear as soon as you speak to any one of the team. Shopping at Petis Pas is an interactive experience that's about more than a simple transaction. The team are amazing with children and take the time to make the entire shopping experience one that's fun and personal, putting children and parents at ease.
Mags says, 'I'm at my happiest when we manage to turn a crying child who doesn't want to be fitted into one who is skipping out the door wearing their shiny new shoes and a smile. That's really what we're all about.'
The store is a bright and welcoming space that you want to spend time in whether you're shopping for baby's first pair of shoes, or it's the oft-dreaded back to school shop. It's full of very tactile things to keep children engaged so you feel comfortable as soon as you walk through the door.
The carefully chosen selection of different brands and products available is extensive and means you can choose something that really suits your child and becomes an expression of their personality. Just like every child is different, so can their shoes be if you shop at Petit Pas.
You can get walk-in shoe fitting but to guarantee a time with a qualified fitter you can also book an appointment online. Appointments last for around 30 minutes so there's plenty of time to find the best style and fit for your child from the store's wide range of different brands. The team prioritise the health of children's feet so taking the time to get it right means you get both form and function in shoes that look great and feel great.
As well as shoes there is also a selection of gorgeous wee gifts, toys and clothing available in store. You can also choose a gift voucher if you're not quite sure of the right size or style to be gifting, or if you just want to share the joy of the Petis Pas shopping experience with your loved ones. A must visit for anyone with children.
---