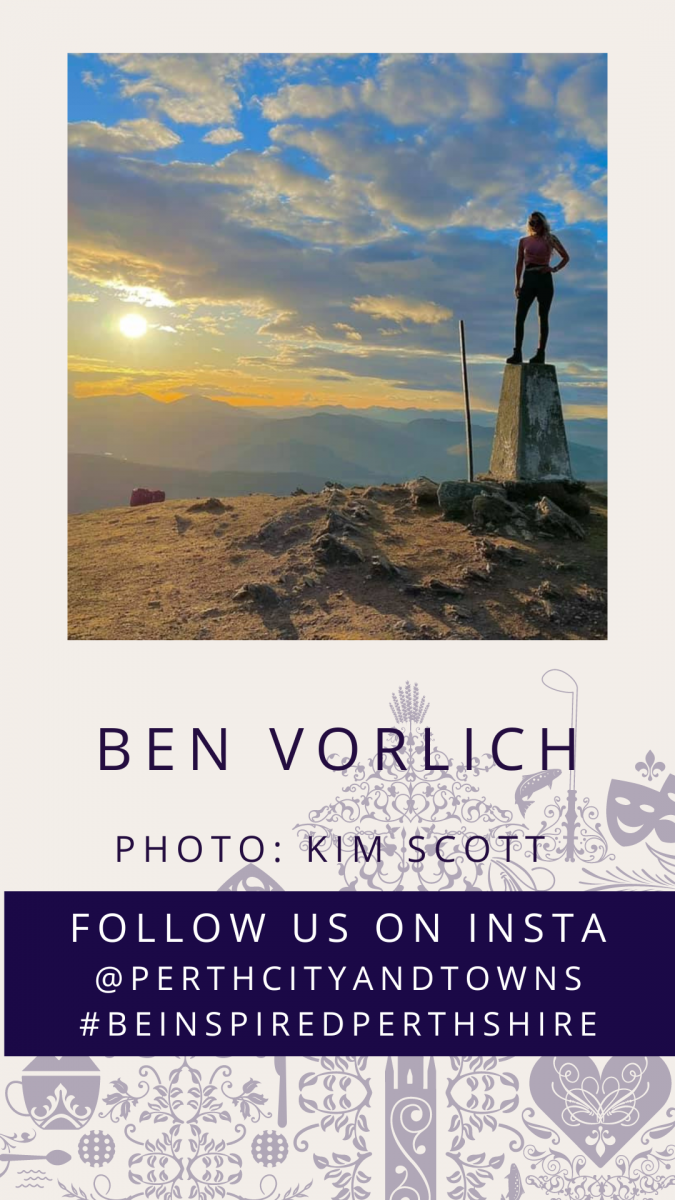 Perthshire is home to 28 of Scotland's 282 Munros making the area a first choice destination for Munro bagging aficionados, enthusiastic hillwalkers and outdoor adventurers. Towering over the region – all munros are at least 3,000ft high – these majestic mountains reward anyone willing to put in the effort with stunning views as far as the eye can see.
And those immense panoramas are just the tip of the mountain! Hidden lochs, boulder fields, rare wildlife and endless bragging rights make bagging one – or more! – of our Perthshire Munros a must-do day out for all fans of the great Scottish outdoors.
Now, as romantic and Insta-appealing as all of this is, we would urge you to remember you are still mountain climbing in Scotland! There are some essential tick-list items you'll need to remember before you set off, and if you are a beginner we recommend you check out Mountaineering Scotland for safety advice and Walk Highlands for full details of the routes.
---
Munro Bagging Transport | New For 2022
We know that thousands of you flock to Perthshire every year to go Munro Bagging and as you might imagine, those car parks can fill pretty quickly on a good day for climb. Enter the brilliant Elizabeth Yule Travel, a local transport and tour service owned and run by enthusastic munro man and mountain biker, Ricky Morton.
Having selected what he thinks are the best four Munro's in Highland Perthshire - and yes, he's climbed them all - this brilliant service allows you to enjoy your surroundings from the start of your day.
Every Friday, Elizabeth Yule bus service will collect you from Pitlochry Town centre at 9am and drop you off at one of four Munro locations.
And because they want you to enjoy your time in our hills, the exact Munro you will be hiking will be confirmed nearer the time, as the team assesses best weather conditions and grounds for the group.
Take in the epic scenery, contribute to a greener climate, and get enthused with a bus load of fellow hill walkers and outdoor enthusiasts in a sustainable and environmentally friendly way to travel. And since this is not a guided tour to the top, you don't have to keep up with a group or worry about stopping for your millionth selfie!
---
Munro Bagging Advice for Beginners
Choose a Munro suitable for your fitness level and experience, and make sure you have suitable clothing, footwear and equipment.
If you are a beginner, we recommend sticking to the spring, summer and early autumn. Winter in Scotland is the terrain of the experienced climber.
Check the weather before you go and only attempt the climb if it's fair. And although we don't often have to say this in Scotland, remember that too hot can be as tough as too cold!
Don't be a hero! You can turn back at any time for any reason; the mountain will still be there for next time!
Ask along a friend with experience to help get you started.
Tell someone when and where you're going, and when you anticipate getting back down.
What Do You Need for Climbing Perthshire Munros?
Although the weather may seem nice and warm on the ground, the climate and temperature can be a lot different if you're up a 3,000ft mountain. You should bring:
A pair of sturdy, supportive walking boots (no trainers)
Clothing made from quick drying material
A breathable base layer
Walking trousers
Waterproofs
A buff scarf or neckwarmer
A hat - lightweight in summer, warm in winter!
A comfy hiking rucksack that supports around your waist and chest
Spare socks
Small first aid kit and tick remover
Suncream
A compass and map
Best Snacks for Munro Bagging
Climbing is hard work and you'll be on the Munro for hours at a time so make sure you take plenty of food and water with you.
Nuts and Seeds: Nuts are super rich in fat and protein calories which will keep your body going for longer periods of time. You can't go wrong with almonds, pumpkin seeds, chia seeds, walnuts and cashews.
Energy Bars / Granola Bars: Energy bars usually contain some slow releasing foods for prolonged energy and granola bars are packed with oats offering vitamins, minerals, fibre and antioxidants, and with a standard round of nuts and dried fruits in most bars, they are also a great source of fat and protein. Try these fab recipes: Granola Bars > -BananaBites >
Fruit : A fruit salad in a pot is healthy and delicious, and the sugar in the fruit will prove to be a great pick me up. Bananas will give you an instant, sustained and substantial boost of energy.
Water: Obvious but essential make sure to pack enough water for the climb, people!
We consider ourselves very fortunate to live and work here in Perthshire and ask that you respect our countryside, landscape and local people. See our Visitor Management Page for ideas, tips and advice on enjoying a comfortable and safe trip outdoors in Perthshire (Yes, we do tell you where the loos are!)
---
Schiehallion
Kinloch Rannoch
One of Scotland's most popular and achievable climbs, Schiehallion is a great first choice for those starting their Munro-bagging journey. A mighty mountain carved by ice, its name translates from Gaelic as the 'fairy hill of the Caledonians', and its beauty has been bewitching visitors for centuries.
Schiehallion's well-maintained paths make a summer ascent relatively straightforward, but do be prepared to negotiate a rougher stretch of boulders towards the peak. Stunning views stretch out in every direction from the summit and richly reward both new and experienced walkers. Schiehallion overlooks Tummel, and Rannoch; their waters sparkling in sunshine, depthless under cloud. On a clear day, Glen Etive and Glen Coe are visible in the distance, rising beyond Rannoch Moor.
Located 10 miles north-west of Aberfeldy, you will need private transport to reach your starting point at the Braes of Foss car park. Stout shoes are a must to tackle the rocky final stretch, and of course warm clothing and plenty of food and drink will allow you to savour the fruits of your labour – those panoramic views.
Nearest town: Kinloch Rannoch
Distance: 10km / 6.25 miles
Time: 4-6 hours
Ascent: 731m
Starting point: Braes of Foss car park
Photo credit: Lauren Paterson
---
Ben Chonzie
Crieff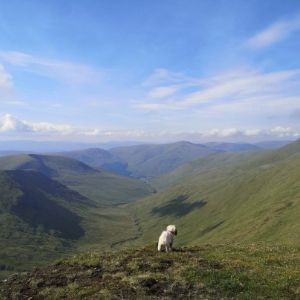 Ben Chonzie nestles between the Perthshire towns of Crieff and Comrie and is a good option for all abilities with both easy and more challenging routes taking you to the top.
The approach via Glen Lednock is not a daunting hike, and manageable in a long half day.
An established track takes you most of the distance, finishing with a short grassy section. To stretch your legs on a longer trek you could instead try the ascent from Loch Turret, near Crieff.
Ben Chonzie is a Munro known for its gorgeous scenery and varied wildlife. It offers a family-friendly walk amidst heather moorland with its flat summit an appealing stopping spot for everyone to rest and refuel. Pause for a snack and a selfie; green valleys and small streams providing your Insta-ready backdrop. Flora and fauna abound; you can find mountain hares and deer on the hillside, and keep your eyes peeled for buzzards swooping dramatically overhead.
Nearest town: Crieff and Comrie
Distance: 12.5km / 7.75 miles
Time: 4-5 hours
Ascent: 712m
Starting point: Coishavachan track, Glen Lednock, near Comrie
Photo credit: Gilly Campbell
---
Beinn a'Ghlò
Blair Atholl
Beinn a'Ghlò is an enormous, complex mountain, with steep ground, a multitude of ridges and corries, and no less than three Munros: Càrn Liath, Braigh Coire Chruinn-bhalgain, and Càrn nan Gabhar. No mean feat, if you're keen to up your Munro tally as quickly as possible and go for all of these in a single day. It's a strenuous, but satisfying, hike.
For a gentler jaunt, Càrn Liath is the lowest of the summits and a worthwhile standalone climb. It is an attractive Munro, visible from afar. There are good paths for most of the way, but note this is still a decent trek requiring your usual walking boots, warm clothes and provisions.
Beinn a'Ghlò has been declared a SSSI (Site of Special Scientific Interest) and a SAC (Special Area of Conservation) for its diverse plant life.
The stats below combine all three summits on Beinn a'Ghlò – Càrn Liath, Braigh Coire Chruinn-bhalgain, and Càrn nan Gabhar:
---
The Cairnwell Munros
Braemar
A cluster of three Munros – Càrn Aosda, Càrn a'Ghèoidh, and The Cairnwell – this trio can be found on the west side of the Cairnwell pass, behind the Glenshee Ski Centre.
Starting from the ski centre car park situated high up the mountainside, and covering straightforward terrain.
The Cairnwell is perhaps the easiest Munro in the country to tick off your list (resist the temptation of the chairlift!)
The ski centre lies amidst an area of wild and natural beauty and the infrastructure here makes The Cairnwell very accessible – particularly helpful for families and beginners.
Although there isn't a path the whole way, this is an easy hillwalk in normal conditions.
On a clear day, views from The Cairnwell summit are stunning, across mountains and glens and the renowned Cairngorms National Park.
Nearest town: Braemar
Distance: 13km / 8 miles
Time: 5-6 hours
Ascent: 595m
Starting point: Glenshee Ski Centre
Photo credit: Graeme Gatherer
---
Beinn Achaladair and Beinn a'Chreachain
Bridge of Orchy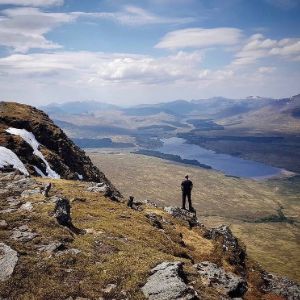 Some good things come in pairs, and this is certainly true of this awesome twosome which form the northern edge of the Beinn Dorain range.
The striking silhouette of Beinn Achaladair forms a recognisable landmark with its steep slopes and surrounding hills.
The terrain here is a mixed bag for walkers: some pathless sections, some boggy areas, grassy ridges and sharp ascents.
Clambering up to the summit is worth the legwork, as you can catch your breath in front of fantastic views over Loch Tulla and Rannoch Moor.
Continue from here to Beinn a'Chreachain by heading down the eastern side of the mountain, following an established path. Beinn a'Chreachain is the taller Munro, home to a pretty lochan in Coire an Lochain, and summiting gifts you a moment to gaze upon the vast emptiness of Rannoch Moor.
---
Ben Lawers and Beinn Ghlas
Killin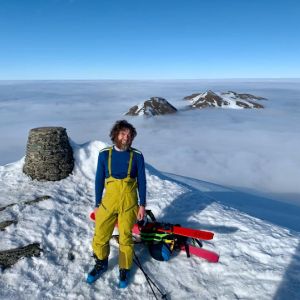 The Ben Lawers mountain range is situated on the north side of Loch Tay. The highest peak is 3,984 feet – so close to 4,000 feet that in the nineteenth century a huge cairn was built to try and edge it up there! Ben Lawers is the highest peak in Perthshire and the tenth highest Munro in the land.
There is no public transport to Ben Lawers but the car park is sufficiently high altitude that beginning here gives you a nice head start on the ascent. A popular walk, the route crosses another Munro – Beinn Ghlas – and, including some steep rocky stretches, follows a clear path to the summit.
Once you've peaked, you may be forgiven for feeling on top of the world, with a view of Loch Tay and its environs stretching out below your well-worn boots.
The high elevation and exposure of this hike recommend that you come equipped for changeable weather conditions. Part of the Ben Lawers National Nature Reserve, the area is noted for its rare alpine and arctic plants.
Nearest Town: Killin
Distance: 11km / 6.75 miles
Time: 4-6 hours
Ascent: 942m
Starting point: Ben Lawers car park
Photo credit: Graeme Gatherer
---
Ben Vorlich and Stùc a'Chròin
Lochearnhead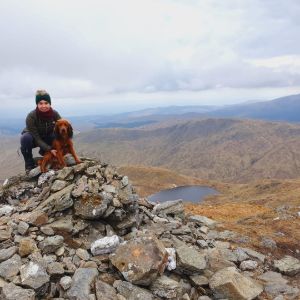 Presenting another opportunity to claim a pair of Munros, Ben Vorlich and Stùc a'Chròin are located to the south of Loch Earn in the beautiful Loch Lomond and the Trossachs National Park. From a distance, the two mountains look very similar but each gives a distinct hillwalking experience.
Ben Vorlich is steep-sided, but a clear path makes the climb straightforward, with views across to Ben Lawers. Its name derives from the Gaelic for 'sea-bay' and you can see the small bays of Loch Earn below. From the top, you can enjoy a wide vista of surrounding peaks and foothills. An exposed hill, Ben Vorlich is subject to sudden changes in weather conditions – beware of clouds and rain closing in. Heading to the summit of Ben Vorlich is a popular choice which should suit any hiker; experienced walkers may continue on to Stùc a'Chròin for a more challenging day.
Stùc a'Chròin is the lower of the two mountains, but pack an extra sandwich – following a steep zig-zagging path, you must navigate a boulder field, and then scramble to the rocky peak. Once there, however, your efforts are repaid in full: on a clear day, stunning views can extend as far south as Stirling Castle and Arthur's Seat in Edinburgh. On your return journey, you may find the path eroded and boggy in patches.
These Munros are well placed for nearby campsites and other accommodation if you wish to extend your stay. Callander is the nearest town.
Nearest town: Lochearnhead
Distance: 14.5km / 9 miles
Time: 6-7 hours
Ascent: 1145m
Starting point: Ardvorlich, Loch Earn
Photo credit: Katie Dickson
---
Meall Ghaordaidh
Killin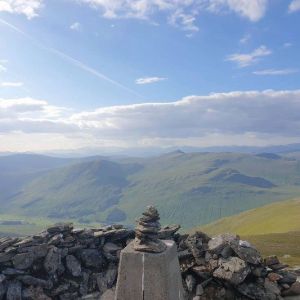 The quiet beauty of Meall Ghaordaidh can be discovered tucked between Glen Lochay and Glen Lyon. At a distance from other Munros, this gentle giant is often enjoyed in isolation, its understated charm sometimes overlooked by those looking to conquer the flashier Munros. However, this mountain is not one to miss – it's perfect if all you want is some respite from the crowds.
Most ascents of Meall Ghaordaidh follow the heather-strewn, grassy slopes above River Lochay. You will need your own transport to the starting point, about four miles from Killin. A rough path through peat bogs and rock takes you to the summit, where you will find a lovely view east of the Tarmachan Ridge and Ben Lawers mountain range. Take a moment in the silence for that thermos of coffee.
An alternative option is to approach the climb from Glen Lyon to the north. This is a lesser used route where two distinctive spurs lead to the summit.
Accommodation is plentiful in the surrounding area.
---
Càrn na Caim and A'Bhuidheanach Bheag, Drumochter
Dalwhinnie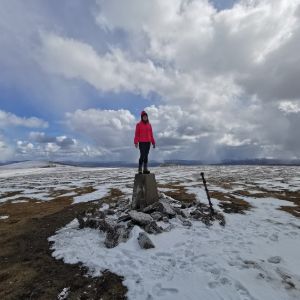 To the east of the Pass of Drumochter, a high plateau contains the two Munros, Càrn na Caim and A'Bhuidheanach Bheag.
Càrn na Caim is furthest north; the usual ascent takes you along faint paths but a line of fence posts will help you keep your bearings. You cross boggy ground as you approach the summit but the views you'll find there are worth the walk.
A'Bhuidheanach Bheag's tongue-twisting title translates from Gaelic as "Little Yellow Place", most likely a nod to the yellow grass covering the land. The rolling terrain here heightens your sense of perspective – endless skies above wide open space. On the hillside, varied wildlife abounds including dotterel, ptarmigan, grouse and mountain hares.
The open expanses of this region make navigation tricky if visibility is reduced in poor weather. Ignore the sniffs of technophiles and bring those old-fashioned stalwarts: map and compass.
Nearest town: Dalwhinnie
Distance: 19km / 11.75 miles
Time 5-6: hours
Ascent: 824m
Starting point: A9 layby, 0.75km south of Dalwhinnie junction
Photo credit: Rachie Wojx
---
Creag Leacach
Braemar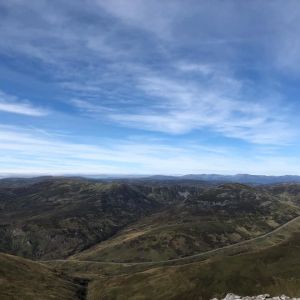 Creag Leacach translates from Gaelic as 'the slabby crag' – an evocative moniker if ever there was one! This is indeed a stony hill, rising high above the Devil's Elbow, but don't be put off – climbing Creag Leacach is a simple day trip starting from the Glenshee Ski Centre car park. Handily enough, you are already on the highest main road in Scotland so some of the hard work in reaching the top of the Munro has been done for you.
Once past the ski centre, heading up to the Grampian plateau is a pleasant and peaceful excursion. Ascending slopes of heather and grass, you reach an open and remote landscape, a safe harbour for grouse, mountain hares and red deer. An old wall and fencing will help you navigate up to the Munro's rocky summit. From here, you can appreciate fine views of The Cairnwell and the Cairngorms.
For those with legs of steel, Creag Leacach is often climbed as one of four Munros to the east of the Cairnwell Pass: Càrn an Tuirc, Cairn of Claise, Glas Maol, and Creag Leacach. Alternatively, you can omit the first two Munros and simply tackle Glas Maol and Creag Leacach.
The stats below combine all four Munros – Càrn an Tuirc, Cairn of Claise, Glas Maol, and Creag Leacach:
Nearest Town: Braemar
Distance: 19.25km / 12 miles
Time: 6.5-7.5hours
Ascent: 891m
Starting point: Glenshee Ski Centre car park
Photo credit: Graeme Rew
---
Glas Tulaichean and Càrn an Rìgh, Spittal of Glenshee
Braemar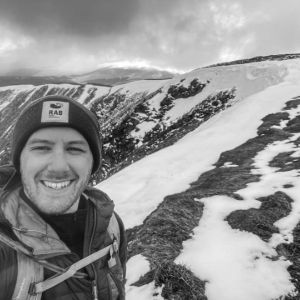 Glas Tulaichean lies just inside the Cairngorms National Park and – if you're feeling a little weary by this stage – it makes for a relaxed ascent with fantastic views. This Munro is a Site of Special Scientific Interest (SSSI), protected for its upland flowering plants. Park in the Spittal of Glenshee and walk up to Dalmunzie Castle Hotel where an old railway line and then a clear Landrover track lead you through Glen Lochsie almost to the summit. Your only obstacles? A couple of river crossings – spare socks recommended!
The remoteness of Càrn an Rìgh means that it is often climbed in conjunction with Glas Tulaichean. It is the lower of the two Munros but the terrain is rougher underfoot. You will need to retain a hop, skip and jump in your step to cross the boulders en route to the summit. Once there, take a breather and gaze west for a splendid view of Beinn a'Ghlò.
Retracing your steps takes you back to Dalmunzie Castle Hotel, where you can enjoy some well-earned refreshment. As you reflect on your day, spare a thought for those brave souls who attempt the annual Glas Tulaichean run. This strenuous uphill-only race is not for the faint-hearted – perhaps one to consider for another day.
Nearest town: Braemar
Distance: 27km / 16.75 miles
Time: 8-10 hours
Ascent: 1085m
Starting point: Spittal of Glenshee
Photo credit: @ross.around.Scotland
---
Please Remember: Leave only your footsteps, take only your memories.
You can explore most of Scotland's outdoor land thanks to the Outdoor Access Code, as long as you behave responsibly. This is known as access rights and is unique to Scotland. This counts for hills, moors, forests, beaches, woods, rivers and some farmland, and gives you rights to walk, cycle, climb, swim, watch wildlife and more.
Pick up your rubbish and other possessions
Go for minimal-impact camping - no fires please!
Keep noise to a minimum
Leave things as you found them
Don't feed the wildlife
Find out more on how to be responsible and follow the Scottish Outdoor Access Code for visitors.
Responsible Tourism
Responsible travel and tourism protects the landscape and boosts the local economy, culture and diversity of the area you visit, which in turn keeps the landscape natural and beautiful for other people to enjoy in the future. By choosing to think about how you can make your trip more sustainable you can enjoy Perthshire in an environmentally friendly way. Have a think about the following before you visit us or head out for the day.
Mode of transport: Can you take the bus or train and walk or cycle from the station?
Parking: We appreciate some munros are unreachable without a car! If you are driving check which car parks and facilities are open before you venture out. Please don't park anywhere but designated parking spaces. If an area is busy, please move on and find another location to park.
Accommodation. Have you chosen a provider who promotes green tourism or if camping, are you following eco-camping guidelines?
Eating Out and Buying Local. Choose a local business to shop with, sample some of our amazing Perthshire produce and eat out in one of our fabulous independent eateries. Find them all on our local independents directory.
Activities. If you're planning a holiday around munro bagging then check out the other activity providers and local experts in the area.
Local Communities. Our local people live here all year round. Please be considerate of them. Thank you!