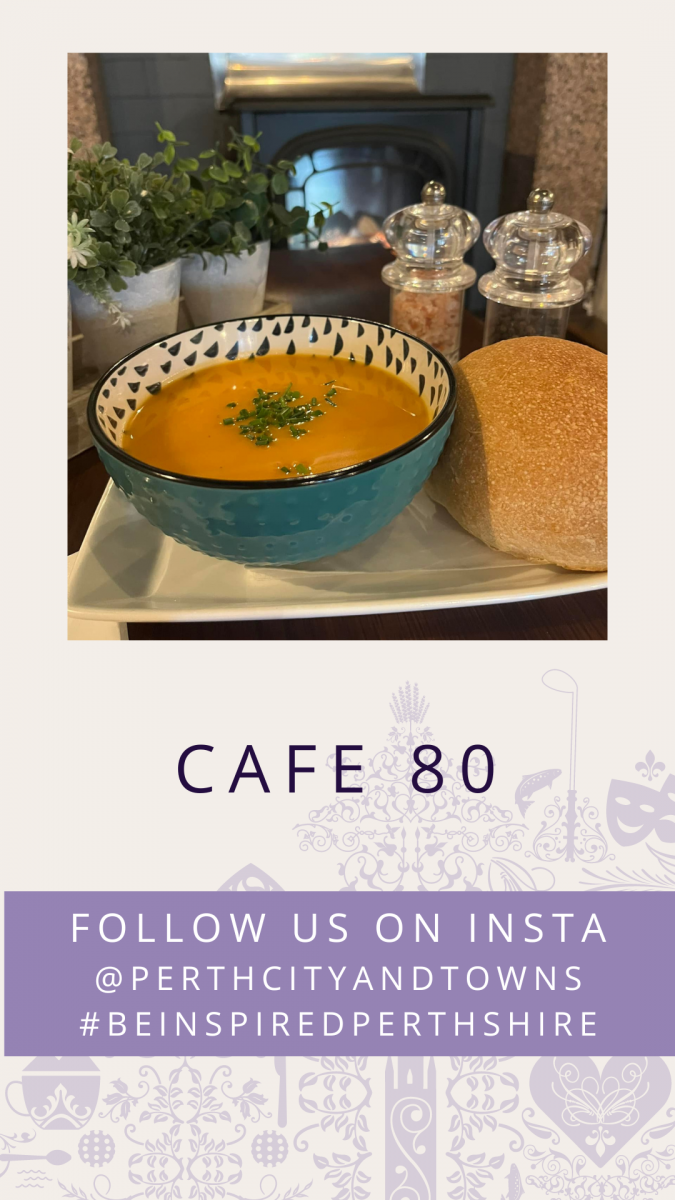 There are times when you want an award-winning, a la carte meal - and there are times when only a bowl of homemade soup and a deep filled sandwich will do the job!
Perthshire is home to some of Scotland's best producers - from tasty seasonal veggies to artisan bread, meat for the stock pot and the perfect rapeseed oil dressing to drizzle, you'll find an abundance of delicious food in every town and village.
While you're out and about, soaking up our inspiring scenery, wonderful shops and whirlwind activities, make time to stop and enjoy some of the wee cafes, gorgeous tearooms, and all day restaurants.
The food is good, the welcome is warm and we can guarantee the cakes will be worth leaving room for!
Who Makes The Best Soup?
Walk into any Scottish pub and there will be two sure fire questions that will start a proper, finger-pointing, not-even-listening-to-you debate:
What football team is likely to win the league
Whose Mum makes the best soup
You see, us Scots come from a long, long line of soup makers. A puckle tatties, a few leeks and a bit of ham shank from lindsays and you've got lunch sorted for a week.
As our culinary tastes have changed, so too has the variety of soups you'll find bubbling away on a Scottish stove but the sentiment, the love and the perfectly relaxed throwing in of veg, meat and stock remains as true as it always has.
From old Scottish favourites, to fancy new recipes and ethnic-inpsired broths, you'll find countless soup heroes and chefs working their magic in the kitchens of Perthshire.
You may also enjoy our Be Inspired Blogs on other foodie treats:
Afternoon Tea in Perthshire - www.perthcityandtowns.co.uk
City Centre Restaurants - www.perthcityandtowns.co.uk
Cocktails and Artisan Drinks - www.perthcityandtowns.co.uk
---
Perth City Centre
---
Café 80
Perth City Centre
Take a walk along Perth's George Street and you will soon discover its long line of much-loved indie shops and fabulous food and drink destinations including Café 80 in prime position on the corner of Tay Street. With husband and wife team David and Katriona Will at the helm, Café 80 is a bright and airy space with comfy leather sofas, formal dining tables under pristine white tablecloths, and pavement seating for a sunny day.
The menu offers classic bistro fare, with freshly prepared lunches, snacks, and hot drinks for you to dine in or to take away. Start the day with a hot breakfast bap with a choice of fillings, or come for a lunchtime roll of smoked pulled pork, chicken mayo, a BLT or cheddar and chutney. The Ploughman's sandwich is fully loaded with roast ham and cheese, pickles and apple, or keep it light with a house salad. There are tempting toasties, burgers and fries, and delicious soups simmered on the premises – warm up with fragrant mushroom, or sweet potato and chilli, served with a buttered roll.
Café 80 caters for gluten-free and vegan diets, kids are welcome – and so is the dog! There's no need to book, simply stop by for a freshly ground coffee with a slice of homemade lemon drizzle, or linger over wine and cocktails.
• Nearest town: Perth City Centre
• Open: Mon, Thur & Fri 10am-3pm / Sat 10am-4pm / Sun 11am-4pm / Tue & Wed Closed
---
Hinterland
Perth City Centre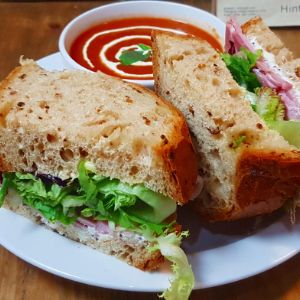 In the centre of Perth's café quarter, Hinterland's breakfasts, lunches, cakes and coffee have attracted a loyal following and consistently glowing reviews. Listed in the media as one of the 15 best brunch spots in the entire country, this cosy independent is known for its rich, dark coffee, and a seasonal menu prepared to order using fresh ingredients.
Start your day with a large white, granary or gluten-free breakfast roll, or thick slices of buttered toast with all the trimmings (eggs, bacon, avo…) Homemade soup of the day comes with slices of white or brown bloomer, or a cheese scone. Sandwiches include bbq pulled pork with Emmental and rocket; melted brie with cranberry sauce on grilled ciabatta; a mozzarella, tomato and fresh basil focaccia; and many more.
Adult portions are generous, while children have an attractive menu of simply filled sandwiches, toasts and soup. Hinterland keeps a keen eye on healthy, nutritious food, but do check out the display cabinet for the day's cakes, scones and other treats.
With its warm wooden décor and welcoming staff, the café readily draws you in for a dose of Hinterland hygge … or you can sink your teeth into a bacon sarnie on the sunny terrace outside.
• Nearest town: Perth City Centre
• Open: Mon 9.30am-4pm / Tue-Fri 9.30am-3.30pm / Sat 9am-4.30pm / Sun 10.30am-3.30pm
• Menu: www.facebook.com/hinterlandcoffee
---
Brew and Chew
Perth City Centre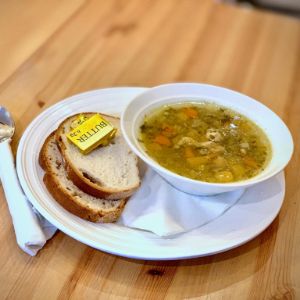 It's all about your four-legged friend at Brew and Chew on Perth's High Street. This indie café is open seven days a week for breakfast, lunch and coffee, and gives an equally warm welcome to customers and their dogs!
The staff(ie) here love dogs as much as you do, and are always delighted to see your canine companion make themselves at home in this friendly, cosy coffee shop. Speaking of coffee, your caffeine hit at Brew and Chew comes from The Bean Shop just along the road, so you are assured of top quality beans, hand roasted in small batches for a distinctive depth of flavour.
Homemade soup is served with bread and butter, or gluten-free oatcakes. A lunchtime roll, panino or toastie comes with salad and coleslaw, and fillings of bacon, brie and cranberry, three cheese and sweet chilli sauce, spicy beef, coronation chicken, and many more. Select from coffees, loose-leaf teas, milkshakes and smoothies to drink, and scones, cakes, biscuits and yum-yums for dessert.
Last but, at Brew and Chew, by no means least, there is a special dog menu too. Treat him or her to a doggy sausage, a puppuccino or a pupcake, and you can enjoy your own meal without hearing a whine or a whimper!
• Nearest town: Perth City Centre
• Open: Mon-Thur 9am-3.30pm / Fri & Sat 9am-4.30pm / Sun 10am-3.30pm
• Menu: www.canva.com/design
---
Kinross and Loch Leven
---
The Court House
Kinross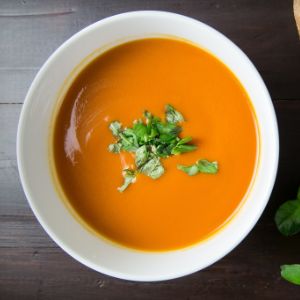 Established in 2015 and open every day for breakfast, lunch, and delectable home-baked treats, The Court House on Kinross High Street is based in the town's former courthouse buildings. It's a unique venue bringing this historic site back to life – sit out with your coffee in the old prison yard, now a sunny garden and patio!
The Court House issues no prison fare, but expertly hand-thrown, wood-fired pizzas with a traditional thin base and your choice of toppings.
Fresh soup is made daily and the sandwich range is prepared on site to ensure every bite is of perfect quality – choose from hot smoked salmon, egg and cress, or chicken and bacon. There is a feta and green olive salad, chicken Caesar salad, sharing boards of charcuterie or cheese, breakfast brioche rolls, and scones with jam and clotted cream.
A weekend specials board changes regularly, vegan and gluten-free meals are available, and there are options for kids too. Finish off with a luxury coffee that takes no prisoners – 100% Arabica beans and a shot of your favourite liqueur, all topped off with double cream. Who are we to judge!
• Nearest town: Kinross
• Open: Mon-Thur 9am-5pm / Fri & Sat 9am-11pm / Sun 10am-5pm
• Menu: www.courthousekinross.com
---
Heaven Scent
Milnathort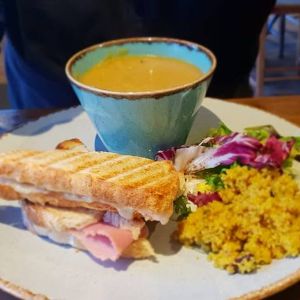 Away from the hustle and bustle of everyday life, this award-winning artisan coffee shop offers freshly-prepared meals made with locally sourced ingredients, speciality drinks, and cakes baked just down the road.
With its fun and funky décor, outdoor seating area and warm welcome, Milnathort's Heaven Scent is a cosy haven for locals and tourists alike.
Homemade soup of the day arrives with granary bread, a homemade scone, or gluten-free bread. Delicious toasties come with fillings such as cheese and honey roast ham or Sriracha chicken melt, and are served with house salad of the day. If you prefer brunch, then a "BLAT" with crispy bacon, leaves, grilled tomatoes, mayo, tomatoes, crispy onions and a fried egg on toasted bloomer is perfect.
Heaven Scent caters for dietary restrictions without any faff or fuss, and children have their own menu of tasty, healthy options to choose from. If home working keeps you tied down, check out the takeaway service or, if you have time to spare, while away a few hours dining out the back.
• Nearest town: Milnathort
• Open: Mon-Sat 9am-5pm / Sun 10am-5pm
• Menu: www.heavenscentcoffeeshop.co.uk
---
Blairgowrie and East Perthshire
---
Glendoick
Glencarse
Located inside the award-winning Glendoick Garden Centre off the A90 between Perth and Dundee, the Garden Cafe is an ideal rest stop and a popular foodie destination. In this light, open space you are invited to browse the self-service displays: select from freshly made soups and sandwiches, breakfast rolls, hot meals and home baking. Everything is prepared on the premises by Glendoick's team of skilled chefs, and made with locally sourced ingredients wherever possible.
The Glendoick kitchen bakes bread, rolls and croissants every day, not to mention its irresistible sausage rolls – get them warm from the oven. The seasonal Soup of the Day is always changing, choose a large or regular serving, each with a side of fresh bread or oatcakes and butter. The café's signature sourdough sandwiches include the Smokie Dokey made with pulled beef, smoked bbq sauce and crispy onions, and the Chipotle Kick with roast chicken, chipotle pesto and mozzarella. And who could resist fillings of garlic sautéed mushrooms (I'm a Really Fungi) or fish goujons (Haddock Good Day!)
There's no need to book, there are always vegetarian, vegan and gluten-free choices, and children can pick what they fancy from their own menu. If you do bring the family, remember that wee ones have free access to Glendoick's indoor and outdoor play areas, so you can finish your coffee in peace!
• Nearest town: Glencarse
• Open: 9am-4.30pm Daily (Sundays 10am)
• Menu: www.garden-cafe.co.uk/menu
---
The Dome
Blairgowrie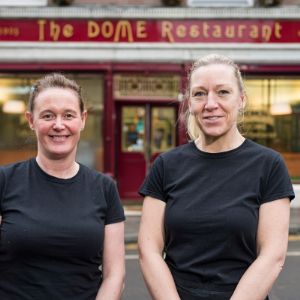 This beautiful listed building in the heart of Blairgowrie has been home to a café for more than a century, and is now something of a local institution. With its quirky, hand-carved wooden booths, comfy sofas, and a dome inspired by St Peter's Basilica in Rome, The Dome is a warm and welcoming restaurant satisfying locals and visitors with its all-day breakfasts, lunches, coffees and cake.
Check the blackboard for a choice of two soups every day, served with a roll and butter, and a new 'deli dough' every week. This could be anything from a chicken, mozzarella and pesto toasted panino, to a southern fried chicken wrap.
The Summer Specials menu features a gourmet hot dog with fried onions, chips and homemade slaw, and a choice of panini packed with piri piri chicken, minute steak and stilton, or mozzarella, basil and tomato. Toothsome homebaking includes scones, muffins, pastries, flapjacks and a (gluten-free) chocolate slice.
Everything is available to sit in or take away, and larger groups are advised to book in advance.
• Nearest town: Blairgowrie
• Open: Mon-Fri 8am-4pm / Sat 9am-4pm / Sun 9am-2pm
---
Auchterarder and South Perthshire
---
Café Kisa
Auchterarder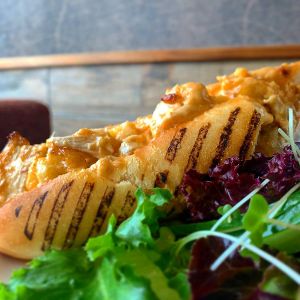 This family-run restaurant on Auchterarder High Street is a favourite haunt of Perthshire locals, as well as a popular destination for the many visitors who flock to Strathearn every year for walking, cycling, golfing and fabulous food. Café Kisa regulars enjoy sipping their speciality tea or rich roasted coffee, whilst tucking into a hearty breakfast, hot lunch, or sumptuous home baking.
Light bites and sharing platters include homemade soup served with a petit pain; warm ciabatta with green olives, balsamic vinegar and olive oil; and an antipasto plate of prosciutto, coppa and salami Milano with sliced bread. The sandwich bar features a range of fillings on white or brown, or tuck into a toastie with curried chicken and banana, or Italian mixed cheese, Parma ham and pesto.
Open sandwiches come with poached Scottish salmon, honey-roast ham and pineapple, or North Atlantic prawns, or maybe you prefer to spice things up with a chicken, cheese and jalapeño panino.
The food is fresh, the staff are friendly, and the menu is mouthwatering. Gluten-free, veggie, and plant-based options are available and there are gift vouchers to treat family and friends.
• Nearest town: Auchterarder
• Open: 9am-5pm Daily
• Menu: www.kisas.co.uk/wp-content
---
Delivino
Auchterarder and Crieff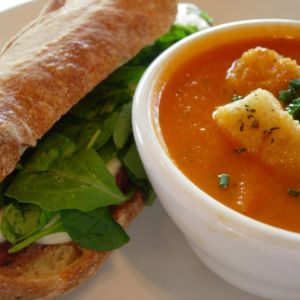 The weather outside your window may not comply, but Delivino in Crieff and Auchterarder is on a mission to bring a Mediterranean lifestyle to the heart of Perthshire. Established by two friends determined to serve their customers delicious dishes and fine wine, Delivino champions the food philosophy of Spain, Italy and southern France: top-quality ingredients, simply cooked to showcase them at their best.
Delivino creates a convivial space, full of light and chatter, families sharing a meal and friends catching up. The Delivino menu is supplemented by daily blackboard specials, with a close eye on seasonality and fresh produce. The wine is hand-picked from trusted importers and coffee is exclusively supplied by Illy.
Continental flavours shine through every dish, from artisanal cheeses to Italian charcuterie, marinated olives to homemade antipasto. Focaccia is accompanied by garlic chilli prawns, or try the three-tomato bruschetta with aged balsamic and fresh basil. Freshly made ciabatta sandwiches come with the option of a mug of soup, and there are pizzas, salads, pastas and platters. Go large, if you wish, with the Amazing Grazer – a tempting selection of meats, cheese, antipasti and bread.
Kids (and parents) will be impressed with their own Delivino menu featuring Italian cold cuts, yummy mozzarella and a burger on brioche. There's not a beige nugget in sight … but youngsters needn't worry, the chocolate brownie and ice cream are a certainty in any country.
• Nearest town: Auchterarder
• Open: Mon-Sat 10am-10pm / Sun Closed
• Menu: www.delivino.co.uk
---
Highland and North Perthshire
---
Hettie's Tearooms
Pitlochry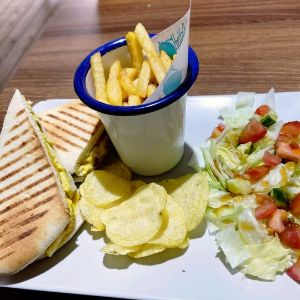 Since 2010, this award-winning tearoom has been blending tea, roasting coffee, and baking up a storm for local customers and visitors coming to Pitlochry from all over the world. But Hettie's is much more than a traditional teashop – with vibrant murals adorning the walls, oodles of personality, and just a touch of quirkiness, your visit here should feel like an experience. Hettie's would like to be your happy place!
Hettie's comfort food begins with homemade soup served with warm bread, or a scone, or a sandwich … whatever suits your mood. Sandwiches come with a crunchy salad, Hettie's famous pink coleslaw, and crisps. Fillings include cheddar and red onion relish, hummus and sun-dried tomato, or how about a panino, sausage roll or flat bread pizza?
Wash it all down with any of 21 loose-leaf teas (not a bag in sight) or go old-school with a coke float or a pimped-up milkshake. For dessert, Hettie's cake menu is a mouthwatering melange of traybakes, sponge cakes, cheesecakes, brownies, muffins and tarts. It culminates with a sharing cake platter for two, or (take a deep breath) the cake banquet for four. It's cake-utopia.
• Nearest town: Pitlochry
• Open: 10.30am-5pm Daily
• Menu: www.hettiesteas.co.uk/pages/hetties-menu
---
Aberfeldy Watermill Book Shop & Cafe
Aberfeldy
Aberfeldy Watermill cafe can be found in the hub of the working mill. This gorgeous wee cafe is brimming over with delicious treats - and we have first hand experience of how tasty the home made soups and big, hearty sandwiches are.
As well as their warm and comfortable - indoor area, they have a spacious terrace which is now in full bloom with beautiful flowers - and your four legged friend is most welcome to join you out there.
The Watermill is very much at the heart of Aberfeldy and the cafe is a favourite amongst locals and visitors alike - a great place to take the weight off and enjoy a freshly ground coffee, homemade cake or light lunch!
Soup of the day is homemade in their kitchen and is bursting full of locally sourced ingredients whenever possible.
Their rustic, multigrain sandwiches are served with a dressed side salad, sweet Cherita tomatoes & Couscous and offer up something for everyone with their unique fillings from delicious local produce.
Aberfeldy Butcher Ham, Cheddar & Tomato
Brie, Slow Roast Tomato & Spinach with a Balsamic Reduction
Roasted Vegetables with Today's Homemade Hummus & Mixed leaves
Watermill offers gluten and lactose-free, vegetarian and vegan options, as well as a daily special and soup of the day.
You'll find the friendly Cafe team is always happy to help - all you have to do is take a seat and enjoy!
Last coffee orders are 30 minutes before the bookshop closes.
Please call the Coffee Shop for reservations 07458 052598
• Nearest town: Aberfeldy
• Open: Seven days a week 10am-5:30pm (11am-5:30pm Sunday)
• Menu: www.aberfeldywatermill.com/cafe/Current-Menu