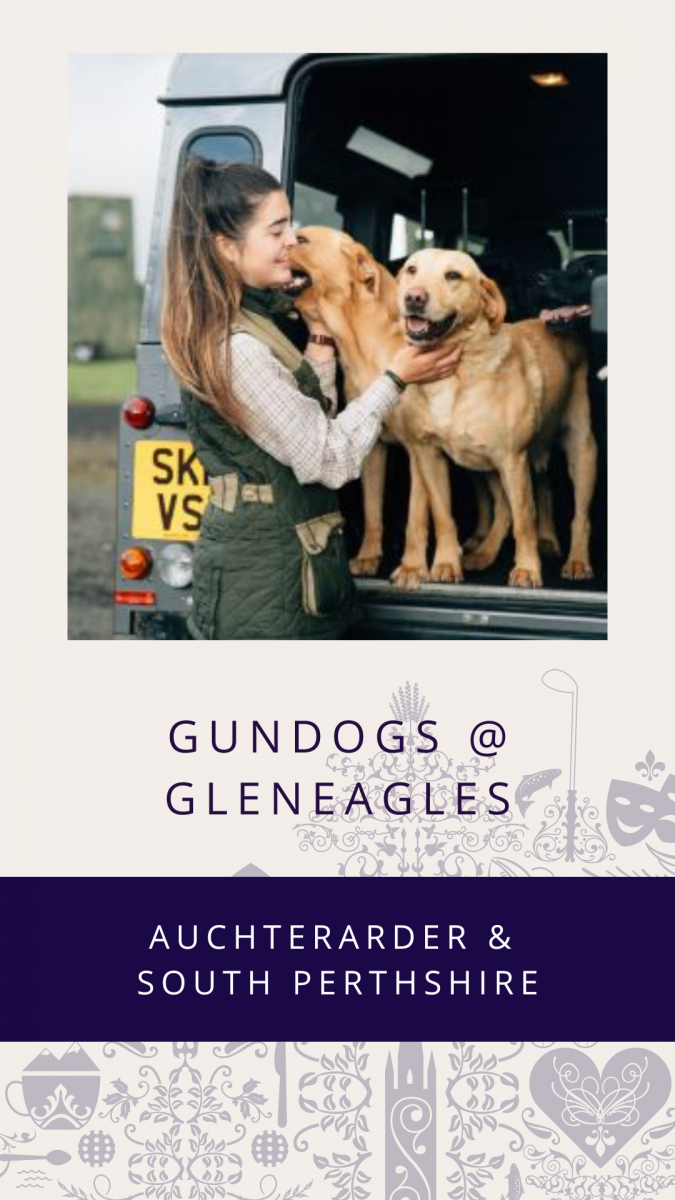 Set beneath the beauty of the Ochil Hills, South Perthshire is a breathtaking area that plays home to a number of small historical villages including Auchterarder, Aberuthven, Blackford, Dunning and Glendevon.
Most famous, perhaps, for the world-class Gleneagles Hotel – afternoon tea in the Glendevon is a must – the area is also steeped in history, as well as offering plentiful walks and cycle routes for those who enjoy the great outdoors.
You'll see that we've linked you straight to the individual attraction websites - or social media pages - and we would advise you to check opening hours before you travel.
---
Broadslap Fruit Farm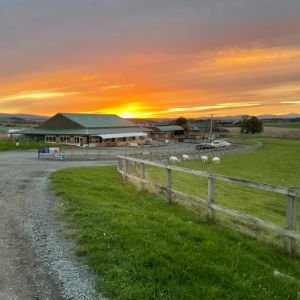 Broadslap is a family-run fruit farm, that has diversified exponentially to offer something for everyone!
Their Farm Shop and Cafe offer quality homemade, homegrown food alongside a wide range of Scottish products, art, jewellery and interior accessories.
Little ones can work up an appetite in the indoor playbarn, or get some fresh air and a farm tour on the Farm Buggy Ride.
For those looking for a wholesome and rural spot to park up for the night, you can even stay in their Touring Caravan Site.
From June until September, you can buy delicious strawberries, raspberries, blackberries, gooseberries, blackcurrants and redcurrants straight from the farm, with a Pick Your Own option available for those who like to get their hands dirty, and put the juiciest berries in their punnet!
In October, you can visit their Pick Your Own Pumpkin patch - perfect for Halloween family fun!
---
Gleneagles Hotel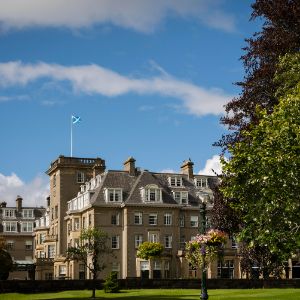 The Gleneagles Hotel has been a luxury destination for nearly a century and is known for good reason as the Glorious Playground.
Undoubtedly a stay in this 5-star resort would be considered a real treat for the majority of us; however, even if your budget doesn't quite stretch to a short break or holiday do make sure to spend a few hours enjoying their stunning surroundings.
Three championship courses have established Gleneagles' reputation as a golfer's paradise but the hotel offers so much more than golf. The 850-acre estate epitomises the rugged natural beauty for which Scotland is famed and offers guests a glorious playground of country pursuits and activities.
Fly a Harris Hawk, ride horses, play tennis, go off-roading, train gundogs, shoot game, fish, enjoy Michelin-starred dining, or relax in an award-winning spa – Gleneagles offers a world of unforgettable experiences.
---
Greenhill Farm Glamping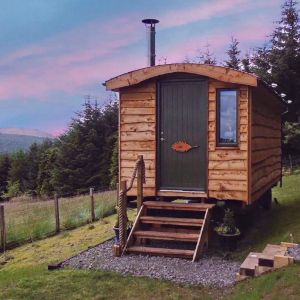 Greenhill Farm is located within the historic Dunning Glen, just miles from Dunning and Auchterarder. It is a working family farm inhabited by the Hepburns, who have been farming in the area for over 300 years.
The Hepburns are passionate about expanding the business whilst remaining true to traditional farming values, and have a fantastic range of livestock for visitors to see: cattle, sheep chickens, pigs and even a family of peacocks!
There are two bespoke Shepherd huts on site that are totally secluded with their own enclosed gardens, private cooking hut with gas BBQ and decking area. They are perfectly isolated on the edge of the farm hill. The only neighbours that you will have to worry about are the sheep or cattle quietly grazing nearby! Inside the hut, there is a log burning stove and everything you need for your remote digital detox.
Nestled into the countryside, and slightly more remote, you'll also find a truly unique wooden roundhouse that can sleep up to 10.
Greenhill Farm also have fresh eggs, homemade jams and chutneys available for sale.
---
Let The Dogs Run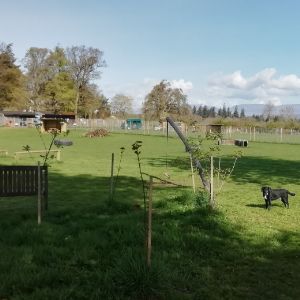 Let the Dogs Run is a purpose built facility just outside Auchterarder, that is specially designed by dog lovers to provide a safe and fun environment for you to exercise your dog.
Whether you're a local dog owner, or a visitor looking for somewhere safe to play with your dog, you can arrange exclusive use of one of the 3 deer fenced areas so that your dog can exercise in a safe and socially distanced way:
1. The Wild and Woody Wood has a variety of terrain set in half an acre where dogs can sniff and explore to their heart's content!
2. Mutley's Play Park is a 1 acre grass area which contains a variety of fun activities.
3. Archie's Freedom Field is a 1½ acre grass field which has been left bare so that dogs can have oodles of room to run!
Facilities include an off street car park, large field shelters, access to a burn for washing muddy paws, a double gated entry/exit system, a reception area and toilet facilities.
---
Perthshire Garden Railway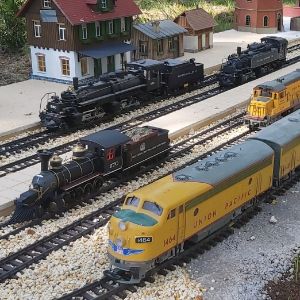 The Perthshire Garden Railway is a woodland model garden railway.
Their layout is set in woodland with landscaping and G-Scale trains mainly from Europe and the USA such as the Union Pacific.
Visitors will be able to follow a path through the trees watching the trains as they go past sites such as a windmill and plants that are tended to by staff.
On site there is a small cafe selling tea, coffee and cakes.
The Railway is located just off the A9 in between Auchterarder and Perth. A good outing for the family both young and old!
---
Perthshire Offroad Driving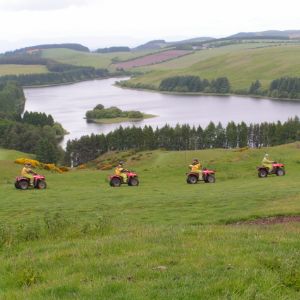 Set in Glenfarg, just south of Perth, Perthshire Off Road specialises in providing all action, non-stop offroad entertainment for individuals and for private and corporate groups.
Multi-activity sessions involve modern 110 County Land Rover Defenders, Quads, and 8 wheel drive ATVs.
This driving experience is set at approximately 1000 feet above sea level in the Ochil hills above Glenfarg and which provides challenging and exciting tracks for visitors.
With an emphasis on fun and excitement, Perthshire Offroad Driving can tailor packages to suit all manner of thrill seekers from stag and hen parties, to corporate team building adventurers.
---
Ruthven Gallery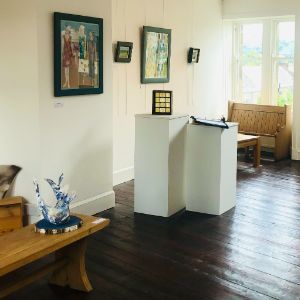 Ruthven Gallery sits on the High Street in Auchterarder, and is a spacious and bright gallery specialising in framing and contemporary art.
The gallery prides itself on showing good quality artwork and is open all year round, hosting a changing programme of exhibitions.
Set over two floors showing artists of merit who are different, quirky and affordable, you can find paintings, sculptures, drawings, glass, prints, pottery, jewellery and cards.
Occasionally, they have some fun making installations and big pieces of artwork, and are dog and child friendly.
---
Skydive Strathallan
Skydive Strathallan, operates on the airfield at Strathallan Castle and is the oldest skydiving centre in Scotland, having been founded in 1960. With three aircraft, it's is also the largest scottish Skydiving Centre.
Skydive Strathallan makes around 10,000 jumps per year catering for regular jumpers as well as training over 1500 beginners for their first jump each year.
The club is a full facility for licensed skydivers, and provide beginners courses with Solo and Tandem Skydiving available.
---
Tullibardine Chapel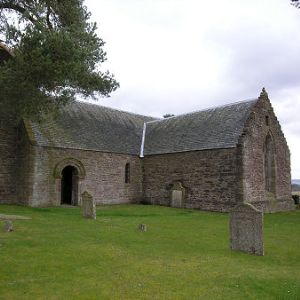 Admire the tranquil beauty of a mostly unaltered 1500s chapel.
Tullibardine Chapel is one of the few Scottish churches that survived the Reformation of 1560 largely unaltered. It's in a moving spot, sitting alone in a neat graveyard dotted with pine trees.
The church roof is mostly late medieval in date, with masons' marks and the Murray family coats of arms around the interior.
Tullibardine Chapel is a monument to the piety of the Murray family. It was built by Sir David Murray of Tullibardine, ancestor of the earls of Atholl, and his lady, Margaret Colquhoun, near their residence of Tullibardine Castle.
---
Tullibardine Distillery
Tullibardine stands proudly in the village of Blackford – the gateway to the Highlands. For decades this independent, family-owned distillery has been producing handcrafted single malt Scotch whisky.
The history of Tullibardine as a location for brewing and distilling is one of the oldest in Scotland, dating back to 1488, when a young King James, IV of Scotland, stopped by before his coronation to purchase beer from the local brewery.
Today, the distillery is a family-owned, independent distillery, who believe in doing things the traditional way by handcrafting their highland single malt Scotch whisky.
There are a few tours to choose from, taking you through the whisky process from start to finish. Tours concludes at the dramming bar with a tasting of Tulllibardine's own single malts.