Perthshire's love for a day on two wheels knows no end. Check out the full range of Perthshire's mountain bike trails. Or get your fixie ready for some long stretches of open road through some of Scotland's most stunning countryside. We even have a skatepark or three.
Whether you bring your own bike or hire one while you're here, pedal power is the way to go. We've also pulled together local bike repair shops (because we know what those fast turns can do), trails and hire shops.
Mountain Bike Trails in Perthshire
Mountain biking in Perth and Kinross is one of the best ways to explore our beautiful area. To help you experience the best the region has to offer, the clever people at Komoot reviewed our full collection of mountain bike routes to bring you the top 20. Click through to find real tips and photos shared by members of Komoot's mountain biking community, and find out what they enjoyed most when exploring Perthshire.
All Trails have gone all out with 44 ideas ranging from a steady cycle down the River Tay Way to a thrilling 27km climb through the Spittal of Glenshee and Glas Tulaichean Circular.
Road Cycling in Perthshire
Two major cycle routes cut through the wonderful scenery of Perthshire.
The Salmon Run – also known as the National Cycling Network's route 77 - follows the fish up the Tay for 54 miles, mostly on quiet roads.
Route 7 meanwhile – as part of its mammoth journey from Sunderland to Inverness – take you off-road north through the hills from Aberfoyle before settling onto a railtrail to Loch Tay.
As well as this, road cyclists will find some outstanding loops including the world class road through stunning scenery to Rannoch Station, Britain's remotest train station with its famous tearoom. Perth itself is a gateway city for Scotland's most popular cycle routes; north from the city the NCN77 follows quiet roads 16 miles to fascinating Dunkeld, with good views of Scone Palace en route. East from the city, it follows the Tay on road to Dundee.
Again, the Komoot community has reviewed a whole host of road cycling routes in the region to deliver the top 20. Just click on each route to see a full breakdown of detailed information including elevation profiles and surface analyses, and browse real tips and photos uploaded by real cyclists.
BMX Skateparks
If you perfer your adventure a little more stunt based then head ot one of six Skateparks across Perth and Kinross. See the Scottish Skatepark directory for full details of each.
• Perth City, South Inch
• Blairgowrie BMX Track, Hatton Road
• Pitlochry Skate Park
• Comrie Skate Park
• Crieff Skate Park
• Auchterarder Skate Park
---
Perth City Centre
---
J.M. Richards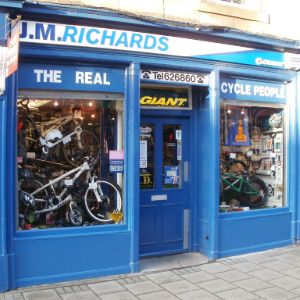 J.M. Richards is a family-run cycle shop located in the heart of Perth city centre.
44 George Street has been home to a cycle shop since 1906, when original owner John Sinclair set up his cycle sales and repair business.
Their Perth shop is full of fantastic bikes, helmets, gloves, and accessories such as lights and spare parts. And of course, they are on hand to help you make the right choice.
They know that sizing a bike isn't an easy task, so will help you with that, too! They are all keen bikers from many disciplines so have a wealth of knowledge between them.
They offer a full range of workshop services, from the basic tube replacement to a full service or re-build. They carry all the specialised cycle tools to carry out any job including more technical work like seized seat posts/bottom brackets. They have all the latest headset/bearing presses and spot-facing tools for all your hub and full suspension services.
Expert wheel-builder John can cater for any type of build from road or mountain bike to BMX wheels. A full degrease and deep clean service is available which is sure to bring your bike back to its former self. All repairs are carried out on site by their own fully trained technicians.
---
Bell's Sports Centre - All Ability Cycling
The All-Ability Cycles are a fleet of adapted bicycles, primarily aimed at adults who have disabilities that can make cycling a standard bike difficult. Although available to hire for any adult, the adapted bikes are designed to encourage and enable those with balance and coordination issues, vision issues or mobility issues to experience cycling.
They typically see a number of carers bringing their friends, family or service users down to the Inch to have a go at this fun activity, as well as retired individuals and local groups. All Ability Cycling is open Monday to Friday 9am-5pm - booking required.
To book an All Ability Cycling session, please contact Ella at [email protected] or call 01738 454647.
---
Highland Bike Tours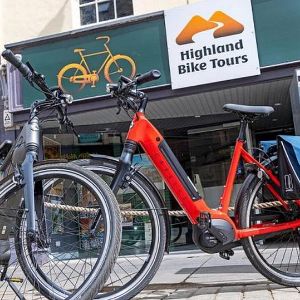 Based in Perth and close to Scone Palace, their E-Bike tours can easily reach all corners of the stunning Perthshire countryside, take in the rich history and culture, and not forgetting those World Famous Malt Whisky Distilleries in this region!
Their E-Bikes are comfortable and accessible to all cyclists, so distance or steep climbs are no longer an issue. All you have to do is pedal and enjoy the ultimate experience!
Together with a local tour guide you will experience all the beauty that the Scottish Highlands has to offer in a unique way.
Thanks to their E-Bikes, long distances or hills are no longer a problem, and you can comfortably enjoy all the stunning scenery that Perthshire has to offer.
The tour guide will take you along beautiful routes full of nature and wildlife; from historical and cultural hotspots to hidden gems! Their tours can reach Pitlochry, Crieff, Aberfeldy, Dundee or Loch Leven.
Highland Bike Tours will be using E-Bikes with a classic Dutch design, that are both stylish and comfortable, and have been manufactured to provide durability, distance, and reliability that only the best Dutch bikes are known for throughout the cycling world.
Both half day and full day tours are available.
Tours around Highland Perthshire are also available from the Highland Bike Tours base in Pitlochry.
---
Highland & North Perthshire
---
Progression Bikes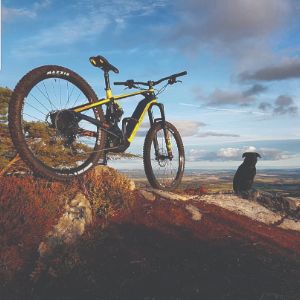 Progression Bikes is based in Dunkeld, catering for school and beginner groups, families, stags and hens, and even those looking for that epic day ride or bespoke training course.
There are plenty of great trails that go right from their shop.
From easy rides along by the river to half or full day rides into the hills, there are plenty of singletrack routes graded red or black, but it's best to call in for some route advice or take a guide.
Why not take advantage of their ebike with lunch package? Available for families, mixed fitness groups and technical riders. Get in touch via their website.
---
Escape Route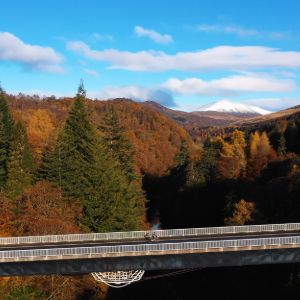 Escape Route has been a leading independent cycling and outdoors retailer for 21 years. They are located on the main street of Pitlochry close to the start of a range of trails that take you along the rivers and amongst the mountains and forests of Highland Perthshire. They opened their cafe next door to the bike shop in 2016 and it is now voted no.1 cafe in Pitlochry on TripAdvisor.
They are here five days a week to support all your bike and outdoor needs for you to get the most from your time out there.
Their bike shop is open Tuesday to Saturday from 9am-5pm and their cafe is open seven days a week from 9am-3.30pm serving up the best coffee and food in town.
---
Perthshire Gravel Trails
Highland Perthshire Cycling, who manage Perthshire Gravel, were awarded grant funding by Nature Scot to develop the website to include a collection of introduction and family-friendly routes.
Kat Brown of Cycling Solutions Scotland – a mum, cycle leader and coach – Rosie Baxendine – a gravel and bikepacking guide specialising in introduction to adventure trips – were tasked with this. Both local cyclists, their experience of leading younger or less experienced riders enabled them to create suitable routes for all abilities.
Kat and Rosie created 10 routes – from a 5km flat route round Taymouth Castle suitable for even the littlest of legs, to a 22km route into the hills above Loch Rannoch – perfect for an introduction to more remote gravel riding.
These routes are all predominantly on well-surfaced tracks or fire roads and are ridable on any hybrids designed for off-road use or mountain bikes.
There are are also a range of more technical routes for more experienced and ambitious gravel riders
A collection with all routes and an overview map are available on Komoot. Information on distance, ascent, terrain, route category, riding time, start and finish, parking, public transport, key facilities and which maps to use can be found on the individual route pages.
---
Beyond Adventure
Aberfeldy and the surrounding landscape offers outstanding biking to suit all levels and tastes. Enjoy a family cycle along one of the many local river paths, or a more adrenalin-charged run down a forested mountain bike trail.
Beyond Adventure can advise and guide you to the many local options and help you make the choice to suit your party.
They offer:
Half Day Discovery tour - for those of you who are interested in mountain biking but don't know how to get started, this half-day introduction will be perfect for you.
Full Day Explorer - for the riders who want to stretch their legs and have a proper explore of their trails.
Bike Hire - Beyond Adventure have a full suite of ebikes and standard mountain bikes. Available for local hire.
Having recently teamed up with Progression Bikes in Dunkeld, Beyond Adventure are offering e-bike hire based from their bike hut in Aberfeldy.
Bikes are available to hire on a half-day, full-day or multi-day basis.
They also offer guided trips on their local trails by their team of guides – suitable for beginners/ families and experienced riders.
---
Etape Caledonia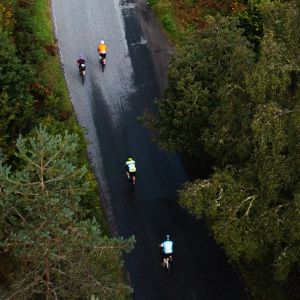 Born in the magnificent setting of Highland Perthshire, Etape Caledonia celebrated its 16th birthday in 2023, marking its pioneering position as the UK's original closed-road cycling sportive.
A two-wheeled closed-road journey that boasts 85 miles of stunning rural Scottish hills, plus a shorter 40-mile loop suitable for those not yet brave enough to take on Schiehallion, and a newly introduced 55-mile route option for 2023, Etape Caledonia has tested the hearts and legs of more than 50,000 cyclists of all ages and abilities over the last 16 years to become one of the UK's 'must-do' challenges.
Etape Caledonia is a date for the diary of every road cyclist and the perfect excuse for a cheeky weekend away in gorgeous Perthshire.
Etape Caledonia 2024 takes place on Sunday 12th May and is available to register now at:
---
Kinross & Loch Leven
---
Blairgowrie & East Perthshire
---
Rosie Baxendine Bikepacking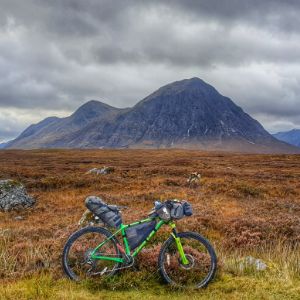 Do you love adventure? Have you ever wanted to try bikepacking? (think backpacking on a bike!)
Bikepacking is using lightweight kit, the freedom of two wheels and the advantage of a bag set up that copes well off road to allow you to explore an area in a unique and fun way.
Rosie Baxendine is based in Blairgowrie and offers fully guided bikepacking experiences - from intro courses to help you understand the kit, to bespoke longer adventures - throughout Perthshire.
Trips focus on enjoyment rather than speed, allowing participants to gain confidence and skills to encourage them to venture out on their own in the future.
Rosie also offers guided gravel day rides - showcasing some of the best gravel riding that Scotland has to offer.
---
Strathmore Cycling Hub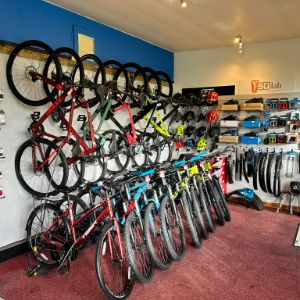 Strathmore Cycle Hub is a community-focused bike shop in Coupar Angus, in Eastern Perthshire. With a wide range of bikes, parts and accessories available in the shop and an expert maintenance team, it caters for the local cycling community and visitors alike. The Cycle Hub opened in early 2023 and has been building an excellent reputation for quality of service since.
If there's anything you need to get you back on two wheels, why not pop by? You might even meet the friendly shop mascot!
---
Auchterarder & South Perthshire
---
Synergy Cycles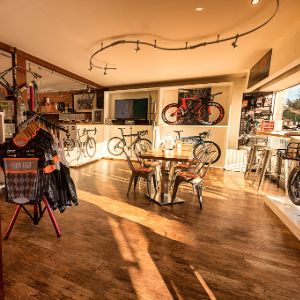 Scotland's premier road and ebike shop and cafe. Custom-build specialists putting the focus on the 'right' bike for you, fitted and finished expertly.
Synergy Cycles provides cyclists with the very best cycling brands and all the goods and services to assist them to enjoy their sport – including a full workshop and bike/helmet/shoe and insole fit service. Put simply, their aim is to give you the best products and care in the industry; to find, build and maintain the best bikes and the best accessories for you.
This simple mission will be carried out in a space where you can also enjoy a cycling culture - based café, currently selling the finest coffee.
Their passion for service, bikes and good coffee (and a fresh croissant!) will mean that Auchterarder will be home to the very best bike shop in Scotland!
As well as running their well-established premises on Auchterarder High Street, Synergy cycles has recently partnered with Gleneagles Hotel and moved into their new E-Bike showroom and hire facility which is now open at the Gleneagles Equestrian arena.
They have a wide range of e-bikes available to buy or hire in a great location, so if you're looking to buy or hire an e-bike and enjoy the Perthshire countryside, then just pop in and see what Synergy Cycles can do for you.
---
Strathearn & West Perthshire
---
Comrie Croft Bikes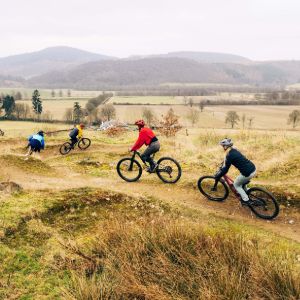 Comrie Croft Bikes is a part of the award winning Comrie Croft: campsite, hostel, farm shop, cafe, market garden and wedding venue. Comrie Croft is special because of its natural, feature packed trails which you can loop and follow easily to suit your time frame and needs. It's an idyllic place and great for families on all levels, whether you want to ride the trails or not.

You can hire bikes and find a quality selection of parts, clothing, and accessories in their shop. The friendly team will welcome you and be on hand for anything you need help with.

Their coaching and guiding offering is well renowned and worth booking if you have the time.

Find new and ex-hire bike sales, servicing, spares and accessories and expert advice
Comrie Croft Trails
The trails are graded blue, red and black but it's worth saying that they don't feel like typical trail centre trails. They feel very natural because they are hand built and packed with natural features like roots, rock gardens and rock rollers. You'll have one eye on the trail but perhaps the other eye on the Crofts' exceptionally beautiful views from the hill.

Expect to enjoy a swoopy bermy Blue, rooty rocky reds and blacks or the bike skills park. There is something for everyone at the Comrie Croft trails.

Set in the stunning Strathearn Valley, and only an hour's drive from Scotland's major cities, Comrie Croft Bikes are an evolving and expanding set of dedicated trails with something for everyone. The trails are located on a private estate and pack in some mighty punches over a relatively small area. Make sure you allow plenty of time to soak up all Comrie Croft has to offer, take a moment to sit in the pole barn and enjoy the view with some delicious cake from the Tea Garden. You will want to visit again!
---
Check Out Adventurer Mark Beaumont
Mark Beaumont Cycles Around Perthshire from Morrocco Media on Vimeo.