Link sausage, mushrooms, fried eggs. bacon, black pudding and a round or three of toast. The Scottish Breakfast is surely the best way to start any day. Of course, we all have our own wee extras - beans are a must in our house and- I have a friend who insists on a slice of haggis - but one thing's for certain, the sausages should come from your local butcher and the tea that washes it down should be piping hot and of the builder variety!
We asked the local people of Perthshire to recommend their favourite Scottish Breakfast spot. From wee cafes tucked into back streets to local hotels open to everyone, our list has been created by the folks who know best! Using local butchers and farms to source their ingredients, years-old recipes for tattie scones to give you the most authentic experience possible, and serving it all up with a warm welcome and a smile, our advice to you is to arrive hungry and enjoy! #LovedByLocals
What's In A Scottish Cooked Breakfast?
square lorne sausage
link sausages
fried egg
bacon
baked beans
black pudding
haggis
tattie scones
fried tomatoes
mushrooms
toast
A piping hot pot of Scottish tea!
Shop Local for Cooked Breakfast Ingredients
If you're visiting the area as a self-catering tourist then you may want to source some of our fantastic local ingredients and whip up your own cooked breakfast. Head over to our directory where you'll find local, independent businesses offering the best in Perthshire produce. We've also added a link to the local farmers' markets, all of which offer up an abundance of delicious produce.
Butchers, Bakers and Coffee Makers > www.perthcityandtowns.co.uk
Delis, Foodhalls and Farm shops > www.perthcityandtowns.co.uk
Farmers' Markets > www.perthcityandtowns.co.uk
---
Perth City Centre
---
Effie's of Perth
Perth City Centre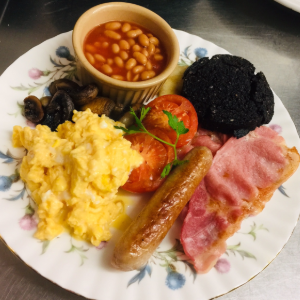 Start your day the old-fashioned way, with a trip to this traditional tea room and restaurant in the heart of Perth. Conveniently situated on the High Street, Effie's is a family-run business serving tasty homemade food created using the finest locally-sourced ingredients. With a warm, welcoming atmosphere and vintage Victorian décor, breakfast at Effie's is something special.
A full Scottish breakfast here benefits from high quality meat supplied by the award-winning fourth generation Perth butcher, D.G. Lindsay: delicious bacon, link pork sausage, and black pudding. Add potato scone, mushrooms, vine tomatoes, baked beans and white or brown toast. Fresh free-range eggs are sourced locally and served your way – fried, poached or scrambled.
For a lighter meal, you can choose eggs on a toasted muffin with Hollandaise sauce and a range of accompaniments, or a filled roll. And to set you up for the day, Effie's has a list of 30 blends of tea on its menu, alongside fresh coffee made from beans roasted daily by The Bean Shop in Perth.
Step back in time to discover this unique Scottish tea room and restaurant: "You may come as a customer, but return as a friend."
Nearest town: Perth
Breakfast served: Every day until 11.30am
Price: Full Scottish Breakfast £10.95, Veggie Breakfast £10.45
---
The Bulldog Frog
Perth City Centre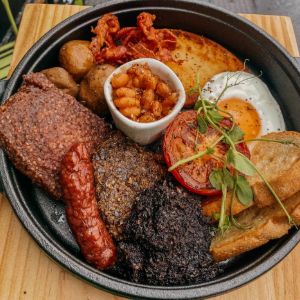 The Bullgod Frog are a family run business, who opened doors in 2021. With a laid back, funky vibe, they play loud music and pride themselves on being a "cool" place to hang out and eat! Their ethos of good food starts with good atmosphere.
Their Scottish breakfast has become very popular since opening. All of the meat is supplied by Lindsays The Butcher, gloagburn eggs, martins fruit bazaar mushrooms and tomatos. Served with artisan sourdough toast from street neighbours love of loaves bakery.
Nearest Town: Perth City Centre
Breakfast Served: Tuesday- Sunday 7:00am- 11:00am
Price: Full Scottish Breakfast £10
---
Gloagburn Farm Shop
Tibbermore
This family-run farm shop and café near Tibbermore, a few miles west of Perth, is a popular destination for all those seeking the finest locally-sourced food and drink, Scottish gifts and homeware. Owned by third generation farmers Ian and Alison Niven, the beating heart of Gloagburn is its own produce grown on their land and carefully prepared in the kitchen.
You can enjoy the Gloagburn full cooked breakfast in the spacious table-service coffee shop, or in the comfortable adjoining conservatory. Award-winning pork sausages come straight from the Gloagburn butchery, along with dry-cured back bacon, Stornoway black pudding, a Gloagburn free-range poached egg, grilled tomato and toast.
Alternatively, there are filled rolls, toast with homemade Gloagburn jam, a full cooked veggie breakfast, eggs Benedict, granola with seasonal fruit, and a host of extra sides. All dishes on the menu can be altered to your requirements, whether for allergies or children's portions.
After your meal, take a wander through the farm shop deli and bakery to stock up your own store cupboard. And don't miss the farm playpark – kids will adore the zip wire, tractors and farm animals.
Nearest town: Perth
Breakfast served: Every day 8.30am until 11.30am
Price: Gloagburn Full Cooked Breakfast £9.95
---
Crieff and West Perthshire
---
The Steading
Crieff
The Steading Courtyard Café opened on Broich Road in Crieff in March 2020, serving hearty breakfasts and lunches, irresistible homebaking and hot and cold drinks, seven days a week. Starting up a small business in perhaps the most tumultuous year any of us can remember is no minor accomplishment – but operating as a 'serve ootery', and opening its doors whenever it could, the Steading Café carried on undeterred.
Today, the café offers an extensive menu you can enjoy on the premises. Its all-day breakfast doesn't stint with link sausage, lorne sausage, bacon, black pudding, beans, a fried egg, potato scone, tomato and toast. There is also a vegan breakfast, or you could opt for a filled breakfast roll (gluten-free rolls are available), scrambled or poached eggs on toast, or toast with butter and jam.
The cafe interior is spacious and light-filled, with a glass gable end and exposed brick features. Outdoor seating is available in the marquee; sit in the sun or cosy up to the heaters on a cool day. Either space is a delight with a freshly ground coffee in front of you … and who could say no to a Danish pastry straight out of the oven?
Nearest town: Crieff
Breakfast served: Mon-Sat 8.30am-4.30pm, Sunday 9am-4pm
Price: All Day Breakfast £8.45
---
Auchterarder and South Perthshire
---
Café Kisas
Auchterarder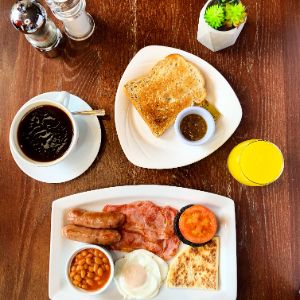 The famous high street of 'the lang toun' Auchterarder is home to the award-winning family-run restaurant, Café Kisa. Since 2004, Café Kisa has delighted local residents and visitors to the area with its extensive menu offering everything from homemade soup and an open sandwich, to a smoked salmon salad or a woo woo cocktail, and – of course – breakfast.
The Early Morning Specials list caters for every taste and appetite. As well as a full Scottish breakfast, there is American-style French toast, dusted with icing sugar and served with maple syrup (ask for gluten-free bread if you wish). Or perhaps light and fluffy pancakes straight out of the pan will hit your sweet spot, with streaky bacon and fresh fruit.
You can choose from the hot drinks menu to accompany your breakfast – there are coffees, hot chocolate, Suki teas and herbal and fruit infusions.
Sit down to freshly cooked food, served with a smile in a beautiful part of the country, and you're all set to spend the day exploring the many attractions of the area.
Nearest town: Auchterarder
Breakfast served: Mon-Sat 9am-11.30am, Sunday 9am-12.30pm
Price: Full Scottish Breakfast £10.50
---
The Tee Room
Dunning
Legend has it that in the 6th century AD, Saint Serf killed a dreadful dragon in the tiny village of Dunning. Nowadays, you will receive only the warmest welcome here, not least at The Tee Room, part of the Dunning Hotel.
This busy little tea room opened in 2015 and quickly established itself as a popular village hub. Situated right next to Dunning golf course, there are lovely views from its picture windows across the greens to the hills beyond.
The Tee Room full breakfast offers bacon, egg, link or lorne sausage, black pudding, haggis, tomatoes, mushrooms and toast. Tea or cafetière coffee is included, and vegetarian or gluten-free options are available. Alternatively, pick a hot filling for a tasty breakfast roll, or double up your fillings for extra sustenance. For a simple life, opt for a homebaked scone, or toast, butter and marmalade.
Cyclists often stop by the Tee Room for a quick refreshment at the outdoor tables, while those on a slower schedule settle down inside to soak up the hustle and bustle. Personal, friendly service is order of the day here, as is great value for money. Golfers can enjoy 18 holes for only £10.
Nearest town: Dunning
Breakfast served: Tee Room open 8.30am-3.30pm every day
Price: Full Breakfast £7.90
---
Broadslap Fruit Farm
Dunning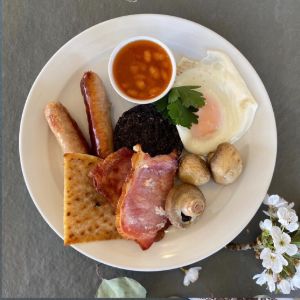 A long- standing family favourite, a trip to Broadslap Fruit Farm, near Dunning, is a popular outing for all ages. It's hard to beat the simple pleasure of hand-picking your own delicious soft seasonal fruit before sitting down to drinks and fresh homebaking in the cosy café … and now you can let the kids run riot in Broadslap's super-cool new playbarn. The best way to start your day is with a Broadslap Breakfast! Go all out and enjoy a delicious full Scottish breakfast and add tea/coffee & apple/orange juice for £3.50.
Don't fancy a full Scottish? No problem, with other options including scrambled eggs on toast & eggs benedict there is something for everyone. You can add delicious bacon or smoked salmon too, mmmm…….If we still haven't tickled your fancy, then why not stick with a classic breakfast roll and choose your own fillings? After something a bit different than what you would normally cook at home, why not have French toast served with bacon and maple syrup.
We hope we haven't made you too hungry yet, but Broadslap Fruit Farm do still have more options available! Their delicious alternative breakfasts also go down a treat, these include a full vegan breakfast & full vegetarian breakfast. Children's portions are available and they cater to any dietary requirements too.
Enjoy breakfast with your fluffy friend in their cosy Snug area which is dog friendly or outside under the covered canopy. Breakfast al fresco is popular in the warmer months, especially with cyclists to keep them on the go! Playbarn & breakfast = the perfect combination! There is no need to worry about what the kids are up to with Broadslap's open planned play & seating area, you can enjoy a delicious breakfast and let the kids burn off some energy.
Nearest Town: Dunning
Breakfast served: Wednesday- Sunday 9:30am – 11:30am
Price: Full Scottish Breakfast £9.95
---
Highland and North Perthshire
---
Highland Safaris Café
Aberfeldy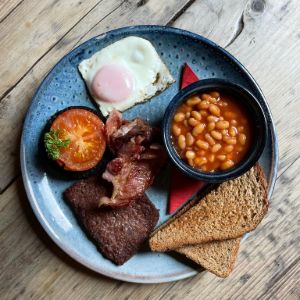 This five-star visitor attraction near Aberfeldy is more than a centre for outdoor adventure, it's also a beautiful spot to enjoy fantastic food. With the Visit Scotland 'Taste Our Best' accreditation, Highland Safaris Café offers tasty, wholesome food, sourced locally and freshly prepared to order.
Highland Safaris is passionate about Scottish provenance, and this shines through in its extensive breakfast menu: Ayrshire bacon and Perthshire sliced sausage from Comrie butchers; Stornoway black pudding supplied by Macdonald Brothers of Aberfeldy and Pitlochry; free range eggs; jam from Heather Hills Farm; and marmalade from Galloway Lodge Preserves. Add beans and grilled tomato, and everything is served with a choice of white or brown toast. There is also a vegetarian breakfast, children's breakfast, hot filled rolls, porridge and French toast.
The coffee here is roasted and ground in Glenlyon, and the counter laden with gorgeous homebaked treats includes gluten-free options.
Highland Safaris boasts idyllic views over the Appin Valley, and offers a range of outdoor activities. Café customers are welcome to explore the site, including walking a lovely discovery trail with the opportunity to see red deer.
Nearest town: Aberfeldy
Breakfast served: 9am-11.30am every day
Price: Highland Safaris Breakfast £10.95
---
Victoria's
Pitlochry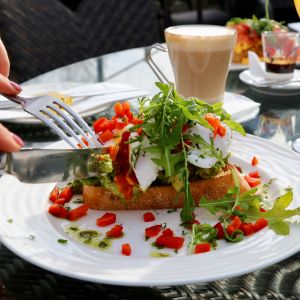 This family-owned all-day bistro, positioned on the main street of Pitlochry, has been welcoming customers for brunch, lunch and dinner for more than 25 years. Buzzing with locals and visitors to the area, Victoria's leads the way with simple, authentic dishes made with local produce fresh from Scotland's larder.
"Let there be brunch!" You know a restaurant takes breakfast seriously when the menu options make up a full page of deliciousness. Victoria's breakfast includes haggis from the third-generation Edinburgh family butcher, MacSween, along with Ayrshire pork sausages, Stornoway black pudding, bacon, potato scone, tomato, mushrooms and fried free-range egg. All served with toast and preserves and tea or coffee.
The extensive morning menu continues with a veggie breakfast, brioche French toast, smashed avocado or smoked salmon on sourdough toast, hot breakfast rolls and eggs every way you might desire!
In the summer, you can linger over your food sitting out on the terrace. We'll see you there!

Nearest town: Pitlochry
Breakfast served: Brunch 10am-1pm every day
Price: Full Scottish Breakfast £14.95 (served until 12pm)
More info | www.victorias-pitlochry.co.uk | T: 01796 472 670 |
More info | www.victorias-pitlochry.co.uk
---
Kinross and Loch Leven
---
Loch Leven's Larder
Kinross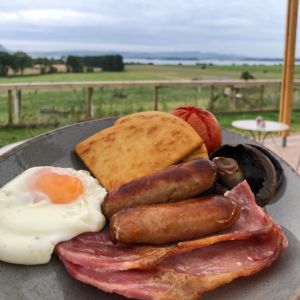 Just three miles from Kinross, with a prime location on the stunning Loch Leven Heritage Trail, Loch Leven's Larder is an inviting destination to eat, shop, and spend quality time in this area of outstanding natural beauty. Loch Leven's Larder uses fresh local produce as much as possible, from the vegetables grown in its own fields to the top-quality produce of fellow suppliers in the locality and the rest of Scotland.
Tasty, healthy ingredients shine through all the Larder menus, beginning with its enticing breakfasts. As well as a full traditional Scottish breakfast, there is a lighter option in the form of a mini breakfast: bacon, sausage, egg and potato scone. There are luxury eggs Benedict, made with succulent ham loin, Kilduncan farm eggs and a hollandaise sauce. Smashed avo on sourdough is pepped up with lemon and chilli, or you can sweeten your day with berry compote, thick Greek yoghurt and granola.
Loch Leven's Larder caters for vegetarian, vegan and gluten-free diets, as well as providing a children's menu. And with the added draw of a luxury food hall, gift shop and playpark on the premises, there's plenty here to keep the whole family busy after breakfast.
Nearest town: Kinross
Breakfast served: 9am-11.30am every day
Price: Scottish Breakfast £10.95
---
No.98
Kinross
If you wake up feeling peckish and need your brekkie fast, you won't have to search long to locate No.98 in Kinross – it's number 98 on the high street! And once you find it, you won't be disappointed. Word on the street suggests this café is the bees' knees for burgers, coffee, cake and, of course, breakfast.
At No.98, the fully loaded Scottish breakfast also comes in a petite size – a slice of toast served with any four items from the full breakfast. Toast is white, wholemeal, sourdough (baked by Wild Hearth artisan bakery in Comrie) or gluten-free, and arrives with salty butter or vegan spread, and homemade jam. There are hot filled rolls; muffins and eggs; avo toast with tomato salsa and a smidgen of sriracha; toast slathered with a peanut butter and banana combo; and an irresistible black pudding, onion and apple toast. They are supplied by Hendersons of Glenrothes for their meat and the vegetables are supplied by Mark Murphy.
No.98 coffee is made with 100% Arabica beans roasted in Scotland in small batches; add some home baking and call it a day. The milk chocolate brownies and orange polenta cake are gluten free, or try the yummy vegan banana loaf.
In the heart of Kinross, No.98 is a café which strives for food that tastes great and is soul-shakingly satisfying. There's no doubt it succeeds.
Nearest town: Kinross
Breakfast served: 10am until noon (closed Tuesday and Wednesday)
Price: Scottish Breakfast £10
---
Blairgowrie and East Perthshire
---
The Dome
Blairgowrie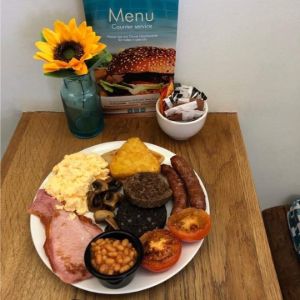 This charming listed building on Leslie Street in the centre of Blairgowrie has housed a café for more than a century. Originally run by Italian-born Frank Visocchi, its 'dome' was inspired by St Peter's Basilica in Rome, and the premises have since become a local institution.
These days, the family-owned Dome offers its customers delicious home-cooked meals, snacks and homebaking, with plenty of vegan and gluten-free options. Breakfast includes link sausages sourced from Blairgowrie's butcher James Ewart Ltd, which purchases its meat from local farms.
There is also lorne sausage, vegetarian sausage, bacon, black pudding, haggis, mushrooms, tomato, beans, potato scone, hash browns, and fried, poached or scrambled eggs. You can pick and mix your own breakfast here, choosing whichever components you prefer.
Breakfast includes unlimited tea or coffee, so settle in and relax. For friendly and attentive service, and a breakfast steeped in history, The Dome is the place to be.
Nearest town: Blairgowrie
Breakfast served: All day, every day
Price: Full Scottish 6-item breakfast £6.95 / 10-item breakfast £8.95
---
The Wee Coffee Shop
Blairgowrie
Good things come in small packages, and The Wee Coffee Shop in the heart of Blairgowrie can hold its own against any large establishment. This family-run café opened in 2019 with the intention of preparing dishes that are a bit different to what you might find elsewhere. The breakfast menu is particularly popular and everything is fresh and cooked to order.
As well as a traditional full breakfast, and a veggie breakfast, here you find an original approach on how to start your day – The Wee Coffee Shop Breakfast includes spicy pork sausage, Parma ham, black pudding, grilled halloumi, avocado, cherry vine tomatoes, mushrooms, spinach, duck eggs and toasted focaccia. Hard to resist, although you might be sidetracked by the yummy pancakes, made to a house recipe and served with smoked bacon and maple syrup, or fruit compote, honey and yoghurt.
Food miles are kept low, with meat from Irvine butchers in Blairgowrie and ham cooked on site then carved to order for eggs Benedict. Loose-leaf tea and freshly brewed coffee is sourced from The Bean Shop in Perth, and the jam with your homebaked morning scone comes from nearby Heather Hills Farm.
Nearest town: Blairgowrie
Breakfast served: 9am-11.30am (closed Sun/Mon)
Price: Full Breakfast £8.50
---