Animal lovers, gather round!
From cute little fur babies to our fourlegged friends, wild and majestic birds to magnificent red deer, a visit to Perthshire would be incomplete without meeting our favourite animals.
Many of these great activities involve feeding, petting and handling the animals, while others are an opportunity to see our breathtaking wildlife up close.
Farms, wildlife reserves, safari parks, river and countryside tours and even a Palace for peacocks, all of our Be Inspired ideas come with an assurance that animals are being treated well and cared for, and your experience is led by expert guides and approved businesses.
Other Opportunities to See Animals in Perthshire
Perthshire is home to some of Scotland's most magnificent wildlife and you're sure to see some of these wonderful native animals while you're out exploring the woodlands, climbing Munros or spending some time on the rivers or lochs.
You can follow Pictures of Perth and Beyond, a local photography group with members who are dedicated to capturing the area's wildlife in their mesmerising shots.
Red squirrel – Perthshire is a haven for the red squirrel population of Scotland and you may well be lucky enough to spot these amazing creatures while you're out and about. If you do, be sure to record your sighting on Saving Scotland's Red Squirrels.
Birds - From the golden eagle to red kites, owls, woodpeckers, swans and ducks, be sure to look up when you're out and about.
Insects - Butterflies and moths are beautiful insects and a joy to observe. This guide will help you identify all the butterflies and some of the common day-flying moths that occur in Perthshire. Download now >
Deer – If you were to walk very quietly through any reasonably sized wood for an hour immediately after first light you would probably see wild deer of one species or another. Perthshsire is home to red deer and roe deer, and an encounter with either species is unforgettable.
Tips for Visiting Animals
Follow any rules in place for both your safety and the animals' care
Do not feed the animals unless approved by the guide or experience
Remember, all animals can be wild - do not aggravate or touch them unless guided to by your expert.
---
Perth City Centre
---
Scone Palace Peacocks
Scone, by Perth
Historic Scone Palace sits not amid formal gardens, but in 100 acres of beautiful natural woodland and open ground. A peaceful setting for a stroll, nature trails cross the estate and are home to a rich mix of wildlife, including red squirrels and roe deer. The arboretum is also a sanctuary for birds such as oystercatchers, swallows and the rare hawfinch.
A little less shy and a bit more ostentatious, peacocks also live in grand style at Scone. Roaming freely around the palace grounds, these gorgeously hued birds are well accustomed to the many visitors who come to admire their home. Alexander is a 10-year-old white peacock who adores posing for a photo. There are also several traditional blue Indian peafowl, each individually named, and all known to their dedicated keeper, Graham.
All the peacocks and peahens enjoy human company, provided it remains at a respectful distance. On a clement day, you can sit out in the palace grounds with your cup of coffee and enjoy scone at Scone and, if you're lucky, watch the birds shaking their tail feathers.
Scone Palace closes for the winter from the end of October to early April every year, but the gardens stay open until mid-December, and re-open in February.
• Nearest town: Scone
• Animals: Peacocks
• Open: Daily 9.30am-5pm
---
Puppies Go Paddling
Perth City Centre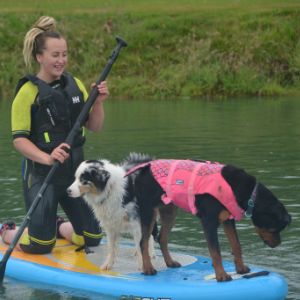 Are you ready to have a great time with your puppy pal? Want to try and see if they'll be your paddling pal too?!
Bring them along to Willowgates Puppies Go Paddling events. It's a great chance for you to try out paddleboarding, kayaking or canoeing with your furry friend.
If she's in the mood (and she normally is) their expert puppy paddler, Tulla, the black lab will be there to lead the class to give your four-legged friend some expert advice and inspiration. Of course, she'll bring her human instructors with her to give all the tips and tricks to get the best out of your puppy paddling time!
Nearest town: Perth City Centre
Animals: Dogs
---
Perth and the Wider Area
---
Kilgraston School
Bridge of Earn
Kilgraston School in Bridge of Earn is delighted to welcome children back this year with its summer camp provision featuring multi-sports and equestrian activities.
Its 'Own a Pony' days include two riding sessions covering flatwork, jumping, hacking and games, as well as learning to care for the horses and ponies. If your child has ever dreamed of owning their own pony, riding it and looking after it, here is their opportunity to try it for a day.
Students should bring their own packed lunch and bottled water. Please book in advance.
• Nearest town: Bridge of Earn
• Animals: Ponies
---
Gloagburn Farm Shop
By Perth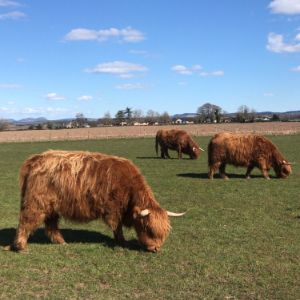 Gloagburn Farm, just a few miles west of Perth, is owned and managed by third-generation farmers Ian and Alison Niven. The farm shop was established in 2003 to bring the produce from Gloagburn's fields and kitchen straight to its hungry customers – traditionally raised beef and pork, free-range eggs, homebaking and preserves all grace its shelves.
As a working farm, Gloagburn will delight young visitors with its animals. You can often see sheep, pigs, Highland cows and chickens on the premises. Stop by to make their acquaintance after lunch, a coffee or cake in the bustling Gloagburn coffee shop.
• Nearest town: Perth
• Animals: Sheep, pigs, Highland cows and chickens
• Open: Daily 8.30am-5pm
---
Perthshire Wildlife
Murthly, By Perth
Perthshire has a fantastic variety of wildlife and a visit to the area wouldn't be complete without visiting some of their wild new arrivals!
Join their friendly Rangers with over 20 years of experience to meet the recently returned wonderful wild beavers of the River Tay catchment. Hear the story about how beavers returned to Scotland, forage for some of their favourite foods and visit their amazing dams and wetlands.
They often see Otters, Kingfishers, Dippers, Sandpipers and lots of other wildlife too. Children can collect their own beaver chips and chewed sticks to take home!
They also run very popular Beaver Canoe Safaris on the River Tay in Aberfeldy, which involves a fun paddle, visiting all the top beaver sights and viewing the local beaver family. They have a special family price on their Riverbank Beaver Safaris.

• Nearest towns: they run the tours in Perth/ Blairgowrie/ Aberfeldy/ Alyth
• Animals: Beavers, Otters, Kingfishers, Goosander, Dippers
• Open: Wednesday – Sunday: 9am – 10pm
Photo credit: Steeve Deeley
---
Highland and North Perthshire
---
Errichel
Aberfeldy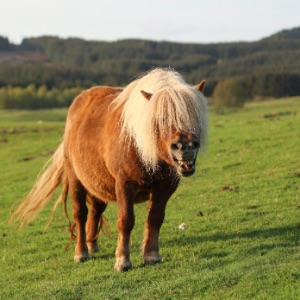 This working hill farm situated just outside Aberfeldy draws visitors from near and far to its fabulous bistro, deli and farm shop. Errichel champions fresh, local produce and raises its animals free-range across 200 acres, in a non-intensive farming environment.
Errichel is excited to welcome you to explore the farm and meet its winged, feathered and furry residents. Join managing partner Becky Newman on her rounds, feeding and checking the animals, and be prepared to roll your sleeves up – everyone is invited to muck in! Filling buckets, holding gates and carrying hay … it's all in a day's work.
The varied menagerie at Errichel includes ducks, hens, Large Black pigs, rare-breed Shetland cattle, Shetland sheep, Highland and Shetland ponies. Between April and June, you might even get the chance to bottle-feed lambs.
The Errichel farm tour is on foot, lasting around an hour, and must be booked in advance. It's suitable for children over eight years old but younger children can come too, if accompanied by an adult. Don your wellies or walking boots, and clothes appropriate for the weather, and don't miss your chance to stop by the Thyme deli and bistro afterwards for ice creams, take away refreshments, or brunch.
• Nearest town: Aberfeldy
• Animals: Hens, ducks, pigs, ponies, goats and cattle
• Tours: Fridays and Saturdays 10-11am, Adults £10, Kids £7.50
---
Highland Safaris
Aberfeldy
A few miles west of Aberfeldy, the award-winning Highland Safaris and Red Deer Centre offers even more that its name might suggest.
There are mountain and Mini Land Rover safari tours (suitable for all ages), boat trips around Loch Tay, mountain bike hire with dedicated trails, Scotland's only gold and gem panning centre, and – of course – you can meet the animals!
Stand face-to-face with the Highland Safari herd of red deer – our largest native land mammal – and learn from a ranger all about their life cycle, habits and personalities. You will have the opportunity to stroke, feed and photograph these iconic animals, spending time with them in the red deer barn with amazing views across the deer park.
Visitors, young and old, also love to meet Ossian, the Highland Safari barn owl. Enjoy a hands-on demonstration and learn all about this skilled nocturnal hunter. You can also book a one-to-one encounter with Ossian; this unique experience provides great photo opportunities and memories to last a lifetime (minimum age 8 years old).
• Nearest town: Aberfeldy
• Animals: Red deer and barn owl
• Open: Daily 9am-4.30pm
• Tours: www.highlandsafaris.net
---
Loch of the Lowes Wildlife Reserve
Dunkeld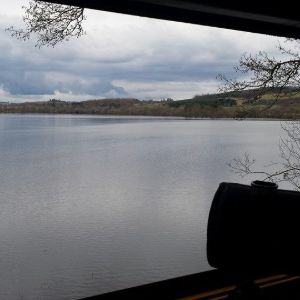 Loch of the Lowes, near Dunkeld, is a stunning 130-hectare nature reserve run by the Scottish Wildlife Trust. The freshwater loch and surrounding woodland are home to a huge variety of wildlife; there are viewing hides overlooking the water and a visitor centre packed with information.
One of the calendar's undisputed highlights (between April and August) is the return of the ospreys to their nest. Ospreys have bred at Loch of the Lowes for over 50 years and, with hides only 150 metres away, you are afforded an incredible view of these fascinating birds as they fish on the loch. You can also watch them in live video footage from the reserve's high definition camera. As well as bringing you close to the action, the camera helps ensure the birds' safety and protection.
At Loch of the Lowes you can see swans, great-crested grebes and great-spotted woodpeckers throughout the year; grey herons, Canada and greylag geese, and tufted, goldeneye and mallard ducks in autumn and winter. As well as endless attractions here for birdlovers, there are red squirrels, fallow deer and three species of bat! Use the reserve's telescopes and binoculars for optimal viewing, or hire a hide exclusively for your own group, available for up to three hours.
To visit Loch of the Lowes visitor centre and wildlife reserve, please book your admission tickets online in advance.
• Nearest town: Dunkeld
• Animals: Ospreys, beavers, red squirrels, fallow deer, garden birds and wildfowl
• Open: Daily 10.30am-5pm
• Tours: Exclusive hide hire £30 for 3 hours (book in advance)
---
Blairgowrie and East Perthshire
---
Bowland Trails
Blairgowrie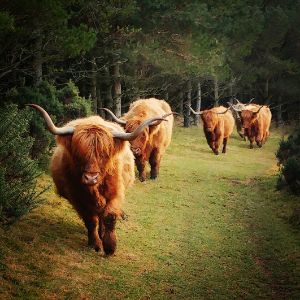 Could you ever imagine getting up close to a huge, hairy, long-horned Highland cow? With its shaggy red-brown coat and stringy fringe sweeping over its eyes, this Scottish coo has undoubted appeal, and John and Mary Carter of Bowland Trails invite you to meet a whole herd of them.
Venture out with Bowland Trails in an all-terrain vehicle to stroke, groom and hand-feed their large fold of breeding Highlanders grazing with their calves on the high ground above Blairgowrie. Over one and a half hours, you will learn all about this hardy native breed, their hierarchy, habits and family bonds. With calving season starting in April and continuing into the summer, you may even be lucky enough to see one of the herd's new arrivals taking its first steps under its mother's watchful eye.
Bowland Trails also offer their famous husky ride experience – an exhilarating sled ride across the countryside led by a pack of Siberian Huskies. Spend time with the dogs as they cool off and take a well-earned break afterwards.
• Nearest town: Blairgowrie
• Animals: Highland cows (tours run May to September) and Siberian Husky dogs (Late September to mid-April)
• Open: Always open
• Tours: www.bowlandtrails.com/highland-coo-experience and www.bowlandtrails.com/husky-ride-experiences
---
Active Kids Adventure Park
Stanley
Situated just north of Perth, Active Kids is a fun-filled adventure park perfect for kids who love to play and, with indoor and outdoor spaces to explore, the park is open all year round.

Indoors, there's a brand-new treehouse-themed indoor playground along with a new café with a tasty range of fresh seasonal food from the park's popular children's lunch boxes to delicious homemade hot meals. There's also a toy shop for both kids and adults to enjoy during their visit.

Outside, the outdoor adventure park sits in a sprawling 11 acres of countryside. There's giant bouncing jelly pillows, pedal-powered go-karts, a huge pirate ship, a speedy zip-line as well as lots of other activities to discover.

Kids can also meet some beautiful farm animals including goats, pigs, chickens, fluffy alpacas and the park's resident donkey duo, Jack and Lulu. Also, look out for some of their smaller animals including some adorable guinea pigs and bunnies.

Active Kids is open to the public from 9.30am-4.30pm seven days a week.* For more information and to book tickets please visit: www.activekidsadventurepark.co.uk

Nearest village: Stanley
Animals: Goats, sheep, chickens, ponies, donkeys, guinea pigs, rabbits, alpacas, pigs.
Open: Daily from 9.30am-4.00pm
*Please note that during the winter months, the outdoor park may close but the indoor play will remain open.
---
Aylswood Rare Breeds
Meikleour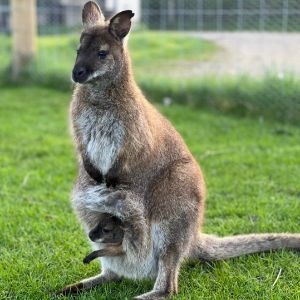 Less than half an hour's drive north of Perth, Nether Kirkton Farm is a working smallholding, home to Aylswood Rare Breeds.
With an eclectic mix of animals including alpacas, miniature Mediterranean donkeys, wallabies, meerkats, reindeer and pygmy and bagot goats, Aylswood welcomes visitors to come and meet their unusual animals.
On a farm visit you will learn all about rare breeds, both native and from other continents, and you can pet and feed the animals. Pre-booking is essential and children under three years old go free.
• Nearest village: Meikleour
• Animals: Alpacas, donkeys, wallabies, meerkats, reindeer, goats, ducks, geese
• School Holiday Tours: Tuesday and Friday 2pm. Thursday, Saturday and Sunday 11am
• Price: £15 per person, 3-10 year olds £10, Under 3s free
Adults Only Visits are available on 10th and 17th August 2023 at 2pm.
---
Nature Nuts
Blairgowrie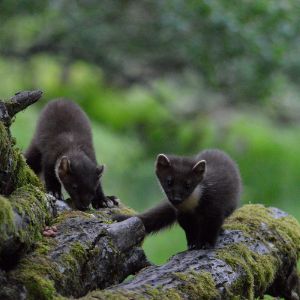 Based in Blairgowrie, Nature Nuts offers bespoke wildlife tours for all ages and abilities, giving animal lovers the opportunity to see some of Scotland's most iconic fauna. Whether you'd like to get up close to cute red squirrels, industrious beavers, a magnificent mountain hare or the elusive pine marten, Nature Nuts knows where to take you for the best possible viewings of these creatures, and many more, in their native habitats.
Expert in the field, Bob Smith, is simply nuts for nature. With his passion for the outdoors and its wild and eclectic inhabitants, he loves to share his knowledge with as many people, young and old, as possible. Bob delivers memorable tours for small groups, and with under-16s accompanied by an adult going free, Nature Nuts is a perfect school holiday outing for family and friends.
Bob's beaver tours are especially popular – with a record of more than 2000 visitors to his local beaver colonies, Bob has an excellent success rate for sightings on these tours. You will have the opportunity to see adult beavers, yearlings and kits, as well as otters, kingfishers, foxes, roe deer and many other riverside residents.
Nature Nuts also takes groups to its secluded woodland hide where you could meet pine martens, sparrowhawks, woodpeckers, jays and red squirrels. Or venture further afield on a Munro Magic Tour to look for ptarmigan, mountain hares, red deer, red grouse and ring ouzel – all amid stunning mountain views.
• Nearest village: Blairgowrie
• Animals: Red squirrels, Beavers, Mountain Hare and pine Martens
• Open: Always open
---
Strathearn and West Perthshire
---
Auchingarrich Wildlife Centre
Comrie
This wildlife and adventure park, close to Comrie, Strathearn, is home to a sizeable menagerie of cool creatures. Here you can find farm animals happily living side by side with exotic wildlife. Come and see goats, pigs, donkeys and sheep (don't miss the lambs slurping down their bottles of milk!) as well as marmosets, meerkats, llamas, lemurs, and more. Turkeys, ducks and geese roam outdoors, while the aviary houses owls, quail, cockatiels and parakeets.
Look out for the 'Dog 'n' Duck' displays where you can watch Indian runner ducks being expertly rounded up by the Auchingarrich sheep dog – happening every weekend.
In addition, the Auchingarrich hatchery and petting zoo is open daily for small animal handling, with assistance from the keepers. Youngsters will adore seeing newborn chicks, petting the guinea pigs, rabbits and tortoises, and quizzing the expert staff to their heart's content. Weekend Keeper talks will also be given on some of the centres animals.
With all this alongside first-rate playparks and soft play, crazy golf and climbing, and the Dizzy Duck café serving hot meals, sandwiches, drinks and sweet treats, Auchingarrich is any young animal-lover's dream destination.
• Nearest village: Comrie
• Animals: Lemurs, alpacas, llamas, donkeys, goats, otters, Scottish wildcats, and more
• Open: Daily 10am-5pm for bookings and walk ins
---
Crieff Hydro
Crieff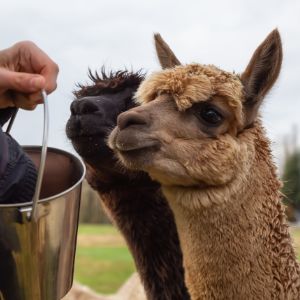 In the heart of Perthshire, only an hour's drive from Edinburgh or Glasgow, this award-winning four-star hotel sits amid an incredible 900-acre estate. With all that space, you are spoilt for things to do – there are more than 60 on-site leisure activities for children, teens and adults, from archery to axe throwing, horse-riding to off-road driving. But for something quite different, how about Crieff Hydro's latest addition – alpaca trekking!
Chewpaca, Harry Potter, Ghost and Casper invite you onto their turf, as you accompany them along the scenic paths and trails around the resort. On an hour-long trek, there will be plenty of time to take in the stunning views, and pause for photos … these four friendly alpacas are no strangers to sharing a selfie.
Gentle, social creatures, alpacas are lovely companions for young and old, but under 12s must be accompanied by an adult. You will need sturdy walking boots or wellies for the trek, and advance booking is essential.
They also have their very own horse riding stables where guests can book in for a group lesson, lead-rein or hack. For the little ones, Polly the Shetland Pony is on hand, or if Polly's having a day off, Romeo will pick up the slack.
• Nearest village: Crieff
• Animals: Alpacas, goats, horses, talking Parrot
• Open: Enquire when booking
---
Auchterarder and South Perthshire
---
Gleneagles Hotel
Auchterarder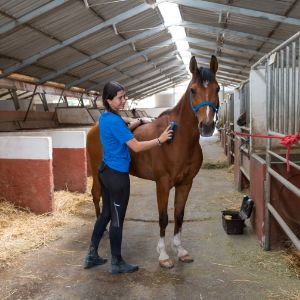 A five-star luxury hotel, spa and golf resort in the heart of Perthshire, Gleneagles offers ultimate relaxation alongside outdoor adventure. Nicknamed the 'Glorious Playground', this stunning country estate proffers a wealth of active pursuits with world-class facilities under expert, friendly tuition. In addition, Gleneagles is on a mission to give its younger visitors the same opportunities for fun as the grown-ups, so there are plenty of junior options available.
Children can 'own a pony' for two hours – learning under expert supervision how to groom, ride and look after their pony. This activity requires a minimum of four children in the group, all aged six or over, so please book ahead.
Gleneagles also offers horse riding lessons for adults, and for children from age four. A beginner lesson will teach you the foundation skills you need, or aim high with a show jumping lesson, whether you're taking your first leap or wanting to improve your competition skills. You can savour the thrill of riding cross country, or experienced riders might opt for a guided hack.
There are dressage lessons covering shoulder-in, travers, renvers and pirouette movements. And for wee ones, a special treat – a lesson on one of Gleneagles' adorable Shetland or small ponies, suitable for children aged four to seven.
• Nearest town: Auchterarder
• Animals: Ponies
---
Kinross and Loch Leven
---
RSPB Loch Leven
Kinross
RSPB Scotland – part of the UK's largest nature conservation charity – has managed its Loch Leven reserve since 1967, protecting the important species and habitats located here. It offers family activities and events throughout the year, allowing visitors of all ages to explore this amazing natural environment.
Set on the southern shore of the loch, there is plenty of wildlife and conservation work to see at the RSPB reserve. Ospreys visit the loch during the summer, and thousands of pink-footed geese arrive in autumn. The wet grassland also welcomes breeding waders such as lapwings, redshanks and snipe. And don't miss the world's first bumblebee sanctuary! This meadow, strewn with wildflowers, is carefully maintained to provide ideal conditions for foraging bees.
When the visitor centre is open, you can hire binoculars and Wild Challenge rucksacks, and children will enjoy a game of seasonal nature bingo. Bug hunting kits are always hugely popular and, in the spring and summer kids can have fun with a pond dipping kit. Families can also enjoy walking the Leafy Loop trail, accessible to pushchairs, or stop by the picnic area to rest and refuel.

• Nearest town: Kinross
• Animals: Ospreys, geese and different bird varieties
• Times: The visitor centre is open from 10am - 5pm every day. The café is open 10am - 4pm, with hot food served until 3pm. During the period December 27 February 27, the shop is open 10am - 4pm and the café is open 10am - 3.30pm. The hides, trails and car park are open 24/7.
---