Be Inspired Perthshire: Perth City Centre Restaurants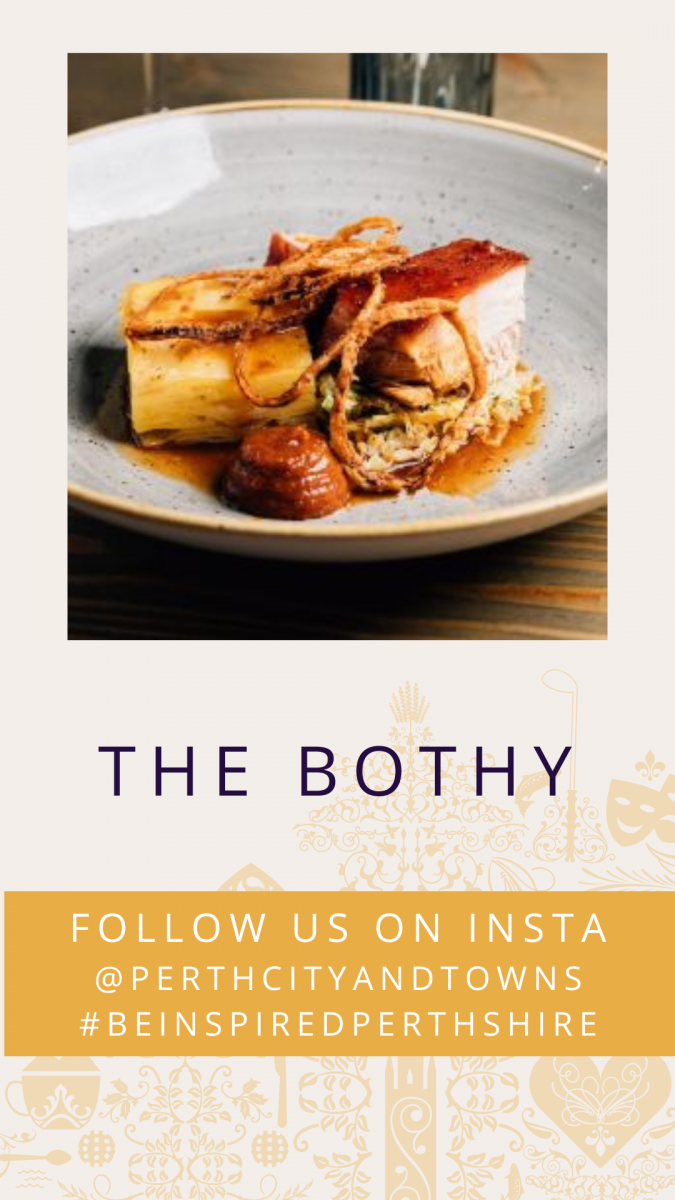 Take a break from a day's shopping with a stop at one of Perth city's many cafes, bars, and restaurants. From laid-back, Latin vibe tapas, to two-rosette dining by the banks of the river, you'll find an award-winning army of cooks, chefs and servers to keep you fuelled and happy.
When shopping is over – or as a pick-me-up midway through – head to one of our many bars or pubs for a glass of wine, a cold craft beer or a specially mixed cocktail. This is just a small selection of the city's eateries and bars, and you'll find many more when you arrive.
Spend your Perth Gift Card: Many of our cafes, bars and restaurants accept The Perth Gift Card. If you've been lucky enough to receive one, why not treat yourself while you shop.
---
The Bothy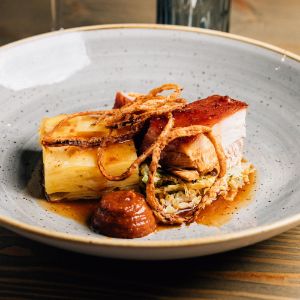 The Bothy is a quintessential Scottish bolthole, a well-established culinary institution situated in the heart of Perth.
With a menu driven by provenance and passion, you can always expect to find seasonal Scottish produce at the heart of their dishes. No dinner is complete without a dram, so you can also expect to find a carefully curated drinks menu, packed full of Scottish whisky, gins, locally distilled spirits and more. If you are looking for more of a "tipple only" affair, their Bothy Bar which is directly adjacent is the perfect place to enjoy a cocktail with friends.
The Bothy are also delighted to offer a beautifully atmospheric private dining room, which is perfect for intimate weddings, celebrations and events. The room can be set up in a multitude of different ways, and even includes it's own mini private bar, to ensure your guests have the best experience possible.
---
Café Tabou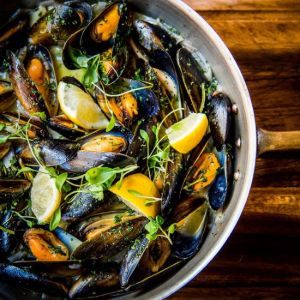 Loved by locals and a draw for visitors, this award-winning French brasserie in Perth's café quarter is a restaurant where fantastic dishes are skilfully prepared and served with care. Here, delicious meals are inspired by top quality, fresh seasonal ingredients from trusted suppliers, creating a destination venue for daytime or evening dining, its welcoming interior complemented by outdoor terrace seating.
The restaurant is run by Amadeusz Pruszak and Wojciech Majkowski, who have been a part of this restaurant for almost a decade, amassing the knowledge and love of food that they pour into the flavors of France with a Scottish accent. Combining the very best from Scotland's larder with a talent for continental cuisine, the result is traditional French bistro dining with a Scottish twist. Try French toast with cinnamon, maple syrup and crispy bacon for breakfast, or indulge in dinner à la carte with coquilles saint-jacques followed by bouillabaisse – a Provençal fish stew originating from Marseille – and a salted caramel crème brûlée for dessert. An excellent value set menu is also available.
An exciting wine list competes with Café Tabou's famous cocktails, or how about sampling their very special artisan cider imported from Brittany? Whether you're stopping by for a drink on the terrace or settling in for a fine-dining celebration, Café Tabou's patrons are always in capable, and talented, hands.
---
North Port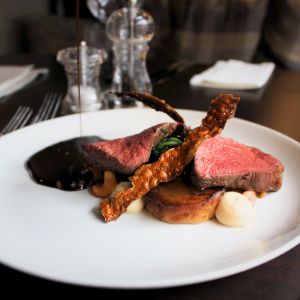 North Port Restaurant is conveniently situated in Perth's performing arts hub alongside the Concert Hall and just down the street from Perth Theatre. Housed in a historic building once used as sailors' accommodation, North Port is now a family business offering a contemporary dining experience in a comfortable, relaxed setting.
The restaurant opened in 2014 with chef-proprietor Andrew Moss leading the way in the kitchen and Karen holding the reins at the front of house, being added to the Michelin Guide in 2023 as a Favourite New Restaurant. They specialise in Scottish, ingredient-led cuisine using the finest produce supplied by small local growers, breeders, suppliers and foragers expertly crafted into mouthwatering dishes. The quality of the vegetarian options is particularly impressive … even the heartiest carnivore might find themselves sidetracked by caramelised celeriac with apple, celery and juniper crumble … or perhaps the Black Isle ribeye steak with chips would prove too tempting!
Knowledgeable waiting staff are fully up-to-speed on the menu, and you have pre-theatre and private dining options. Cosy in to the main restaurant with its dark, oak panels, candlelight and spiral staircase, or reserve the beautifully refurbished 'Tay Room' and tailor the menu for your group.
---
Tabla Indian Restaurant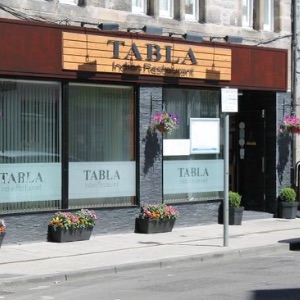 For a taste of India in the heart of Scotland, the authentic home-cooking offered by Swarna and Praveen Kumar at Tabla Indian Restaurant on Perth's South Street is hard to beat. Opened in 2009, Tabla is renowned for its fresh, authentic Indian cuisine and has received countless accolades including 'Chef of the Year' at the Asian Restaurant Awards, a 'Taste our Best' award from VisitScotland, and an AA rosette held for five consecutive years.
Swarna and Praveen aim to mirror their mealtime experiences growing up in rural India, by freshly preparing every dish using locally sourced ingredients. Their meat and seafood is sourced from Perthshire and their vegetables are grown here too. Spices are the genuine article from the family fields in southern India.
Tabla is a family business serving food close to its owners' hearts, prepared with attention to detail and served in cheerful premises with an open kitchen and friendly, efficient service. There are vegetarian, vegan and gluten-free options on the menu, and an extensive takeaway and delivery menu is available.
Look out for the Praveen Kumar range of frozen meals, or you can even try your hand at Praveen's recipes – learn from the man himself at Praveen's Indian Cook School on Edinburgh Road, classes now open for booking!
---
63 Tay Street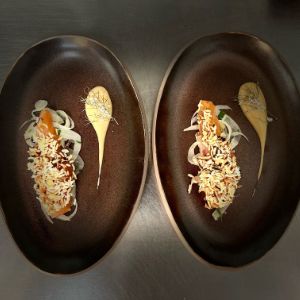 Leading on from 63 being run since 2007 by Graeme Pallister, it has been taken over by Christopher Strachan from 2023, who managed it for a year and a half prior.
Heading up the kitchen now is Perthshire born Stuart Black. Originally from Aberfeldy, Stuart began his career as a chef in 2002, working up and down the UK gaining invaluable experience of different cuisines. Working in quality restaurants such as The Elderflower Restaurant, Lymington, and Knockderry House Hotel, he brings a different offering and a wealth of passion for pure and simple cooking. He also previously worked under Graeme at The Parklands Hotel, Perth for 2 years, and has found his way back after his journeys away.
Stuart has a humble but confident approach to cooking, focusing on using quality ingredients, and a philosophy on creating memories for our guests that they will talk about for years to come.
Situated by the River Tay in Perth, the restaurant's elegant dining room boasts lovely views across to Kinnoull Hill and, notwithstanding its award-winning reputation, is a warm, relaxed, and welcoming space. Christopher and his small team aim to keep their food local, honest and simple, whilst showcasing the very best of Scotland's seasonal larder.
They offer a '4 for £34' set surprise menu served at Lunch and Wednesday & Thursday Dinner; four perfectly balanced courses available with a paired wine flight. Or opt for the 'Just Feed Us' set surprise menu served on a Friday and Saturday Dinner and enjoy five courses (or six including cheese) that will sate the most sophisticated of appetites. An extensive drinks list has been selected with a focus on superb quality as well as provenance and sustainability, and includes exquisite cocktails, Scottish gins, local beers, and the finest wine.
For special occasions, you can have exclusive use of the restaurant for up to 32 people for anything from a private birthday meal, or a Wedding 'Breakfast', and there is also a range of gift vouchers to treat friends and family. A gastronome's delight, 63 Tay Street offers you something truly special to enjoy in the moment and to savour for a long time afterwards.
---
Kisa's Restaurant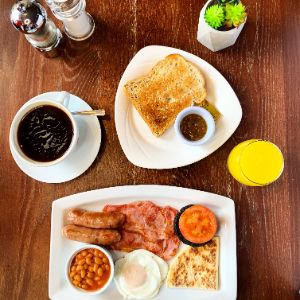 Kisa's Restaurant, its sister restaurants already esteemed in Kinross and Auchterarder, opened its doors in Perth city centre in 2015. Right beside the Concert Hall and close to city centre shops, Kisa's quickly established itself as the go-to destination for a light lunch, pre-theatre dining, a celebratory meal or drinks with the girls.
Owners Sam and Kim Wightman have created a restaurant and wine bar that effortlessly provides freshly cooked food all day every day, complemented by exemplary service and a lively city vibe. Kisa's day menu offers hot and cold drinks, breakfast specials, light bites and sharing plates, sweet treats and much more. There is a bespoke children's menu and dietary requirements and allergens are catered for. In the evening, the restaurant gives you its tried and trusted favourites as well as introducing a host of new, exciting additions designed by head chef Sam to tantalise your tastebuds.
You will find comfortable outdoor seating at Kisa's (dogs are welcome) and flexible gift vouchers are available. Book your meal online or simply drop by for drinks in the lounge.
---
Cardo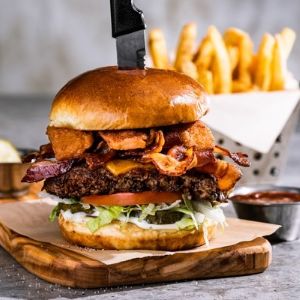 This contemporary Mediterranean restaurant first opened its doors on South Street as Pig'Halle, back in 2006, and quickly established its reputation for delicious dishes brimming with the colour and flavours of warmer climes. The Tabourel Family let their continental backgrounds shine through their diverse menu, which is laden with fresh, locally sourced ingredients.
The menu here changes depending on the produce in season, and the daily specials board is always a highlight. Pasta, pizza, burgers and salads compete with Black Isle beef straight off the grill and fresh west coast fish, shellfish and seafood. Try braised Iberico pork cheeks to start, and who could resist le café gourmand – four little pastries and a tea or coffee – to finish?
Cardo's meat is supplied by award-winning butcher John Henderson's of Glenrothes, and fish and seafood come direct from George Campbell & Sons in Perth. Bread, patisserie and wood-fired pizzas are baked on site, and don't miss Cardo's very own Chardon macarons, made on the premises and completely irresistible.
Enjoy the cosy ambience and fresh décor in-house, or make the most of Cardo's take-away and delivery service for home dining.
---
The Bulldog Frog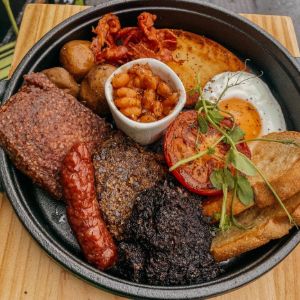 New kid on the block – The Bulldog Frog – has certainly created a buzz about town since opening on Perth's South Methven Street in 2021, and going on to win the category for 'Best Perth Business' at Scotland's Business Awards in the very same year was no mean feat! Well-deserved success for the Bulldog Frog team.
This is a family business with owners Graham Dunbar and Jessie Meehan establishing a cool hang-out with groovy music and a laid-back vibe. The restaurant prides itself on its piping hot food, generous portions and quick friendly service.
Breakfast is served from 8am - 12 pm and the skillet and veggie breakfasts have an ingredient list as big as your appetite. You can add extras if you wish, including your choice of sauces and seasoning, or try a breakfast burrito, eggs benedict or a Bulldog Frog Madame!
Lunch, between 12 pm and 4pm, is also not likely to leave you peckish, with juicy double-patty burgers in sesame brioche buns, crispy chicken with fries, and dirty dawgs on the menu. There are weekly specials, DIY fries (choose your own toppings) and sweet, indulgent milkshakes.
Billed as Perth's favourite pig-out spot, check them out and see what everyone's talking about.
---
Breizh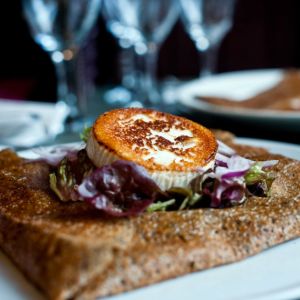 This authentic French restaurant family owned by Jurgita and Arnas Pamerneckai on Perth's High Street specialises in tasty, traditional dishes from the north of France and is the only place to go for a perfectly prepared Breton crêpe. Chef de cuisine Pawel holds the fort in the kitchen and ensures the menu is built around fresh, local produce with tempting daily specials ever-changing on the blackboard.
The Breizh lunch and dinner menus offer pizzas hot from the wood-burning oven, and galettes filled with anything from black pudding with apple compote and calvados flambé to ham, gruyere cheese and a fried egg. There are moules marinières with crispy fries, les salades, les sandwichs, and steaks with hand-cut chips or dauphinoise potatoes. The desserts, crêpes and sundaes are irresistible, and the kids' menu is ideally tailored to suit younger tastes.
Family-friendly, warm and inviting, the Breizh team welcomes you in for coffee and pastries, cocktails on the terrace, a three-course dinner and drinks, or a long-overdue get-together with your tribe.
---
Everest Inn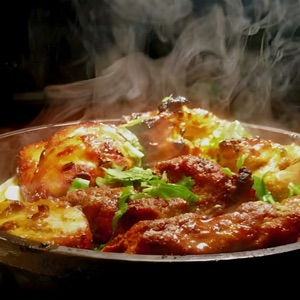 Everest Inn, established in 2014 in Perth city centre, offers a unique experience with its Himalayan cuisine and innovative approach to traditional Nepalese and Indian cooking.
With elegant decor, soft lighting, and immaculate white tablecloths, our restaurant adds a touch of sophistication to your lunch or evening outing. As proud recipients of the Best Scottish Curry Award for multiple years, Everest Inn guarantees to tantalize your taste buds with our special blends of aromatic spices and herbs.
Our talented chefs give a contemporary twist to their recipes, using only the finest locally sourced ingredients. Indulge in our Nepalese-style biryani, featuring your choice of meat, king prawns, or vegetables, paired with saffron-infused basmati rice and a vibrant medley of onions and spices. Alternatively, savor one of our chef's signature dishes like chicken Nepal, cooked with coconut, green cardamom, and mango slices.
Our menu caters to all preferences, ranging from fiery chilli chicken to creamy korma. We offer child-friendly alternatives and clearly indicate vegetarian and vegan options. If you prefer to unwind at home, you can conveniently order delivery or takeaway through our online platform.
Experience the distinct flavours of Everest Inn and let us elevate your dining experience.
---
Jade Garden Restaurant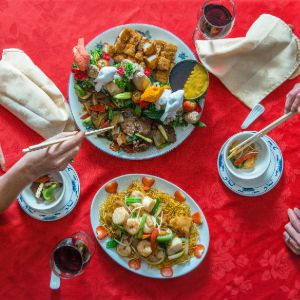 This traditional, third-generation family-run restaurant has been part of the furniture on Perth's Scott Street for more than 40 years, serving delicious and authentic Chinese, Thai and Indonesian cuisine. As one of the longest-serving businesses in Perth, it holds a special place in the hearts and minds of many local customers who return here time and time again.
Step through the double doors to find crisp white linen table cloths, red and gold décor and quick, friendly service. The mouthwatering, wide-ranging menu is built on meat from Perth's DG Lindsay & Son butchers, sustainable fish from Mara wholesalers, and fresh veg from Martin's Fruit Bazaar, just a city block away. Dishes can easily be tailored to meet special dietary requirements and kids' meals cater for younger appetites.
Private functions and events can be booked in advance. Eat in, pop by for a takeaway or order your delivery by phone and online.