Did you know that as well as large scale events, our bustling area also has a plethora of fabulous cultural and event venues that offer days and nights out in Scotland, all year round? From cultural hotspots to historical landmarks, foodie favourites to sporting playgrounds, Perth, Perthshire and Kinross-shire truly has it all.
The venues listed all offer an ongoing programme of events, and we recommend you click through to each website to check out upcoming shows, artists, and themes.
Keep an eye on our Facebook page for full updates on all of the venues listed below.
---
Perth City Centre
---
---
The Black Watch Castle and Museum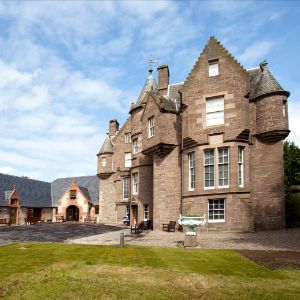 The Black Watch Castle and Museum is a 5 star multi-award winning visitor attraction that includes The Black Watch Museum, Castle Bistro, and Gift Shop.
Housed within the historic Balhousie Castle, a visit to The Black Watch Museum will take you on a journey through the history of Scotland's oldest Highland Regiment. Your great value admission ticket will last all day - no need to book just turn up and explore. Within the grounds, you will find a replica WW1 trench which is free to visit and open on selected dates (check the website).
The Bistro @ The Castle offers a friendly, informal dining experience with table service in relaxed surroundings. When the sun is shining you can choose to dine al fresco in the Castle courtyard with Balhousie Castle as your backdrop.
No trip to The Black Watch Castle and Museum is complete without a visit to the beautiful gift shop where you will find a carefully hand-picked selection of gift items, homeware, jewellery, artisan food, and drink products from local Scottish suppliers, and a range of Black Watch Regimental memorabilia.
The venue runs an amazing calendar of events for all ages including kids' crafts, historical lectures, winter festivals, afternoon tea with the archive experiences, book festivals, exhibitions and more!
The Black Watch Castle and Museum is a registered charity in Scotland – find out more about their charitable aims here - https://theblackwatch.co.uk/about/
Tour Information: daily guided tours are available
Gift Shop: www.theblackwatch.co.uk/shop/
Bistro: www.theblackwatch.co.uk/bistro/
Opening Hours: 7 days a week – check their website for any changes and Festive opening hours
---
Culture Perth & Kinross
Culture Perth and Kinross is a charitable trust brin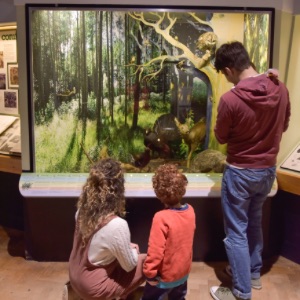 ging art, culture, books, learning, creative communities and local history and heritage to people at 17 venues across the whole of Perth and Kinross.
The trust runs libraries from Loch Leven in Kinross up to Breadalbane in Aberfeldy, as well managing Perth Museum & Art Gallery and the Fergusson Gallery in Perth and Alyth Museum, home of the Cateran Ecomuseum Hub.
Throughout the summer there are a wide range of events taking place across all libraries and museums in the area, including a range of talks and workshops for adults and grown-ups.
Full details of What's On can be found on the Culture Perth and Kinross website.
---
Perth Art Gallery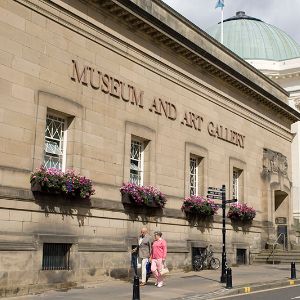 With its iconic copper domed roof, and striking external columns, Perth Art Gallery is one of the city's most photographed buildings. Step inside and you will find an impressive permanent collection; enjoy discovering local history in the Beginnings Gallery, exploring the natural history of the area in Wild and Wonderful, or view a range of artworks.
Alongside this, there are often touring exhibitions and one-off curations and features to excite regular visitors and in recent years these have been as varied as workshops with Lego bricks to the work of Patrick Geddes.
Check out the current gift shop, coffee bar, lecture theatre and Messy Museum activity space for customers and special events.
Following a public consultation, it was revealed that the new name for Perth City Hall will be Perth Museum. The current building on George Street has been renamed Perth Art Gallery.
All of Perth & Kinross Museums & Galleries have free admission.
---
Perth Museum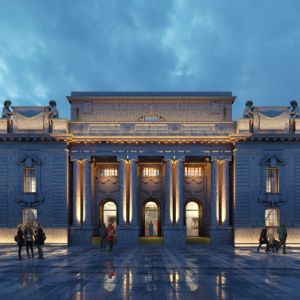 The new Perth Museum will open its doors in Spring 2024 after a £26.5 million redevelopment project. This world-class cultural and heritage attraction will highlight the fascinating objects and stories that put Perth and Kinross at the centre of Scotland's story.
At its heart will sit the Stone of Destiny, also known as the Stone of Scone, one of Scotland and the UK's most significant historical objects. Returning to Perthshire for the first time in over 700 years, the Stone will be the centrepiece of the new Museum and will be free for all to view.
Alongside the Stone, the new Museum will display Perth & Kinross's Recognised Collections of National Significance as well as iconic loans and exhibitions from the UK and abroad.
The Museum will be housed in a heritage Edwardian building that once served as a gathering place hosting everything from markets and concerts, to political conferences and wrestling matches. This historic venue has been transformed into a major visitor attraction by award- winning architects Mecanoo.. The Museum will also feature a café, shop, and learning and events spaces.
---
Perth Racecourse
April - September
Perth Racecourse is Scotland's most northerly racecourse and each summer from April to September the team at Perth deliver a packed schedule of themed race meetings that consistently attract some of the UK and Ireland's best horses, owners, trainers and jockeys.
For those who are regular pundits at Perth, there is nothing quite like a day at the races. From the sound of hooves thundering down the track, to the anticipation of the crowd as the excitement builds, Perth Racecourse offers an electrifying atmosphere that is enjoyed by people from all walks of life.

Perth Racecourse is fortunate to attract some of the finest jockeys, horses, owners and trainers from the UK and Ireland and this always makes for outstanding racing. Race meetings at Perth are a fantastic mix of daytime, evening and twilight fixtures and all include a minimum of 6 jump races around the stunning track set in the parklands of Scone Palace.
---
Perth Theatre and Concert Hall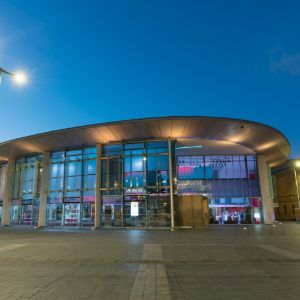 Perth Theatre and Concert Hall are two wonderful, contrasting venues - the historic Edwardian theatre with its classic proscenium arch and the state of the art concert hall with some of the finest acoustics in Europe.
Their multi award-winning team has earned a reputation for adventurous programming, unique commissions, critically acclaimed performances by world-class artists and inspirational community activities.
They are at the heart of cultural life in Perthshire and their venues are a destination and a resource base for everyone with exciting events and productions running all year long.
---
Scone Palace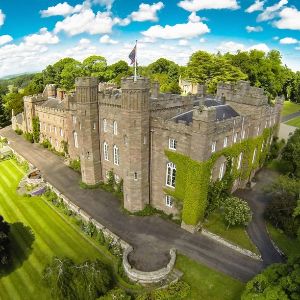 Scone breathes history like nowhere else in Scotland. It is the family home of the Earls of Mansfield and the ancient crowning place of Scottish kings on the stone of Scone. See where the Stone of Scone, known as the Stone of Destiny, once stood. It now resides in Edinburgh Castle.
You can wander down the Long Galley where King Charles II strode to his coronation in 1661. During the Jacobite rebellions, the 'Old Pretender' spent three weeks at Scone while his son, Bonnie Prince Charlie, visited in 1745.
Admire the needlework skills of Mary Queen of Scots bed-hangings that she worked on while in prison on Loch Leven. Discover the desk at which Frances' tragic young Queen, Marie Antionette, wrote her letters prior to the days when the guillotine beckoned. You can also see the State Rooms where Queen Victoria was entertained on her way to the Highlands in 1842, and the bedroom in which she slept. If you are a lover of fine things, Scone is a treasury of furniture and paintings, porcelain and other objets d'art.
Scone Palace is surrounded by beautiful gardens and peaceful woodland, perfect for a gentle stroll or even a picnic - all under the watchful eye of the ever-curious peacocks. There's a great adventure playground for children, not to mention the unique 'tartan' maze of 2,000 beech trees half green, half copper, designed by the world-famous Adrian Fisher. The maze was planted in the shape of the heraldic Murray Star.
There is a Gift Shop, Food Shop, Old Servants Hall Coffee Shop and the Old Kitchen Coffee Shop and Scone Palace is Dog Friendly.
Some of the events throughout the year are:
February – Snowdrop Festival
June – Scone Palace Garden Fair, PotFest
July – Rewind Music Festival, The GWCT Game Fair
December – Christmas Fair
---
Highland Perthshire
---
Birnam Arts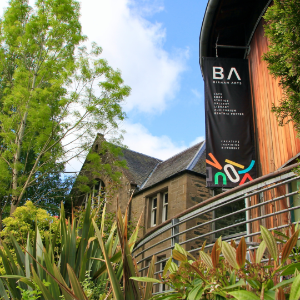 Situated in the picturesque & historic village of Birnam, in the heart of Perthshire, our multipurpose arts venue is open year-round and offers an exciting mix of events, performances and exhibitions including everything from live theatre shows and bands to opera and dance.
We are also home to the Beatrix Potter Exhibition where you can discover how a young Beatrix Potter took inspiration from her summer holidays in Perthshire. Wee ones will love spending time playing traditional games, dressing up as their favourite character and stepping back in time to explore our Victorian School Room.
Our Café offers a selection of delicious freshly prepared lunches, as well as tasty home-baking, light snacks, ice cream and hot drinks. Gluten Free, Vegan and Vegetarian options are available.
Browse our Gift Shop where you'll find an emphasis on locally sourced, quality products, as well as recognisable brands such as Harris Tweed. Beatrix Potter fans will love our selection of merchandise, including Peter Rabbit themed gifts, which is one of the largest in the country.
You'll find us conveniently located off the A9, just north of Perth.
---
Pitlochry Festival Theatre
May - September
For over 70 years now, Pitlochry Festival Theatre has been Highland Perthshire's artistic heart and soul, and the recently renovated space is excited to welcome audiences with an exciting programme of events Inside, Outside, and Online.
The current summer season line up includes premières, smash hit musicals, exciting revivals and much loved returning productions. There's also new never been seen before work in their brand new Studio space, including a collaboration with the world famous A Play, A Pie and a Pint.

Running from 19 May until 30 September, the 2023 season opens with the legendary musical Gypsy, and includes a revival of Tennessee Williams' A Streetcar Named Desire, the Scottish première of Emma Rice's acclaimed adaptation of Noël Coward's Brief Encounter, and the world première of Scottish playwright Peter Arnott's new play Group Portrait In A Summer Landscape.

The 2023 season will also see live performances in the venue's picturesque Amphitheatre, nestled within its Explorers Garden, with the première of Elizabeth Newman's new adaptation of Frances Hodgson Burnett's much-loved classic tale The Secret Garden and the return of the sold-out tale of Sherlock Holmes: A Study in Lipstick, Ketchup and Blood.
---
The Birks Community Hub, Cafe Bar & Cinema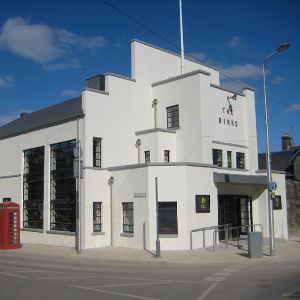 The Birks are a community enterprise located in the heart of Highland Perthshire. Their purpose is to serve the local community by providing a world-class cinema programme, a thriving catering offer in our cafe/bar plus a wide range of inclusive community activities and unique cultural events.
The Birks Cinema is not just about film. It is also a thriving community hub and events venue, delivering a regular programme of community activities ranging from gaelic cafe to chair-based exercise to acoustic music sessions that anyone can join in.
---
Kinross-shire
---
Backstage at the Green Hotel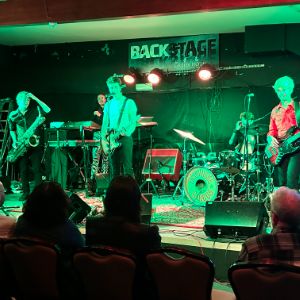 Backstage at the Green Hotel is a hidden world where the magic of live performances comes to life. An intimate venue taking a maximum of 120 people, it's a place where dreams are realised, and the connection between artists and their audience is forged.
Run by David Mundell, you can find a huge range of top quality tribute acts, alongside a whole host of well known faces.
No matter what your musical persuasion, there's absolutely something for everyone Backstage at the Green Hotel.
---
Strathearn
---
Strathearn Arts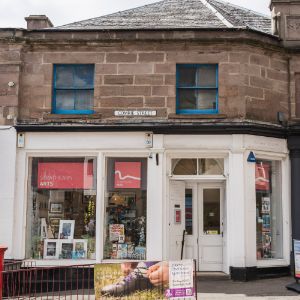 Strathearn Artspace was founded in October 2013 as a Scottish Charitable Incorporated Organisation (SCIO SC044319) with the broad charitable purpose to support the arts in Strathearn through promotion, education, community engagement and the provision of a sustainable arts centre in Crieff.
​Their home is the former public library in Comrie Street, Crieff, but the building's history goes back even further. The sprung floor in the main auditorium is evidence of its original use as a dance hall – a place where live music would have been enjoyed. So it's appropriate that once again it plays host to live music events and tea dances as well as theatre, comedy performances, visual art workshops, art exhibitions, dance classes and film.
The team strive to deliver vibrant, inclusive, memorable arts experiences and want everyone who engages to feel that. Driven by their programme, facilities, and through their coordinating role in the local artistic community, Strathearn has developed a wide reputation as a cultural destination.
The Box Office and Shop have high-quality arts, crafts, books and gifts supplied by artists, makers and writers who are all from the local area.