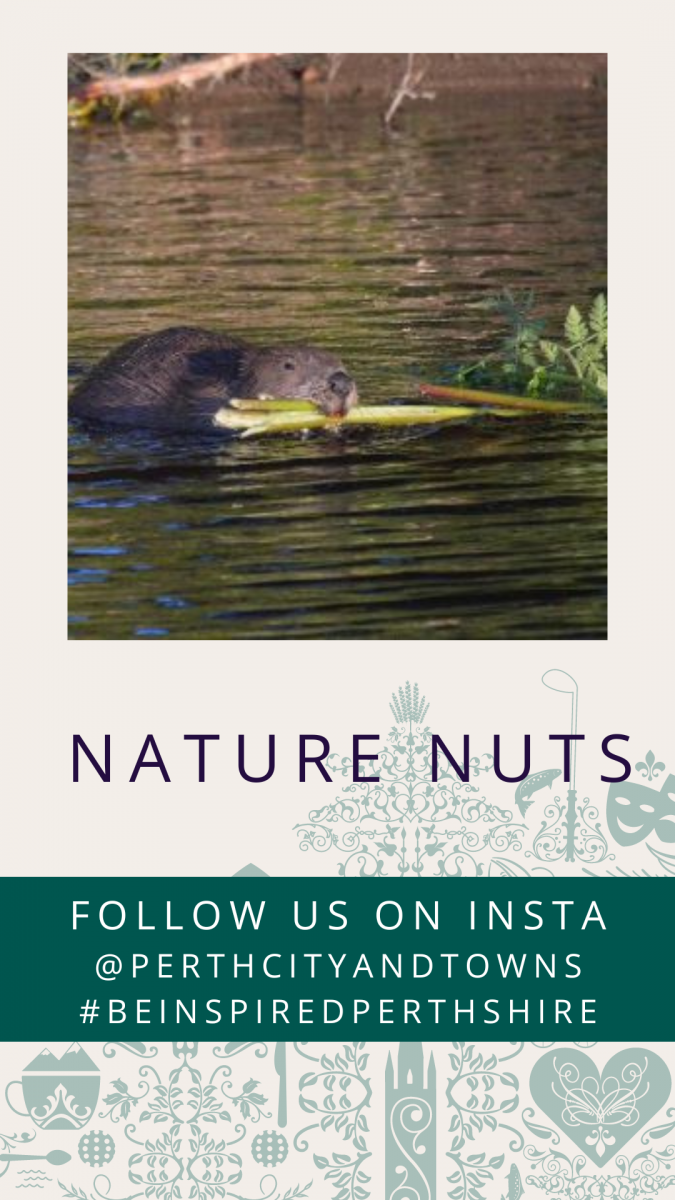 There is something instantly calming about being out and walking in nature. Forget your mindfulness apps and daily emails telling you to switch off, it has been proven time and again that fresh air and open spaces are two of the best things you can do to feed your mind, body and spirit.
Here in Perthshire, Mother Nature has been especially kind and we are blessed with a world-class natural environment. Rough Guide's readers officially named Scotland the most beautiful country in the world, and for us, Perthshire is the jewel in that crown (note, we are a teeny tiny bit biased and would have to agree as a country we are spoiled for choice!)
One of the reasons our landscapes and nature are so impressive is simply down to our central location. From the mountainous highland peaks in north Perthshire to the lowlands south of Kinross, you are guaranteed to find a beautiful wee slice of all that Scotland is loved and known for.
The Highland Boundary Fault runs across Perthshire from northeast to southwest, forming a rough boundary between the southeast lowland and the Grampian mountains in the northwest. Highland Perth reaches about 3,000 feet (900 metres) high, and its highest peaks include Ben More, Ben Lawers and Schiehallion – see our Munros article here.
Across the entire region, you will find deep valleys, many of which are occupied by one of our 47 lochs —such as Lochs Rannoch, Tummel, and Tay. And in between these highs and lows sit stunning beauty spots such as the Ochil and Sidlaw Hills, and the Vale of Strathmore, which forms a drift-covered, lowland corridor.
At the fringes of Perth city centre, the North and South Inch parks with their vast blankets of green space offer a break from the urban environment. Treelined walks, Scotland's silvery river and a pond bustling with the birds and insects who call it home, these beautiful parks bookend Tay Street with nature at her best.
Of course, with this bountiful natural environment comes some of Scotland's most wonderful wildlife- from the bees and butterflies of the insect world to starlings, swans, kingfishers and rare mammals such as beavers and red squirrels, time spent in our glorious region is a wonderful way to connect with nature.
Throw in our vibrant sunsets and sunrises, the ever-changing seasons, red deer running wild, and an awe-inspiring landscape and it is easy to see why spending time in Perthshire beats every other mindful option hands down!
Best of all, prices start at FREE!
See also:
---
Perth City Centre
---
Kinnoull Hill Woodland Park
Perth City Centre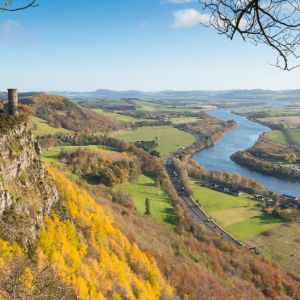 A short walk from Perth city centre, Kinnoull Hill Woodland Park encompasses five hills: Corsiehill, Deuchny Hill, Barn Hill, Binn Hill and the tallest of them, Kinnoull Hill, which is also a Site of Special Scientific Interest.
Scotland's first official woodland park, this is a popular destination for walkers and cyclists with a network of established paths, panoramic views over the city and surrounding countryside, and an abundance of flora and fauna.
Starting from the car park at Corsiehill, the top of Kinnoull Hill is a straightforward walk on a marked path; expect a gentle test of your leg muscles over short stretches of steep ground. Your route leads you under the shade of oak, ash, beech, and rowan trees, as well as Norway Spruce and Scots Pine. As you climb, you may spot red and grey squirrels, woodland birds and even deer.
At the summit, you are rewarded with magnificent views in all directions – east along the Tay Estuary towards Dundee and Fife, south-west to the Ochil Hills, west over Perth to Ben Vorlich and Ben More, and north to the foothills of the Grampians. The 18th century castle folly, Kinnoull Tower, is visible on a rocky outcrop high above the river.
• Nearest town: Perth
• Opening times: Always open
---
The Heather Garden, Norie Miller Walk and Sculpture Trail
Perth City Centre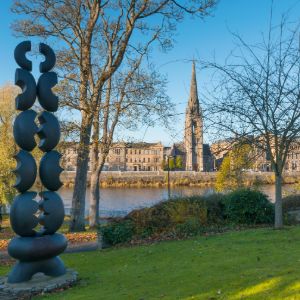 Perth's Norie Miller Park is situated just a few minutes' walk from the city centre, across The Queen's Bridge at the end of South Street. On the left bank overlooking the River Tay, the park forms a peaceful refuge from the hustle and bustle of urban life, filled with indigenous trees, shrubs and waterplants. Look for wild garlic by the riverside and clusters of fragrant, white elderflower.
From the park, you can enjoy a pleasant stroll along the Norie Miller Riverside Walk towards Bridgend, across Perth Bridge and back into the city. Or, head in the opposite direction towards Moncrieffe Island, exploring the landscaped lawns and colourful flowerbeds of Rodney Gardens along the way. This attractive green space has plentiful bench seating and wide, surfaced pathways for all-ability access.
A little further on, you find the Heather Garden lining the banks of a small stream. Featuring more than 16,000 heather and heath plants as well as native wildflowers, fir and birch trees, it is the largest and most comprehensive heather collection in Scotland.
Finally, note the sculptures of the River Tay Public Art Trail dotted along both sides of the river. These outstanding artworks are inspired by the city and its people, the river and its wildlife: an open-air exhibition where art, culture and nature seamlessly merge together.
• Nearest town: Perth
• Opening times: Always open
---
Cateran Ecomuseum and Cateran Trail
All over Perthshire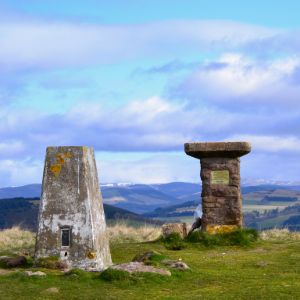 The Cateran Ecomuseum is a museum without walls. Situated on the ancient Highland Boundary Fault, which divides the Scottish Highlands from the Lowlands, the museum explores the area's rich human history … without a glass-enclosed artefact in sight. Every exhibit here is outdoors, and can be accessed by car, bike or on foot.
You can follow a pre-designed route, or make up your own. The Cateran Ecomuseum website provides comprehensive detail on each of its suggested itineraries and is the best place to find information on distance, terrain, duration, start and finish locations and key facilities en route.
There is 'A Spin Along the Ericht' where you will uncover the story of Blairgowrie's once-thriving textile mills, with a walking time of 1.5 to 2 hours. The 'Bamff Estate and Bamff Wildlife Project' takes you along a section of the Cateran Trail – a renowned long-distance trek that crosses the border between Perthshire and Angus.
Challenge yourself to the 'Cateran Gran Fondo Road Bike Adventure', with magnificent views, ample coffee stops, and no less than 109km or 6 to 7 hours on the saddle. Or how about 'The Snowroads Scenic Route', setting off by car from Blairgowrie and driving along slow roads, all the better for appreciating the stunning views and historic points of interest along the way.
The Cateran Ecomuseum has an option to suit every age and ability, enabling its visitors to fully appreciate the natural and cultural heritage of this region.
• Nearest town: Across Perthshire
• Opening times: Always open
---
Blairgowrie and East Perthshire
---
Nature Nuts
Blairgowrie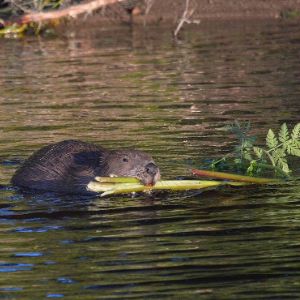 Based in Blairgowrie, eco-tour agency Nature Nuts is on a mission to bring nature closer to you. With Bob Smith at its helm, Nature Nuts caters for all ages and abilities and delivers local tours designed to explore the varied and wonderful wildlife of Perthshire. Bob's passion for nature and his intricate knowledge of wild animals and their habitats shines through to make these tours something out of the ordinary.
Patience and silence at the Nature Nuts wildlife hide will bring rich rewards: pine martens consistently visit at night and sometimes in the afternoon, their super-cute appearance belying their incredible hunting prowess. Learn all about these baby-faced assassins on the Pine Marten Tour and try to capture them on camera as they get up close and personal. You may well see other creatures at the hide too: red squirrels, jays, woodpeckers, tits and perhaps even a buzzard.
The popular Beaver tours introduce you to these fascinating riverside animals, with Nature Nuts adept at spotting adults, yearlings and kits. Bob has taken more than 2000 visitors to see his local beaver colonies, with an excellent success rate for sightings.
Try a bespoke Munro Magic Tour, with the climb specially tailored to your group. Stretch your legs with the opportunity to see ptarmigan, mountain hares, red deer, red grouse, ring ouzel and other mountain inhabitants, as well as savouring those stunning high-altitude views.
Nature Nuts also offers an Adorable Adders Tour, Black Grouse Lek Tour, and an All-day Safari.
Nearest town: Blairgowrie
Opening times: Always open
---
Highland and North Perthshire
---
Loch Tay Safaris
Aberfeldy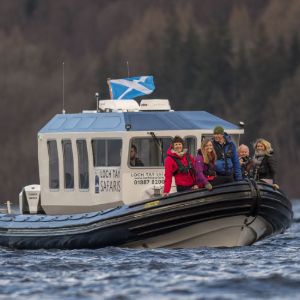 At fifteen miles long, Loch Tay is the largest loch in Perthshire and one of the deepest in Scotland. Set amidst a dramatic landscape and flanked by the impressive Ben Lawers mountain range to the north, these waters show the remains of human settlements thousands of years old. A closer look will uncover the long history of the loch's inhabitants, its heritage and folklore, and Loch Tay Safaris is the perfect way to find out more.
Climb aboard 'Iolaire' (gaelic for Eagle), a state-of-the-art 12-seat cruise boat with a comfortable heated cabin and twin engines capable of carrying you across the water at 45mph – she's the biggest and fastest vessel on Loch Tay. Viewing platforms front and back give you an unrivalled vantage point as you get up close to usually inaccessible sections of the bank.
Relax on deck as your local and knowledgeable skipper shares their passion for the area and its history. You will pass Queen Sybilla's Island, visit the abandoned village of Lawers, and search for ancient crannogs – Iron age dwellings – more than 20 of which have been identified in Loch Tay.
Loch Tay Safaris are suitable for all ages with regular sailings several times a day and a discounted price for families. Gift vouchers are available, valid for 24 months, and you may also book Iolaire for an exclusive trip – perfect for a special family gathering or group occasion.
• Nearest town: Aberfeldy
• Cruise times: Every day, April to November
---
Corbenic Poetry Path
Dunkeld
The Corbenic Poetry Path is set in the grounds of the old Drumour shooting lodge and estate, close to the hamlet of Trochry, near Dunkeld. The path was made possible, and is regularly used, by the Corbenic Community and showcases the work of some of the best poets living and writing in Scotland. Their words are incorporated into the path, creating "a magical and inspiring place where people, poetry and landscape meet" (Andy Jackson).
Local artisan stone carver Martin Reilly inscribes lines of poetry for the Corbenic Path, and also trains others in the community to carve. The path is made up of a variety of natural materials and weaves through open hillside, moors, woodland and riverbanks, blending in and complementing the surrounding terrain and leading you to peaceful, hidden corners which might otherwise go undiscovered.
The poets who have contributed to the path include John Glenday, Jim Carruth, Kenneth Steven, and many more. Live poetry events are planned in specially created performance areas along the path, and the collected poems from the Corbenic Path are available in the Corbenic Poetry Path Book. The path is always open and free for anyone to visit.
"This witty, thoughtful and engaging initiative quite literally puts Scottish poetry back on the map." (John Glenday)
• Nearest town: Dunkeld
• Opening times: Always open
---
Highland Fling Bungee at Killiecrankie Visitor Centre
Killiecrankie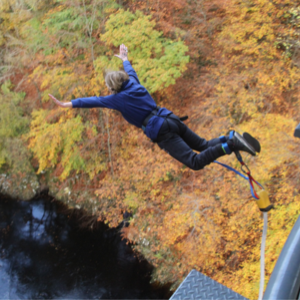 The home of bungee jumping in Scotland, Highland Fling Bungee leads the way with its awesome adrenalin rush – a plunge into the beautiful and dramatic gorge above the River Garry. From the bungee jump platform, take a jump into the abyss and experience the rush of a 40-metre freefall at over 50mph. Secured by your bungee jump cord, this is a safe yet exhilarating ride and a unique way to connect with the great outdoors.
For something a bit different, Highland Fling lets you swing – specifically, plummeting down a 15-metre freefall from a specially designed platform before accelerating through a wide arc underneath. Rigged in a full body harness, you are safe to immerse yourself in this out-of-body experience.
Finally, the Killie Zip is a new high-octane adventure which takes you along a series of nine zip lines, hurtling from tree to tree and across the water at heights of up to 35metres. Held by a waist harness and travelling with ease around this stunning river valley, this is all about the journey, not the destination.
Highland Fling Bungee is located at the Pass of Killiecrankie, ten minutes from Pitlochry. Other active adventures are available, as well as combo packages, a family group package, stag and hen weekends, and gift vouchers.
• Nearest town: Killiecrankie
• Opening times: 10am to 4pm every day
• Minimum age: 14 years old for the bungee, 10 years old for the swing, 8 years old for the zip
---
Kinross and Loch Leven
---
Loch Leven Heritage Trail
Kinross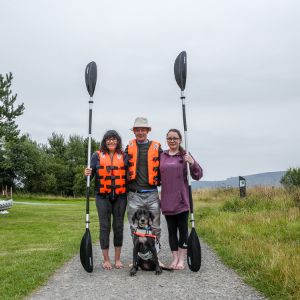 Loch Leven is the largest natural shallow water body in lowland Britain, steeped in history, awash with stunning scenery and richly populated with birds, animals and plantlife. The loch enjoys a convenient location, easily accessible across central Scotland and within an hour's drive of Edinburgh, Glasgow and Perth.
The Loch Leven Heritage Trail is one of the best ways to appreciate the incredible biodiversity of this protected area and the glorious views across the water. Following a circular route of 13 miles (21km) around the loch, the path is clear and level, suitable for walkers of all ages and abilities, as well as cyclists, buggies, and wheelchair users.
Walking through woods and marshlands by the edge of the loch, you share this space with myriad waterfowl: the largest nesting duck colony in the UK, thousands of migratory geese and swans in the autumn and winter, and ospreys in summer. Pause at a wildlife hide to see what you might find.
Café stops are available along your way, at Loch Leven's Larder or the RSPB coffee cabin. Begin your walk at Kirkgate Park, where you find extensive parking, toilets and an excellent children's play area.
Nearest town: Kinross
Opening hours: Always open
Photo credit: @RossMitchell
---
Strathearn and West Perthshire
---
Bushcraft Bairns
Comrie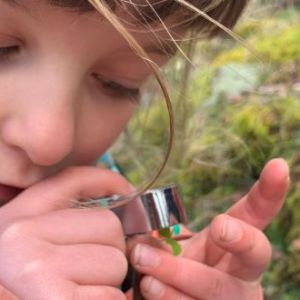 Bushcraft Bairns is a nature based activity and education space set in the magical woodland of Comrie Croft, just 4 miles from Crieff.
Being a Bairn is all about playing and learning outside with tools to support imagination and develop self-expression. What better place to do that, than a woodland! This Forest School celebrates the magic of childhood and understanding the importance of play, they offer nature-based activities that support children's development that fosters social, and emotional skills while forming connections to the world around them.
Working with children's natural curiosity and wonder, they gently motivate them to push their own comfort zones, exploring their ability level and providing appropriate challenges. Bushcraft Bairns cultivate a community that supports the Bairn's curiosity and imagination while also forming deep connections with nature.
Kids can immerse themselves in nature based learning in Forest School, stay and play sessions, enjoy a slower pace with Nature Yoga Stories, or even host a unique woodland birthday party!
• Nearest town: Comrie 2.5 miles, Crieff 4.5 miles
• Opening Hours: Monday to Friday (term time) Holiday sessions available. Pre-booking is essential.
---
Lady Mary's Walk
Crieff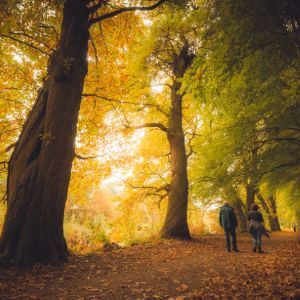 Named after Lady Mary Murray, whose family were landowners in Crieff in the early 19th century, Lady Mary's Walk is a popular pathway along the banks of the River Earn. Park the car at Crieff's MacRosty Park, then take the four-mile track which starts by crossing the bridge arching over Turret Burn. The path has been upgraded to suit wheelchairs, bikes and buggies.
This is a picturesque walk alongside the river, mainly flat and suitable for all abilities. Pass under ancient oak, beech, lime and sweet chestnut trees providing shade in the summer and beautiful autumnal colours later in the year. Tread lightly and you may find yourself in the company of herons and kingfishers, grey wagtails, oystercatchers and dippers. Otters have been spotted here at dusk.
There are several benches and viewpoints dotted along Lady Mary's Walk, giving ample opportunity for you to stop and enjoy the tranquil surroundings. If you wish to extend your walk, take the signposted path onto Laggan Hill where mixed woodland opens up to present lovely countryside views, or continue even further to Baird Monument.
• Nearest town: Crieff
• Opening hours: Always open
---
The Sma'Glen to Loch Tay Cycle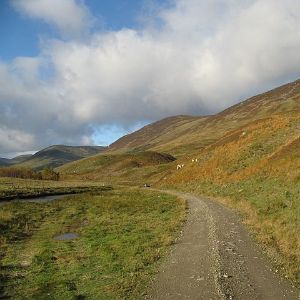 Located just outside Crieff, this stunning 17-mile cycle route links the beauty and splendour of the Sma'Glen – featured in the 1981 film Chariots of Fire – to the tranquillity of Loch Tay.
Taking you across hillsides and glens, down rivers and roads, we're willing to bet that this will be one of the most scenic landscapes you will ever have cycled over.
Once at your destination you will find one of Scotland's oldest known dwelling places; around 2000BCE, the loch was home to Iron Age settlers who set up artificial islands on the loch.  These are known as crannogs, and they were homes and shelters for the people who built them, remaining in use until the Middle Ages. You can visit a reconstructed crannog at the Scottish Crannog Centre in Kenmore and imagine what life would have been like for these early settlers.
More info: dunkeldandbirnam.org.uk
---
How Nature Benefits Your Health
How long does it take in nature to feel healthy and have a strong sense of wellbeing? According to recent research, 120 minutes. Good news for anyone visiting or living in glorious Perthshire.
A study of 20,000 people, led by Mathew White of the European Centre for Environment & Human Health at the University of Exeter, found that those of us who spent two hours a week in green spaces were substantially more likely to report good health and psychological wellbeing than those who don't. Findings were true for different occupations, ethnic groups, people from rich and poor areas, and people with chronic illnesses and disabilities.
The study is the latest in a body of research that points to nature being the antidote for our stressful, busy, modern lives. The amazing benefits cover physical, mental, and emotional wellbeing, including:
lower blood pressure
lower stress hormone levels
reduced nervous system arousal
enhanced immune system function
increased self-esteem
reduced anxiety
a sense of calm and lifted mood
reduced feelings of isolation
As Mathew White said, the studies "point in one direction: nature is not only nice to have, but it's a have-to-have for physical health and cognitive function."
Book a night or two in Perthshire to enjoy the benefits now!