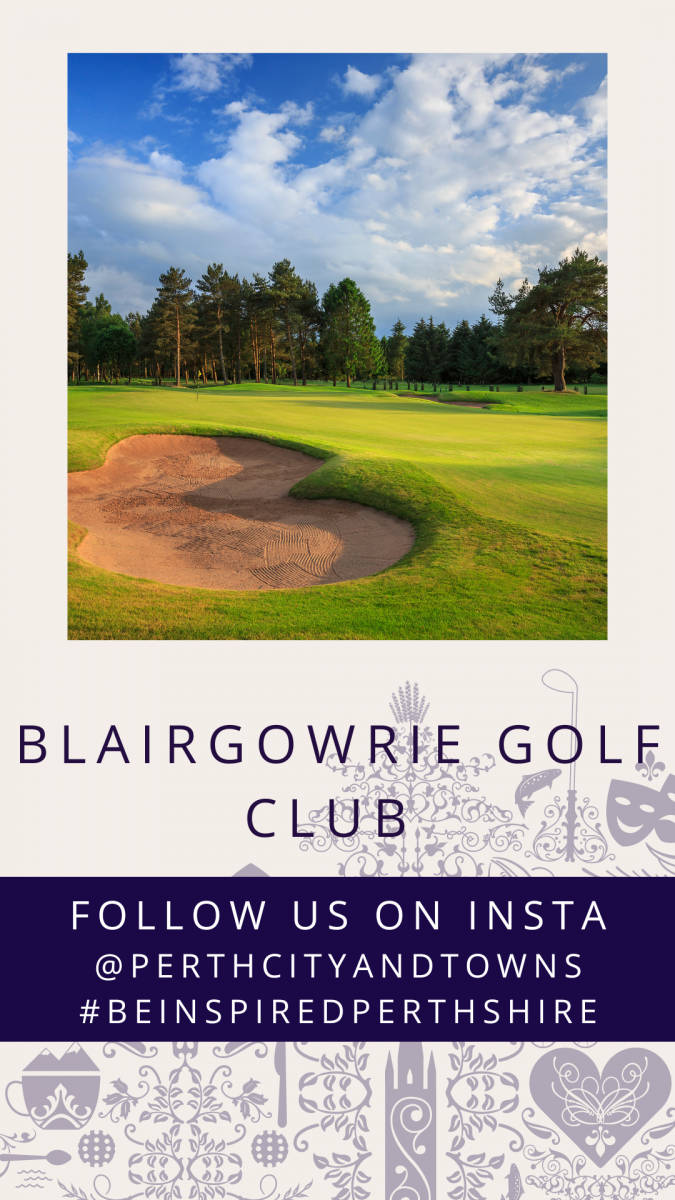 Perthshire is recognised globally as one of the world's most prestigious areas in which to play a round of golf. The world-class resort of Gleneagles – host to the 2014 Ryder Cup, 2018 European Championships and 2019 Solheim Cup – is surely up there as one of the most popular choices for a golfer's bucket list.
As well as this internationally renowned course, Perthshire also plays host to one of the world's oldest and most established courses, the 18-hole North Inch. Now a municipal course, its beautiful setting by the River Tay makes it a must-play green for any keen golfers visiting the area.
Outside of this, you will find courses set into some of Scotland's most breathtaking scenery and a selection of 9-hole gems. Find out more and stay up to date at www.golfperthshire.com
You'll see that we've linked you straight to the individual course websites - or social media pages.
---
Perth City Centre
---
North Inch Golf Course
Perth City Centre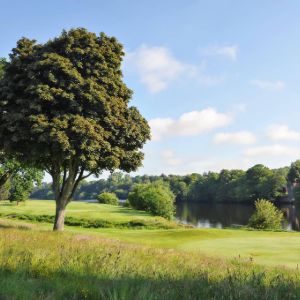 The North Inch Golf Course is one of the world's oldest courses – with golf having been played on the Inch for more than 500 years! Situated next to the city centre, the 18-hole course is a must-play for any keen golfer due to its rich history. Part of the course runs along the banks of the River Tay, offering a scenic and enjoyable round for experienced and novice golfers!
Distance from Perth city centre: Less than 1 mile
Right in the centre of Perth, the North Inch Golf Course is steeped in history. The community course offers great value for money and is suitable for those with experience or for those who are just starting out.
With more than 500 years' golf to its name, the course is one of the oldest in the world. It is the home of the Royal Perth Golfing Society – the oldest 'Royal' club, having been granted the title in 1833, one year before the Royal and Ancient Golf Club of St Andrews.
The course is challenging but is designed with the golfer in mind, meaning that the intention is for everyone to have a chance of shooting a good score. Starting on the parklands of the Inch itself, the course also runs along the banks of the River Tay and is a scenic and enjoyable round from start to finish.
Aside from traditional golf, the North Inch Golf Course now offers some modern variants of the game. It is home to Perthshire's first 'Footgolf' course – which is one of the fastest growing sports in the UK. Footgolf is a combination of football and golf, where players try to kick a standard size-5 football into a large hole, in as few kicks as possible, from a variety of different distances. It's fun for those who are regular golfers or footballers, but also for those who have no experience in either sport!
There is also a Par 3 course which is exclusively for junior golf sessions. The holes vary in length from 90 yards to 160 yards.
For those starting out in the world of golf, a 'Soft Ball' golf course, which will share the footgolf course is coming soon. Softball golf is fun for all ages and abilities and is played by hitting tennis type ball around the 9-hole course layout. It is much easier to play than real golf, so a great introduction to the sport.
---
Murrayshall Country Estate
Perth City Centre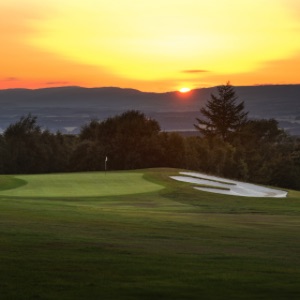 Perthshire's most beautiful golfing experience.
Distance from Perth city centre: 3 miles
Meandering across 365 acres of land, Murrayshall is a golfers paradise. Lined with trees and luscious greens, you'll be spoilt for choice with 27-holes of spectacular parkland golf. With a fully stocked Pro Shop, an expansive driving range and expert PGA tuition, you're in for a treat.
The Murrayshall course is an idyllic 18-hole championship parkland course that meanders its way around our countryside estate through large pine trees, offering golfers the perfect combination of an enthralling layout, impeccable course conditions and stunning panoramic views.
The Lynedoch Course is a beautiful 10-hole parkland layout that is ideal for golfers seeking a quick game of golf or for juniors and those new to the game. Shorter, but equally as challenging as the Murrayshall Course, the layout features slightly narrower fairways, framed by tall Scots pine trees.
At 350 yards long and cut to replicate three fairways, with bunker targets at 100, 150 and 200 yards, plus several other cut green flags, our floodlit driving range offers a fantastic space to hone your game or hit a few balls before heading out to play one of our two courses. The 11 covered bays also mean you don't have to stop practising when it rains. Open daily from daylight until 9pm.
Take advantage of playing golf with our PGA professional or getting golf lessons. Easy to get tee times, you're also able to play some fast golf. With the possibility of playing a round in just 3 hours, you won't experience any hold ups in the round.
---
Craigie Hill Golf Club
Perth City Centre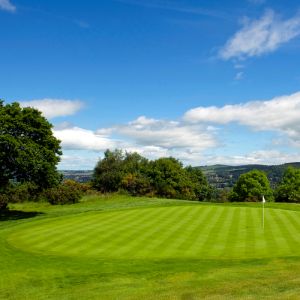 Craigie Hill Golf Club is situated in Perth's western edge and boasts beautiful views of the entire city when you play the famous 18-hole course. Home to one of Britain's most difficult holes, 'Spion Kop', the course provides a stern test for even the most experienced golfers. Just a short drive from the city centre, it is one of the most popular golf courses in the region.
Distance from Perth city centre: 2 miles
Founded in 1911, Craigie Hill Golf Club has remained as one of Perthshire's most popular hotspots for golfers. The challenging holes accompany incredible views of Perth city centre, the River Tay, Kinnoull Hill and more, making it a thoroughly enjoyable experience for all who play there.
Home to one of the most difficult holes in Britain, the fifth hole 'Spion Kop' has broken many golfers' hearts and ruined many scorecards in the past – are you able to tackle it?
The Par 66, 18-hole course was designed around the natural contours of the land and is as challenging physically as it is mentally, with many uphill holes to conquer. There are blind shots to play and it provides a stiff challenge for any level of golfer – particularly those without course knowledge!
Beautifully kept greens may look nice but they can be unforgiving if you don't make the right shots. Many of them are elevated and you can find yourself in trouble if you miss them!
After your round, you can head to the clubhouse where you will find a fully stocked bar serving a wide range of food and snacks. The Clubhouse is open five days a week (closed Mondays and Tuesdays) and has superb views over the golf course that you have played or are just about to play. It's also dog friendly!
There is a Golf Shop on site too, so you can stock up on tees, balls and markers before your round. You can make sure you are well equipped to take on all the challenges that Craigie Hill has in store for you!
---
Highland and North Perthshire
---
Pitlochry Golf Club
Pitlochry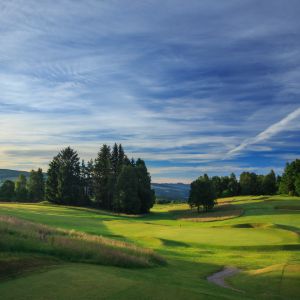 A scenic 18-hole golf course in the gateway to the Highlands, Pitlochry Golf Club is a beautiful place to swing your clubs. With the 6-hole Lettoch Links course, a driving range and a fully stocked pro shop, it has everything you need for a fantastic day of golf in Highland Perthshire!
Distance from Perth city centre: 27 miles
Pitlochry Golf Club's 18-hole, Par 69 course is undoubtedly one of the most scenic in the country. The incredible mountainous backdrop coupled with its tree-lined fairways and well-kept greens make for a great day of golf. It offers an enjoyable outing for the less experienced player, while making sure it remains a challenge for the more seasoned golfer.
Quite unique in the sense that there are no Par 5s on the course, don't let the shorter distances fool you – there are some very difficult Par 3s and Par 4s that can cause even the most expert golfers trouble if not played correctly. Even if things aren't going well for you on the course though, the beautiful views throughout are sure to make you feel better!
As well as the 18-hole course, Pitlochry Golf Club also has a short 6-hole course – Lettoch Links. Offering a completely different challenge, the Par 3 course is ideal for working on your short game or if you are time-constrained but still want to get your clubs out. It too offers great views and looks up towards the beautiful Ben Vrackie. With tight fairways and short greens, it was created to improve touch and technique, but it is also fun for all the family or for those just starting out in the game!
The driving range at Pitlochry Golf Club was opened in 2013 and has six indoor areas, five outdoor, a teaching bay and short game area. It's the perfect place to practise your swing and work out your yardages before heading out onto the course. You can also seek advice and coaching from golf professionals at the Pitlochry Golf Academy – with resident pro Neil Douglas providing coaching and lessons to youths and amateurs alike.
While at Pitlochry Golf Club, visit the fully stocked pro shop which is an approved Callaway and Ping dealer. PGA Professional Neil Douglas can advise on clubs, clothing and accessories – as well as book you in for lessons. The pro shop team are also the first port of call when it comes to tee times and will make sure you are looked after in this regard. There is equipment for hire including trollies, buggies and clubs, so you can make sure you have everything you need to enjoy your round!
---
Auchterarder and South Perthshire
---
Gleneagles Hotel Golf Club
Auchterarder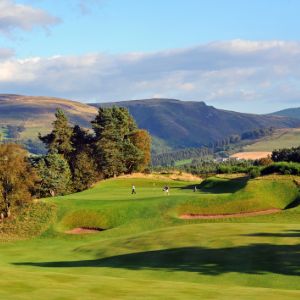 Situated within the famous five-star luxurious resort, Gleneagles has three stunning 18-hole courses, as well as a 9-hole Par 3 course and a practice range. The PGA Centenary course hosted the 2014 Ryder Cup and the 2019 Solheim Cup. Follow in the footsteps of some of golf's biggest names and tee off at Gleneagles!
Distance from Perth city centre: 18 miles
With three world-class 18-hole courses, Gleneagles is rightly regarded as one of the best golf resorts around. With high-profile golfing events it's an opportunity for experienced and novice golfers to test themselves on the same greens and fairways as the professionals.
The PGA Centenary course at Gleneagles was designed by golfing legend Jack Nicklaus and hosted the 2014 Ryder Cup – one of world golf's greatest spectacles. The course also hosted the 2019 Solheim Cup, so it is little surprise that it is renowned as one of the world's best. Jack Nicklaus himself described the course as "the finest parcel of land in the world I have ever been given to work with."
With stunning views throughout the 18 holes of the Ochil Hills and the Trossachs, the course is long and challenging but still thoroughly enjoyable for golfers of all levels.
The King's course was designed by late Scottish golfer and five-time Open champion James Braid with the vision of creating a course that tests even the best players' shot-making skills over 18 holes. With plenty of challenging hazards to manoeuvre around, the King's is extremely popular with members and visitors alike. With spectacular scenery on offer the whole way round, it's no surprise that the King's course is widely acclaimed to be not just one of the best courses in Scotland, but on the planet.
The third of the three 18-hole courses at Gleneagles is the Queen's course – also designed by James Braid. Popular with golf legends such as Seve Ballesteros and Tom Watson as well as celebrities like Sean Connery and Burt Lancaster, the Queen's course may be shorter than the King's and PGA but still provides a stern challenge for even the most experienced golfer. This part of the Gleneagles estate has an abundance of natural beauty to enjoy during your round.
Away from the three 18-hole courses, Gleneagles is also home to the PGA National Academy course. Formerly known as 'the Wee Course', this 9-hole, Par 3 delight is perfect for practising your short game or for those just starting out in the game. With a mixture of short and long Par 3 holes, the course starts near the King's and crosses the road towards the PGA for two holes. Keep straight as there is trouble to be found if you don't!
Before your round, you can spend some time at the practice range. There you will be able to practise a wide range of shots, with a chipping area also available to practise attacking the pins. At the range, you will find one of the pro shops which stock the latest clubs and clothing to make sure you are prepared to take on the challenges ahead!
---
Auchterarder Golf Club
Auchterarder
Auchterarder Golf Club is a parkland golf course offering spectacular views towards Glendevon in the heart of Perthshire. With a PGA professional, practice area and a fully stocked pro shop, it provides the full golfing experience for visitors and members alike.
Distance from Perth city centre: 16 miles
An easy walking course of 5,800 yards, Auchterarder Golf Club has a variety of holes including three Par 5s and six challenging Par 3s. The 18-hole course offers stunning views of the Ochil Hills and Gleneagles, and runs parallel to the prestigious Gleneagles PGA Centenary Course – the venue for the 2014 Ryder Cup and the 2019 Solheim Cup.
The club has four golf buggies available for hire – between April and October only – as well as plentiful trolleys. The fully stocked Auchterarder Pro Shop offers golfers the latest in equipment and affordable prices, including clubs, clothing, shoes, accessories and trolleys. PGA professional Gavin Baxter is always on hand to offer advice on your next equipment purchase.
As well as stocking the biggest names in golf clothing, there is an exclusive range of Auchterarder Golf Club branded clothing and merchandise, as well as full colour yardage and stroke saver books.
There is a practice area and putting green where PGA professional Gavin Baxter is on hand to offer lessons to golfers both young and old. Club repair and shoe re-spiking services are also available via the Pro Shop.
After your round, you can relax in the clubhouse which offers a fantastic menu of food and drinks, with an outside seating area for sunny days and Sky Sports television to watch the latest golfing and other sporting events.
---
Kinross and Loch Leven
---
The Kinross Golf Courses
Kinross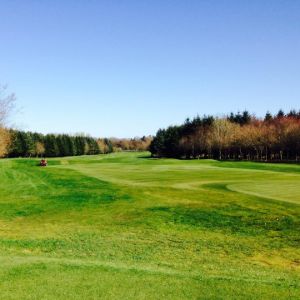 With two fantastic 18-hole courses, The Kinross Golf Courses are the perfect example of Scottish parkland golf. The Montgomery and The Bruce – the latter being the newer of the two – provide different but difficult challenges for high and low handicap golfers. Ask the locals which they prefer, and you will spark off an interesting debate!
Distance from Perth city centre: 17 miles
The Kinross Golf Courses boast two beautiful parkland golf courses which provide different challenges to both experienced and novice golfers. Played by the members of Kinross Golf Club, the courses welcome visitors and golfing societies regularly and offer competitive rates to play both The Montgomery and The Bruce courses.
The Montgomery is the older of the two courses and is generally considered to be the most difficult. The Par 72, 6,508 yard course provides a stern test even for very low handicap golfers. With 19 carefully placed bunkers and a pond to make life even more difficult, there are a number of potential hazards and traps for golfers to fall into.
On The Montgomery, all of the holes present their own unique challenges. However, many believe the 18th and final hole to be the most difficult. Many players have been heading to a good score before coming across the 443 yard Par 4 and have ended up ruining their round. Can you tackle this challenging finish?
The Bruce is the newer sibling course and although it's considered to be easier than The Montgomery, it's known as the 'Wild Child' of Kinross – it is very unpredictable! The Par 73, 6,231 yard course has a number of challenges for players to overcome despite being slightly shorter.
Perhaps surprisingly, one of the most difficult holes on the course is a short Par 4. The 6th is just 272 yards, but the pond that comes into play before the green makes it a difficult hole to score on. If you use too much club off the tee, your ball could end up in the 'ball magnetic' pond short of the pin – likewise if you leave yourself too much club on your second shot it could be difficult to stop on the green! Club selection is key here.
Before you tackle one or both of the Kinross Golf Courses, visit the pro shop to make sure you are prepared. In the pro shop, you will find leading brand clubs, balls and other great accessories that will help you on your quest to conquer The Montgomery and The Bruce. You will also find a wide range of great golfing attire to add to your wardrobe collection!
---
Blairgowrie and East Perthshire
---
Blairgowrie & Rosemount Golf Club
Blairgowrie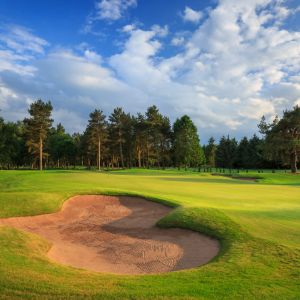 Featuring two of Scotland's best golf courses, Blairgowrie Golf Club is the ideal place for golfing enthusiasts in Perthshire. With two 18-hole courses that have hosted both professional and amateur events, including the Scottish Amateur Championship and the Junior Ryder Cup, along with a beautiful clubhouse and pro shop, Blairgowrie Golf Club offers golfers an incredible experience.
Distance from Perth city centre: 15 miles
Those who know golf in Perthshire know that Blairgowrie Golf Club is one of the area's gems. With two 18-hole golf courses; a 9-hole course and pro shop, it provides everything a golfer could ever need.
The older Rosemount course is popular and hosted the Junior Ryder Cup in 2014. It has also previously hosted European Tour events, with the legendary Australian Greg Norman getting his first win on the tour in 1977 at Rosemount.
The course was designed by James Braid with influences from Dr Alister MacKenzie, renowned for his work as an architect on the infamous Augusta National Golf Course. The course is less narrow than its sibling Lansdowne, with larger greens giving the golfer an enjoyable test.
The newer Lansdowne course was officially opened in 1979, and has hosted both the Scottish Amateur Championship in 2013 and the PGA Championship final a year later. A championship course, it tests each player's ability with narrow fairways surrounded by pine and silver birch trees, and smaller greens than Rosemount.
Alongside the two 18-hole courses, Blairgowrie Golf Club also has 'the Wee Course' – a 9-hole mixture of Par 3 and Par 4s ideal as a warm-up for Rosemount or Lansdowne or for those who are just starting out in the game.
Blairgowrie Golf Club also boasts a fully stocked pro shop with a host of clubs, clothing and accessories for both male and female golfers. They provide custom fitting too, so you can make sure the clubs you buy are just right for you. There are three golf professionals on hand to give you advice and also to provide lessons, either on or off the course. Blairgowrie Golf Club is also the home club of Scottish professional golfer Bradley Neil – who has won the Amateur Championship and played in three of golf's four majors: The Masters, The Open and the US Open. He now competes on the European Challenge Tour.
---
Strathearn and West Perthshire
---
Crieff Hydro Golf / Culcrieff
Crieff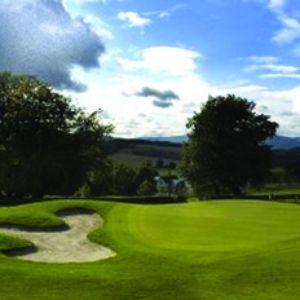 9 holes with two stunning Munros as your backdrop – Ben More and Ben Vorlich – Culcrieff Golf Club at Crieff Hydro offers an incredible golfing experience! With disc and crazy golf to go alongside the traditional game, it offers something for all of the family to enjoy at very reasonable prices!
Distance from Perth city centre: 17 miles
Culcrieff Golf Club at Crieff Hydro doesn't just offer a 9-hole course – it has a range of golfing activities for experienced golfers to young families who have never played the game before. It truly has something for everyone!
The 9-hole course has incredible views of Ben More and Ben Vorlich as well as beautifully plush fairways and greens. Finding your way onto the small greens is no easy task even for the most experienced of golfers and with various hazards throughout, it requires thoughtful golf to produce good scores here!
There is club hire too for those who have travelled without their own and you can play 9 holes from as little as £10 – great value for money! Before you head out for your game, you can also use the driving range to perfect your shots and get you prepared to attack those pins.
Alternatively, there is a fantastic crazy golf course on site which is ideal for the whole family! Manoeuvre your way through tricky holes with fun obstacles, with each hole designed after famous Scottish landmarks. You can putt through Edinburgh Castle, the Falkirk Wheel and even Scotland's most famous resident – Nessie!
You can hire the putters and the balls from the activity centre and there is no booking required – so you can turn up and play with ease.
You can also swap clubs and putters for a Frisbee and play a completely different kind of golf – disc golf! The rules are similar, except you are trying to get a Frisbee in the net in as few shots as possible. It is great fun for all the family and perfect for kids aged six and up!
---
Crieff Golf Club
Crieff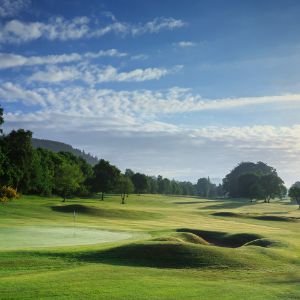 Offering two fantastic inland golf courses in the heart of Strathearn, Perthshire, Crieff Golf Club is rated as one of Scotland's top inland golfing destinations. Established in 1891, the original 9-hole course was designed by the legendary Old Tom Morris and now the club also boasts a stunning 18-hole course.
Distance from Perth city centre:17 miles
Crieff Golf Club is rated as one of Scotland's top inland courses. Surrounded by beautiful countryside, at the heart of golfing Perthshire, it provides a feeling of escape as well as spectacular views.
Built on gently sloping parkland – on grounds once home to Ferntower House – the courses provide a fair, but challenging, experience for all levels of golfer. The club's existing courses, Ferntower and Dornock, stretch over the restorative grounds of the Hydro, the grand Victorian Spa, which opened in 1856.
Excellent playing conditions and friendly reception to visitors led to the club being voted as one of the top UK golf courses by readers of Golf World Magazine.
The 18-hole Ferntower Course is not only for the big boys, and many golf society and social players enjoy the open nature of the course and the merciful rough. Corporate packages are tailored to the number of rounds favoured in a season and are very flexible.
Visitors and society groups are always welcome and leave glowing reports of their visits to Crieff. New members are equally welcome with packages catering for individuals of all ages, families and players new to golf.
Crieff Golf Club's PGA Professional, David Murchie, runs the shop and offers lessons to golfers looking to add or improve things in their game.