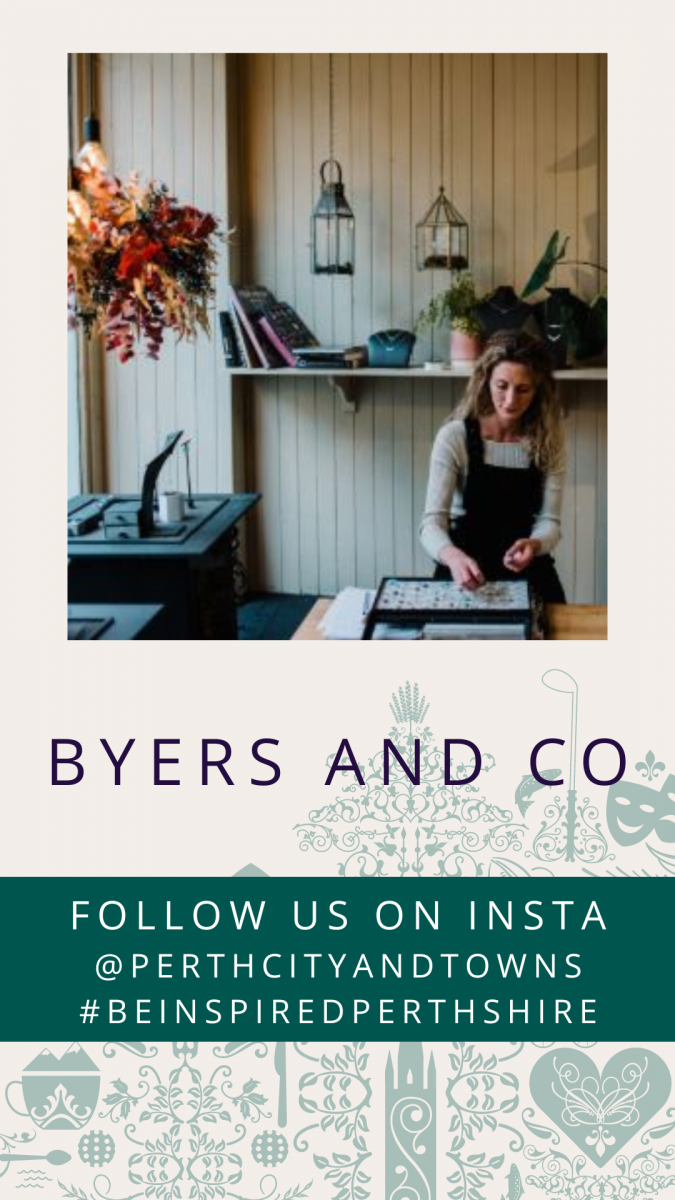 Perthshire is renowned for its amazing choice in high quality, independent retailers, and award-winning chef-owned restaurants and this carefully curated list has pulled together the galleries, gift shops and delis specialising in Perthshire and Scottish-made artisanal goods to offer all lovers of shopping an utterly unique souvenir shopping experience!
Forget Hey Jimmy Hats and factory-made shortbread, here you will find the most beautiful Scottish cashmere, sweeties handmade to traditional Scottish recipes, talented artists and creators and delis packed full of local produce from our Perthshire farms.
Quality Scottish Souvenirs with a Difference
We all love to buy a little something to remind us of our favourite holidays; a wee treasure or item of clothing that makes us smile about that wonderfully inspired experience we had during our holiday to Perthshire.
In days gone by, souvenirs would have come in the shape of plastic fridge magnets or sticks of rock. Now, while we do love a minty fresh, bright pink sweetie, our eco-friendly conscience has long since given up on adding to our pile of life's tacky treasures.
Nowadays, we prefer to buy quality, locally produced goods from small independent shops, galleries and delis. It must be made in Scotland – Perthshire is even better – and it must be something the recipient (often ourselves) will really love.
In this list, we've pulled together some of our favourite destinations for picking up a piece of Perthshire; as well as souvenir inspiration it's also a fantastic resource for buying gifts, especially for ex-pats living abroad.
Of course, there are many, many other local businesses to choose from and if you'd like to explore our area properly, please click through to our directory. You can also find out where to spend your Perth Gift Card here on the site.
---
Perth City Centre
---
Byers and Co
Perth City Centre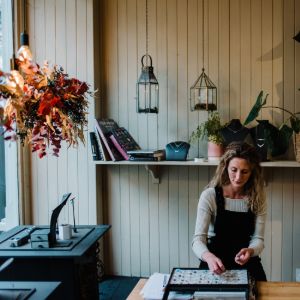 Linda Byers of Byers and Co has been making fabulous jewellery in her premises on George Street in Perth since 2014. A perfect fit on a street crammed full of little independent shops, Byers and Co specialise in creating beautiful one-off pieces, drawn by hand and then brought to life using traditional techniques.
Linda is committed to buying Fairtrade stones which are not only conflict free but bring clear benefits to the communities they are mined in. Linda also uses recycled gold and silver to reduce toxic waste and its environmental impact. Precious and semi-precious stones are cradled within Linda's signature designs in silver, gold and platinum.
"I really believe that beautiful treasures from the ground should be mined and harvested in a way that doesn't cause damage to the earth, or the people mining them."
Visitors to Byers and Co can browse 'off the shelf': choose from an Art Deco diamond ring, Lapis Lazuli earrings, a shard necklace with a blue topaz, an emerald cabochon pendant, or one of the many other dazzling options on display.
Or you may commission a bespoke design, made to your brief and fashioned by expert hands every step of the way. Each stage of this process is carried out in house, from the creation on the drawing board to the final polish. Byers and Co is a local gem – treat yourself, or someone you love.
---
Malts and Spirits
Perth City centre
Malts and Spirits is a retail and online business selling a wide range of whisky, gin, and rum. It has Perthshire's largest selection of premium spirits including over 300 different expressions of whisky.
The team have over 30 years of experience and pride themselves on providing an excellent shopping experience. Everything that they promote on the website is in stock and available for collection or delivery.
The stock changes regularly with offers and promotions from time to time. Malts & Spirits ships daily across the whole of the UK.
---
Auchterarder and South Perthshire
---
Robertsons of Scotland
Auchterarder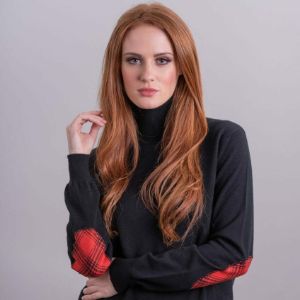 Robertsons of Scotland is an independent, luxury textile brand based in Glenruthven Mill, Auchterarder. Mark Robertson, born in Perth, realised his dream in the creation of this local company producing the highest quality textiles using innovative designs and exquisite craftsmanship. A model of slow, sustainable fashion, all the Robertsons products are 100% made in Scotland.
The Robertsons style is unique – classic black fabric, expertly tailored, with just a touch of its signature red tweed inspired by the Robertson clan. A beautiful range of clothing and accessories for men and women is available to view online or by appointment at the showroom. Take a look at gorgeous cashmere jumpers and cardigans, scarves and gloves, or the elegant and practical "Gleneagles" wax jackets and bags, each sporting their distinctive pop of colour.
In addition, there is a custom-made bespoke service where companies and individuals can have their ideas brought to life and hand finished in the world's finest fibres. Each product is individually designed and hand cut from the most luxurious of fabrics.
This family business aims to build honest and long-lasting relationships with suppliers and customers. It does not try to compete with any other brand, but sets itself apart with its matchless creations and high quality workmanship. With its headquarters in the last steam powered textile mill in Scotland, Robertsons has turned its traditional Scottish heritage into a stylish and contemporary brand.
---
Ruthven Gallery
Auchterarder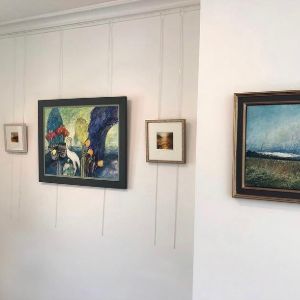 This welcoming art gallery, opened in 2007, occupies a light and airy two-storey space in the heart of Auchterarder High Street. Surrounded by some of Scotland's finest small independent businesses and shops, Ruthven Gallery is an inviting destination to come and have a browse.
Specialising in contemporary art and framing, the gallery is open all year round with a changing programme of exhibitions. You can view paintings, sculpture and wood turnings by both established and new artists in a relaxed atmosphere with a personal touch.
The gallery shows artists whose work is of the highest quality, distinctive but affordable. Often, there are even more gems tucked away behind the scenes – not every artwork can find a spot on the wall so it's worth asking if you are interested in a particular artist. Alongside the changing exhibitions, there is always an array of drawings, cards and prints on display, as well as glass, pottery and items of jewellery.
In addition, Ruthven Gallery provides a professional framing service. It offers a wide range of sample frame mouldings, with most frames hand-finished to suit each individual artwork. Wood shavings are available to use as kindling, free of charge. There are also bargain bundles of mountboards and window mounts for sale. Mountboards are top quality offcuts, ideal for drawing and painting on. Window mounts are used to surround finished artwork.
The gallery prides itself on being friendly and accessible to everyone – even children and dogs are welcome!
---
Blairgowrie and East Perthshire
---
Glendoick Garden Centre
Glencarse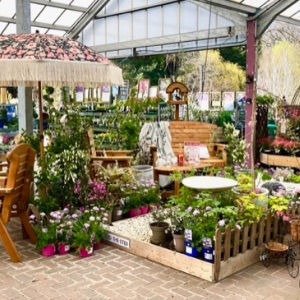 Glendoick is a multi-award winning garden centre, cafe, food hall and gift shop handily located on the A90 between Perth and Dundee. Open all year round, seven days a week, Glendoick was founded in 1953 as a specialist nursery and has since grown to be a retail titan stocking the highest quality plants, garden furniture, clothes, books, gifts and mouth-watering food and drink.

'Scotland Loves Local' shines through in Glendoick's food hall where seasonal produce including local sausages, bacon and pies can be found as well as stacks of Scottish and European cheeses, fresh cream cakes, jams and chutneys and so much more all vying for your attention.

To quench your thirst, Glendoick's shelves carry beers and ales from Abernyte Brewery which is just up the road as well as St Andrews Brewery, Loch Lomond Brewery and many more. The spirits section offers the best of Scottish whisky, and also spirits from home producers Ogilvy Vodka, Eden Gin and Verdant Distillery. Delicious fruit wines and cider originate just a few miles away at Cairn o'Mhor.

In the Glendoick shop, you will find fabulous clothing and accessories not available in high street chains. Local brands include the men's outdoor clothing range from family business Hoggs of Fife, and jewellery from By Rebecca Jewellery – Personalised and Bespoke Jewellery, Handmade in Scotland at Kinross.
Attractive toys and books, homewares, cards and stationery are all available to browse at Glendoick, alongside the spacious café and children's play areas. And, naturally, there is an endless array of plants here: bedding plants, fruit trees, house plants, herbs and shrubs. Glendoick sell Scottish plants whenever they are available, flora to suit our native land – and the Scottish summer.
---
Sarah Cave Silversmith
Blairgowrie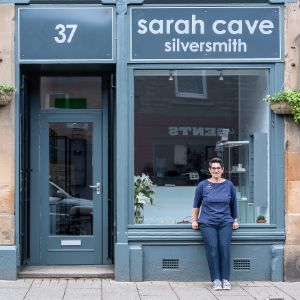 In her studio space on Blairgowrie High Street, independent silversmith and Edinburgh College of Art graduate Sarah Cave designs and creates a range of contemporary silverware and jewellery.
Following successful commissions for The Millennium Collection and The Silver of the Stars Collection, along with participating in Perthshire Open Studios, Sarah opened her shop and studio doors in 2018.
Stunning necklaces, earrings, rings and brooches can be found here, alongside unique handcrafted silverware. Sarah has made sterling silver bowls, condiment sets and whisky cups as well as smaller silver gifts. Circle stud earrings, a hammered texture bangle, initial cufflinks and delicate pieces with leaf and heart motifs are among the multitude of designs on offer. Sarah also welcomes individual commissions.
"I design and make a range of silverware as well as jewellery. Most of my silverware is 'hand raised'. This is a traditional technique of producing form using basic hand tools … I aim to make pieces which are attractive to look at but also feel good in the hand."
Come to Sarah's studio and be inspired by a local creative doing something special.
---
Highland and North Perthshire
---
The House of Bruar
Blair Atholl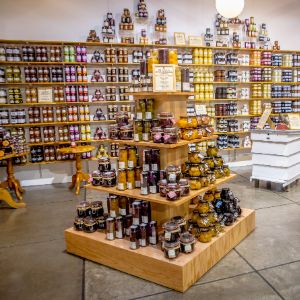 A renowned shopping destination in the heart of Scotland, The House of Bruar offers an extensive range of chic country clothes and accessories, as well as homeware, gifts and a superb food hall featuring traditional Scottish delicacies. Conveniently situated on the A9, just north of Pitlochry, it is a popular spot to stop and browse the wide variety of brand names available.
The House of Bruar ladies' and men's departments favour luxury natural fibres. The ladies' collection carries Harris Tweed, Merino wool, fine silk and the softest cashmere; elegant designs for practical everyday use or formal evening wear, all in a tasteful rustic palette. The menswear section stocks weatherproof jackets of wax or down, classic waistcoats, and brushed flannel, gingham or cotton poplin shirts. Finish off your look from the bumper selection of bags, belts and boots.
For traditional Scottish fare supporting Scottish suppliers, look no further than the House of Bruar food hall (you can now order online, with next-day delivery to ensure maximum freshness). The butchery brings you Aberdeen Angus beef, wild venison sourced from Highland estates, Stornoway black pudding, and of course the best Scottish haggis. Try the House of Bruar Scottish smoked salmon, or caviars and fish patés from the Inverawe Smokehouses.
In the drinks cabinet, there are artisan creations from local suppliers – gins, whisky and liqueurs. And who can resist Scottish confectionery? Old time favourite childhood sweeties sit by more than 70 types of Scottish fudge!
Finally, with so much to discover at House of Bruar, you must be careful not to miss the incredible House of Bruar art gallery. Ceramics, silverware and wood, contemporary landscapes by Scottish painters, and exquisite animal sculptures from Scottish artists, are all here to view and purchase – find your own piece of the country to treasure.
---
The Scottish Deli
Dunkeld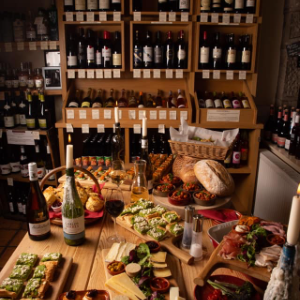 This award-winning specialty food retailer, takeaway, tapas restaurant and wine bar holds a prime location in the centre of vibrant Dunkeld. In characterful premises with original features, the owners of the Scottish Deli delight in sharing their passion for locally produced food and drink with residents and visitors alike.
The Deli larder is filled with quality produce from all over Scotland: meats, fish, chocolate, cakes, biscuits and bread, as well as a large range of Scottish cheeses. The deli is always searching for exciting new products, and the fewer miles each item has to travel, the better – the smoked salmon and homemade preserves originate just 30 metres from the front door!
Amongst the mouthwatering sights and smells of this traditional deli, you will find a carefully chosen selection of international fine wines alongside Scottish craft beers and ciders, artisan gins and spirits. The deli also stocks soft drinks, teas and freshly ground Glen Lyon coffee straight from the Highlands.
There is a daytime menu offering more than twenty different gourmet sandwiches on your choice of bread, as well as fresh salads. Gluten-free, vegetarian and vegan options are available. In the evening, the Scottish Deli transforms into a unique Spanish/Scottish tapas bar. Enjoy the relaxed, continental vibe as you are served delicious delicacies along with a glass of beer or wine.
---
Strathearn and West Perthshire
---
Goldfinch Gallery
Comrie
The Goldfinch Gallery Contemporary Arts Collective opened in the village of Comrie, west of Crieff, in 2019. This friendly and accessible gallery presents regularly changing exhibits to showcase the work of both new and established artists, some based within the village community, others from further afield.
The gallery collection is carefully curated and includes a wide range of media: glass, wood, painting, prints and photographs. Exhibitions, past and present, can now be viewed on the gallery website, where you can learn more about the artists, makers and designers.
You can also purchase items from the easy-to-navigate online shop. Vibrant paintings and affordable prints, gorgeous vintage jewellery, hand carved woodwork, unique sculptures, and clocks and lamps upcycled from salvaged materials all await discovery. A dessert spoon handmade from Scottish plum wood, a vintage découpage brooch, and original oil paintings are among the treasures here. Smaller purchases include greetings cards, journals and notebooks.
The Goldfinch Gallery is a great place to find a special gift for friends or family, supporting local creatives and home-grown talent at the same time. And if you're stuck at home? Brighten up your surroundings and feel inspired with a contemporary piece of art to adorn your walls.
---
Gordon & Durward
Crieff
Gordon and Durward are a Scottish institution, making sweeties using traditional methods for almost 100 years. Based in Crieff, this confectionary business has grown and grown, and now supplies sweets to retailers all over the country. Its tablet, fudge and macaroon recipes call for only the highest quality ingredients, and copper boilers help produce unrivalled flavours and textures, all created on site.
There is an incredible range of sweet treats on offer at Gordon & Durward. Whisky, clootie dumpling, and Hebridean salted caramel fudge. Vanilla macaroons, Drambuie truffles and Scottish butter tablet. Sugar mice and coconut ice.
The pastel shades of sugared almonds compete with the gold and silver of wrapped milk chocolates. There are tempting jars of soor plooms, toffee bon bons and mint humbugs. Your goodies are wrapped in a bag tied with red ribbon, or how about an indulgent hamper, stuffed with delights?
Gordon & Durward finds space for sugar-free options as well – sugar-free sherbet lemons, pear drops, bullseyes, and more. It also stocks Perthshire's Stewart Tower ice cream.
With a comprehensive online shop, you can browse at home for mouthwatering treats for yourself or the kids. Or relive childhood memories with a trip to this old-style sweet shop, and watch the confectioners at work.
---
Kinross and Loch Leven
---
Cashmere at Loch Leven
Kinross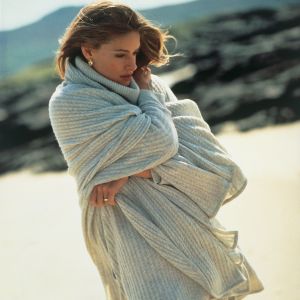 On the banks of Loch Leven in Kinross, this quality retailer of luxury clothing specialises in beautifully soft and stylish cashmere for men, women and children. Its cashmere yarn comes direct from the Todd & Duncan mill next door where yarn has been spun, coloured and crafted since 1897. It is then transformed into expertly tailored garments, knitted in the Scottish Borders.
Cashmere at Loch Leven offers a wide range of men's and ladies' knitwear; choose from crew neck, v neck, polo neck or cardigans. There are gorgeous accessories – including scarves, hats and gloves – sturdy outerwear, and children's clothing. Check out the summer dresses, sunglasses, socks and handbags. With competitive pricing and a regularly changing stock, you are sure to find your new wardrobe staples. The store also has a range of gifts, such as scented candles, diffusers, woven jute baskets and pretty vases, as well as cards and wrapping paper.
There is an in-store café serving light lunches, snacks and fabulous cakes. Perfect if you have worked up an appetite for a toasted sandwich and a salad, or a coffee and scone. Ingredients are sourced from local suppliers wherever possible.
---
Loch Leven's Larder
Kinross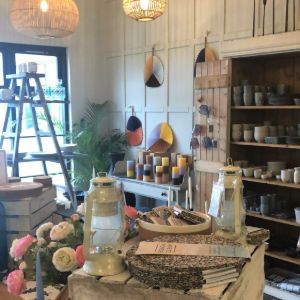 Loch Leven's Larder is a family farm, cafe, deli and retail shop located on the north side of the loch, just ten minutes from Kinross. Opened in 2005, produce is grown on the farm, prepared in the kitchen and then served in the café – fresh vegetables zipping direct from field to fork. In addition, Loch Leven's Larder champions suppliers in the local area and the rest of the country, celebrating fantastic products made in Scotland.
You can enjoy hearty breakfasts, seasonal soups with freshly baked bread, sandwiches, salads, baked potatoes and sides in the Larder Café, open seven days a week. There is an outdoor Canopy Café, fully covered and heated. Or if you're on your bike or on foot, circling the spectacular loch or exploring the surrounding countryside, make a quick stop at the takeaway Greenhouse Café. Here you will find hot and cold drinks, paninis, cakes and pastries.
A huge food hall and deli sell homemade food produced in the Larder kitchen, such as pies, quiche, fresh bread and patisserie. A cheese counter spotlights artisanal Scottish cheeses; the drinks cabinet holds gin, craft beer and cider from all over Scotland; and, of course, you don't want to miss the local fresh fruit and veg stall. The gift shop sells homewares, jewellery, books, toys, clothing, and much more. Discover local pottery and luxury organic toiletries. There is even Billy & Margot dog ice cream!
Finally, Loch Leven's Larder offers many of its staples online – order a veg box; loaves and scones from the in-house bakery; bacon, chicken and steak from the meat counter; and other essentials. You could even indulge in a romantic dine-at-home banquet for two, an afternoon tea, or a barbecue pack for sunny days in the garden.
---
by Rebecca
Kinross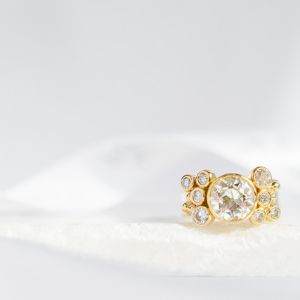 By Rebecca Jewellery specialises in creating a unique piece of jewellery to hold your story within. Based in Kinross, Rebecca creates personalised and bespoke jewellery worldwide.
The business has moved from its humble beginnings at the kitchen table to a local workshop studio, where Rebecca and her team hand-make jewellery on site for customers directly but also to shops that stock her jewellery across the UK.
By Rebecca Studios is a lovely destination to visit, a converted horse stable stone building now hosting a retail shop alongside her extensive workshop with a welcoming private consultation room for face to face meetings.
Alongside a comprehensive gifting selection of rings, necklaces, bracelets and earrings from the shop - Rebeccas unique RELOVED service is vastly becoming very popular where Rebecca remodels your inherited or unwanted jewellery into a more modern piece, holding your story within.
They also offer memorial, wedding and custom designs jewellery completely bespoke to you.
New for the end of 2023 and start of 2024 By Rebecca will be hosting jewellery making classes for the public.
---
Throughout Perthshire and Kinross-shire
---
---
Perthshire Creative Trail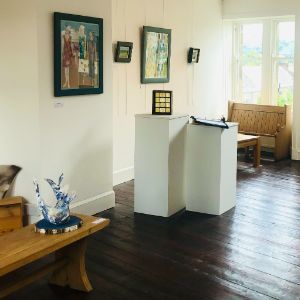 Perthshire Creative Trail runs throughout the year and includes 15 galleries and 32 artist studios throughout Perthshire and Kinross-shire.
At any time of year you can meet artists, visit galleries, and find walks, distilleries, and even coffee and cake!
Perthshire is special: there are the big trees and big views that it is famous for, but we also have a large, creative and vibrant community. Wherever you choose to go, you can meet the makers and see the inspiration behind their work.
The Trail is made possible with the support of Perth and Kinross Council, UNESCO City of Craft (Perth), VisitScotland, Perth Creative Exchange, Growbiz, Perthshire Artisans, and the team at The Quair and is organised by Perthshire Open Studios.