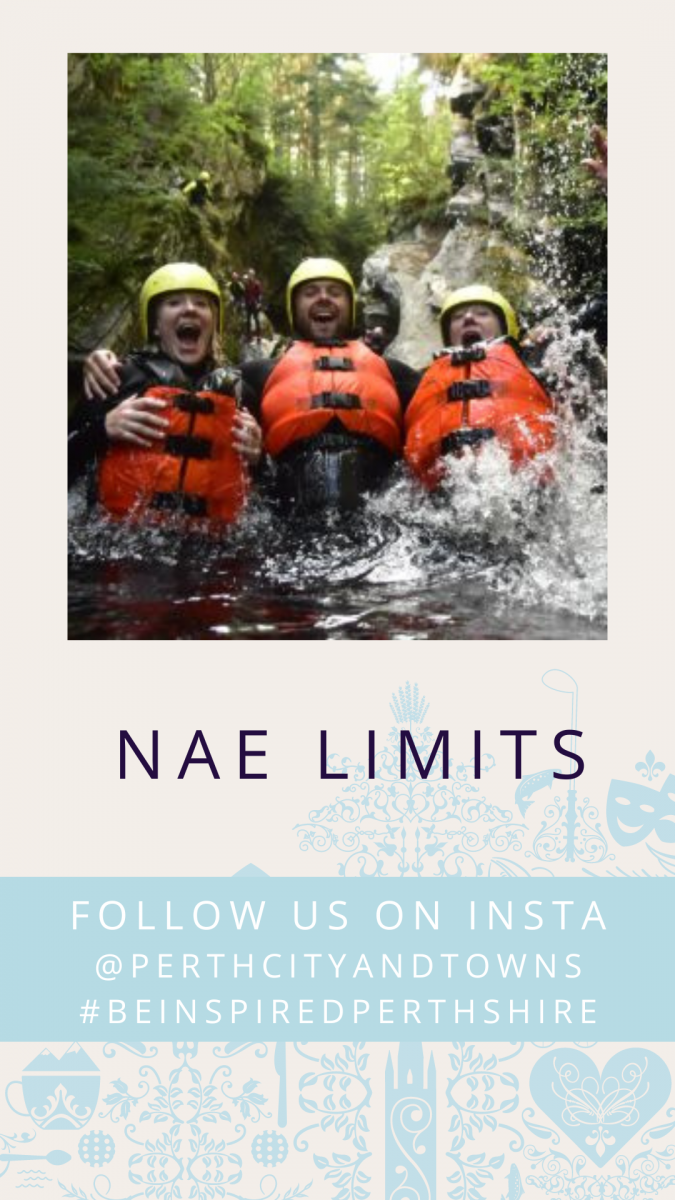 In the year designated Scotland's Year of Coasts and Waters, it seems only fitting to bring you a Be Inspired River and Lochs adventure.

When you think of Scotland's waters you surely go to rain or lochs. Now, while it's true that we enjoy a wee bit more rainfall than our European cousins, there's plenty of sunshine and snow across the year to balance it all out. And it is, of course, worth every drop when you're looking across the tranquil surroundings and calming atmosphere of our lush, green hillsides, majestic forests and floral verges.

Let your mind meander down our rivers and lochs though, and you will find an altogether more adventurous escape. The county of Perth and Kinross is home to 47 lochs and 16 rivers, all of which are surrounded by the most breathtaking scenery and magnificent landscapes.

This glorious combination makes us one of the best places in the world to enjoy watersports. Everyone from experienced thrill seekers to first-time waterbabies and families looking for fun will tell you that a water holiday in Perthshire is a thing of wonder and joy!

You don't need lots of experience and equipment as there are many businesses and instructors ready to ensure you have a fantastic time.

Remember to share all of your adventures and special river and loch experiences with us using #YCW2021 and #BeInspiredPerthshire.
Watersports in Perthshire
We've a fantastic choice of watersport providers in Perth and Kinross and we recommend anyone planning to join us on the river or lochs checks in with these experienced people for a safe, enjoyable and exhilarating time!
White Water Rafting
Is there anything more invigorating than crashing down the white waters of a majestic river? Whitewater rafting is a great way to start building confidence on the water, and the River Tay is considered one of Scotland's best rivers for beginners. Of course, we've a few more wild spots for the experienced people out there too!
SUP Paddleboarding
The big hit of 2021, this gloriously relaxing activity is becoming increasingly popular and is another ideal pastime for beginners. It's a great way to explore Perthshire's lochs and the slower-running stretches of river at your own pace. You'll find SUP and wetsuit hire available across the area.
Kayaking and Canoeing
Kayaking and canoeing offer a brilliant way to experience Perthshire and there are many fantastic tours out there on offer. From a gentle paddle along the Tay in Perth's city centre to a wildlife-packed adventure across the still waters of a loch, this is life from a new perspective.
Wild Swimming
There are many wonderful locations to enjoy a spot of wild swimming in Perthshire but we do recommend you research each in great detail and ensure you're aware of the risks before you jump in (https://www.wildswimming.co.uk/health-safety/). You'll also find open water swimming available at Willowgate, offering the freedom you crave in a safe environment.
---
Perth City Centre
---
River Tay Fishing (Scone Palace Estates)
Perth City Centre
Britain's largest river is renowned for its Atlantic salmon fishing, attracting fishermen from far afield with its 'big fish' reputation. It is the home of the biggest-ever rod-caught salmon which was caught in 1922 weighing a mighty 64lbs.
Maintaining consistent loch-fed water levels, the River Tay is fishable during dry summers and following heavy rainfall. It passes through some of Scotland's most picturesque countryside including the gently rolling farmland adjacent to Scone Palace Estates near Perth.
Scone Estates offers more than six miles of superb fishing on the lower stretches of the Tay between Luncarty and Perth. The Fishponds beat has 20 pools and excellent fly fishing on both banks, as well as a purpose-built fishing bothy with wi-fi, wood-burning stove, kitchen and showering facilities. The Waulkmill Beat includes 22 pools which offer a wide variety of fishing, and two well-maintained fishing huts. To book the Waulkmill Beat contact the Estate by email [email protected] and to book Fishponds visit www.fishpondsfishing.com.
Scone Estates provides you with the services of an experienced ghillie and a boat with an outboard motor (this is avaliable only for double bank fishing dates). Catering for your day out on the water is available from the Scone Palace kitchens, using produce fresh from its own kitchen garden – enjoy a luxury hamper of hot or cold dishes, with dessert and fruit.
• Nearest town: Perth
• Opening hours: 9am to 5pm, Monday to Saturday.
---
Willowgate Activity Centre
Perth City Centre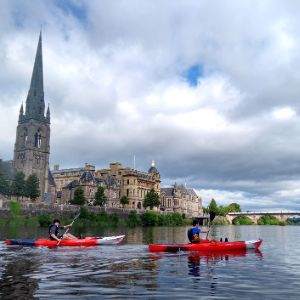 Only a stone's throw from Perth city centre, Willowgate Activity Centre is a hub of outdoor adventure delivering stand up paddleboarding, kayaking, raft building, acqua zorbing, open-water swimming, bike hire, archery, bushcraft, and more. Open all year round, Willowgate offers individual, team-building, and family fun on water and on land.
Take the plunge in the Willowgate lagoon with open-water swimming – recommended for optimal physical and mental health, all you need is your swimsuit and swimming cap, and a sense of adventure. You might fancy acqua zorbing – walk on water in a large inflatable sphere for fast and furious fun. Or perhaps you would rather savour a peaceful moment canoeing along the River Tay. Absorb the stunning views and spot local wildlife as you travel upstream to the heart of Perth or downstream towards Dundee.
Challenge your crew to build a raft – see if you can successfully stay afloat, and Willowgate will have your barbecue waiting for you when you come off (or out of … ) the water. There are also Adventure Days available for young people (aged seven to fifteen) where awesomeness abounds and your child is returned to you with a smile on their face – and quite possibly some dirt there too.
Finally, don't miss the award-winning Willowgate café, serving delectable home-baking, soups, sandwiches and hot drinks.
• Nearest town: Perth
• Opening hours: 9am to 5pm every day
---
Perth City Tours
Perth City Centre
Perth City Tours launched in 2019 with a desire to showcase the many attractions of this ancient Scottish capital. Situated on the banks of the longest river in Scotland, the 'fair city' is proud of its history, culture and stunning scenery. Perth City Tours aims to explore its historical sites and hidden gems in an innovative way, through guided history walks, river kayak tours and wildlife safaris all year round.
Go back in time on a guided history walk, as stories and legends of the past are brought to life by your expert guide. Visit the must-see points of interest in the city, and uncover what stood here in days gone by.
The guided river tour celebrates the beating heart of the city – the River Tay – its waters abundant with wildlife and its banks dotted with walkers and cyclists. Spend two and a half hours aboard a kayak, gently cruising along the river and benefitting from this unique vantage point to discover the city's best-kept secrets, including haunts of the Romans and the Vikings, not easily accessible by car or on foot. This is a tour suitable for everyone – don't worry, your feet will stay dry!
Or explore the wilder side of Perth, on a guided wildlife safari. Learn about the habits and habitats of otters, kingfishers, herons, seals and osprey. And, of course, keep a sharp lookout for Perth's newest residents – the beavers! It's the first UK city to see urban beavers for hundreds of years.
• Nearest town: Perth
• Opening hours: Always open
---
Highland and North Perthshire
---
Pitlochry Boating Station & Adventure Hire
Pitlochry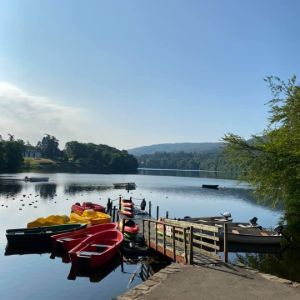 On the banks of Loch Faskally, less than two miles from Pitlochry, this boating station and adventure centre offers a wide range of outdoor activities to suit the whole family. The loch is a man-made reservoir, popular with anglers for its plentiful salmon and, situated in a sheltered valley between wooded mountains, makes a scenic spot for a day out.
The boating station will equip you to make the most of your time here, you just need to decide how to spend your day – mountain biking, paddleboarding, rowing, kayaking or fishing from the loch or shore.
An electric mountain bike will optimise your pedal power, easing your progress along the many trails around the loch and through the surrounding woodland. Kayak hire from the boating station is suitable for everyone with the option of a Malibu XL, which enables children to share with an adult. Or give stand-up paddleboarding a shot – it's a rewarding way to get out on the water and straightforward to learn – begin with an hour's taster session, or make a full day of it.
And finally, with thousands of salmon passing through the loch every year, as well as good numbers of brown trout, pike and perch, Loch Faskally provides some of the best fishing in the area. You can hire a fishing boat with outboard engine and fishing rod holders from the boating station, along with life jackets and fishing permits. Bring your own fishing equipment, or simply hire whatever you need.
• Nearest town: Pitlochry
• Opening hours: 8.30am to 5pm, closed Tuesdays
---
Free Spirits Outdoor Activities Scotland
Pitlochry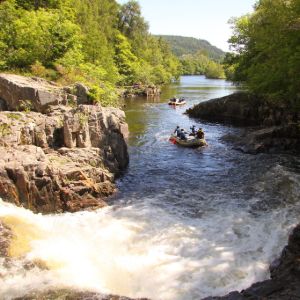 Free Spirits is Scotland's longest-running outdoor activity provider, specialising in white water rafting excursions and a host of other adventure sports. With headquarters by the River Tay in the village of Grandtully, about three miles from Pitlochry, Free Spirits invites you to get your blood pumping with a new challenge and set your spirit of adventure free.
White water rafting with Free Spirits takes you along some of Perthshire's most beautiful rivers in a purpose-built inflatable raft. You can select a route according to its grade of difficulty, from a gentle family-friendly run to something wilder and wetter! With your raft helmed by a highly experienced guide, you will be in safe hands all the way.
Free Spirits also offers canyoning, where you descend a local canyon with natural rock slides, waterfalls and plunge pools. You can hire a double or single kayak to explore Loch Tay, or how about cliff jumping – it's pretty much what it says on the tin – jump off a cliff, into water. Try bungee jumping, or abseiling … Free Spirits really is an adrenalin-junkie's dream.
Package deals incorporate more than one activity to keep you on the go all day, and teambuilding programmes are designed to get a group working effectively together. Stag and hen groups are welcome for an action-packed weekend.
• Nearest town: Pitlochry
• Opening hours: 9am to 5pm every day
---
Unique Adventure Tours Scotland
Aberfeldy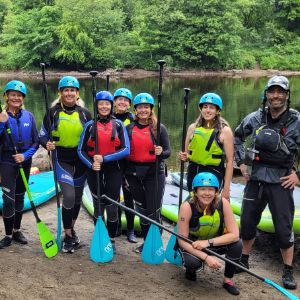 Unique Adventure Tours Scotland provides bespoke tour packages that incorporate everything you need – transport, activities, and hospitality – into a tour designed especially for you.
It's all about flexibility and personal taste as you create your own holiday itinerary with guidance and inspiration from Unique Adventure Tours who will help you experience the absolute best that Scotland has to offer. Begin by checking out some of the single or multi-day trip curated by the company which you can adapt to suit your own timescales and preferences.
The canyoning adventure day tour takes you on an exploration of Perthshire's canyons and gorges, with a wide selection of canyoning adventures to suit all levels.
The waterfalls, woodlands, and lochside walking tour includes some of Perthshire's most dramatic scenery and enchanting nature trails.
Paddleboarding, Zip-wire, and a whole host of other adventure activities are available to book directly online to fill your visit with adventure. Every Unique Adventure Tour can be adapted to your requirements – choose your starting point, duration, and activity combinations.
With luxury local add-ons and your own private guide, your tour will truly be one-of-a-kind.
• Nearest town: Aberfeldy
• Opening hours: 8am to 8pm every day (9am to 8pm on Sunday)
---
Nae Limits
Pitlochry
A short drive south of Pitlochry, this award-winning adventure centre is handily located just off the A9 in the village of Ballinluig. By the banks of the River Tummel, Nae Limits invites you to step out of your comfort zone and experience the buzz of its thrilling water and land adventure activities.
There are adventure experiences available here all year round, for all ages. White water rafting is popular with families; in the summer even children as young as six can float and paddle a scenic six-mile stretch of the River Tay. The more experienced might like to try the tumbling rapids, narrow shoots and two-tier waterfalls of the River Tummel.
As Scotland's only tubing provider, Nae Limits gives those with confidence in the water the opportunity to navigate a tight and technical section of the River Tummel, finishing with some optional cliff jumping. You will get wet – guaranteed!
Gorge walking will take you through a natural water playground – great fun for all ages and abilities with trips adapted to suit each group. Or try canyoning, with a range of exciting routes to choose from. You can skid through fields and forests on an all-terrain quad bike, or take a shot at clay pigeon shooting. With half or full-day options, activity and accommodation packages, and gift experience vouchers, there really are nae limits to what you can do.
• Nearest town: Pitlochry
• Opening hours: 9.30am to 4.30pm every day
---
Splash White Water Rafting
Aberfeldy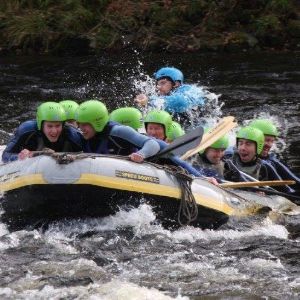 Since 1996, Splash has been giving adventure-seekers something to talk about with their varied offering of outdoor activities. Choose from white water rafting, canyoning, river duckies, river bugging, paddleboarding, abseiling or paintballing – then strap in and get ready for the ride!
From its base in Aberfeldy, Splash will find you some of the best white water rafting around and includes free professional photography on every trip. Splash's fully trained and experienced guides will escort your raft along the gentle waters of the River Tay, take you down the beautiful but yet full on river Tummel to the mighty River Orchy in the west.
For something quite different, look to Splash for river bugging. Perfectly suited to the fun and fearless, you sit in a one-person craft, not unlike an inflatable armchair, and negotiate your own path down the rapids! Ideal for a group of friends, with Splash holding the largest fleet of river bugs in the UK. Or try a river duckie, a two-person inflatable designed for white water rapids which also leaves you in control of your own journey – but don't worry, your Splash guide is always close at hand.
Splash can arrange accommodation in Perthshire to go along with their adventure activities, and welcomes groups including stag and hen parties. There are also Splash gift vouchers ranging from a half or full-day experience voucher.
• Nearest town: Aberfeldy
• Opening hours: 9am to 9pm daily
---
The Rafting Company
Pitlochry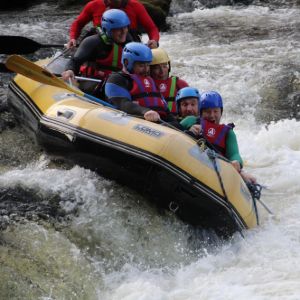 The Rafting Company in Grandtully near Pitlochry is owned, managed and staffed by a team of experienced river guides, passionate about giving their customers the experience of their lives. From introductory rafting trips to white-knuckle thrill rides, there are options for beginners, regular rafters, families and groups.
Scotland's longest river, the Tay, provides a straightforward, scenic route for those just starting out, but includes some sections of rapids, before you get too relaxed! Safety is of paramount importance at The Rafting Company, and you will receive a full safety briefing and paddling instructions at the start of your trip. Changing rooms and hot showers are available as soon as you leave the water.
The River Tummel is dam-controlled with guaranteed water releases ensuring an exciting, technical ride – consistently grade III with a grade IV double-drop waterfall. Navigating this narrow and rocky waterway is for those aged 16 and over. Groups have the option to raft on other rivers all around Scotland, just call to discuss your preferred location and requirements.
The Rafting Company also offers canyoning at Scotland's original canyoning gorge, Allt a'Bhealaich, near Kenmore, with jumps and scrambling, sliding on natural water flumes, and rope lowers over the waterfall. All specialist equipment is provided. Or how about quad bike trekking in the hills overlooking Loch Tay? No prior experience is necessary to hurtle along the off-road tracks over a mix of terrain.
If you're having trouble deciding what to do, try a Rafting Company combo package – you can book two or even three activities together to receive a discounted price, and an unforgettable experience.
• Nearest town: Pitlochry
• Opening hours: 8am to 8pm every day
---
Blairgowrie and East Perthshire
---
Ledcrieff Trout Fishery
Blairgowrie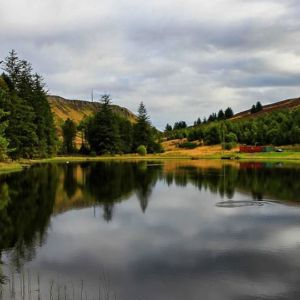 Nestled in the Sidlaw Hills between Dundee and Blairgowrie, Ledcrieff Trout Fishery manages both Ledcrieff and Lairds Loch. Anglers come here from all over the country to fish their crystal-clear waters, which offer boat and bank fishing, secluded amongst rolling hills and pine woodland.
Ledcrieff – or the 'Brochan Loch' – is a six-acre fly-fishing only loch. The fishery uses local suppliers to stock the loch two to three times a month with hard-fighting rainbow, brown, brook, tiger and blue trout of a range of sizes. These combine with a large head of overwintered and wild fish for an exciting day's fishing. Catch and release with barbless hooks applies to all fish except rainbow trout, and Loch Ledcrieff also provides excellent top of the water sport throughout the year.
Lairds Loch offers 10 acres of coarse fishing, its waters teeming with carp, bream, tench, roach and perch. These fish have been in the loch for around 30 years, and visitors enjoy catching a good size and quantity. Lairds also has a healthy natural stock of wild brown trout averaging 12oz to 1lb with some specimens even larger.
These peaceful, scenic lochs are open all year round, except when under ice in winter. Please book in advance; anglers under 12 years old must be accompanied by an adult.
• Nearest town: Blairgowrie
• Opening hours: 8am until dark
---
Kinross and Loch Leven
---
Loch Leven Fisheries
Kinross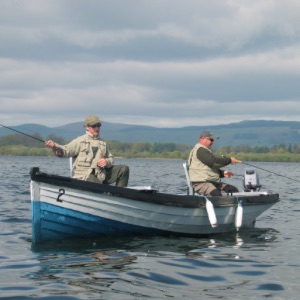 Freshwater Loch Leven is a renowned National Nature Reserve, famous for its historical interest, scenic views, and abundant wildlife. Popular with anglers, its shallow, nutrient-rich waters are also home to a unique strain of brown trout – Salmo Levenensis – which has been used to stock rivers and lakes all over the world. Significant improvements in water quality over recent years have resulted in trout of superb quality and above-average weight. The pike population is also now flourishing.

Fishing here, both for brown trout or pike, is under the management of Loch Leven Fisheries, situated on the banks of the loch, south-east of Kinross. Bank fishing is not permitted but the fishery operates a fleet of modern, fibre-glass boats with outboard motors facilitating your movement across this huge body of water.

You can hire boats for the day or evening and the fishery also hires out rods, reels, lines, flies and landing nets. Brown trout under 11 inches should be returned to the loch, otherwise you are free to take a small number of fish 'for the pot' – wild Loch Leven brown trout is delicious!

The fly-fishing brown trout season at Loch Leven lasts from the end of March through to early October. Fishing for pike is permitted all year round.

The fishery provides ample parking. Post code KY13 8UF.

• Nearest town: Kinross
• Opening hours: 9am until dark
---
Loch Leven Heritage Trail
Kinross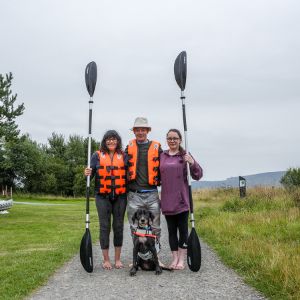 Loch Leven is the largest natural shallow water body in lowland Britain, steeped in history, awash with stunning scenery and richly populated with birds, animals and plantlife. The loch enjoys a convenient location, easily accessible across central Scotland and within an hour's drive of Edinburgh, Glasgow and Perth.
The Loch Leven Heritage Trail is one of the best ways to appreciate the incredible biodiversity of this protected area and the glorious views across the water. Following a circular route of 13 miles (21km) around the loch, the path is clear and level, suitable for walkers of all ages and abilities, as well as cyclists, buggies, and wheelchair users.
Walking through woods and marshlands by the edge of the loch, you share this space with myriad waterfowl: the largest nesting duck colony in the UK, thousands of migratory geese and swans in the autumn and winter and ospreys in summer. Pause at a wildlife hide to see what you might find.
Café stops are available along your way, at Loch Leven's Larder or the RSPB coffee cabin. Begin your walk at Kirkgate Park, where there is extensive parking, toilets and an excellent children's play area.
Nearest town: Kinross
Opening hours: Always open
Photo credit: @RossMitchell
---
What Makes Scotland's Lochs So Special?
Loch is the Scottish-Gaelic word for a body of water surrounded by land.
While it's fair to say that our lochs are the equivalent of other countries' lakes, you must bear in mind that we also call fjords lochs. A fjord is formed when a glacier retreats and carves out a U-shaped valley that fills with seawater to form a steep sided inlet. Both fjords and freshwater lakes are classified as Scottish lochs.
There are thousands of lochs of all shapes and sizes spanning the length and breadth of Scotland, thanks to the vast sheets of ice that gave way to multiple glaciers in the last ice age. These glaciers gouged out our beautiful landscape, leaving behind the natural beauty of hills, mountains and waters that visitors from around the world flock to see each and every year.
---