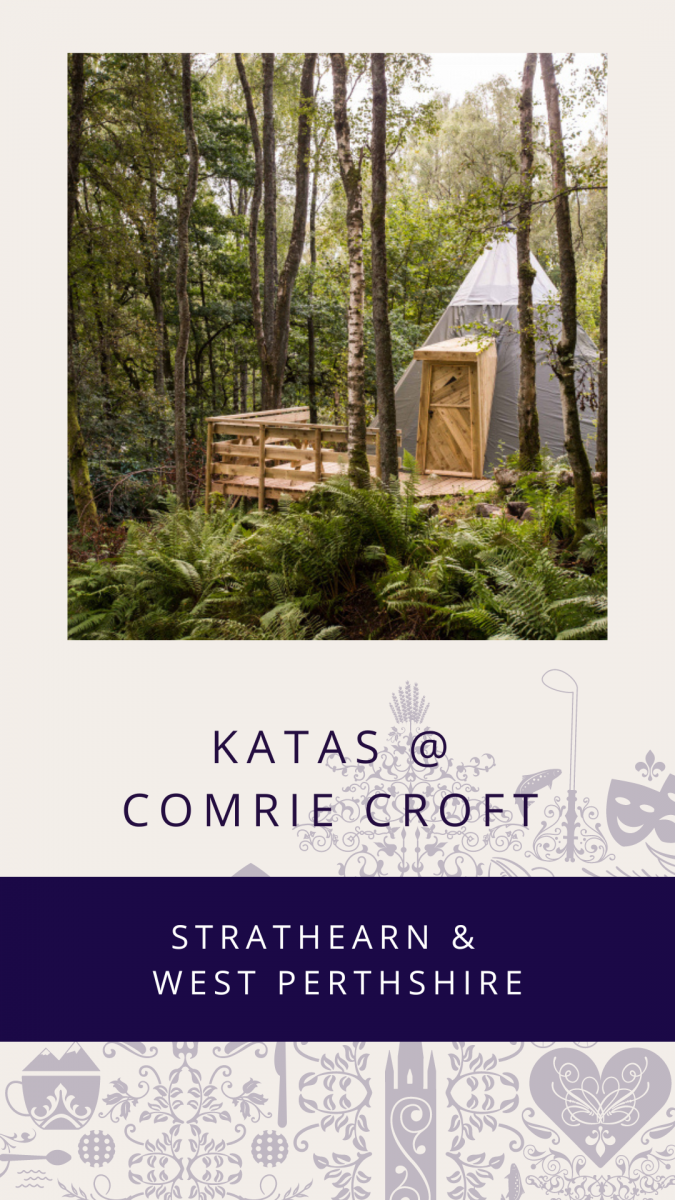 Strathearn is named after the beautiful river valley of the River Earn, and stretches from Loch Earn in the west of Perthshire to the River Tay in the east, enjoying an incredible location within the stunning Perthshire countryside. Its easy access to the mountains and glens makes it a hugely popular destination with outdoor enthusiasts and, of course, golfers.
Strathearn hosts some of the region's most interesting small galleries, arts spaces and spas. From its riverside walks to its beautiful parks and gardens, visitors are really spoilt for choice.
From castles to WW2 camps, whisky to wildlife, Strathearn is an area that is well worth a visit, jam-packed full of history, adventure and action!
You'll see that we've linked you straight to the individual attraction websites - or social media pages - and we would advise you to check opening hours before you travel.
---
Auchingarrich Wildlife and Adventure Park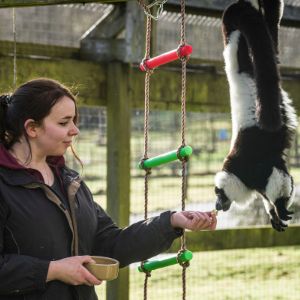 Just outside the village of Comrie, seven miles west of Crieff, you will find Auchingarrich Wildlife and Adventure Park nestled among the beautiful Perthshire hills.
With forty different animal species to meet and greet, an enormous indoor and outdoor play areas, mini golf or the ride-on tractors, and the Dizzy Duck Cafe offering a variety of freshly prepared meals, snacks, and drinks, Auchingarrich makes for a jam-packed family day out.
Auchingarrich offer 4 hour Zoo Keeper Experiences, where you can help out with the daily routines and learn all about the animal residents, and 30 minute animal experiences where you can feed exciting species such as the White Ruffed Lemur, or the Parma Wallabies.
---
Comrie Croft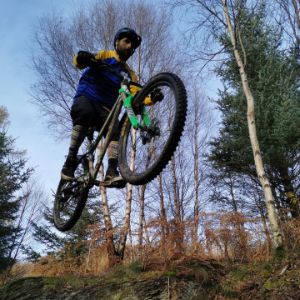 Situated in beautiful Strathearn between Comrie and Crieff, and spanning 230 acres of Perthshire countryside, Comrie Croft offers up a chilled, nature-led, adventure experience unlike any other.
Camp, glamp, bike, eat, walk – you can even get married if you like!
Comrie Croft's unique Kata tents are the ultimate wild camping experience – without any of the hardship! Drift off to sleep to the sound of the deer and owls outside, all tucked up in a sturdy Kata. The Katas are set in open birch woodland around 1-2 minutes' walk from the deli, café, and toilets.
Fast becoming the mountain biking and hiking destination for Perthshire and beyond with 87+ km of beautiful walks and bike routes in the Crieff - Comrie paths network, you can hire bikes from Comrie Croft Bikes and also have an amazing free fun on the mountain bike skills park and pump track.
---
Crieff Visitor Centre
Crieff Visitor Centre is set in the heart of the Strathearn countryside on the outskirts of Crieff, Perthshire. It is easily accessible from all directions and has extensive free parking.
As the home of world-renowned Caithness Glass, visitors can enjoy watching the skilled craftsmen at work, before meandering around our retail areas - Gift Shop, Caithness Glass Shop, Art and Collectables and Garden Centre.
Discover the origins, as well as the life and times of the Highland Drovers who walked their cattle from all parts of Highland Scotland to the Great Tryst in Crieff during the 18th and early 19th centuries. Admission to this exhibition is free.
You will also receive a warm welcome in their spacious, family-friendly Restaurant. Using the best local produce, their extensive menu offers great value for money whether you're looking for breakfast, lunch or coffee and cake.
---
Cultybraggan Camp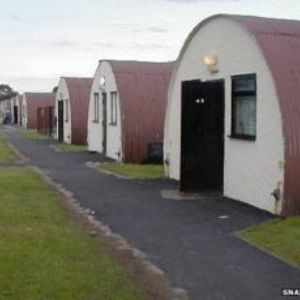 Cultybraggan Camp sits below the Aberuchill hills, a mile from the village of Comrie, and has been denoted by Historic Scotland as a Unique Heritage Asset of International Value. The last remaining WW2 prisoner of war camp in Scotland, it was built in 1941 to house up to 4,000 prisoners and was known as the 'Black Camp of the North', with a notoriously tough reputation.
The camp comprises a guards' compound, recreation ground, and prisoners' compounds divided by a network of roads, along with a secure accommodation block retaining its original cell doors. The camp's preservation provides an important historical record of the ways in which prisoners of war were detained during WW2; it even features a cartoon collection – 66 pictures drawn by an inmate in 1944/45.
Cultybraggan was disbanded as a POW camp in 1947 and was subsequently used as a military training camp. Now open to the public, visitors can learn more about its history through an informative exhibition and audio-visuals, as well as a recreation of prisoner accommodation. You can also see how the camp is being used today by local businesses and the Comrie community whilst it is protected for future generations.
---
Drummond Castle Gardens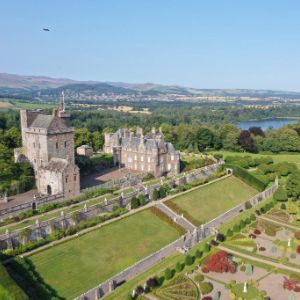 Drummond Castle gardens date back to the 1600s. Here you'll find an abundance of beautiful flowers and hedges with amazing views of the surrounding scenery and the castle (which is not open to the public but provides an incredible backdrop!)
Regarded as not only one of Scotland's but one of Europe's most impressive formal gardens, Drummond Castle Gardens are a must-see for anyone visiting the Crieff area!
It is little wonder the gardens have featured many times on television – most notably in the film Rob Roy and the series Outlander.
The castle and gardens are set on part of a prominent spine of rock known as the Gask Ridge. The castle's gardens are described as "the best example of formal terraced gardens in the country" by Historic Scotland.
Open Season is from 1st May – 31st October, with a Charity Open Day Event held on the first Sunday of August each year.
---
The Glenturret Distillery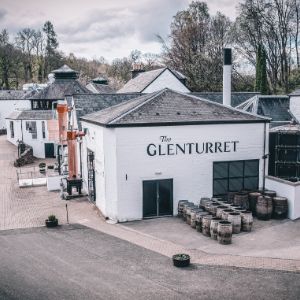 Scotland's Oldest Working Distillery has been handcrafting single malt whisky deep in the Perthshire countryside since 1763. Just north of Crieff on the banks of the Turret burn, The Glenturret Distillery marries timeless methods of whisky-making with a modern visitors' centre, The Lalique Boutique, and a one MICHELIN-starred fine-dining Lalique restaurant.

Visitors are welcome to take a tour around The Glenturret Distillery and learn about its fascinating history and traditional, small-batch whisky-making process. The distillery's "by Hand and Heart" approach to each stage of crafting its single malt, contributes to The Glenturret whisky's distinctive fruity characteristics.

You can also visit the Lalique Bar for a curated whisky-tasting flight daily, or bar lunch Wednesday to Saturday. The Glenturret Distillery shop stocks its latest single malt releases, plus a range of spirits, wines and handmade Scottish gifts.
---
Action Glen | Crieff Hydro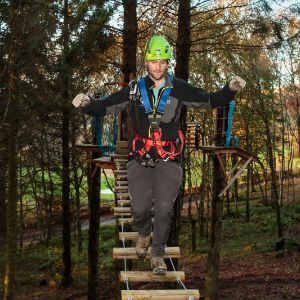 Head to Action Glen for a climb and clamber, hide and seek and thrilling zip lines and slides. Jump on a giant pillow. Get tangled up in a spider's web and get lost in a game of hide and seek in Glen's Fort. Whizz over to Basecamp to refuel on our selection of light bites and lunchtime favourites.
Playtime at the Adventure Park no longer needs to be booked - just turn up and play!
THRILLS AND SPILLS OR TOTAL CHILL?
You can of course, have it all. There's a reason they call it the great outdoors! Soar high above the treetops at Aloft!, get down and dirty on a quad bike racing through Action Glen, zip up hills stand up style on our EZ Raiders or go ready-aim-fire at our air rifle range. Looking for a slower pace? Practice your swing on their 9-hole golf course, while away the hours on the river bank, fishing rod in hand or take in those majestic views of the 900-acre estate on a leisurely horse riding hack.
---
Innerpeffray Library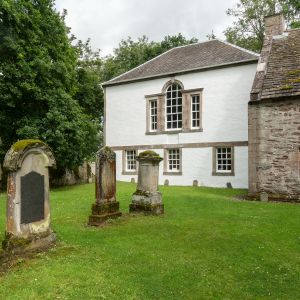 In a tranquil spot on the banks of the River Earn, turn back the pages of history with a visit to the Library of Innerpeffray. David Drummond, 3rd Lord Madderty of Perthshire, founded the library in 1680 making his own precious collection of books available to the public free of charge, and created a fund to pay for their maintenance. He envisaged reading and learning being attainable by ordinary, working people, and so Scotland's first free public lending library was born.
Innerpeffray holds one of Europe's oldest surviving examples of a borrowers' register, a fascinating record of those taking out a library book between 1747 and 1968.
It's advisable to book your visit to the library in advance online, and visitors can enjoy a range of self-service hot or cold drinks in the pop-up café situated in the adjacent Victorian schoolroom. The library also holds events throughout the year: exhibitions, children's storytelling, readings by local authors and poets, music recitals and much more.
---
MacRosty Park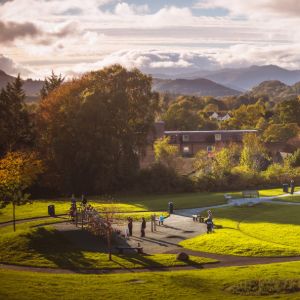 MacRosty Park is situated on the west side of the Perthshire town of Crieff and features woodland, children's play areas, a path network with easy going walks, and a Victorian bandstand.
This Woodland Park is home to an impressive collection of mature trees, including Douglas fir and Noble Fir. Other significant species include Lawson cypress, Norway spruce, Corsican pine and cedar.
The park is an ideal location for a family day out, as it includes an excellent path network which leads to a Victorian bandstand. The fast flowing Turret Burn also runs through the park.
---
Of course, there is so much more to see and do in this fantastic town and we recommend you visit the local website for more info.