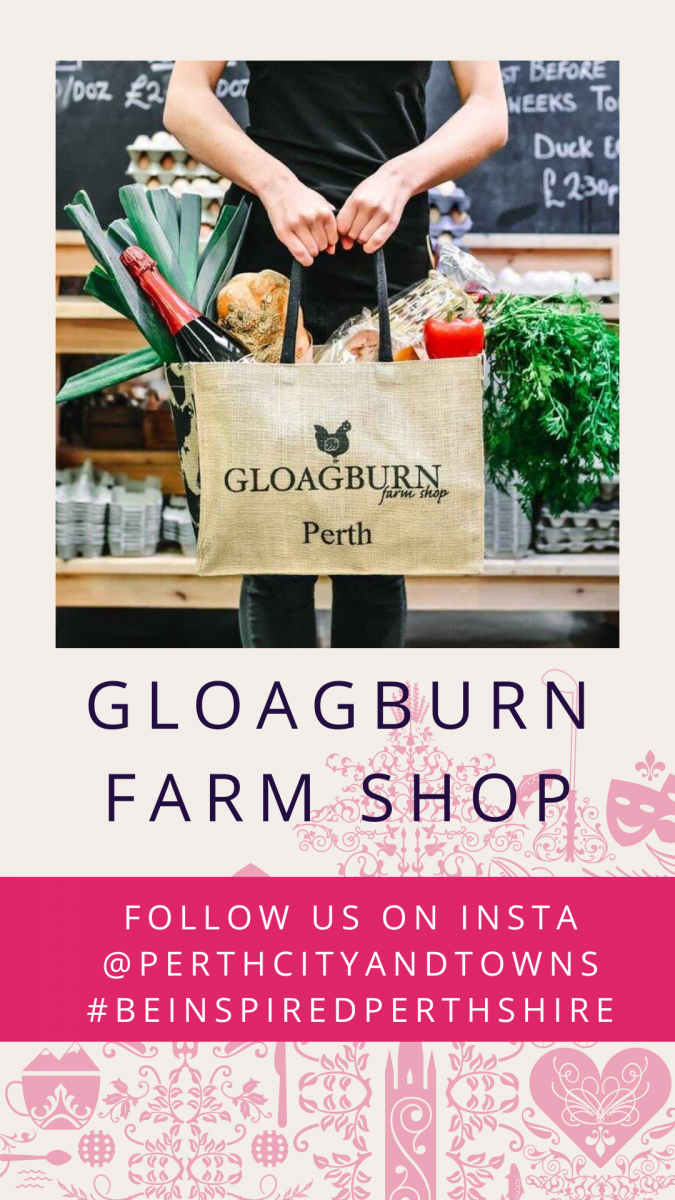 One of our favourite ways to spend an afternoon – or morning or whole weekend – the farm shops and delis of Perthshire are as varied as they are plentiful. Perth was home to the very first farmers' market in Scotland, in April 1999, and from this small co-operative of local farmers, a region brimming with artisan producers, farm shops, delis and food halls emerged.
As you'd expect, the farm shops on our list are all situated on working farms and many started as a way to sell their own produce direct to the consumer. From here, they grew to stock other farms' produce and eventually, extras such as cafes and butcher shops became the norm for many.
With its rich agricultural land, Perthshire itself is home to hundreds of award-winning food and drink producers. From traditional produce such as Scotch beef and lamb, to seasonal favourites such as berries and asparagus, it is easy to see why we are known as Scotland's larder.
Other local favourites include cheese, honey, rapeseed oils, bread, eggs, beers and more. Of course, the explosion in gin worked a treat in a county awash with distilleries and many of Scotland's favourite tipples are made and sold right here.
This ethos of sourcing directly from the producer extends out and into the wider world when it comes to our delis and food halls. Speciality ingredients from across the globe can be found sitting alongside our Perth gin and cheese from Crieff. The promise is the same; made with love and sold with care to all who choose to look further than the supermarket shelves.
Reasons for Choosing a Farm Shop or Speciality Deli
It cuts down on food miles. Would you rather eat a strawberry from 20 miles down the road or 2000 miles across the planet? Not only is this good for the environment, cutting down on Co2 emissions and fuel, but it also ensures freshness and quality, with shorter time from field to fork.
It offers provenance to consumers. All good farm shops and delis will be able to tell you exactly where the food you're buying comes from. Some will know the farmer's name – some may even know the hen who laid the egg! In a world where fake food is finding a way through, isn't it reassuring to know this choice exists?
It broadens the food chain. If we allow only the large, multinationals to feed our families, we become wholly dependent on mass produced, factory food. By offering an outlet to small artisan producers, homebakers, creative cooks and local farmers we can ensure more choice for all.
It ensures a fair price for the farmers and producers. Although we all want to be able to purchase food at reasonable prices, we must also ensure that farmers, growers and producers are paid a fair price for their products.
Good for the local economy. From the staff employed directly in the shop to the people working on the farms, in the kitchens and as primary producers elsewhere, farm shops and delis support many local businesses and jobs by stocking their produce.
---
Perth City Centre
---
Provender Brown Delicatessen
Perth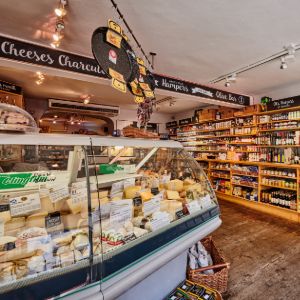 Provender Brown is an award-winning, independent delicatessen and cheesemonger located in the heart of Perth. Owned and run by Diane Brown and her trusty team of experienced foodies, you will find passion, enthusiasm and knowledge flowing like the fine wines they sell.
Their beautiful shop on George Street is a food-lover's dream, brimming with the very best in Scottish, British and International produce and now, you can buy all of it on their online deli shop. Their cheese counter alone is a thing of wonder and they are the go-to expert stockist of over 100 Scottish gins. You'll also find everything from Italian olive oil to Scottish strawberry jam, decadent Champagne truffles to authentic pasta sauces.
Nearest Town: Perth
Opening Hours: 9am-5pm, Monday to Saturday
---
Gloagburn Farm Shop
Tibbermore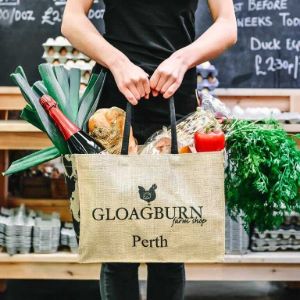 Twenty minutes from Perth, just beyond the village of Tibbermore, third-generation farmers Ian and Alison Niven own and manage Gloagburn Farm Shop. With shelves packed full of fresh, Scottish foodstuffs, the backbone of the shop is the produce from Gloagburn's own farm and kitchen: its traditionally raised beef and pork, free-range eggs, oatmeal, homebaking and preserves.
Try the award-winning Gloagburn oatcakes, baked in-house using oats grown on the farm. Or handmade smoked haddock, leek and cheddar tart. You could take home a chicken, cider and gammon pie or a beef lasagne to heat for your evening meal, an indulgent afternoon tea box, or a whole freshly made raspberry and white chocolate cheesecake.
The deli counter showcases delicious Scottish and continental cheeses, pâtés, and freshly prepared salads. The butchery stocks Gloagburn steak mince, organic chicken and hand-linked pork sausages; wild venison, Stornoway black pudding and pigs in blankets. Fruit and vegetables come from Gloagburn's fields and other local producers, with food miles minimised. And don't forget the well-stocked drinks cabinet where you can find French rosé, Persie citrus gin hand-crafted in Perthshire, or freshly squeezed fruit juice, to name but a few.
Food and drink can be bought in the shop, or simply order online.
Nearest town: Perth
Opening hours: 8.30am-5pm, every day
---
Highland and North Perthshire
---
Stewart Tower Dairy Ice Cream Parlour and Farm Shop
Stanley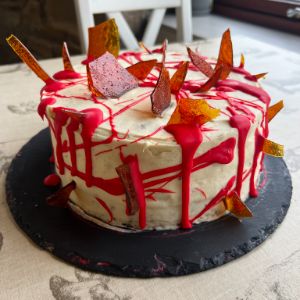 Dairy cows are the backbone of the whole operation at Stewart Tower, a farm shop and deli with it's own ice cream parlour, which sits just a mile off the A9 near Stanley.
Stewart Tower Dairy make wonderful gelato style dairy ice cream, and fruit ices, on their farm in the heart of beautiful Perthshire. You can't get fresher than that!
You can visit their ice cream parlour, have something to eat in the Roundhouse Cafe and pick up something special in the farm shop.
The cafe offer a range of tasty breakfasts, light lunches and home baking prepared in their kitchen using as many locally sourced seasonal ingredients as they can.
Their popular farm shop stocks a wide range of artisan and independently created products including locally sourced fruit and vegetables, fresh local butcher meat, well stocked cheese deli-counter with Scottish and European favourites.
You can pick up ready meals, freshly baked bread, cakes and biscuits which are straight from their own kitchen!
They also supply a range of cooking ingredients, giftware and cards, and homeware.
Ice cream is available in a range flavours to scoff immediately, or take home for later!
Nearest town: Stanley
Opening hours: Open 7 days a week 9.30am - 4.30pm. Breakfast is served 9.30 – 11.30 and lunch 11.30 – 4.30. Booking is not essential.
---
Thyme Deli at Errichel
Aberfeldy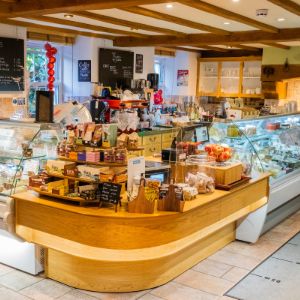 A working hill farm situated just outside Aberfeldy, Errichel is passionate about great food, great service, conserving the environment and raising rare-breed native animals. In Errichel's oak-beamed farmhouse kitchen, the 'Thyme Deli' has become a favourite foodie haunt with a fabulous range of homemade, local and Scottish produce.
The animals at Errichel live free-range in a non-intensive farming environment. Across 200 acres, there are Shetland cattle for top quality beef, Shetland sheep for their beautiful fleece and lamb meat, large black pigs for pork, ham and sausages, and poultry providing duck, hen and goose eggs.
The Thyme Deli stocks a variety of cheeses, tempting deli meats and a selection of luxury hand-made frozen ready meals. Try a sample from the cheese counter offering hidden gems such as 'Wee Comrie' from Strathearn Dairy and St Andrews mature cheddar. The deli counter will brighten your day with Kalamata olives, stuffed Pequino peppers and Errichel's own homemade hummus and baba ganoush. Pre-prepared meals include traditional, oriental and Mediterranean dishes, all made using the very best ingredients and no artificial additives.
In addition, the farm can boast an award-winning array of homemade jams and preserves including its fragrant blackberry jam, made with Blairgowrie blackberries picked at the height of the season for maximum flavour and sweetness, and a kumquat and chilli chutney with lovely fresh citrus notes, made in small batches on site and dont forget their Chef-prepared frozen ready meals with options from Perthshire Beef Lasagne to Venison Tagine and South African favourite Bobotie.
Thyme Bistro is on site, serving Breakfast, Brunch and Lunch coffee, cakes and ice creams all day. (Kitchen closed on Wednesdays and Thursdays).
You can shop at Errichel's Thyme Deli in person or online, and don't miss their hamper service for a special occasion or gift (is it too soon to whisper …. Christmas?)
Nearest town: Aberfeldy
Opening hours: Open 7 days a week 9am - 5pm (Please check website for Winter hours)
---
The Scottish Deli
Dunkeld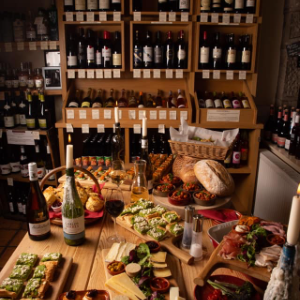 This award-winning specialty food retailer, takeaway, tapas restaurant and wine bar holds a prime location in the centre of vibrant Dunkeld. In characterful premises with original features, the owners of the Scottish Deli delight in sharing their passion for locally produced food and drink with residents and visitors alike.
The Deli larder is filled with quality produce from all over Scotland: meats, chocolate, cakes, biscuits and bread, as well as a large range of Scottish cheeses. The deli is always searching for exciting new products, and the fewer miles each item has to travel, the better – the Scottish Deli camping mugs and the homemade tablet originate less than 30 metres from the front door!
Amongst the mouth-watering sights and smells of this traditional deli, you will find a carefully chosen selection of international fine wines alongside Scottish craft beers and ciders, artisan gins including its very own branded Perthshire gin and spirits. The deli also stocks soft drinks, teas and freshly ground Glen Lyon coffee straight from the Highlands.
There is a daytime menu offering a variety of gourmet sandwiches on your choice of baguettes or wraps, as well as fresh salads. Gluten-free, vegetarian and vegan options are available. In the evening, the Scottish Deli transforms into a unique Spanish/Scottish tapas restaurant. Enjoy the relaxed, continental vibe as you are served delicious delicacies along with a glass of beer or wine.

• Nearest town: Dunkeld
• Summer Opening hours: 9am-5pm and 5:45pm-10.30pm Mon to Sat; 9am-5pm and 5:45pm - 10.30pm Sunday
---
LÒN and Aran Bakery
Dunkeld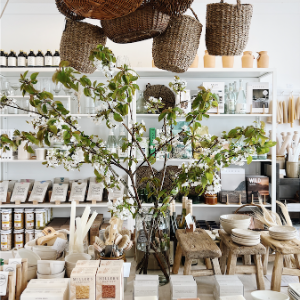 Sister Stores LÒN and Aran Bakery are hugely popular with locals and visitors.
Aran serves freshly baked bread, cakes, patisserie and lunches to take away. Everything is prepared onsite in Aran's open-plan kitchen.
Just around the corner from Aran, its sister business – LÒN – opened its doors in 2020, retailing speciality foodstuffs with a keen eye on local produce and seasonality. Located on Dunkeld's High Street, LÒN stocks a wide range of pantry staples and delicacies, including fresh fruit and vegetables, free-range eggs, Townsend Farm and Chegworth Valley farm pressed juices, Obadiah coffee, Perelló olives, and Scottish cut flowers.
LÒN offers UK-wide delivery for a range of its products or shop online for in-store collection the following day. If you are craving a particular treat, LÒN will do its best to source specific items on request. They also do monthly postal boxes!
Nearest town: Dunkeld
Opening hours: 10am - 4:40pm Tuesday through Saturday
---
Taste Perthshire
Bankfoot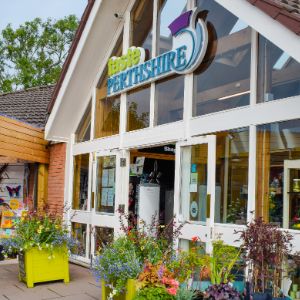 Just outside the village of Bankfoot, five minutes' drive north of Perth, Taste Perthshire allows you to do just as it claims – taste the produce of local food and drink suppliers, sampling the very best of Perthshire and the rest of Scotland. A gift shop, garden shop, clothing & accessories store, all-day restaurant, food larder and delicatessen, this multi-faceted shopping & dining venue has earned a Visit Scotland four-star 'Taste our Best' accreditation. This means quality ingredients of Scottish provenance, fresh seasonal produce, and well-informed staff in the know about the food they offer you.
The Taste Perthshire food larder and deli are well-stocked with tempting goodies. Choose from chilled smoked meat and seafood; fresh bread, cakes and biscuits; an extensive cheese counter featuring Scottish and international cheeses; filled pies and soups; oils and dressings; jams and preserves; and locally sourced fruit and veg. Fresh butchery meats come from Yorkes of Dundee Ltd. There is also a wide range of Scottish gins and whisky, liqueurs, beers and cider. Special promotions and tastings allow you to try before you buy.
Serving all day from 8am till 8pm at weekends and 8am to 7.30pm midweek, the Taste Perthshire restaurant will fix you up with breakfast, lunch or dinner. Download their app to pre-order takeaway for collection (available on the app store & google play, just search for Taste Perthshire) – options include popular street food options like tacos, bao buns and loaded fries alongside hot & cold favourite dishes from steak pies and fish & chips, to burgers and toasted ciabattas.
Visit Taste Perthshire in person (say hello to the Highland cows in their adjacent field!) or shop online, with free delivery for orders of £100 or more. Here you'll find a lovely range of hand-packed hampers for the perfect gift packed with foodie treats to savour. Taste Perthshire also has a fuel station with EV charging onsite alongside extensive free parking.

Nearest town: Bankfoot
Opening hours: 8am-8pm at weekends. 8am – 7.30pm midweek.
---
House of Bruar
Blair Atholl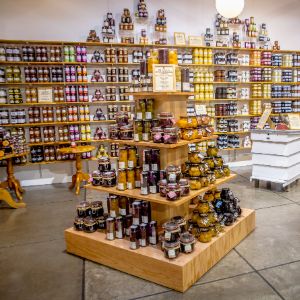 By the edge of the Cairngorms, ten miles north of Pitlochry, the House of Bruar has made its name as a destination shopping experience offering premium country fashion, sporting accessories, homeware, food and drink.
The House of Bruar food hall boasts a butchery, delicatessen, cheese counter, drinks cabinet, confectionery aisle, and bakery. The butchery presents top quality cuts of 100% Scottish beef, Highland wild venison, Aberdeenshire pork and tender Scottish lamb. You can also find award-winning sausages, handmade burgers, homemade pies and generous butchery hampers.
The delicatessen displays a wide range of mouthwatering charcuterie, smoked fish and pâtés, as well as pies, quiches, olives, oils and savoury snacks. The cheese multideck displays international classics and Scottish gems such as Orkney caramelised onion smoked cheddar, and an Isle of Arran chilli truckle.
Pick up accompanying crackers and crispbreads from the bakery, and ogle the sweet biscuits and cakes sourced from Campbell's Bakery in Crieff, the iconic Scottish bakery Walkers, and Gardiners of Scotland. To drink, treat yourself to a bottle of local artisanal gin, or a warming fruit liqueur, or stick to the quotidian essentials: teas and coffee.
Shopping at House of Bruar is a pleasure in person, or go online, where you can browse at your leisure and relax with home delivery.
Nearest town: Blair Atholl
Opening hours: 9.30am-5pm Monday to Thursday, 9.30am-6pm Friday to Sunday
---
Kinross and Loch Leven
---
Loch Leven's Larder
Kinross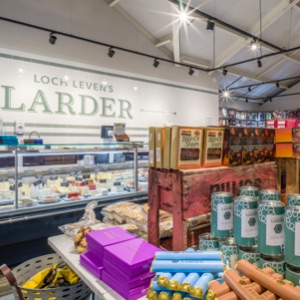 Loch Leven's Larder, situated at the heart of its own family-run vegetable farm a few minutes from Kinross, is in a prime position to offer the very best fresh, local produce with minimal food miles. The shelves of its large food hall are laden with enticing treats and kitchen staples, many originating from suppliers nearby.
Follow your nose to the deli, where pungent cheese and fragrant savoury bakes lure you closer. Rich sausage rolls, Scotch eggs, pies, quiches and pâtés are all made in the Loch Leven kitchen by its classically-trained chefs. The pastry chef is on hand for fresh bread, cakes and patisserie. And the cheese counter doesn't disappoint with its range of twenty or thirty cheeses, including artisanal Scottish cheese as well as English and continental favourites.
Select a fine wine to go with your cheese, or mix things up with a Scottish craft beer or cider, a local gin, or that national institution – a bottle of whisky. And don't forget to pick up your 5-a-day here too – seasonal fruit and veg direct from the surrounding fields and other farms in the area. Shopping at Loch Leven's Larder supports local food heroes, champions sustainable farming practices, and rewards customers with top-quality produce.
Nearest town: Kinross
Opening hours: 9am-5pm, every day
---
Lochend Farm Shop
Kinross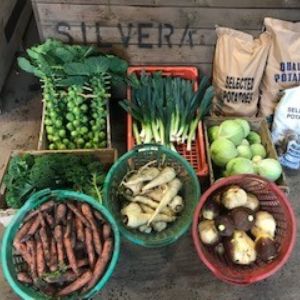 Lochend Farm Shop and Coffee Shop is owned by father and son team Mike and Martin Silvera. They built the shop themselves, and now open for 15 years, it boasts a cosy, homely environment, with great views of both the Lomond Hills, and the farm fields, in which you can often see the men hard at work! The nearby Scottish Gliding School also means you can often watch gliders soaring through the sky.
They grow a wide variety of vegetables on the farm, which are available to buy seasonally from the shop. The vegetables are cut fresh daily – there are literally no food miles! they also stock a large range of products in our shop, from locally sourced Lamb, Chicken, Beef, Pork and Buffalo, to jams and chutneys, flour and baking products, local eggs, scottish cheeses, biscuits, cakes and sweet treats. They also stock a wide range of vegan and gluten free products, and have recently started making their own frozen range of home cooked ready made meals and soups. They like to support small local businesses, and sell a variety of foods, crafts, greeting cards, plants and flowers (seasonally) from these local trades.
The coffee shop menu changes daily and serves traditional, hearty, wholesome food, such as homemade soups, baked potatoes, hot filled rolls, sandwiches and flan, along with tasty treats such as scones, cakes, crumble and traybakes, and of course some great coffee! We also offer afternoon teas (advance booking required) and outside catering.
Nearest town: Kinross
Opening hours: 9am-5pm, every day (hot food until 4pm, café closes 4.30pm)
---
Strathearn and West Perthshire
---
The Farm Shop at Comrie Croft
Crieff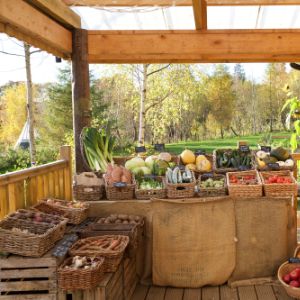 On a farmstead four miles west of Crieff, Comrie Croft offers guest accommodation, a tea garden serving homemade soups, salads, pies and cakes, and a farm shop selling tasty local and organic produce.
Comrie Croft's seasonal fruit, vegetables, plants and flowers are sourced just down the road (food miles less than one!) at Tomnah'a Market Garden. This abundant garden is tended by growers and volunteers, working in harmony with the seasons, to achieve freshness, seasonality, sustainability and variety.
Local artisan business Wild Hearth Bakery supplies wood-fired sourdough bread and pastries to Comrie Croft, and Scottish Blackface heather lamb comes from Carroglen hill farm just a few miles away. The shop also has a lovely selection of gift items including hand carved wooden bowls and spoons, traditional children's toys, miscellaneous knitwear, handcrafted jewellery and much more.
In addition, Comrie Croft is the NeighbourFood hub for Comrie, the online farmers' market. Every week, quality produce from local farmers, growers, bakers and makers is listed on its market page for you to browse. Make your order by midnight on Wednesday and collect your goods on a Friday afternoon.
Nearest town: Crieff
Opening hours: 9am-11am Mon to Thurs, 9am-6pm Fridays, 9am-5pm Sat and Sun
---
The Crieff Food Co.
Crieff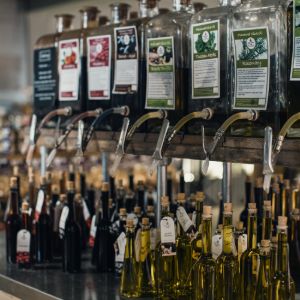 It's been a good year for The Crieff Food Co., crowned as a commended Scottish Retailer at the 2021 Farm Shop & Deli Awards. This food hall, café and gift shop on Crieff High Street has made its mark with exceptional products from more than 100 local suppliers – no wonder its mantra is "Let's go local!"
From everyday shopping to one-off treats, online clicks or in-store browsing, The Crieff Food Co. covers all bases. Pick up your essentials: bread and rolls, canned and fresh goods, home baking and other sundries. Or give yourself a night off with a deluxe ready meal from the irresistible Nae Bother Suppers range, or one of Praveen Kumar's authentic Indian dishes. You can also bulk buy a food pack, such as a freezer pack, barbecue pack or veg pack.
An exciting new addition to The Crieff Food Co. is its UnpackagedAT range – a zero-waste, no packaging, low plastic, bulk refill option for dry goods. Bring your own tubs or jars to the store, fill them up at the dispensers, weigh your selection, and pay at the till. The current list of 24 products is set to grow, but starts off with long grain rice, Scottish porridge oats, red split lentils, yoghurt coated raisins, and many more. Help yourself to milk chocolate buttons, and you're helping the planet too – what's not to love about that!
Nearest town: Crieff
Opening hours: 9am-5pm Monday to Saturday; 10am-4pm on Sunday
---
Auchterarder and South Perthshire
Broadslap Fruit Farm
Dunning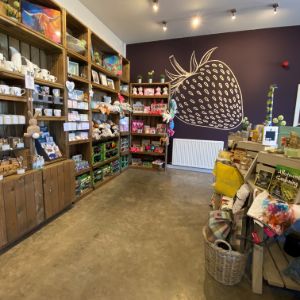 A long-standing family favourite, a trip to Broadslap Fruit Farm, near Dunning, is a popular outing for all ages. It's hard to beat the simple pleasure of hand-picking your own delicious soft fruit before sitting down to drinks and fresh homebaking in the cosy café … and now you can let the kids run riot in Broadslap's super-cool new playbarn.
While they're safely bouncing around, the Broadslap farm and gift shop is a lovely spot to take a moment, pick up some essentials, and perhaps treat yourself to a few non-essentials too.
The wide range of locally grown veggies sold at Broadslap varies with the seasons, including fresh cauliflower, potatoes, carrots, courgettes, cabbage, and – come autumn – you can pick your own pumpkins. Pick the farm's luscious strawberries, raspberries, blackcurrants and brambles, or let someone else do the work and simply buy a punnet or two.
The shop sells beautiful gift items crafted by Scottish artists and artisans. Discover the hand-finished products of Robertson's of Scotland: deluxe clothing, bags and accessories, all with the distinctive Robertson's pop of tartan and 100% made in Scotland. Fairtrade handbags, purses, scarves and accessories come from award-winning Earth Squared in North Berwick, and candles and diffusers are handmade by JoJo Co. in Burntisland.
In addition, there are gorgeous Wraptious cushions, Little Weaver Arts fine bone china, Abraham Moon woollen fabrics, as well as soft toys, baby gifts, artwork and jewellery.
Nearest town: Dunning
Opening hours: 9.30am-5pm Wednesday to Sunday
---
Jamesfield Farmshop and Farmhouse Kitchen
Newburgh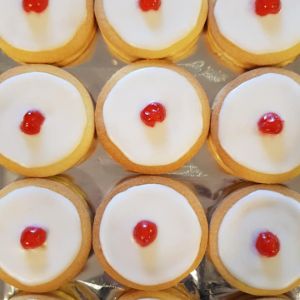 Jamesfield Organic Farmshop and Farmhouse Kitchen, sit overlooking the Tay, just outside of Newburgh.
The team are very proud or their organic heritage, boasting to be the longest accredited Organic Farm in Scotland, celebrating over 30 years as chemical and pesticide free.
Jamesfield Farm Shop offers a selection of fresh local produce, food and drink from award winning Scottish suppliers. They have a wide range of meat, baking and vegetables both produced on site, and pooled from the local area.
And what would a farm shop be without a fabulous restaurant alongside? Their menu has something for everyone with a wide range of favourites featuring delicious homemade steak pie or lasagne, soups, pasta dishes and more sandwich fillings than you can shake a stick at!
Coffee and cake area super important at Jamesfield, with a huge array of delights to choose from.
Nearest Town: Newburgh
Opening hours: Open Daily. Summer and Winter opening hours vary, so please check their website before travelling.
More info | www.jamesfieldfarmshopandrestaurant.co.uk
---
Blairgowrie and East Perthshire
---
Glendoick Garden Centre Foodhall
Glencarse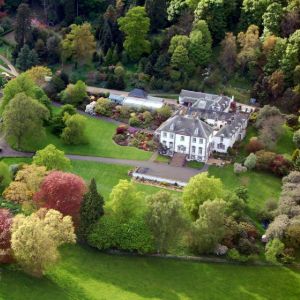 Handily located on the A90 between Perth and Dundee, award-winning Glendoick is the perfect "Ooh slow down, let's stop here!" destination for gardening supplies, chic homeware, thoughtful gifts, a range of stylish clothing, and scrumptious food and drink. The Food Hall sells the best local and seasonal produce with year-round favourites from local butchers, bakers and artisan producers.

David Reid & Son are Country Butchers, and supply bacon , sausages and more including their award winning Beef Sausages and Gold Medal Steak Pies. You can also find a range of pies from Scott Brothers in Dundee as well as local cold meats, smoked fish and lots more! The fridges are stacked full of Scottish and European cheeses as well as fresh cream cakes and fudge doughnuts from Fisher & Donaldson Bakers. There is an amazing range of Scottish oatcakes, cakes, biscuits, snacks, jams and chutneys as well as their very own sweet shop!

Stephenie's Fresh Fish van is at Glendoick every Friday. This small fish business based in Anstruther will bring beautiful fresh fish to you direct from the East Neuk of Fife. Hand-filleted haddock, salmon, cod and lemon sole feature alongside scallops, and hot smoked salmon from St Monans.

In the frozen section you can find COOK ready meals, locally produced curries from Praveen Kumar as well as an amazing array of pastries to cook at home and frozen seafood.

Keep your spirits up with Glendoick's stash of Scottish gins and whisky, as well as classic wines and fizz. Their Plant Hunter Gin is made in the old jute works in Dundee. Also available are Eden Mill and Verdant Gins. Delicious fruit wines and cider originate just a few miles away at Cairn o'Mhor and there is a superb range of International wines that you won't find on supermarket shelves.
Glendoick Food Hall – good food made easy!

Nearest town: Perth
Opening hours: 9am-5pm every day
---
Home to the award-winning Perth Farmers' Market, which was the first of its kind in Scotland, Perth proudly boasts five fantastic markets in various locations across the region.
And is it any wonder? The area is renowned for its rich agricultural land, long history of distilling, and award-winning producers. From the mighty berry fields of Blair to honey from hillside hives, crystal clear gin from copper stills and beef fit for a king, here in the land of Scotland's larder it is all made possible.
As with all good, authentic Farmers' Markets, behind the stalls you'll find the producers themselves - and they all love to chat about their wares! Ask about their processes, their attention to tiny details, where they farm and even the name of the cow your rib eye steak came from and they'll happily tell you.
Read more on our blog > https://www.perthcityandtowns.co.uk/blog/perthshire-farmers-markets