As Scotland's national drink, whisky is the lifeblood of our wee country and no matter what your reason for visiting Perthshire - food and drink, history, experiences or adventure - a visit to one of our many distilleries should be high on your list of must-do activities.
The first record of distilling whisky in Scotland was in 1494, but it was almost 270 years later before Scotland would have its first operational distillery. The Glenturret, founded in 1763, is located right here in Perthshire, in the beautiful Strathearn countryside, and is the country's oldest distillery. Interestingly, we also boast the smallest distillery in Scotland, Edradour, just outside Pitlochry. Whilst not all of the distilleries in the area offer tours, those that do, do it exceptionally well. Book online and you will soon be revelling in this most ancient and noble of crafts, with stories galore, nosings and tastings, cafes, gift shops and even a Michelin starred restaurant all part of the experience.
For those who prefer their drink in smaller measures, take a visit to one of our micro breweries and taprooms - or the strange winery in Errol! Craft beers, ales, lagers and fruit wines all brought to life with local ingredients and the passion of small, independent artisans.
Other whiskies and beers
There are many more whiskies and beers produced in Perthshire than there are visitor attractions and tours that showcase them, but you can still enjoy them while you're here. Make time to visit our wonderful farm shops and delis across the area and you will find even more choice and variety. From limited-edition malts to small-batch seasonal beers, all you'll need is a quiet spot and a few peaceful hours to spend in the glorious company of Scotland's favourite drinks.
Make a short break of it:
What is the difference between whisky and whiskey?
It's just one little 'e' but you daren't get it wrong! Whisky is from Scotland and whiskey is from Ireland. The difference comes from the translation of words from the Scottish and Irish Gaelic forms. In the late 1800s, Scotch whisky was said to be poor quality therefore the Irish producers wanted to differentiate their product. Not so today!
---
Perth City Centre
---
The Perth Distillery Co
Perth City Centre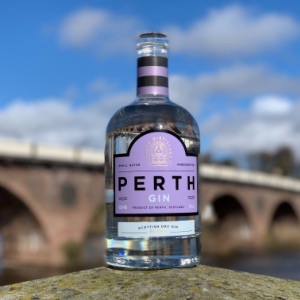 The spirit of Perth in the heart of Scotland, The Perth Distillery sits yards from the majestic and inspiring River Tay in the centre of the fair city and is home to award-winning Perth Gin, including their recent Scottish Gin Awards Gold Medal-winning Perth Pink! Founded in 2017, this small but perfectly formed independent distillery produces small-batch, handcrafted gins inspired by the love of home.
Meg and Bel, the two 100-litre copper alembic stills created by artisan craftsmen in Viana do Castelo in Portugal to bespoke requirements, form the heartbeat of the distillery where all the distilling and bottling takes place in house. The distillery offers a range of tasting tours and cocktail masterclasses as well as an opportunity for some retail therapy in the distillery shop, which offers the full Perth Gin portfolio as well as a range of gifts and cards.
Tour the Perth Distillery and enjoy a journey through the history of gin, including tales of local smugglers on the Silvery Tay, and royal visitors to the former stables which now form part of the distillery bottling room. You can visit the fabulous copper-roofed cocktail bar, as well as learning about how Perth Gin is made, all whilst enjoying a generous signature Perth Gin and tonic. Advance booking is recommended, and the Perth Distillery accepts the Perth gift card.
• Nearest town: Perth
• Tour information: Tasting tours start at £17.50
• Gift shop: www.perthdistillery.co.uk/shop
• Open: Wed-Sat 10am-5pm and by appointment outwith these times
---
Cullach Brewing
Perth City Centre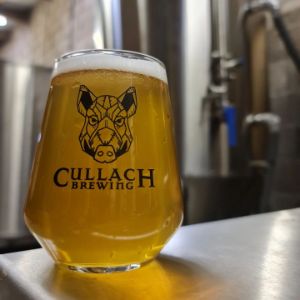 With 12 draught lines pouring of house and guest beers and off-sales to drink in or take away, Cullach Brewing is an essential stop for craft beer lovers visiting Perth. It was set up in 2019 to offer a craft beer solution for the Fair City. Originally operating as just a brewery on the outskirts, we moved locations and set up the taproom on Princes Street, right in the city centre.
The taproom welcomes families, is dog friendly and accessible – a comfortable, inclusive space for everyone to enjoy. There isn't a requirement to book your table, but it is recommended for the busier Friday and Saturday evenings which can be done through the website. Alongside their own range of house and guest draught, we have a broad range of rums, gins, wines and other spirits.
Locally renowned for their delicious array of artisanal sourdough pizzas (until 9pm, Wednesday to Saturday, 8pm on Sundays), with plenty of vegan, gluten-free and kids' options available. Cullach Brewing also accepts the Perth Gift Card.
• Nearest town: Perth
• Taproom open: Wed & Thur 4pm-11pm / Fri 4pm-midnight / Sat 12-midnight / Sun 12-9pm
• Menu: www.cullachbrewing.co.uk/
---
Highland and North Perthshire
---
Wasted Degrees Brewing
Blair Atholl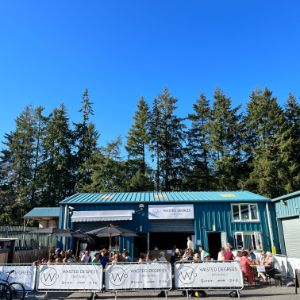 Winner of the Made In Scotland Award for Food & Drink Company of the Year 2023, established in 2016, Wasted Degrees Brewing is nestled in the Highland Perthshire village of Blair Atholl, just a short walk from the train station. With a core range plus an ever-changing line-up of small-batch, limited-edition beers, the Wasted Degrees Brewing team are well known for their high-quality beers and local apple cider, as well as their contribution to the community and care for the environment.
The business is powered by renewables and supports local agriculture by brewing with Perthshire-grown ingredients where it can, working with neighbouring farms to reduce food miles and to champion the region's produce. In addition, Wasted Degrees brews using 100% renewable electricity, recycles its packaging and creates opportunities to reduce food waste.
Famous for their Saturday Taproom (open April-September), the team serve some of the best freshly made pizzas, stews and BBQ in Highland Perthshire, not to mention up to 12 fresh draught beers and ciders. Free tours are available year round with no booking required, and the brewery shop is open from 10am-4pm during the week and on Taproom Saturdays.
Wasted Degrees Brewing is 5-star Google rated, child and dog-friendly, with free wi-fi and parking.
• Nearest town: Blair Atholl
• Tour information: www.wasteddegrees.com/locations
• Taproom: www.wasteddegrees.com/taproom
• Brewery shop: www.wasteddegrees.com/shop
• Open: Mon-Thur 10am-4pm / Fri 10am-8pm / Sat 10am-9.30pm / Sun Closed
---
The Moulin Hotel Brewery
Pitlochry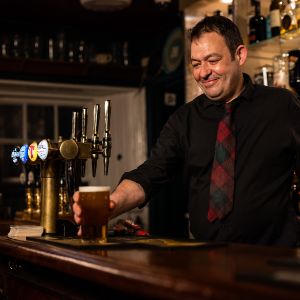 The Moulin Hotel first opened its doors in 1695 as a coachhouse and stables, providing a welcome stop-off point for coach travellers between Pitlochry and Kirkmichael. Three centuries later, it opened one of the first microbreweries in Scotland, an independent business producing a small amount of top-quality beer.
The Moulin brewery has developed four of its own real ales: the dark Ale of Atholl, a lighter brew colourfully named Braveheart, the strong but super-smooth Old Remedial, and a distinctive Light Ale. By sticking rigidly to its recipes and methods, The Moulin achieves great consistency in its brews. All ingredients are natural with no added sugars, caramels, malt extract or molasses; just a pound per gallon of local honey in the Old Remy.
You are welcome to visit the Moulin brewery to see the creation of its popular ales; tours are free and available Monday to Friday. With accommodation in the hotel and two self-catering cottages, tastings offered in the cosy bar, and a restaurant complete with enclosed patio and beer garden, the Moulin Hotel remains the perfect place to pause for refreshment.
• Nearest town: Pitlochry
• Tour information: Free brewery tours Mon-Fri 10am-4pm
• Restaurant and bar: www.moulinhotel.co.uk/
---
Dewar's Aberfeldy Distillery
Aberfeldy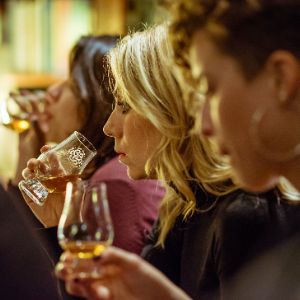 Just three miles from the birthplace of founder John Dewar, the Aberfeldy Distillery is the only distillery built by the Dewar family. Steeped in history and craftsmanship, since 1898 its stills have produced the beautifully balanced single malt whisky at the heart of Dewar's Scotch.
Aberfeldy Distillery tours take place throughout the day (pre-booking is advised) and include access to the atmospheric warehouse and heritage centre. The Aberfeldy Distillery Tour takes you through the production process and includes two samples of whisky. The Single Cask Tasting Tour allows you to sample a rare, single cask malt whisky from the warehouse. The luxurious Whisky and Chocolate Tasting Tour includes the full tour experience culminating in a tasting of three fine Scotch whiskies, each matched with an artisan single origin dark chocolate. And the Whisky Connoisseur Tour has all the elements of the cask tasting tour plus an additional tasting of five fine Scotch whiskies.
Visitors can browse the distillery shop for limited editions, take time to relax in the café, or enjoy a dram in the whisky lounge (pre-booking not required).
• Nearest town: Aberfeldy
• Tour information www.dewars.com/gl/en/aberfeldydistillery/tickets/
• 'Dewar's Aberfeldy Experience', 'Connoisseur Experience, 'Become A Blender Experience' and the 'Drams of your Dreams Experience: www.dewars.com/gl/en/aberfeldydistillery/tickets/
• Gift shop: www.dewars.com/gl/en/aberfeldydistillery/distillery-whisky-shop/
• Open: Mon-Sat 10am-6pm / Sun 12-4pm
---
Blair Athol Distillery
Pitlochry
One of the oldest working distilleries in Scotland, Blair Athol lies in the foothills of the Grampian mountains, just a few minutes south of Pitlochry. Established in 1798, this historic whisky producer nestles among peaty moorland, its water source the Allt Dour ("the burn of the otter") which flows down from the slopes of Ben Vrackie to help create Blair Athol's signature malt.
The distillery is renowned for its 12-year-old single malt, with deep mellow tones and a smooth finish. This is also one of the whiskies included in Bell's Blended Scotch Whisky, the most popular blended whisky in the UK. High demand for whisky led to Blair Athol adding a further two stills to its distillery in 1973, which can be seen today.
There is a variety of tour options including the Blair Athol Signature Tour – a guided tour of the premises followed by a tutored tasting of three whiskies including the Distillery Exclusive Bottling. The Blair Athol Allt Dour Tour includes a tasting experience of six whiskies, one a cask-strength whisky drawn straight from the cask. And the Blair Athol Cask and Cocktail Experience caters for small groups, featuring an in-depth story tour and curated tasting of five whiskies, followed by a cocktail in the beautiful Mash Tun Bar.
• Nearest town: Pitlochry
• Tour information: www.malts.com/en-gb/distilleries/blair-athol/tours
• Gift shop: www.malts.com/en-gb/products/blair-athol
• Open: Mon-Sun 10am-5pm (closed Mondays in June)
---
Auchterarder and South Perthshire
---
Tullibardine
Auchterarder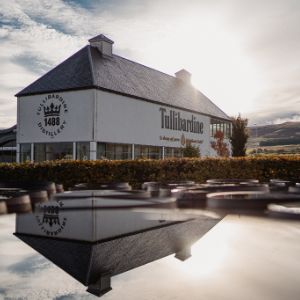 Tullibardine Distillery lies at the gateway to the Highlands, in the village of Blackford, close to Gleneagles Hotel and Auchterarder. For decades, this independent, family-owned distillery has been handcrafting its single malt Scotch whisky, drawing water from the Danny Burn and the surrounding Ochil Hills.
Once the whisky has been distilled, it matures in the finest first-fill casks, for maximum flavour and colour. One of the few distilleries in Scotland to distil, mature and bottle its whisky on site, Tullibardine has truly earned its tagline as 'a drop of pure Highland Gold'.
The expert team at Tullibardine believes in doing things the traditional way, and offers visitors a real insight into the distilling process. There is a selection of tours and tastings to suit everyone, including the Classic tour – a 45-minute tour of the whisky process from start to finish, concluding with a tasting in the dramming bar of two single malts; and the Bonded tour – a 90-minute in-depth tour featuring a visit to the bonded warehouse to nose selected casks, and ending with a tasting of three single malts.
Book your tour in advance to discover the secrets of creating Tullibardine's renowned artisanal whisky.
• Nearest town: Auchterarder
• Tour information: www.tullibardine.com/tours.html
• Price of entry: Classic tour £12 per person / Bonded tour £35 per person
• Gift shop: https://shop.tullibardine.com
• Open: Daily 10am-5pm (Tours 10am-4pm)
---
Kinross and Loch Leven
---
Gin Laboratory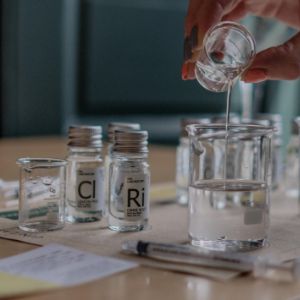 Gin Laboratory in Kinross is a place for gin fans to have fun, learn and even create their own gin!
Gin aficionados are welcomed right into the centre of the laboratory, which is chock-full of metal, glass and copper distilling gizmos.
Distilleries mostly make gin by adding a mix of alcohol and botanicals to their still, before distilling and bottling the resulting gin. During a Gin Laboratory experience you are able to sample each botanical separately, so, they have over 40 botanicals distilled one-at-a-time so you can blend together your selection to enjoy with tonic.
Immersive gin experiences are hosted by chief Gin Maker Kenneth Campbell.
Gin Laboratory can accommodate groups of up to six people and sessions are available each day from Thursday to Saturday. They can also be booked for external events and soirees.
---
Loch Leven Brewery and Tap Room
Kinross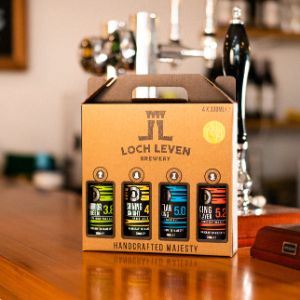 This small independent brewery opened its doors in 2018 on a mission to produce a range of high quality, tasty, award-winning craft beers. Its location in Kinross on the banks of Loch Leven makes it an attractive and accessible destination for visitors from all over central Scotland. The team at Loch Leven Brewery use soft Scottish water and locally sourced ingredients to brew authentic craft beer in small batches. Their traditional methods still require a jump into the wort kettle to remove the spent hops!
Next door to the brewery is the Tap Room, a warm and friendly space where you can sample the end product. Sit and savour a pint right where it was made, with the people who made it. Their popular Great Scots range of beers includes the Warrior Queen, Shining Knight, Outlaw King and King Slayer. All are gluten-free. Try a beer flight to enjoy a selection of these, or choose from Perthshire cider, Loch Leven gin, non-alcoholic drinks, teas and coffees.
The Tap Room is dog-friendly, with free wi-fi, and is available to hire for small parties or events. If you prefer to relax at home, the brewery offers 2-litre Growlers and 1-litre Howlers of fresh beer in reusable glass bottles – just bring the bottles back once you're done. The Tap Room shop also stocks bottled beer, locally produced spirits, build-your-own four-bottle gift packs, and gift vouchers.
• Nearest town: Kinross
• Open: Tue-Thur 4-9pm / Fri 2-9.30pm / Sat 12-9.30pm / Sun 12-8pm / Mon Closed
• Gift shop: www.lochleven.beer/shop/
---
Loch Leven Gin
Kinross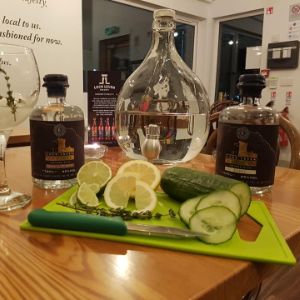 Loch Leven Gin celebrates the heritage and history of Loch Leven in the heart of Scotland. Its tempting range of gins are all produced on site in the centre of Kinross.
Try the Loch Leven Dry Gin Classic, an original dry gin with a touch of citrus and a juniper berry finish. Loch Leven Dry Gin infused with strawberry and rose creates a delicious sweet and floral combination, and Loch Leven Dry Gin infused with rose and pepper adds the heat of peppercorns. Loch Leven Dry Gin infused with citrus offers zesty citrus notes with a juniper undertone, refreshing on the palate and perfect with tonic, or in a cocktail. And 2021 saw the launch of a brand new flavour combination – Loch Leven Dry Gin infused with ginger and lime.
All the Loch Leven gins can be purchased from its online shop, or sample three as part of a gift pack.
• Nearest town: Kinross
• Open: Mon-Fri 9am-5pm / Closed Sat and Sun
• Gift shop: https://lochlevengin.com/shop/
---
Strathearn and West Perthshire
---
The Glenturret Distillery
Crieff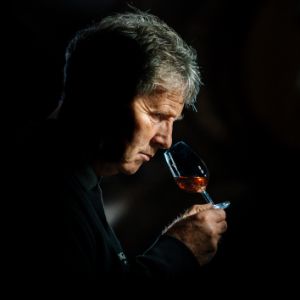 Scotland's Oldest Working Distillery has been handcrafting single malt whisky deep in the Perthshire countryside since 1763. Just north of Crieff on the banks of the Turret burn, The Glenturret Distillery marries timeless methods of whisky-making with a modern visitors' centre, The Lalique Boutique, and a one MICHELIN-starred fine-dining Lalique restaurant.

Visitors are welcome to take a tour around The Glenturret Distillery and learn about its fascinating history and traditional, small-batch whisky-making process. The distillery's "by Hand and Heart" approach to each stage of crafting its single malt, contributes to The Glenturret whisky's distinctive fruity characteristics.

The Glenturret's 60-minute tour will show you the making of its single malt whisky, ending with a tasting from The Glenturret's exquisite core whisky range. The two-hour Whisky Maker's Tour invites you to delve into the unique world of whisking making, as you experience bringing together your very own 100ml single malt to take home.

You can also visit the Lalique Bar for a curated whisky-tasting flight daily, or bar lunch Wednesday to Saturday. For your enjoyment at home, The Glenturret Distillery shop stocks its latest single malt releases, plus a range of spirits, wines and handmade Scottish gifts.

• Nearest town: Crieff
• Tour information: www.theglenturret.com/tour-bookings
• Prices: The Glenturret Tour £18 per person* / The Whisky Maker's Tour £100 per person
• Gift shop: www.theglenturret.com/shop/whisky
• Restaurant: www.theglenturretrestaurant.com
• Distillery Open: Daily 10am-6pm (April – October) | 10am-5pm (November – March)

*They donate 50p of every standard tour ticket to the Perth and Kinross Countryside Trust. Find out more about their registered charity partner here. www.pkct.org
---
Blairgowrie and East Perthshire
---
Persie Distillery
Blairgowrie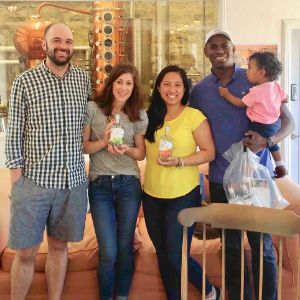 For anyone interested in hitting the gin trail, Persie Distillery is a must-see. A small, family-owned stables-turned-distillery at the foot of Glenshee, it is seven miles north of Blairgowrie and just a 40-minute drive from Perth. It was the first dedicated gin distillery to be awarded brown sign status by Visit Scotland, and in 2021 scooped Tripadvisor's Best of the Best award.
Persie Distillery's award-winning gins are distilled in small batches, then bottled and labelled on site. There are seven different expressions in the Persie Distillery gin range – all built to be enjoyed neat, with tonic or a variety of mixers, and in cocktails.
The Distillery Originals range has three flavour profiles – choose a starter, main course and pudding gin with their fruity, savoury and sweet expressions: Zesty Citrus, Herby & Aromatic, and Sweet & Nutty Old Tom. Or support PADS dog rescue with the distillery's range of charity gins that reflect different dog breeds – Labrador Gin (traditional and mellow), Spaniel Gin (lively and spicy) and Dachshund Gin Liqueur (sweet and sharp). For every bottle sold, £1 is donated to PADS.
Tours of the distillery run every day or simply drop into the tasting room for a sample paddle of six gins and matching mixers. With soft options for kids, the tasting room is family and (of course) dog-friendly.
• Nearest town: Blairgowrie
• Tour information: www.persiedistillery.com/see-the-still/
• Prices: The Liquid Tour £20 per person (book in advance online)
• Gift shop: www.persiedistillery.com/shop/
• Open: Daily 12-5pm
---
Cairn o'Mohr
Errol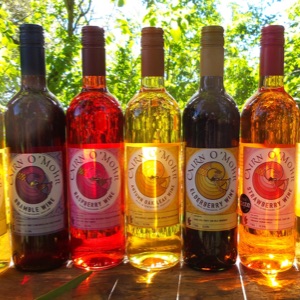 In the Carse of Gowrie, amongst rich fields, laden fruit trees and wildflowers, lies a unique Scottish winery – Cairn o'Mohr. Something of a local phenomenon, Cairn o 'Mohr's success story began in 1987 when owners Ron and Judith Gillies followed their dream and started brewing fruity and fabulous award-winning country wines. Using all the local, lush ingredients on their doorstep, the business evolved with wine made from berries, wildflowers, fruits, and leaves … just about anything that grows!
The Cairn o'Mohr range begans with five types of fruit wine: strawberry, raspberry, bramble, elderberry and oak leaf, and since then, they've added sparkling wines, limited editions, festive specials, 'experimental' wines, ciders and non-alcoholic drinks. Phew! All the Cairn o'Mohr fruit wines are made using traditional methods and fermentation followed by at least a year of maturation, assuring a top-quality end product with real vinosity and smooth, well-developed flavours.
Ron and Judith welcome you to come and visit, offering tours of the winery between April and October on Wednesdays, Saturdays and Sundays at both 12.30pm and 2.15pm. The 90-minute tour follows the production process from berry to bottle, finishing up with a tutored tasting in the sampling room. Alternatively, bring your squad and book in for a private visit at a time convenient to you. The whole experience is fully accessible, as is the adjoining quirky, family-run Pickled Peacock café and bar.
For mouth-watering Cairn o'Mohr wines delivered straight to your door, check out their website. Join their wine club for a seasonal selection, with instalments delivered every three months.
• Nearest village: Errol
• Tour information: www.cairnomohr.com/winery/tours
• Prices: 90-minute winery tour £10 per person
• Café / bar: https://pickled-peacock.co.uk/cafe/
• Open: Daily 10am-5pm