Meet Bibek Sitaula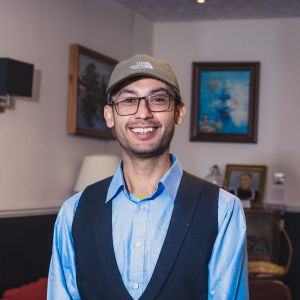 Get ready for a mouthwatering journey through the heart of our community at Maya's Kitchen and Bar. Owned by a culinary wizard with a penchant for european art, culture and all things community, this spot is a hidden gem you'll want to uncover ASAP.
Originally from Nepal, Bibek Sitaula earned a degree in art history from Edinburgh University, before moving to Perth to study archeology.
Bibek honed his culinary skills in the restaurants of Gleneagles Hotel. Discovering his love of food there, he's taken a short break from his studies to open his own restaurant in beautiful Tay Street, Perth.
At Maya's Kitchen, the menu is as diverse as our community. Breakfast, lunch, dinner – they've got it all covered with paninis, potatoes, pastas, curries and grilled meats. But let's talk about the real MVP: all–day breakfasts! Yes, you heard it right! Whether you're a morning person or a night owl, your breakfast cravings are always welcome here. And oh, did I mention their mouthwatering speciality? Their homemade nepalese and indian curries are inspired by Bibek's Himalayan upbringing, and are a taste explosion you won't want to miss.
This place isn't just about the food; it's about the vibe! Maya's encourages you to kick back, relax and make yourself at home. There's a shelf full of books waiting for you – grab one, order a cup of your favourite brew, and let time stand still. The ambiance is cosy, the staff are super friendly, and the art on display is the cherry on top.
What truly warms our hearts is Bibek's dedication to community projects. From supporting local artists to getting involved in local church and charity projects, our chef is weaving the restaurant into the very fabric of our city. He's even planning some local art exhibitions - watch this space!
In a nutshell, Maya's Kitchen & Bar isn't your average spot; it's a culinary adventure with a side of community love. So, grab your pals, bring your appetite, and let's make some delicious memories together.
See you there!
---