I shop ethically.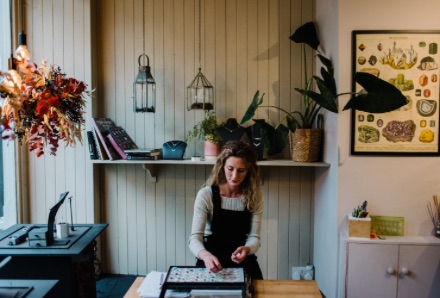 Three little words that can mean hugely different things to many different people.
There are many reasons that bring us to the conclusion that we want to shop in a way that speaks to our conscience and each one plays an important role in shaping how the world's brands – large and small - evolve.
Now, perhaps more than ever before, the choices that we make as we shop can have a real impact on our communities and the world at large.
When we choose to buy the products that have a positive impact on people, the planet, or animals, we can make our voice heard and play our small part in the bigger picture.
Perth has recently set out a promise to work towards becoming the most sustainable small city in Europe, and right in the heart of the city are the retailers helping us to effect that change.
---
Why We Choose To Shop With Our Conscience
Good for the environment: from global warming to pesticide pollution, how our goods are made can be addressed in part, when we all decide to shop with companies taking their carbon footprint and global responsibility seriously.
Good for your society and the world at large: Create change at a local level by choosing to shop with your independent retailers. Not only are you helping a family from your city or town, you can also ask the questions that are important to you.
On a global scale, we can help tackle inequalities by, for example shopping for products that carry the Fairtrade accreditation. This, and other independent accreditation marks, can help sign post us towards companies that are doing the right thing.
Good for animal welfare: If animal welfare is your cause then look for brands that refuse to test on animals, and that offer vegan alternatives to traditional leather and fur.
Good for body and soul: Keep yourself healthy and your conscience clear by choosing food gifts from producers who can prove provenance – there are many excellent artisans right here in Perthshire – and from shops who work internationally with small farmers and fair trade communities. You can also extend this to your beauty regime by choosing cosmetics that have dropped parabens and other nasty ingredients.
Here in Perth, we caught up with four city centre based businesses offering fantastic quality and choice in this eco-category. Not only that, but these wonderful products will also leave your conscience squeaky clean and your body glowing with joy!
---
Byers & Co, George Street, Perth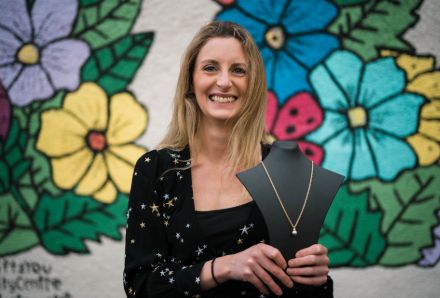 If you've walked down George Street recently the beautiful window of Byers & Co will no doubt have caught your eye. Colourful gemstones and polished golds and silvers, twinkle amongst the artistically designed displays created by jeweller, Linda Byers.
Although only seven years old, Byers & Co has become one of the city's most respected independents, thanks in part to Linda's commitment to buying Fairtrade gems and recycled gold and silver.
Linda explained this decision, "I want to start by assuring people that Fairtrade gems are exquisite stones which are easily of equal or higher quality to their rogue counterparts.
"The idea that I could create bespoke, one off jewellery pieces using these beautiful gems that bring positive opportunities to the communities they are mined in was hugely appealing to me – a no-brainer in fact!
"Fairtrade gems go much further than the Kimberly process – which is intended to stop the trade of blood diamonds – and is traceable right back to each mine.
"The benefits are far reaching and range from safe and comfortable working conditions with minimum age requirements, to infrastructure such as roads and electricity. You also find that economically, the communities around Fairtrade mines and factories can build schools and hospitals, and offer better healthcare.
"Environmentally, Fairtrade mines and factories work to conserve streams, groundwater and their marine life, and ensure the restoration of the original environment after mining is completed."
"I've extended my ethical buying to include recycled gold and silver. In a traditionally mined 9g gold ring, 20 tonnes of toxic waste is generated.
"Quite apart from the environmental impact, there is a huge financial benefit to having old gold melted down and remodelled. If I tell you that gold was £9 per gram in 2006, now its £46 per gram, you will understand the appeal to everyone in the buying chain!"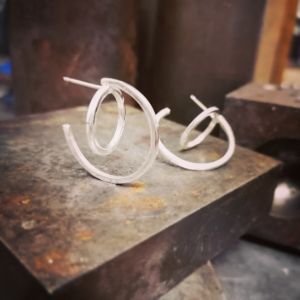 Linda explains the reason behind her own conscious choice.
"I really believe that beautiful treasures from the ground should be mined and harvested in a way that doesn't cause damage to the earth, or the people mining them. 15% of the world's diamonds come from African mines where the daily wage is less than $1 a day. That's just despicable.
"The cost of buying in Fairtrade is tiny in the grand scheme of things, and to be honest it becomes negligible as the quality of cut is superior to other less ethical choices.
"Because there's such close links between the mines directly, bespoke cuts and specific colours are easier to source which is why I think Byers & Co original designs have been received so enthusiastically by customers, especially those keen on sapphires and other coloured stones."
Byers & Co offers certificates of authenticity attesting to the provenance to the stones.
Products Pictured: shard necklace (pictured in intro) £130, kite ring £210, atlas earrings in Silver £30
---
The Wash House Store At Quince & Cook, Princes St, Perth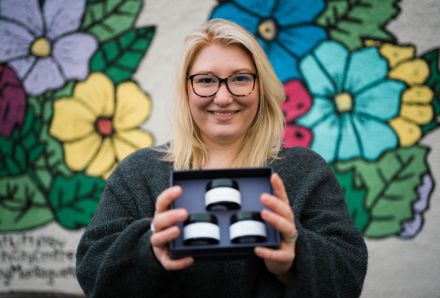 The wash house, or the "steamie" was traditionally a community space where the weekly clothes wash would take place, and where stories and gossip were shared.
In Perth city centre, the Wash House Store at Quince & Cook was born from owner Sophie McEwan's drive to reduce single use plastic and the use of harsh chemicals in the home.
Best known for their plastic-free refills of cleaning and body care products, the range also includes a selection of handmade, body-care, homeware and skincare ranges that are all vegan, eco-friendly and fair trade.
They also stock a wide range of luxury, natural skincare from independent British brands where products are handmade in small batches with a focus on sustainability.
Sophie explains, "I am fuelled by my passion for natural products that make for a happy planet and a happy you! It started when I struggled to find sustainable, plastic free, natural products that I knew must be out there.
Once I set about sourcing from like-minded companies, the range came together and the Wash House was born. Our refills are all natural, plastic free and remove the need for disposal containers and waste, and we also offer plastic-free swaps for your household essentials such as sponges, straws, wax wraps and much more.
We take great care in sourcing products from independent brands with a focus on creating products that are kind to the planet and to you. Aside from The Wash House, many of our Quince & Cook homeware and cookware brands are plastic free from ethical companies 
The Wash House has moved from its original home at Inveralmond Industrial Estate to Sophie and her husband Neil's new shop, Quince & Cook, on Princes Street in Perth's city centre.
This new addition to the Perth Indies has been greatly received and Sophie feels as though she's been part of this thriving community forever!
"Wash house has been wonderfully received, by customers new and old. So many people are now actively looking at ways to reduce their plastic usage and are making the switch to natural products.
"Even customers who had never given it much thought are genuinely interested and many make the switch on the spot once they realise just how easy it is to transition to natural, plastic free products." 
Products pictured: Ben & Anna Natural Charcoal Toothpaste - £9.95 , Refills – Everything to clean you and your home from prices from 20p
---
Rae Peacock Hair and Beauty, York Place, Perth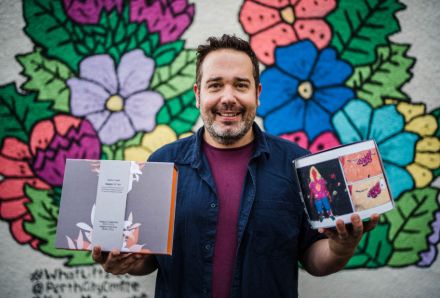 When Perth-born hairdresser, Rae Peacock moved back to his home city in 2014 to open a salon with environmentally conscious products, not even he could have imagined how popular it would become. Together with his husband Craig, he set out to prove that his industry could offer alternatives to the traditional high-chemical environment of hair and beauty.
Rae explains, "Choosing to run with Davines from the outset was a bit of a gamble for us but we were determined to offer our customers a proper alternative to the industry's typical big brand partners. Quite apart from allowing us to create a point of difference, it also helped us establish good eco practices from the off.
"Of course, there's no point in having great ethics if the product isn't good but Davines ticked all of the boxes for us. It was found in Parma, Italy in 1983 by the Bollati family and started off as a research lab, producing high-end hair care products for renowned cosmetic companies worldwide.
"The [comfort zone] skincare arm of the group came along in 1996 and just a few years later, in 2004, the European cosmetic regulations prohibited the testing of finished products on animals. Davines was one of the few that had never used animal testing before this date. 
"That's one of the reasons we liked this company. Long before it was trendy, Davines had adopted an authentic environmental policy, aiming for "carbon neutrality" of the packaging of their most popular product lines.
"In 2018, they achieved this, and they now compensate for all of their Co2 emissions with the creation and protection of forests in various parts of the world. They support the Ethio Trees project for the regeneration of land and forests in Ethiopia, and in turn, this brilliant project supports local farming communities for the procurement of drinking water.
"You wouldn't think that food would have a part in hair and beauty but Davines has worked with the Slow Food Foundation for Biodiversity since 2014, by supporting projects that involve producers from all over the world in order to protect traditional local farming practices that risk extinction.
"The Davines Essential Haircare line is formulated using active ingredients from nine Italian Slow Food Presidia, including the Salina caper, Paceco Cartucciaru melon, Torre Guaceto Fiaschetto tomato and Noto almond.  This range details the name of the farmer and the farm it's grown on – we love the tomato shampoo!
"In their factories and offices, they use only electricity and thermal energy from renewable sources meaning they don't emit CO2, don't pollute, and every product they formulate, design and produce is manufactured using clean energy.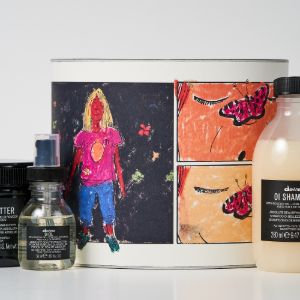 "The Davines Group has been a B Corp since 2016. The certification awarded by the Italian body B Lab is a result of the company's new way of doing business, combining profit making with the objective of generating a positive impact on people and on the environment.
"For us, this is a reflection of our own ethos. As well as using Davines products throughout the salon, we try to be as sustainable as possible; we use green energy utility suppliers, we use as little plastic packaging as possible including loose leave tea instead of teabags. There is LED lighting throughout the salon, saving energy and we encourage clients to browse online for our services and prices to reduce paper menus."
This ethos also runs into their gift packs for 2022.
Each Davines haircare pack contains 3 products with a FREE shampoo in each pack. Prices range from £41 - £54. Each [comfort zone] gift pack has a saving of between 22% and 36% depending on the gift pack.
Each box is made with 100% FSC recycled paper
The box and plastic containers are 100% recyclable
Recycled plastic or bioplastic from renewable vegetal sources
Products are made in a 100% carbon neutral factory
---
Precious Sparkle, Bridge Lane, Perth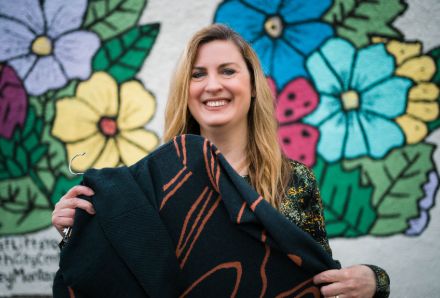 Precious Sparkle has been part of the Perth Indie scene since 2010 but it was a move from Charlotte Street to Bridge Lane in 2017 that allowed owner Dawn Cotton Fuge to expand her range into the eclectic mix of fashion, gifts, homewares & accessories that she offers up today.
Dawn has ensured with careful buying, that her customers can shop ethically throughout all these categories.

Dawn explained: "As time goes on, we are working harder and harder to source products that fit the ethical criteria so that now, these items make up the majority of what we sell. We also like to encourage our existing suppliers to improve in these ways.
"We decided to offer these products because we are in a climate emergency and my believe is that retailers need to rise to the challenge to play their part in changing the way we operate. 10% of global emissions come from the fashion industry alone!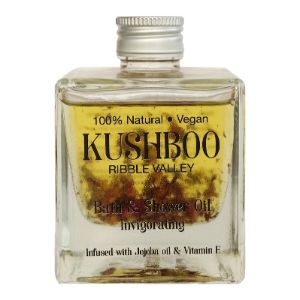 "Many years ago, I was struck by the amount of plastic packing that was used to deliver our orders. We always made sure to reuse as much as we could, and only ordered in recycled and biodegradable packaging. That got me thinking even more about the products themselves, where they came from, how they were made and what they were made of. That's when I started to look seriously at how Precious Sparkle could make a difference.
"We have a great range of eco and vegan bath & beauty products, which are all made using sustainably sourced natural ingredients, are cruelty free, vegan friendly and eco certified. We've also tried to move away as much as possible from products in plastic, instead relying on recyclable and recycled cardboard and glass, and bar soap with no packaging. If plastic is involved, it has usually already been recycled once. Brands like Kushboo, Norfolk Natural Living and Agnes & Cat embody these values.
"Eco credentials and sustainability are visible throughout our offer. One of our biggest gift brands, East of India, takes their corporate responsibility seriously and addresses every aspect of sustainability along the process of manufacture as well as being fair trade.
They offer sustainable employment to artisans using traditional skills passed down through the generations. The furthermore have been involved in a tree planting project in Indonesia, and wood used in their products come from seedlings planted no more than ten years ago. They replace each tree harvested with another which will also be ready to use 10 years after planting.
This tree, Albizia Falca
ta is grown the foothills on dry land that cannot be used for rice fields. They are also the owners and caretakers of 22 acres in Kent called "Oak Wood", a designated ancient woodland in an area of outstanding beauty and site of special scientific interest.
"Even our homewares brands like Madam Stoltz are on board. With sustainable and biodegradable packaging used as much as possible, and 25 years of supporting artisan handmade, they embody the ethos we want to espouse- that mass produced is not what any of us should be seeking.
"We have also tried to make a difference with our fashion offer. I believe in slow fashion; buying less but buying better. I want clothes that will last years, not wear out, that aren't mass produced, haven't hurt the people who made them, or harmed the environment around the factory. Fifteen years ago, this sort of fashion was quite rare, quite expensive, and not always that fashionable!
"That has changed massively. Nowadays, customers are buying these brands because they adore the garments and the quality – some people don't even know ab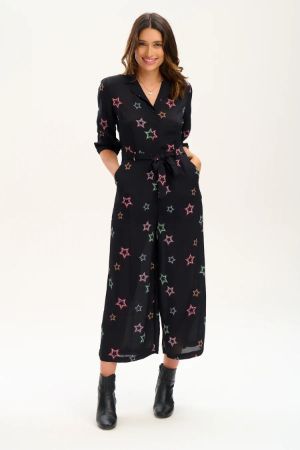 out the eco-credentials! For those who do know, they are delighted to find that we have searched high and low for fashionable brands that don't hurt the environment. The bonus is, you won't find these clothes easily elsewhere and so you end up with a truly unique, stylish, ethical outfit.
"For instance, one of our most popular brands, Sugarhill Brighton, makes 90% of their garments from cotton or viscose both of which are biodegradable and less harmful than synthetic fibres. 75% of the viscose they use will be sourced from sustainably managed sources. They use paper packaging and biodegradable clothing bags and are part of the Ethical Trading Initiative.
"I've really enjoyed finding alternatives to fast, disposable fashion and the proof is in how well it has been received by our customers. As a shop, we don't over buy, and our manufacturers don't over product. We are horrified by the amount of unsold clothing that ends up in landfill, so we have a small collection each season of handpicked items, and we only buy one of each size. This does mean that both we and our suppliers can run out of things from time to time, but we feel this is the better way to produce and offer goods.
"In a town like Perth you don't want to see everyone you know wearing the thing you just bought and so it's nice to offer something different and to give exclusivity as standard."
Products Pictured: Kushboo Bath Oil £24, Madam Stoltz Flowerpot Beige £21, Sugarhill Brighton Rylee Jumpsuit with Black Stars £79.