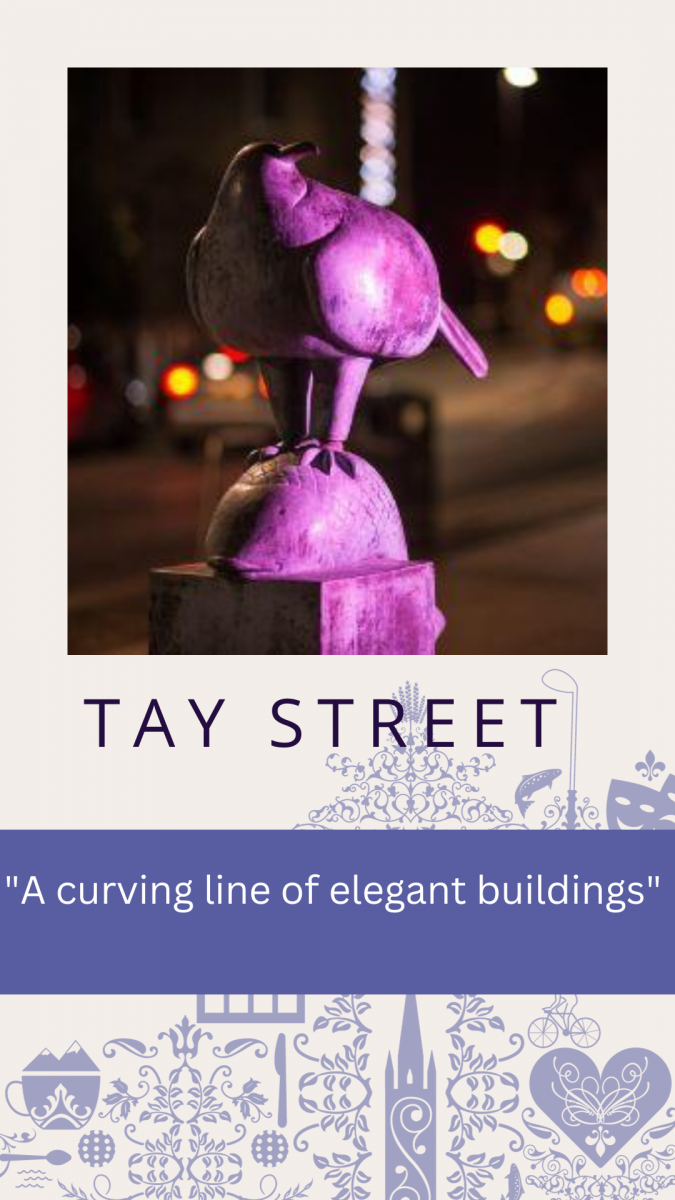 Steeped in history, Tay Street was first planned in 1806 and completed around 1885. It was once famously said that Tay Street offers "a curving line of elegant buildings" and this is as true today as it was then.
Tay Street links the city's two main parks, the North Inch and the South Inch, following the river from West Bridge Street and Charlotte Street in the north to Marshall Place and Shore Road in the south. Offering one of the city's most breathtaking views by far, a stroll along this beautiful wide promenade promises enjoy everything from wildlife to artwork, kayakers to keen photographers - and an independent business or two!
Independent Businesses: The businesses along Tay Street enjoy one of the cities most sought after locations - is it any wonder so many offer a dram or two to enjoy while you soak up the view. See more below.
Wildlife: From urban beavers to cheeky otters, and majestic Kingfishers a walk along Tay Street can offer all sorts of surprises. The River Tay Special Area of Conservation (SAC) has the highest wildlife accolade and is part of the Natura 2000 network – a series of internationally important wildlife sites throughout Europe.
Artwork: There are ten wall carvings and several other sculptures which can be all be found in the River Tay Public Art Trail. View it here with our Storymap App.
Kayakers: If you prefer your rivers with a side of adventure, then do explore Willowgate Activity Centre and their kayaking and paddleboarding tours.
Keen Photographers: Check out the Pictures of Perth and Beyond group, many of whom can be found lining Tay Streets, camera in hand, capturing our city's most iconic image featuring St Matthew's Church Spire.
Bridges: Three of the city's four bridges cross the Tay from Tay Street: Perth Bridge (also known as Smeaton's Bridge), Queen's Bridge and the Tay Viaduct (also known as the railway bridge), carrying Perth and Dundee trains to and from Perth railway station.
Next time you're out shopping in the city centre, walk a little further down Perth High Street and turn right – you'll be very glad you did!
Road Works: Tay Street is currently affected by major roadworks as Scottish Water delivers on the installation of an upgraded pipeline. This section of 'super sewer' will play a key role in supporting the city's continuing growth, while also reducing the risk of sewer flooding affecting low-lying areas near the Tay between Muirton and the city centre. Find out more on their website >

Access: Businesses on Tay Street between the Queens Bridge and Tay Viaduct can be accessed by foot. These include 63 Tay Street Restaurant, Maya's Kitchen, Robert Cameron Hair, and the offices for Here's The Plan and Independent Advocacy Perth & Kinross. Access to the wider city centre remains available via detour.
---
---
63 Tay Street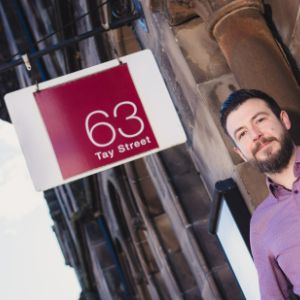 Taking over the reins from Graeme Pallister in 2023, co-owners Christopher Strachan and Fraser Bell hit the ground running, with Christopher having been involved in the business and learning the restaurant's award winning ways over several years.
Christopher Strachan, who hails from Alyth in East Perthshire, will look after you from the moment you open the door, with vast experience from great venues such as The Three Chimneys on the Isle of Skye, Driftwood Hotel in Cornwall, & two michelin-starred The Hand and Flowers in Buckinghamshire. If he isn't filling your boots with his charm and customer service, he will be filling your glasses with his extensive passion for wine.
Fraser, heads up the kitchen. He has honed his trade in 2 & 3 AA rosette and Michelin restaurants. Most recently delivering fine-dining for notable guests at Scone Palace, and previously Head Chef at The Adamson, and award winning Hatch Restaurant in St. Andrews.
The restaurant's elegant dining room boasts lovely views across to Kinnoull Hill and, notwithstanding its award-winning reputation, is a warm, relaxed, and welcoming space. Christopher and his small team aim to keep their food local, honest and simple, whilst showcasing the very best of Scotland's seasonal larder.
They offer a '4 for £38' set surprise menu served at lunch (Thursday to Saturday) and midweek dinner. Or opt for the 'Just Feed Us Fraser' set surprise five course menu that will sate the most sophisticated of appetites.
63 Tay Street offers you delicious, high end dining for exceptional value and are perfect for a midweek meal, or very special celebration.
---
Maya's Kitchen & Bar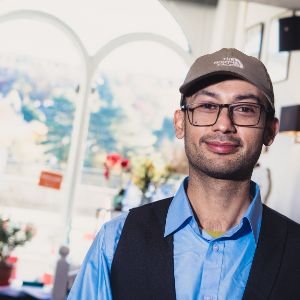 Hailing from Nepal, and settling in beautiful Tay Street, Maya's Kitchen and Bar offer a wide range of delicious food with something to suit everyone.
Their all day breakfast menu has tempting choices such as American style pancakes, with scrambled eggs and bacon, french toast, a delicious and light mediterranean offering of fresh salad, cheese and turkish sausage, a vegan cooked breakfast, or a substantial Highlander version (a customer favourite!) with up to 7 delicious items on your plate. They have an excellent selection of breakfast rolls, and everything on their menu is available to take away.
For lunch, there's so much to choose from! From lighter bites such as paninis, salads and baked potatoes with numerous fillings, to more substantial burgers, pizzas, authentic nepalese and indian curries and grilled meats.
Maya's Kitchen and Bar have a super range of hot drinks, as well as a great non-alcoholic drinks. They are currently offering customers to bring their own bottle of something alcoholic - perfect for an inexpensive night out!
With a warm and welcoming atmosphere, Maya's Kitchen and Bar is one to pop on your list for a delicious treat!
---
Robert Cameron Hair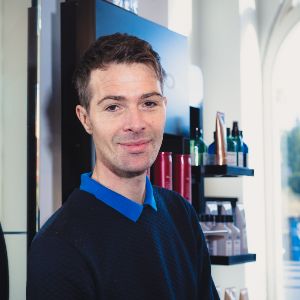 Tay Street's Cameron Grassick, and his team at Robert Cameron Hair have been adding a pop of colour to our lives for a whole decade..
At their cosy yet bright salon, overlooking the River Tay, they've been spreading the love one strand at a time, ensuring every client receives a bespoke service tailored to their needs, whether it be for a whole head of fresh new colour, or a comforting wash and blow dry.
The team specialise in L'Oreal Colour, and love Le Serie Expert, which they use expertly to give you the vibrant colour that you've always wanted to achieve.
With a huge range of professional services to choose from, and a friendly and encouraging team of experts on hand to help you walk out with the hair of your dreams, Robert Cameron Hair really is one you ought not to miss.
---
Perth Distillery Co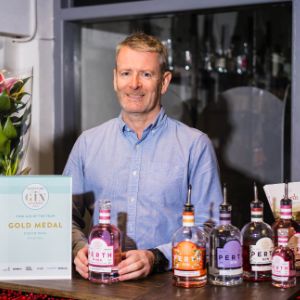 The Perth Distillery sits yards from the majestic and inspiring River Tay in the centre of the fair city and is home to award-winning Perth Gin, including their recent Scottish Gin Awards Gold Medal-winning Perth Pink!
Founded in 2017, this small but perfectly formed independent distillery produces small-batch, handcrafted gins inspired by the love of home.
Meg and Bel, the two 100-litre copper alembic stills created by artisan craftsmen in Viana do Castelo in Portugal to bespoke requirements, form the heartbeat of the distillery where all the distilling and bottling takes place in house. The distillery offers a range of tasting tours and cocktail masterclasses as well as an opportunity for some retail therapy in the distillery shop, which offers the full Perth Gin portfolio as well as a range of gifts and cards.
Tour the Perth Distillery and enjoy a journey through the history of gin, including tales of local smugglers on the Silvery Tay, and royal visitors to the former stables which now form part of the distillery bottling room. You can visit the fabulous copper-roofed cocktail bar, as well as learning about how Perth Gin is made, all whilst enjoying a generous signature Perth Gin and tonic. Advance booking is recommended, and the Perth Distillery accepts the Perth gift card.
---
The Capital Asset
Hey there fellow pub enthusiasts! If you're in the mood for a great time, look no further than The Capital Asset, a JD Wetherspoons pub, on Tay Street.
This beloved British pub chain has lots to offer, and if you're looking for a budget friendly good time, look no further!
Stepping into a JD Wetherspoons is like walking into a friend's living room - a friend who has excellent in drinks and food! The friendly staff and cozy atmosphere makes it the perfect place to unwind.
Let's talk about goodies! Wetherspoons is known for it's budget-friendly menu. Whether you're sipping on a cold pint, enjoying a hearty breakfast, or indulging in a classic pub meal, you'll be pleasantly surprised at the value for your money.
JD Wetherspoons is a beer lover's paradise. With a wide selection of ales, lagers and ciders, you're sure to find your perfect pint. And if beer isn't your thing, their bar offers a variety of spirits, wines, ever popular cocktail menu and non-alcoholic variations.
Whether you're looking for a quiet, quality pint, an all day breakfast, or a great night out with your pals, you'll find it all at the Capital Asset.
---
The Royal George Hotel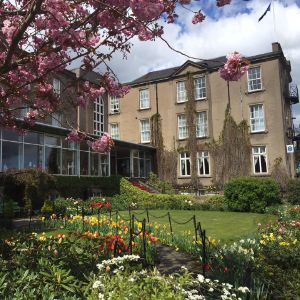 The Royal George Hotel is sits proudly on Tay Street, with stunning views over the beautiful River Tay.
Welcoming guests for over 250 years, notable visitors include Queen Victoria whose stay here in 1848 prompted the original George Inn to be renamed as The Royal George Hotel in her honour.
The hotel's forty-five ensuite bedrooms have been tastefully decorated and benefit from speedy wi-fi and flat-screen TVs with built-in DVD players. In addition, many of the rooms enjoy wonderful river views and period features. Pets are welcome to stay with you with advanced notification, a £15 additional charge per evening will apply.
Guests have complimentary use of the residents' fitness suite featuring free weights and cardio equipment and the games room with pool table, games console and table football.
The fully licensed bar and restaurant serves breakfast, lunch, afternoon tea and dinner - and you HAVE to try their famous High Teas; a delicious main meal which is served with tea or coffee and toast, and followed by scones and meringues!
The Royal George has been a popular host for many a wedding over the years, along with big birthday bashes, conferences, and many a farmers' steak dinner!
It's also the perfect place to simply relax by the log fire in the lounge overlooking the hotel's award-winning gardens.
Book with them directly for the best hotel rate.
---
St Matthew's Church of Scotland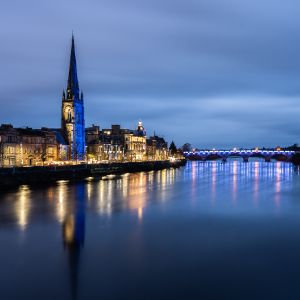 Come across any beautiful promotional image of Perth city centre, and you'll probably spot St Matthew's Church, an iconic landmark in Perth, towering over the beautiful River Tay.
Services of Christian Worship take place each Sunday at 11 am, however there's much more to this church than meets the eye. St Matthew's is a fantastic conference and events venue, boasting plenty of room for up to 240 people, projectors and a fantastic sound system, and moveable staging that can you adapted to suit your performances and needs.
A brilliant asset for the whole community, St Matthew's Church is an essential resource for many local youth groups who run the full range from rainbows to scouts on it's premises. You can also find yoga and taoist tai chi classes and they organise social eventssuch as walking groups and day trips throughout the year for their members.
Keep an eye on their website for community events and festivals throughout the year.
---