One of the wonderful things about shopping in Perth City Centre is that with only a few short turns and a couple of minutes you can be off the main High Street and into one of the many wonderful little lanes and vennels that makes us unique.
These lanes and vennels were originally named after the trades that were based there but are now home to some of our favourite Perth Indies and their vast array or gorgeous artisan gifts, beautiful art and clothing and some of the city's most mouth-watering meals.  We've started with a little winding loop around Horsecross Plaza. From the High Street, walk down Skinnergate and take a right up Bridge Lane. From here, cross over the top end of George Street by The Museum and Art Gallery and turn left on Charlotte Street, then left again onto North Port. 
The entire loop would take you around five minutes to walk, so it's not far, but along the way you will find fabulous family owned Indies that are brimming with colour, choice and variety and I can guarantee you will want to pop in for a browse, a chat and perhaps even to enjoy a wee dram or a coffee as you go.
You'll also find some of Perth's most established solicitors, estate agents, financial advisors and letting agents in our loop and for those of you who are house hunting, it's a worthwhile wee circuit!
---
Skinnergate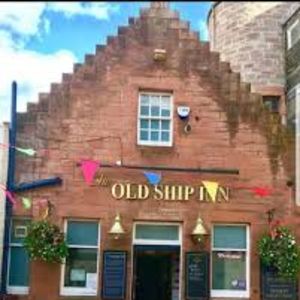 This pretty little pedestrianised lane cheers you along with colourful bunting, beautiful canopy of lights and a welcome table or two from both The Old Ship Inn and The Lite Bite. 
'The Ship' as it is affectionately known by locals is thought to be the oldest pub in Perth, dating back to 1625 with no name change! 
It is a real Perth institution and I would defy you to find a local who has never enjoyed a drink in The Ship! It's one of those amazing wee pubs that spans generations and offers up a warm welcome to everyone.  Its little surprise then that Tina and the team are regular Gold winners in the Best Bar None Awards; their smiling service is equalled only by their selection of Real cask Ales and gins and live music dates every few months.
The Lite Bite is a fabulous wee coffee shop that opens every day for both sit-in and takeaway options. You'll find handmade, fresh and tasty food, cooked really well. Delicious soups, proper home-baking like your granny used to make and sandwiches, baguettes and salads, all fill the lunch-time hunger of many a Perth City Centre worker! The team also do outside catering and can deliver trays of sandwiches and treats to your meetings and events.
 Perth locals and those from further afield, have called upon the services of The Picture Frame Maker many, many times over the years. Showcasing real artisan craftsmanship at its very best, Chris Anderson has been a traditional framer for over twenty years and his shop at the end of Skinnergate has provided the people of Perth with his bespoke services for over a decade.  Chris uses methods that derive from medieval times, with everything hand-finished and treated with care.   As well as framing new and old photographs and paintings, he also offers a frame restoration service and a gallery showcasing some of the best works from local and Scottish artists.
---
Bridge Lane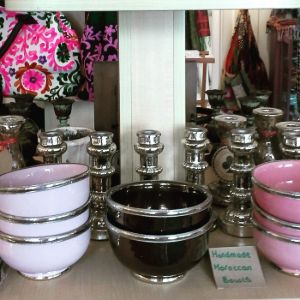 Precious Sparkle is that beautiful shop you see while you're sitting enjoying lunch in Horsecross's Café. It is a haven of inspiring and out-of-the-ordinary gifts, for loved ones or for yourself! All items for sale are handpicked by the owner Dawn, who has a fabulous eye for something a little special.
Caring deeply about the environmental impact of retail and taking great care to source sustainable and Fairtrade goods, Precious Sparkle offers an all-round feel good shopping experience.

---
Charlotte Street
John Ross Smart Living is where the 'shop local, shop indie' amongst us go for our home and office technology equipment. Specialists in Home Automation, hi-fi and audio-visual, they offer customers the chance to purchase a wide range of equipment in a relaxed and comfortable environment whilst receiving the best advice from experienced staff.
With over 50 years of experience in the Home Technology industry in areas such as Flatscreen TV & Soundbar Wall Mounting, Smart Lighting, Smart Home, Data Cabling, Multiroom Audio, Home Cinema, Projectors and much more, the team can install anything from a simple Flatscreen TV on your wall to a system that will give you HD pictures and sound in every room to stunning Home Cinema packages - and we can even programme the system to dim your lights and shut your curtains at the touch of a button.
Anyone who was raised in Perth and is over a certain age will remember the legendary Goldrush Records, and they can still be found cooried away in the basement of John Ross Smart Living and are open every Saturday 9.30 - 5pm. A retreat for the music aficionado, you'll find some classic vinyl, CD's and DVD's.

---
North Port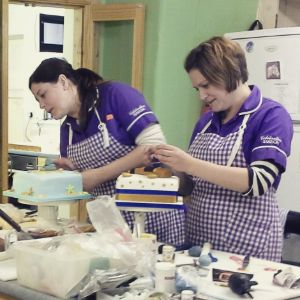 Celebration Station in Perth offers a place where clients can go in and chat to the team about their requirements, knowing that they come with a wealth of experience. They are full of ideas to create the perfect Celebration cake themed to suit your Big Day, your kids' latest obsession or simply to reflect your birthday boy or girl's latest obsession, and they will taste as good as they look.
In addition they have a selection of helium balloons, banners and other party goods.
Also for the bakers among you, you'll find all the fancy ribbons and decorations you need to create your own showstoppers at home!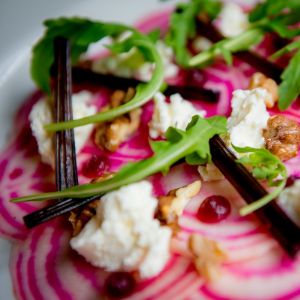 The North Port Restaurant is run by husband and wife team Andrew Moss and Karen Milne. Andrew and the kitchen team source their ingredients from small, local growers, breeders, suppliers and foragers and compile the menus to suit the seasons offerings.
They have proved to be a big hit with the discerning Perth foodie crowd offering set lunches, pre-theatre and a la carte evening meals packed full of flavour. With Scottish artisan gins, an extensive selection of malts, and one of the best wine selections around you will be spoiled for choice. Freshly opened after a refurbishment, North Port is being welcomed back with a resounding hurrah from Perth foodies.

Those of you who have been paying close attention will realise that all of these wonderful business and shops are independently owned and in my mind that's even more of a reason to visit! Each one is truly unique. So, the next time you're wandering round Perth City Centre, why not take a step off of the usual streets and spend some time in the sidelines? You'll be very glad you did!