Meet Linda Byers
Byers and Co is a boutique jewellers with a difference. Owned and run by the talented jewellery maker Linda Byers, the shop on George Street in the heart of Perth city centre was opened in 2014 and is now well established as the go-to place for people to add modern, unique and interesting pieces to their jewellery collection.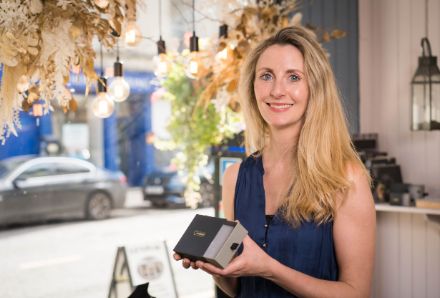 The beautiful shop is always full of a great range of Linda's original designs including rings, necklaces and bracelets. Most of the jewellery they make are one-off pieces, hand drawn and made using traditional artisan techniques. They have an ethical approach to product too and take pride in sourcing amazing quality stones from around the world which are always conflict free and fair trade wherever possible.
As well as always having a great range of stunning pieces ready to buy off the shelf – perfect for those last-minute gifts – Byers and Co offers a bespoke option so you can commission your own unique piece. Linda's warmth and experience is sure to put you ease throughout the commissioning process, making something that might seem daunting and scary an experience that you'll actually enjoy.
From initial hand drawn designs to the finished piece, Linda is full of ideas and is happy to let you get as involved in the process as you want to be. She also offers silversmith workshops and by-appointment opportunities that allow you to watch on as she creates your commissioned design. An example of Linda's passion for creating something just right for you is a recent project to give a beloved baby bangle a new lease of life which she did by turning it into a beautiful ring and pair of earrings.
You can be sure of a super friendly service whatever it is you're looking for, from a small pair of earrings (we love the paper plane studs!) to something more special like an engagement or wedding ring. In fact, Linda even runs wedding ring workshops where you and your partner can get hands on with making your own unique piece of wedding jewellery.
Byers and Co is bursting with inspiration, ideas and advice, as well as stunning, top quality products. It's well worth a visit whether you're treating someone else or yourself!
---