Meet Denis Casella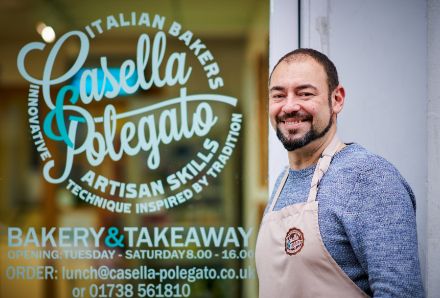 Casella & Polegato is an Italian Bakery in Perth run by Master Baker, Denis Casella whose passion for technique, locally sourced ingredients, skill and of course, good healthy artisan bread is evident in every single product they create!
Denis Casella jokes that he was born dusted with flour. Born to a pizzeria owning Dad, it wasn't long before Denis had learned everything there was to know about good bread. When left to ferment, his passion for good bread only grew over the years. Eventually, taking him all over the world as he journeyed from Apprentice Baker to Master Baker and ultimately, bringing him to Perth where his inspirational artisan breads have been well received and his aspirations for bread perfection continues with each day that passes – he's already reached that, if you ask us!
It's a sign of a job well done, when you ask local shop owners for lunch recommendations and all fingers point to Casella & Polegato. It's also a sign of a job well done when you eagerly head along – hoping to appease the rumbly tummy - only to find there isn't anything left!
Find Casella & Polegato at their retail counter at Whitefriars, their store in Perth City Centre's George Street or on the first Saturday of the month at Perth Farmers' Market or the fourth Saturday of the month at Kinross Farmers' Market. It won't be long before you know only too well which days to show up for your favourites!
"Making bread is like creating something new each day. Every morning I'm surprised by what I achieved through the night, and I wonder whether it's possible to do it even better tomorrow!" – Denis Casella.
Open 8am to 4pm, Tues to Sat
---