Meet Mandy Millar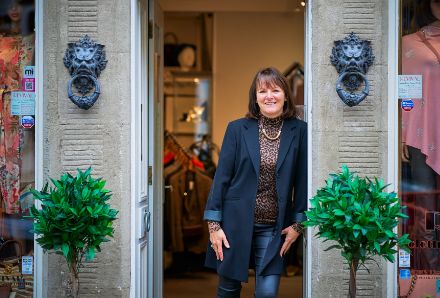 Revival is a designer dress agency selling a wide range of unique, preloved designer everyday wear, special occasion clothes, shoes, handbags and accessories. Every single item you'll find at Revival is super stylish and has been handpicked as part of a highly curated collection by owner Mandy Millar whose keen eye for detail ensures superb quality. Their commitment to sustainable fashion helps make luxury designer items more accessible.
There is always something new to discover behind the door of number 54 George Street including an enviable range of luxury high-end brands from Hayley Menzies to Paul Costelloe and Jaeger to Versace. A recent favourite of ours was a gorgeous, beaded sequin Kurt Geiger bag – simply stunning!
One of the best things about Revival is its commitment to reducing the environmental impact of the fashion industry by promoting responsible consumption without compromising on quality of products or experience. Revival knows that the most sustainable items will always be those already made. By carefully curating a selection of preloved items, their customers can still enjoy purchasing a whole new look whilst safe in the knowledge that they are not perpetuating the damaging cycle of fast fashion, instead boosting a circular economy.
To shop with Revival, you can visit the store on Perth's George Street, or you can visit their Facebook page where there are new items listed almost daily. Mandy and her team are available in person and online to give you more detail about any item that catches your eye and they can even arrange for items to be posted out to you. You might also see the team out and about attending vintage fairs across Scotland.
---