From Field to Fork
Loch Leven's Larder was founded by Emma and Rob Niven in 2005 after they moved to the area and recognised an unmissable opportunity to champion local produce.
Nestled in a beautiful setting right on the Loch Leven Heritage Trail and close to the historic town of Kinross, Loch Leven's Larder is the perfect spot for a day out, whether you want to eat, drink, shop or explore the great outdoors.
There are two cafés to choose from and a food hall brimming with fresh, local and homemade produce alongside an extensive gift shop specialising in European and design-led Scottish gifts and toiletries.
Over a decade since its opening, the field-to-fork concept remains at the Larder's core while it has grown in many ways with great support from loyal, local customers as well as visitors.
Loch Leven's Larder is situated at the heart of the family-run Channel Farm and as such is passionate about traceability, provenance and seasonality. Emma, Rob and brother Mike are the third generation to farm the land, which stretches over 1000 acres.
The Larder uses as much local produce as possible, from vegetables grown in their own fields to produce from the many artisan makers in the surrounding area and the rest of Scotland. The café menu changes with the seasons to showcase this approach; head chef Brian Padmore likes to use influences from other continents alongside home-grown vegetables, creating dishes such as Channel Farm carrot houmous.
Other favourites include Pete's Buttie – named after Emma's dad and comprising locally sourced black pudding, prime Ayrshire bacon and free-range eggs from the East Neuk – and the daube of Highland venison with toasted sourdough. Homemade sausage rolls, bread and croissants from the on-site bakery always go down a treat too.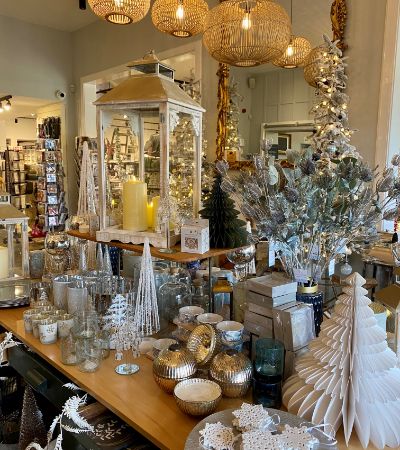 The Greenhouse Café provides friendly, speedy service for those active customers who are walking, cycling or running in the area, while the Larder Café serves breakfast, lunch, hot drinks and cakes for more leisurely visits.
The diverse options are family-friendly and make sure everyone is welcome all year round. Loch Leven's Larder is proud to have a great team which has enabled the business to expand to become one of the area's biggest employers, with over 85 staff. They've also scooped numerous awards including Scottish Thistle's 'Best Café and 'Warmest Welcome' alongside many that demonstrate the venture's success in retail, hospitality and business.
Their Christmas shop is brimming with goodies and we've even added a Winter Wonderland marquee this year to showcase an even bigger selection. The online shop has new additions daily and if you like to get ahead our food ordering service is ready to take some of the stress out of your Christmas preparartion! www.lochlevenslarder.shop