Meet Arlene
Boo Vake is a gorgeous independent shop that's absolutely bursting with colour and personality, right in the centre of Perth. For almost 30 years Boo Vake has been brightening its' small corner of the city with a range of stunning contemporary wearables, ceramics, and homewares by a carefully chosen range of the best of local and UK-based artists and makers.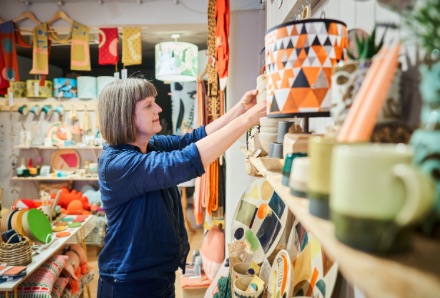 The bricks and mortar shop is located on Watergate, just off the High Street, and is a must visit for anyone in the city looking for something considered and handcrafted. One glimpse of the large shop window is enough to make you want to go inside and lose yourself in a world of colour and texture – you'll just want to touch everything!
The shop was originally named Bùth Bheag meaning Little Shop in Gaelic, and even the renaming of it to Boo Vake after years of mispronunciation illustrates the playful nature that's at the heart of the brand and product range.
All their products, from jewellery to accessories to artwork, are crafted by artists, makers and small design companies, many of whom are based in Scotland. This means many of the pieces in the shop are unique. The personality of the creators, and shop owner Arlene, shines through in the vibrant, eclectic style of the shop itself and the products it houses.
Some of the products stocked in the shop are made especially for Boo Vake, like their selection of bright and colourful bolster cushions by Fun Makes Good, so you can't buy them anywhere else. All their carefully chosen products somehow manage to be both practical and joyful, and when you shop there, you're supporting not only local indies in Perth, but the wider Scottish and UK creative scene too.
Owner and art school graduate Arlene says, "The beauty of handmade and small batch production is that everything comes with a story, a bit of soul, which you don't get with mass production. I think customers get that more and more, and it's what makes it all worthwhile."
Boo Vake is full to bursting with gorgeous, lovingly made gifts that are guaranteed to bring a smile. We've got our eye on a gorgeous saffron colour hand screen-printed silk scarf made in Edinburgh by Tessuti Scotland.
If you're shopping for something to give the person in your life who has everything, you are bound to find something unusual and perfect for the occasion at Boo Vake. Arlene will be on hand to share her expertise and help you explore the wide range of products and find something that's just right.
The shop is open Wednesday to Saturday from 10am until 5pm, going up to 6 days a week on the run up to Christmas. As well as visiting in person, you can also find a carefully curated range of products on their website, although for the full range it's best to visit the physical shop.
---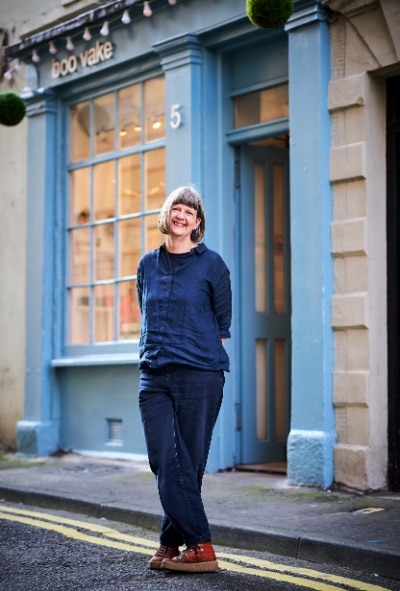 Boo Vake >