Meet Lee & Emma Steele
Rabbit Hole Cakes is a cake shop with a difference, offering a truly magical range of delicious sweet treats that not only taste great but look amazing too. In fact, the celebration cakes are like edible works of art! The business was dreamed up by owners Lee and Emma Steele in early 2020 and has now gone from strength to strength with premises on Perth High Street open Monday to Sunday.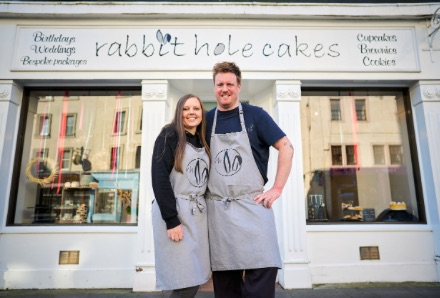 Emma says, "Our journey to this point has been interesting and exciting and sometimes a bit stressful. It's pretty amazing that starting from one cheesecake in our own kitchen to stave off boredom during lockdown has led us here to this!"
With a decade of experience as a trained pastry chef and a strong background in the hospitality industry, Lee and Emma bring creativity and innovation to the world of baking, offering something truly unique and it seems that locals and visitors alike can't get enough. The experimental style of Rabbit Hole Cakes means that you never quite know what you're going to get when you walk through the door, but you just know that whatever the selection of the day you are not going to be disappointed.
From loaded cheesecakes, cupcakes and cookies to blondies and brownies in all sorts of flavours, the treats available at Rabbit Hole Cakes are extraordinarily creative. You're guaranteed to be spoiled for choice when you visit; choosing what to have is the tough bit! We couldn't decide between a Reese's pieces cupcake, an apple pie blondie or a cherry bakewell cookie…
It's not just all about the homemade cakes, bakes and cookies, Rabbit Hole Cakes also offers a selection of deliciously indulgent milkshakes (summer months) and hot chocolates with flavours including Biscoff, black forest and chocolate orange.
The celebration cakes made by Lee are next level, customised to almost any theme and with options for all dietary requirements. A Rabbit Hole Cakes creation is perfect for special occasions where you want something a little bit special. These bespoke options are limited only by your imagination as the team can work with a brief for any colours and design to create your dream cake. One look at their Instagram tells us the team are up to the challenge as they've already made some truly incredible cakes for birthdays, graduation, weddings and more.
Rabbit Hole Cakes offers a full UK postal service, just in time for Christmas so you can send cakes to friends and family. The wedding diary for 2023/2024 is also open, including exciting new cake grazing platters to bring a unique and quirky vibe to your wedding day.
---
Quick Fire Questions with Lee and Emma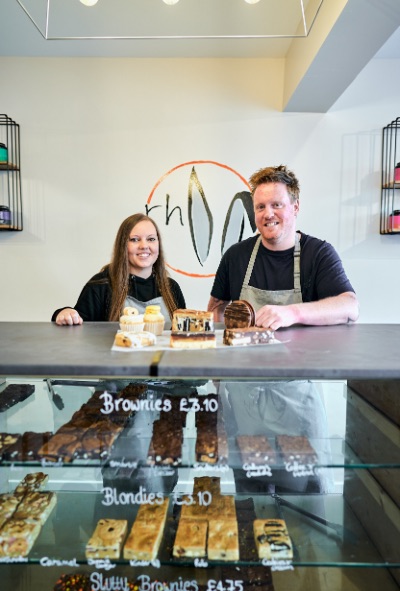 Rabbit Hole cakes >