Meet Will Bond
You'll find Cullach Brewing at 50 Princes Street, and when you do you may never want to leave! Cullach Brewing is an independent microbrewery and taproom serving excellent craft beer and artisanal sourdough pizza. At Cullach Brewing you'll discover that pizza and beer are both very versatile mediums with almost infinite flavour combinations.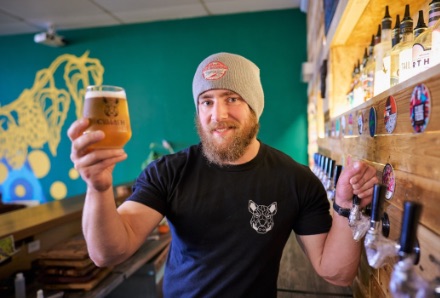 The taproom is a snug, cosy, relaxed space where you can gather with friends to drink wonderful, locally brewed beer. On the menu you'll find a range of house beers as well as a great selection of interesting guest beers, including a tasty gluten free beer. For those with a sweet tooth, keep an eye out for the dessert style beers that are sometimes available.
You can order drinks as flights or pints, perfect for being able to sample a small selection and then fill up on your favourites! And if beer's not your thing, there's also a range of spirits to choose from, and a delicious Pictish Cider from Cairn O' Mohr based in Errol.
Owner Will and the rest of the friendly team behind Cullach Brewing are brimming with passion for beer and pride themselves in bringing a great choice of locally brewed beer, ale and stout to Perth's streets. The team are knowledgeable about their range of drinks and are happy to recommend some great options if you're looking to try something new.
Will says, "I really like beer and have been home brewing since I was 18. My dad used to home brew, and I used to visit a great craft brewery near where I lived when I was in the army. You could say I've always had the bug so the idea of setting up a craft brewery came quite naturally. It's an exciting industry to work in. I'm so happy to make a living doing something I really enjoy and care about."
The friendly atmosphere in the taproom makes it a great space to hang out whether you're stopping for a quick drink or staying longer for a bite to eat. The handmade sourdough pizzas look delicious and taste even better! Choose from great flavour combinations like Halloumi and Parma Ham or the Highland Heater, as well as classics like the Margherita. There are also gluten free and vegan options available, with more exciting new flavours being added to the menu soon.
The personality of the team behind the brand shines throughout your entire visit as they've created a unique, comfy space that's just that little bit different to your average pub experience. You are welcome to walk in, or to be sure of a table you can book space online.
There's a small shop too where you can buy a hoodie, t-shirt or branded schooner glass, as well as a great range of takeaway beers to enjoy that Cullach Brewing taste at home. They also sell gift vouchers for any value between £10 and £50.
The taproom at Cullach Brewing is open from Wednesday to Sunday and is even dog friendly so you can bring your furry friends along. Will and the team are regulars at Perth Famer's Market so you can get your beer fix there too.
---