Meet Angela Henry
A bright and beautiful burst of colour on Perth's North Port, Celebration Station opened in the city in 2003 under the careful watch of its founder, Elizabeth Cowan, and daughter Angela.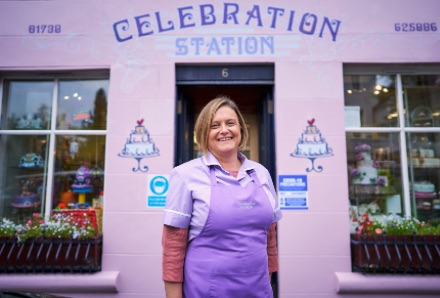 Elizabeth originally launched the business in 1991 in Dunblane offering unique celebration and wedding cakes. Due to its growing success, she and Angela decided it was time to expand and 6 North Port became the Perth branch of Celebration Station. This is now the centre of the business, with a collection point in Dunblane.
If you've never been in, then we suggest you head there now! It is a truly joyous shop, where customers can see the finishing touches being added to their fabulous cakes, and find inspiration aplenty for their own celebration.
"We love people coming in to see what we do and discuss their requirements. With a wealth of experience, our staff are full of ideas to create the perfect Celebration cake that tastes as good as it looks. In addition we have a selection of helium balloons, banners and other party goods.
For weddings, Celebration Station offers a service that is tailored to individual needs, working hard to ensure that the cake for your special day is exactly how you want it. They also sell wedding favour boxes, wedding cake boxes, and balloons and their personalised Bride and Groom toppers are a popular addition and provide a keepsake to cherish.
And for those people who embrace the baking and creation themselves, you will find an extensive range of specialist sugar craft items, cake boards, cutters, wire, toppers, ribbon and much more. There is also small selection of home bakes for sale including tasty meringues, shortbread and Scottish tablet.
---