Meet Diane Brown
Provender Brown is an award-winning, independent delicatessen and cheesemonger located in the heart of Perth. Owned and run by Diane Brown and her trusty team of experienced foodies, you will find passion, enthusiasm and knowledge flowing like the fine wines they sell.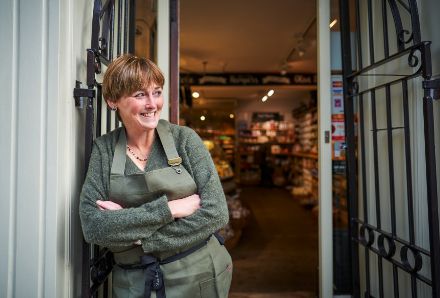 Their beautiful shop on George Street is a food-lover's dream, brimming with the very best in Scottish, British and International produce and now, you can buy all of it on their online deli shop. Loving Local is built right into the tightly-packed shelves, and they are the go-to choice for anyone looking to buy from Perthshire producers all month round.
Diane explained, "We are extremely fortunate to have some of Scotland's best-loved artisan food and drink producers right here on our doorstep. From ruby red berries in Summer, to honey made rich with the heather from our hills, golden rapeseed oil from the farmlands and gin distilled not 5 minutes away, we have an abundance of quality, award-winning produce.
"As an independent, family-owned deli we see these farmers, producers and cooks as our kinfolk. We are immensley proud of the role we play in helping these amazing businesses month round and year in. Now more than ever local business needs our support - both ours and yours - and we are therefore delighted to be bringing customers an online Perthshire shopping expereince on Provender Brown's website."
Diane and the team are currently open so you can collect from shop free of charge Monday to Saturday. They also offer local (Perth) Friday Delivery for £3.99 and standard courier delivery for £6.99.
---