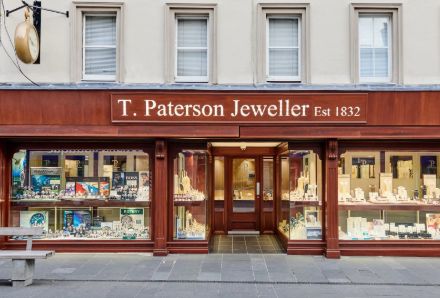 T Paterson is Perth's oldest family owned jewellers, opened in 1832, and are right in the centre of the action with their beautiful shop on the High Street. They also sell online, and browsing those gems is our new favourite hobby - they offer free postage on all orders.
"Our aim is to bring sparkle and joy to our customers with our colourful selection of beautiful jewellery. We have a huge range to suit all tastes and budgets and our friendly staff ensure a warm welcome in our bright and spacious shop. You can also browse our range online and we offer free postage, with next day delivery available. We're also on Facebook and Instagram, and you can always drop us a message if you see something that you like or even just wanted to say hello!"
As manufacturing jewellers, they design and create all kinds of stunning jewellery and every member of staff holds a minimum of a Jewellery Education Training certificate from The National Association of Jewellers, and many hold diplomas from the Gemological Institute of America. This makes them all expertly trained and ready to help!
T Paterson's also provide a remodelling service which transforms old family jewellery, that may be outdated and unworn, into a spectacular new, unique favourite item.
In addition to designing and remodelling, they also stock a number of renowned jewellery brands, including Sheila Fleet, Alex Monroe, Fiorelli, Coeur De Lion, Kit Heath and Ortak. Their watch brands include Seiko (they're a Global Brand Premium Retailer), Certina, Boss and Skagen.
"As manufacturing jewellers we design and make all kinds of precious jewellery and we have an impression selection of stock to choose from. We specialise in rare and unusual gemstones and diamonds, and we have one of the largest ranges of coloured gemstones in Scotland.
"Most of our beautiful jewellery is designed in-house and many pieces are unique. We have a huge selection of engagement rings, wedding rings, earrings, necklaces, bracelets and dress rings in stock - and so much more! We can also make you your dream piece of jewellery with our bespoke commissions and remodelling service."
"We have so many items in stock that would make perfect gifts or treats for yourself, with our prices starting at just £9.95. "Pop in store or visit our website and have a browse - we have something for everyone!"
---