Meet Graham Dunbar and Jessie Meehan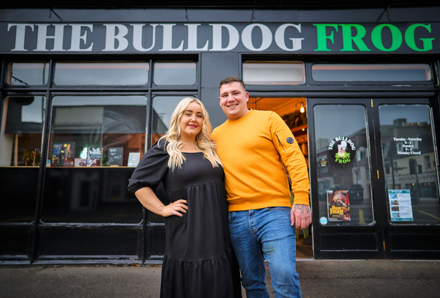 The Bull Dog Frog burst onto the Perth Indie scene in April 2020 with in a bold blaze of green neon and maximalist style. Serving up the most indulgent of millennial comfort food – juicy burgers with their own in house seasoning anyone? - the menu also plays homage to America's deep South with an abundance of melted cheese and your choice of the dirtiest of Fries, using Lindsay Butchers meat.
Situated on South Methven Street, right by the lade, this joyous hotspot is the quirky creation of Perth couple, Graham Dunbar and Jessie Meehan.
Graham has worked as a chef in some of the UK's finest dining establishments including The Five Fields in London, but when it came to his own eatery he knew he wanted something that could be enjoyed by the masses.
Open Tuesday - Saturday 8am - 4pm
Sunday 9am - 3pm
Keep an eye out for their late night Fridays
Speciality: Basket Loaded Fries, Skillet Breakfasts & Juicy Burgers, Milkshakes and Coffees
The couple's personal favourite dish would have to be the Bulldog Frog Madam:, the dish was created by Graham in recognition of the fact that a few simple ingredients can be great.
Take a simple toastie for instance, it hits the spot but you're always left wanting more. With the Madame, two toasted bits of sourdough are held together with our own bechamel sauce, haggis and Lindsay's beef sausage, before being topped with chives and a runny Gloagburn egg. A real mouthful of flavours sounds like utter perfection!